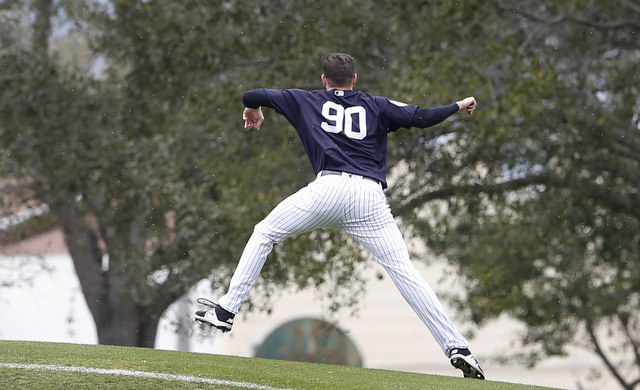 This afternoon left-hander Jordan Montgomery will make his first and possibly only Grapefruit League start. The Yankees have two open rotation spots and two open bullpen spots, and Montgomery has opened enough eyes this spring that he's now being considered for the Opening Day roster. Today will be his best chance to show what he's got against actual big league hitters rather than the minor leaguers he mostly faces out of the bullpen.
In other roster battle news, I guess we have to start keeping a close eye on right field, huh? Joe Girardi said yesterday the Aarons are neck and neck right now. Hicks is hitting .256/.341/.513 with two homers this spring. Judge has a .273/.360/.477 batting line, and also has two homers. So I guess these last eight exhibition games will determine who gets that right field job. Here is the Rays' lineup and here are the players the Yankees sent on the road trip:
CF Jacoby Ellsbury
LF Aaron Hicks
1B Greg Bird
DH Chris Carter
RF Aaron Judge
C Austin Romine
3B Ronald Torreyes
2B Donovan Solano
SS Pete Kozma
LHP Jordan Montgomery
Available Pitchers: C Kyle Higashioka, 1B Ji-Man Choi, 2B Rob Refsnyder, SS Tyler Wade, 3B Ruben Tejada, LF Clint Frazier, CF Dustin Fowler, and RF Billy McKinney will come off the bench. C Radley Haddad, IF Billy Fleming, OF Mark Payton, and UTIL Wilkin Castillo are the extra players. Haddad, Fleming, and Payton are up from minor league camp for the road trip.
Available Position Players: LHP Jason Gurka, RHP J.R. Graham, LHP Chasen Shreve, RHP J.P. Feyereisen, and RHP Matt Wotherspoon are all expected to pitch after Montgomery. RHP Travis Hissong, RHP Cale Coshow, RHP Andrew Schwaab, and RHP Colten Brewer are the extra arms. Feyereisen, Wotherspoon, Hissong, Coshow, Schwaab, and Brewers are up from minor league camp. (Feyereisen was a non-roster invitee, but he was reassigned to minor league camp earlier this month.)
The Yankees made the long 100-mile trip south to Port Charlotte, where it is warm and sunny, for this afternoon's game. Today's game will begin a little after 1pm ET, and you can watch live on ESPN and MLB.tv. This is the only ESPN broadcast of the spring for the Yankees. Enjoy the game.