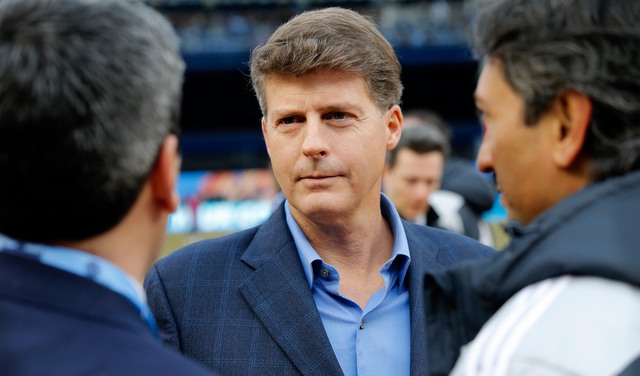 At the quarterly owners meetings in New York earlier this week, Hal Steinbrenner confirmed to Christian Red that no, the Yankees are not looking to trade away any of their top prospects at the trade deadline this year. They are open to adding pieces and will consider everything, but moving guys like Gleyber Torres and Clint Frazier is not on the agenda. The same goes for other top young players.
Trading prospects may not be in the cards. Free agency though? The Yankees could be pretty busy once the winter rolls around, Hal indicated. Here's what he told Red:
"I think we've been pretty consistent about not trading away the young talent the last three to four years. I think in part that consistency has paid off in several areas. So that's not something I'm looking to do, is trade away all of our top prospects," said Steinbrenner, who attended the MLB owners meetings in Manhattan Wednesday. "When you look at the young talent that we got (last summer), those deals were tough to turn down. Got some good young players."

"I don't know if I'd be more open to it, but I will absolutely divert all of my attention to any one deal that is brought across my table. That's the way I've always been," said Steinbrenner, who spoke to reporters in the lobby of 245 Park Ave. "I'll do the research. I'll read the scouting reports, I'll talk to (general manager Brian Cashman), all of his people. And I'll consider any option. We will be active in the free-agent market, I can assure you. To what degree, and in what areas remains to be seen."
Brendan Kuty says Hal pointed out that whenever the Yankees have had money come off the books in recent years, they reinvested it in the team. And this offseason the Yankees are shedding a lot of salary. A lot. CC Sabathia ($25M) and Alex Rodriguez ($21M), most notably, plus Masahiro Tanaka ($22M) could opt-out too. Matt Holliday ($13M), Michael Pineda ($7.4M), and Tyler Clippard ($6.15M) will also be free agents. A few things to keep in mind though.
1. The luxury tax plan is still a thing! The Yankees will be "active" in free agency as long as it doesn't jeopardize their plan to get under the $197M luxury tax threshold next year. They've been wanting to do it for a long time, and next season represents their best chance to do it. Hal even hedged a bit by saying it "remains to seen" exactly how active they will be. The Yankees sat out free agency completely two offseasons ago. That was a rarity. I don't think that will happen again. I also don't think they're going to abandon the luxury tax plan either.
2. The Yankees will still have plenty to spend. My quick math says the Yankees have approximately $100M on the books next season for luxury tax purposes assuming Tanaka does not opt-out. Arbitration raises will add another $30M or so to that. Dellin Betances and Didi Gregorius are the major arbitration cases. Aaron Hicks and Adam Warren will get decent salaries as well.
That all adds up to roughly $130M for ten players. Fortunately guys like Aaron Judge, Luis Severino, Greg Bird, and Gary Sanchez will all be making something close to the league minimum as pre-arbitration-eligible players, and hooray for cheap production. Add in player benefits and other miscellaneous expenses, and the Yankees figure to have $45M or so in annual salary space left over for free agency. That's a lot! They should be able to add some real nice pieces without bumping up against the luxury tax threshold next year. And if Tanaka opts out, forget it, they'll have lots to spend.
3. The 2017-18 free agent class kinda stinks. Okay, great, so the Yankees will have a lot to spend. Where will they spend it? Pitching is the obvious spot. Jake Arrieta and Yu Darvish are both scheduled to become free agents after the season, so I suppose the Yankees could make a big play for an ace. I would be surprised if the Yankees did that though. Arrieta kinda stinks now and Darvish had his arm cut open two years ago. Either way, here is the 2017-18 free agent class. Not the most exciting group of players. Having money to spend is only good as long as there's somewhere reasonable to spend it.
4. The 2018-19 free agent class looms. The Yankees may be active in free agency this coming offseason, though I don't think they're going to do anything that endangers their a) plan to get under the luxury tax threshold, and b) ability to pursue Manny Machado and/or Bryce Harper during the 2018-19 offseason. Those guys are both superstars and they'll hit free agency soon after their 26th birthdays. They fit the youth movement perfectly.
Because the Machado/Harper free agency class is looming, I think the Yankees could wind up focusing on one-year contracts this coming offseason rather than multi-year deals. They don't necessarily have to be cheap one-year deals. We could see some pricey one-year contracts a la Holliday. But the one-year part is important. It'll better allow the Yankees to spend big for Machado and/or Harper, especially with the luxury tax rate reset.
* * *
Free agency is an awful lot of fun, but we are getting a little too far ahead of ourselves here. The Yankees have started the regular season very well, so much so that they might actually be buyers at the trade deadline, even if they make top prospects off-limits. I feel like the Yankees may be heading for a 2014-esque deadline, one with a series of low cost pickups a la Brandon McCarthy and Martin Prado. Those moves could end up shaping the team's free agency plan.