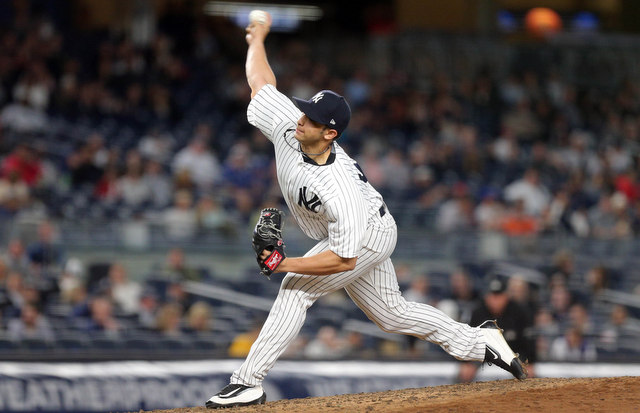 Yesterday afternoon, prior to the series opener against the Blue Jays, the Yankees did something they had not done all season. The swapped out a reliever for a fresh arm. Bryan Mitchell was sent down following his pitch an inning/play first base for an inning/pitch an inning adventure and Luis Cessa was called up to give the Yankees another long man. Cessa wound up throwing 3.1 innings last night.
Prior to that move, the Yankees had made exactly one transaction involving a relief pitcher this season. They optioned Chasen Shreve to Triple-A Scranton to make room on the roster for Jordan Montgomery last month. The Yankees started the season with eight relievers and inevitably someone was going to get send down for the fifth starter, so we all knew that move was coming.
Otherwise, the Yankees stuck with their Opening Day bullpen through the season's first month — good health has played a part in that and hopefully it continues — which has not been the norm the last few seasons. The last few years the Yankees have shuttled relievers up and down to ensure Joe Girardi always has a fresh bullpen arm or two available. Lots of teams are doing that nowadays and the Yankees took it to the extreme.
Last April, for example, the Yankees made three shuttle moves, including sending down Cessa and calling up Tyler Olson on April 15th, then sending down Olson and calling up Branden Pinder on April 16th. The year before the Yankees made five shuttle transactions in April, transactions that included names like Kyle Davies and Joel De La Cruz and Matt Tracy. They called you up, used you as much as possible, then sent you down for someone else the next year.
The Yankees did not make their first shuttle move until yesterday — Cessa was send down for Shreve earlier today, so now it's two shuttle moves today — though it was not because of a lack of opportunity. Mitchell threw nine pitches on April 22nd and 35 pitches on April 23rd, yet remained on the roster. He threw 26 pitches last Friday and got clobbered, and he still stuck around. Jonathan Holder threw 19 pitches on April 22nd, the second game of back-to-backs, and yet he remained with the Yankees.
In the past, sending unavailable pitchers like Mitchell and Holder down for a fresh arm following outings like that would have been a given. They'd get sent down knowing full well it was essentially a temporary demotion. Once their ten days were up — players have to remain in the minors at least ten days after being sent down unless they're replacing someone who goes on the disabled list — they'd ride the shuttle back to the Bronx. It happened constantly from 2015-16.
The Yankees have yet to fully activate the bullpen shuttle this season and I don't think it's a coincidence. I think it's a shift in philosophy. That doesn't mean they won't send guys down if necessary — again, they did it yesterday and did it again today — but right now, they seem to be trying to avoid it, and I think there's something to that. Two possible reasons why: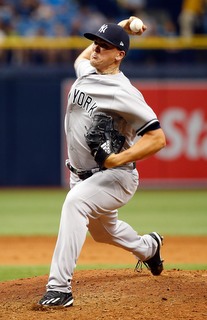 1. The shuttle doesn't really work. The shuttle worked the last two years in that it provided Girardi with a rested reliever every single night and hey, that's a good thing. It did not work in that those relievers rarely provided quality innings. Last year's shuttle crew included Shreve, Kirby Yates, Nick Goody, Johnny Barbato, Richard Bleier, and Conor Mullee, among others. Those dudes combined for a 4.74 ERA (4.26 FIP) in 142.1 innings. Eh.
Reliever quality is certainly one factor in that poor performance, though I also think there's something to be said for not having to look over your shoulder, knowing the next trip to Scranton is only a few days away. I can't imagine going back and forth between Triple-A and MLB can be an easy thing, and not just for the player. For his family too. It's difficult not knowing where you're going to be from week to week, or even day to day. Being treated like a big leaguer can go a long way.
2. It's time to give some players an extended audition. Shuttling guys in and out and seeing them for two innings at a time every few weeks is no way to evaluate a player. The only way the Yankees will be able to find out whether any of these guys are long-term bullpen pieces is by keeping them around and seeing how they perform once they're able to get settled in. And maybe they pitch themselves out of the picture. That's part of the process.
Holder had a phenomenal minor league season a year ago — he threw 65.1 innings with a 1.65 ERA (1.30 FIP) and a ridiculous 42.4% strikeout rate against a 2.9% walk rate — and the Yankees seem to like him, so he's getting an extended opportunity right now. Mitchell was sort of in the same boat before being sent down yesterday. He turned 26 last month and still can't seem to develop a changeup. With him, this is more make or break time. Time to see what he can do, you know? Holder is younger and has time on his side.
Point is, I think the Yankees have decided while shutting relievers in and out allowed Girardi to have fresh relievers at all times, it is no way to evaluate players. They're rebuilding transitioning, and they have to figure out who is part of the future, and that includes relievers. Maybe Holder will be the next David Robertson and emerge as a setup force in a year or two. The only way you can find out is by giving him an opportunity, and they're doing it now.
* * *
This all isn't to say the Yankees will never send down relievers again. Someone might pitch their way down to the minors, plus you know at some point the Yankees are going to have one of those series where the bullpen gets wrecked, and they have no choice but to call some people up to help get them through the next few days. They're kinda going through that right now. It happens to every team.
In the big picture though, the idea of shuttling relievers in and out on a nearly daily basis seems to have gone by the wayside. The Yankees tried it out for two years, didn't like the results, and decided to change things up. That allows a young guy like Holder to really show what he can do. Eventually others like Ben Heller and Gio Gallegos may get a chance to join him as well. The bullpen shuttle as we know it seems to be a thing of the past.