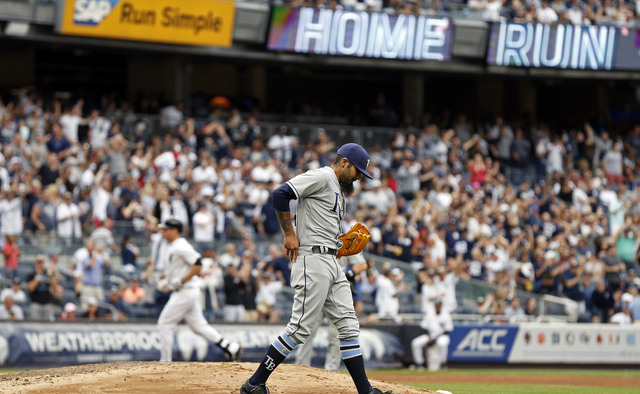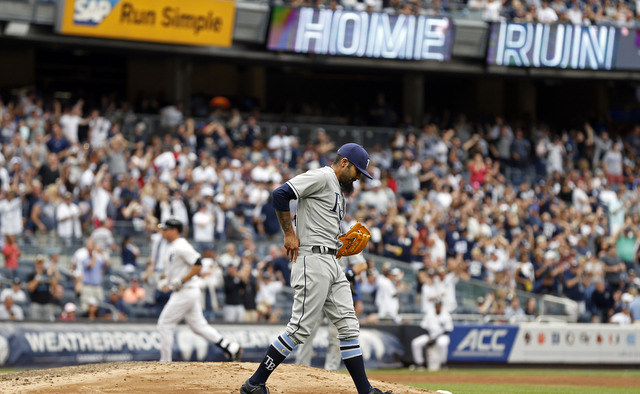 Take a good look at the Yankees roster. Chances are it'll look a bit different next time they play a game. This afternoon's series finale with the Rays is the Yankees' final game before Monday afternoon's trade deadline, and already they've have made one deal today. They picked up Jaime Garcia from the Twins for pitching prospects Zack Littell and Dietrich Enns. A new starter was very necessary and the Yankees landed one.
More important than the looming trade deadline right now is this afternoon's game. The Yankees have won the first three games of this four-game series to increase their lead over the Rays from 1.5 games to 4.5 games. That's huge. Creating some distance in the standings is always appreciated. The Yankees have won six straight games overall, so let's take a seven-game winning streak into the deadline, shall we? Here is the Rays' lineup and here is the Yankees' lineup:
CF Brett Gardner
LF Clint Frazier
RF Aaron Judge
DH Matt Holliday
SS Didi Gregorius
1B Chase Headley
3B Todd Frazier
2B Ronald Torreyes
C Austin Romine
LHP Jordan Montgomery
Pretty much a perfect afternoon for baseball in the Bronx. There's not a cloud in the sky and the high temperature is 82 degrees. Couldn't ask for a better day to spend at the ballpark. This afternoon's game will begin a little after 1pm ET and YES will have the broadcast. Enjoy the day and the game.
Roster Update: Earlier today the Yankees sent down Caleb Smith and called up Chasen Shreve, so they have a fresh arm in the bullpen and a lefty. I imagine Shreve will be sent down when Garcia reports, which will probably be tomorrow. Garcia, by the way, is tentatively scheduled to make his first start Thursday. The Yankees say they are not considering a six-man rotation at this time. Duh.
Injury Updates: Aaron Hicks (oblique) will begin a minor league rehab assignment with Triple-A Scranton on Wednesday. He's been taking full batting practice from both sides of the plate … Buster Olney says the Yankees believe Greg Bird (ankle) could be back by late-August. No offense to Bird, but I'm going to take the over on his rehab timetable. This seems like the Yankees posturing during trade talks for a first baseman more than anything.