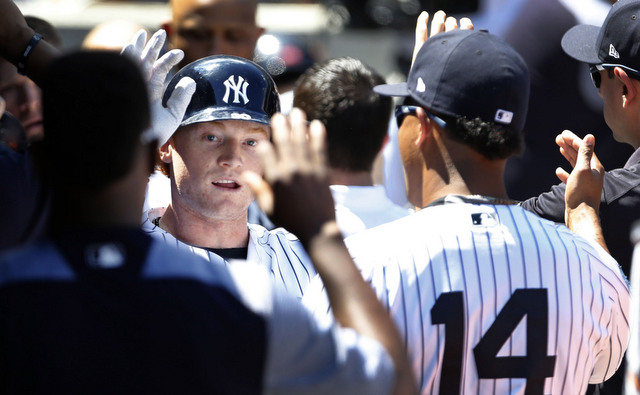 Three weeks ago the Yankees were hit with a rash of injuries that saw Aaron Hicks (oblique), Starlin Castro (hamstring), Matt Holliday (illness), and Tyler Austin (hamstring) all placed on the 10-day DL within a four-day span. Four days! As a result, the Yankees had to dip deep into their farm system for help, and at one point they had three position player prospects make their MLB debuts on three consecutive days.
First up with Miguel Andujar, who went 3-for-4 with a double in his debut and was sent down the next day to continue working on his defense. Then came Tyler Wade, who drew a walk in his first plate appearance to spark a go-ahead rally (before a bullpen meltdown). Up next was Dustin Fowler, who blew out his knee in the first inning of his first game crashing into a wall in foul territory. It was awful. I feel terrible for the kid.
It wasn't until a few days later that the Yankees called up Clint Frazier, their top outfield prospect, and they did that only because they were essentially out of options. They'd already called up everyone who could have been called up. So it was Frazier's turn, and in his first game he had a double and a home run. He's since added two more home runs, including a walk-off blast against All-Star closer Corey Knebel the weekend before last.
When the Yankees first acquired Frazier last year Brian Cashman said he has "legendary" bat speed and holy smokes have we seen it these last few weeks. Watch the video above. Look at that swing. Sunday night he turned around a 98.5 mph fastball from Craig Kimbrel and ripped it 380 feet like it was nothing. It was a fly out because he hit it to the wrong part of the ballpark, but still. We've yet to see Frazier be overmatched by velocity. He's been on everything.
So far the 22-year-old Frazier is hitting .308/.317/.718 (162 wRC+) in 41 plate appearances with the Yankees, and while he's not getting on base a ton, his track record suggests the walks will come. Frazier has shown a lightening quick bat, fine range in the outfield, and sneaky good speed. Last night he turned two hard-hit singles into hustle doubles. It was awesome. The kid's done a little of everything.
Before his call-up we heard a lot about Fowler being more big league ready than Frazier, and that very well may have been true. Frazier clearly was not the team's first call-up choice following all those injuries. He wasn't their first, second, or third choice. They went with Andujar, Wade, and Fowler before turning to Frazier, and even then it was only because there was no one else to call up. It sure seems like the Yankees would have preferred to keep him down a little longer.
Since coming up Frazier has made some slight adjustments at the plate and calmed down his lower half. He has funky hitting mechanics in which he thrusts forward and lifts his back leg off the ground. It's not necessarily a bad thing. Frank Thomas hit like that and he was a deserving first ballot Hall of Famer. Frazier was getting a little out of control though, and already he's made an adjustment to tighten things up early in his MLB career.
"I wasn't gathering my weight on my backside well," said Frazier to Brendan Kuty recently. "I was coming off of it really quick and kind of lunging at the pitcher rather than sitting on the backside and swinging from my backside. A great guy to watch is Judge. He does a really good job of keeping his weight on his backside. That's why he hits the ball the way he does. So I'll take a note out of his book and apply it to mine."
So far Frazier has given the Yankees a nice lift with timely home runs and extra-base hits — he has four singles and eight extra-base hits so far (three doubles, two triples, three homers) — plus he definitely brings a fun youthful energy to the team. The Yankees have struggled overall the last month or so, but they're still fun. Aaron Judge and Gary Sanchez at-bats are must-see television, as are Luis Severino starts and Didi Gregorius defensive plays.
Frazier adds to that. He's fun, he's showing a ton of promise at the plate, and he's helping in the field too. He's also already made a key adjustment with his lower half. Frazier's not a nobody. This isn't some random minor leaguer coming up and having two good weeks. He's a former fifth overall pick and highly ranked prospect. Over the last few weeks we've seen the tools that give him a chance to be an impact player down the line. Heck, he's playing like one right now.
The Yankees didn't want to call Frazier up when they did. I know this because they called up three other prospects before him. The opportunity came though and Frazier has impressed. The Yankees have a clogged up outfield as it is and I have no idea how they'll squeeze Frazier in with Judge, Brett Gardner, Jacoby Ellsbury, and a healthy Hicks when the time comes. All I know is Frazier is a big part of the future, and when a player with his talent has some success at the MLB level, the Yankees owe it to themselves to give him a longer look.