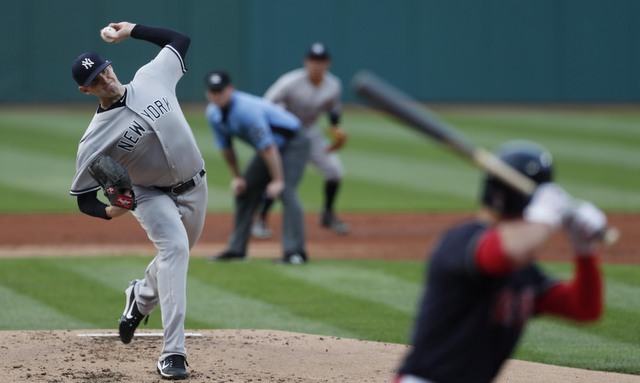 Following yesterday afternoon's win the Yankees announced they've sent Jordan Montgomery down to Triple-A Scranton, which gets the team back to a normal five-man rotation. They haven't announced who is coming up to replace him, but I'd bet on it being a boring eighth reliever. Maybe Bryan Mitchell so Adam Warren and Chad Green don't have to throw mop-up innings? We'll see.
The decision to send Montgomery down comes after a strong start against a very good Indians team. Montgomery held them to one run in five innings and needed only 65 pitches to do it. Joe Girardi pulled him because he said he felt it was time to go to his rested bullpen in a close game, so he did. And hey, it worked it. The bullpen put up zeroes for four innings and the Yankees won. They really needed that win.
Sending Montgomery down after such a strong performance tells us the Yankees planned to send him down all along. They used a six-man rotation last week to give everyone a little extra rest, but they don't want to do it long-term, and Montgomery is the odd man out. He pitched well last time and Jaime Garcia didn't, yet Garcia remains. Why? Because the Yankees don't base decisions on one game or one start. I mean:
Montgomery since July 1st: 5.29 ERA (4.26 FIP) in seven starts and 34 innings
Garcia since July 1st: 4.88 ERA (2.47 FIP) in five starts and 31.1 innings
Montgomery was pretty terrible in July. He made six starts and could only get through five full innings three times. I assume that tough month was one reason the Yankees went out and got two starters at the trade deadline even though they only had one open rotation spot. Montgomery seemed to be hitting a bit of a rookie wall there. It's okay. It happens.
Two things about this decision. One, it's not permanent. Montgomery will be back soon enough. I'm guessing we'll see him again before rosters expand on September 1st. Two, the Yankees need to keep Montgomery's workload in check. (Luis Severino's too, and that's why I think Montgomery will be back pretty soon.) Sending Montgomery to Triple-A makes it easier to space out his starts and cap him at five innings or whatever they want to do. Wins and losses don't really matter down there.
Also, if you're into such things, sending Montgomery down for at least ten days allows the Yankees to "buy" an extra year of control. Right now Montgomery is due to become a free agent at age 30 during the 2022-23 offseason. Ten days in the minors pushes that back to age 31 and the 2023-24 offseason. I don't think that's a big deal or motivation for the demotion at all. Buy the extra year for elite prospects. Everyone else isn't worth the hassle.
Anyway, Montgomery was sent down and the Yankees will (presumably) give him a bit of a breather so he can be ready to help them down the stretch and into September. You know they're going to need him. They were either going to have to find a way to keep him fresh and rested at the MLB level, which is hard to do, or they could do it in Triple-A. Garcia allows them to do it in Triple-A. There's not much more to it than that.