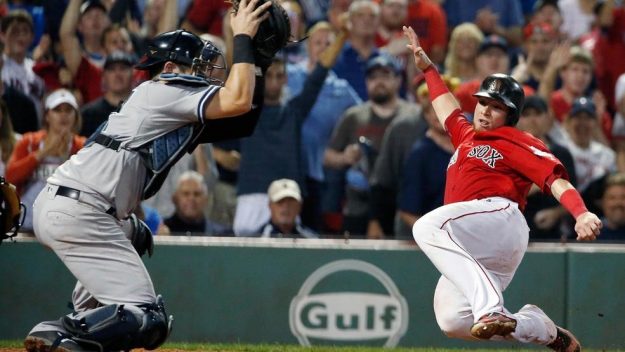 Deja vu all over again
Another night, another candidate for Worst Loss of The Season. The Yankees suffered their billionth gut-wrenching defeat on Friday night, obliterating any positive momentum they had built up coming off a four-game sweep of the Mets. After flipping an early three-run deficit into a three-run lead in the seventh, the bullpen imploded in epic fashion with nine outs to go, adding to the never-ending list of miserable Yankee late-inning collapses this season.
Let's recap the gory details, bullet-point style:
22nd blown save of the season, six more than they had in all of 2016. Through Friday's games, no team in the majors had more blown saves than the Yankees (the Mariners also had 22). Going back to 1969 when saves became an official stat, only three other times in franchise history have they finished a season with more than 22 blown saves: 1997 (25), 1988 (24), 1986 (23).
6th time they lost a game after leading by at least three runs, their most in any season since 2014 when they had eight.
18th loss when out-hitting their opponent, the second-most in MLB behind the White Sox (25, LOL). Over the last 15 years, they'd never before suffered more than 15 such losses in a season.
Breaking news: the Yankees had plenty of chances to score, but couldn't cash in, going 1-for-11 with RISP and stranding 14 guys. Chase Headley, Todd Frazier and Brett Gardner led the offensive charge by reaching base four times each. That's good! So how rare is it for a team to lose when having at least three players be so productive? Glad you asked. Our Obscure Yankeemetric of the Series …
It's just the third time in the last 50 years that the Yankees lost a nine-inning game in which at least three guys were each on base four-or-more times. It also happened on September 22, 2000 against the Tigers and May 25, 1980 against the Blue Jays.
Tommy Kahnle and Chad Green were the obvious culprits in coughing up the three-run advantage in the seventh, but Aroldis Chapman's eighth-inning meltdown is more troubling (and eventually got him yanked from the closer role). He gave up two runs on two hits and a walk, extending his recent stretch of awful pitching. This is just the second time he's allowed at least one run in four straight appearances; the other instance was early in his 2011 rookie campaign. And it's the first time in his major-league career that he's given up multiple runs in three straight outings.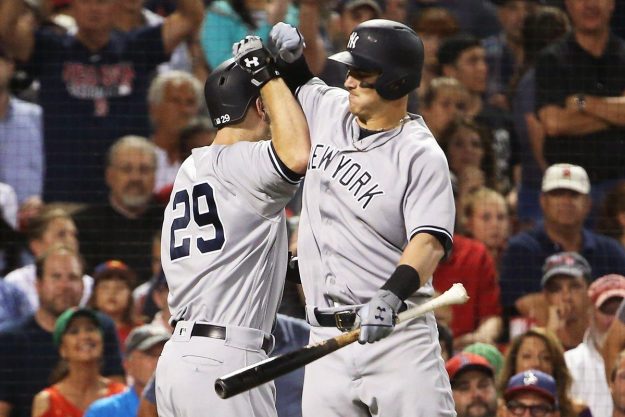 One step forward …
One day after suffering the Worst Loss of the Year, it was hardly a surprise in this rollercoaster season that the Yankees notched their their Most Important Win of the Year on Saturday night at Fenway, holding on for a gutsy, much-needed 4-3 victory.
CC Sabathia has embodied the Fighting Spirit more than any other pinstriper this season, and this game proved it. Consider that he is:
7-0 with a 1.46 ERA in eight starts following a Yankee loss this season, and the team won the only no-decision he got. That's the best ERA in the majors (min. 7 starts), just ahead of a guy named Clayton Kershaw (1.54).
3-0 with a 0.90 ERA in three starts against the Red Sox this season. He is one of just three Yankees since 1950 to win their first three starts vs the Red Sox in a season while posting a sub-1.00 ERA in those outings; Scott Sanderson (1991) and Whitey Ford (1956) are the others.
Sabathia also reached a significant milestone, becoming the all-time American League leader in strikeouts by a left-handed pitcher. Congrats, CC.
Most K by LHP in AL History:
CC Sabathia 2,680
Mickey Lolich 2,679
Frank Tanana 2,669
Randy Johnson 2,545

— Katie Sharp (@ktsharp) August 19, 2017
Tyler Austin delivered one of the most stunning swings of the season when he crushed an 435-foot bomb over the Green Monster in his first career at-bat against Chris Sale to give the Yankees a 3-0 lead. Is Austin the team's new good luck charm? Six of his seven career home runs have either tied the game or given the Yankees the lead, and they are 7-0 in games when he homers.
Todd Frazier added a crucial insurance run with a sixth inning solo homer, following up on the two-run blast he hit in the series opener. That earned him a special place in the rivalry with this #FunFact: Frazier and fellow third baseman Graig Nettles (1973) are the only players to homer in each of their first two games as a Yankee at Fenway Park.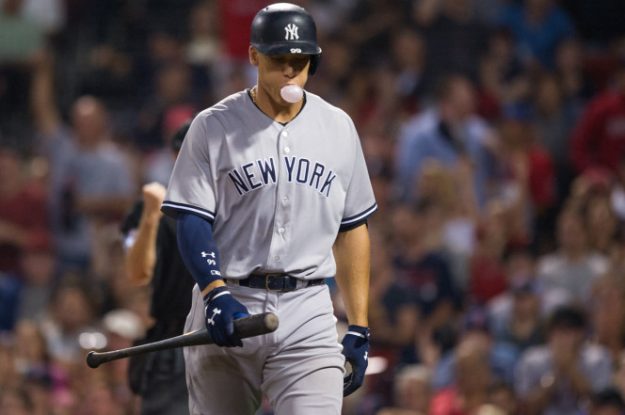 … And one step backwards
What goes up, must come down, right? That pretty much sums up the 2017 Yankees. They dropped the series finale against the Red Sox on Sunday afternoon, falling to an abysmal 5-14 in "rubber games" (third game of a three-game series where the teams split the first two).
That is by far the worst record and most losses in such games by any team in the majors this season. And, even more depressing is this stat: their .263 winning percentage in rubber games is on pace to be the worst by any AL team since the 2013 Astros … who finished with 111 total losses that year. Oy vei.
Much of the blame for this loss falls on the dead-silent Yankee bats, which produced their fewest hits (3) and runs (1) at Fenway Park since a 5-1 loss there on September 22, 2013. Not even a Brett Gardner home run could spark this lackluster offense — this was the first time the Yankees lost this season when Gardy went Yardy, falling to 16-1 in those games.
Gardner did reach the nice round number of 20 homers, giving us a chance to recognize his rare combination of power, patience and speed. Gardner is the eighth left-handed batter in franchise history with at least 20 homers, 15 steals and 60 walks in a season. The others on the list are decent: Babe Ruth (twice), Lou Gehrig (1931), Bobby Murcer (1970), Reggie Jackson (1977), Johnny Damon (2006), Bobby Abreu (2008) and Curtis Granderson (2011).
Aaron Judge was hardly the only Bomber to go cold on Saturday, yet because this is a stats article, we feel obligated to note that he struck out for the 37th game in a row. That ties the MLB all-time (spanning multiple seasons or single-season) record set by Expos pitcher Bill Stoneman in 1971-72.
It's a contrived and dubious mark, but what is more concerning are a couple of his post-break splits. He is 4-for-28 (.143) with runners in scoring position since the break; he hit .305 with RISP before the break. Judge is also 1-for-32 (.031) vs left-handed pitchers since the break; he hit .345 vs lefties before the break.
Beyond those specific situations, Judge's ability to make hard contact — his signature stat of the season — has simply cratered. In 35 games since the break, he has a hard-hit rate (per Fangraphs) of just 34 percent (it was 49 percent before the break), easily the least-powerful 35-game stretch of his career: