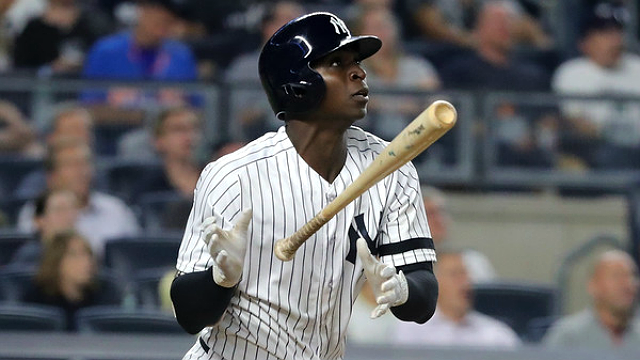 Last season, Didi Gregorius took an important step forward in his development.
After playing as primary an all-glove, no-bat player for the start of his career, he became a 20-homer hitter, blasting our expectations for him in one fell swoop. He made clear adjustments at the plate and was batting cleanup in the Yankees' post-trade-deadline lineup fairly often.
Furthermore, he cut down on his strikeouts and became an above-average hitter against LHPs, sporting a .324/.361/.473 (125 wRC+) against them. Even though his power wasn't quite there against lefties, he still found a way to poke balls the other way. He batted .263 on balls hit the other way against LHPs while pulling all four of his homers vs. southpaws.
This year, his reverse platoon has cratered. He's batting just .194 on balls the other way against lefties, perhaps just a case of a few bloops not falling in. And overall, he's just hitting .262/.298/.355 (72 wRC+) against them with a much smaller ISO.
And yet, Gregorius has taken off as a hitter, finally having the breakthrough against right-handed pitching he needed to make. Sure, baseball is in an elevated home run environment but his 25-homer season still deserves plenty of recognition, especially since he didn't debut until April 30. Needless to say, not many people expected him to be the team's normal cleanup hitter in a pennant race two years ago.
"I'm not so sure I envisioned him hitting fourth in a lineup," Joe Girardi said. "Part of it is the way we're constructed, the reason we do things. We envisioned that he was going to impact the baseball. We envisioned that he would hit some home runs. I don't know if any of us put a number on it.
"What I've seen is just kinda what you see from a lot of players. They just continue to mature and get better and better, and understand who they are. Didi's done a really good job of that. That's why he is in the middle of the order hitting fourth."
So how exactly has Gregorius turned himself into a 3.5+ win player with value not just from his glove but his powerful bat?
Like a lot of players, he's embraced the air-ball revolution.
In his first two seasons with the Yankees, he had an average launch angle of 12 degrees. This season? 17.4 degrees. His fly-ball rate has increased from 34.1 percent in 2015 and 40.3 percent in 2016 to 43.9 percent in 2017, a career-high. His GB-to-FB ratio has gone from 1.31 in 2015 to 0.83 in 2017. He's got a completely different hitting profile.
Furthermore, he's pulling the ball more often. You'll see in his plots below that he no longer has as many grounders to shortstop nor flyballs to left, and he has batted balls traveling further than before, primarily to the pull side.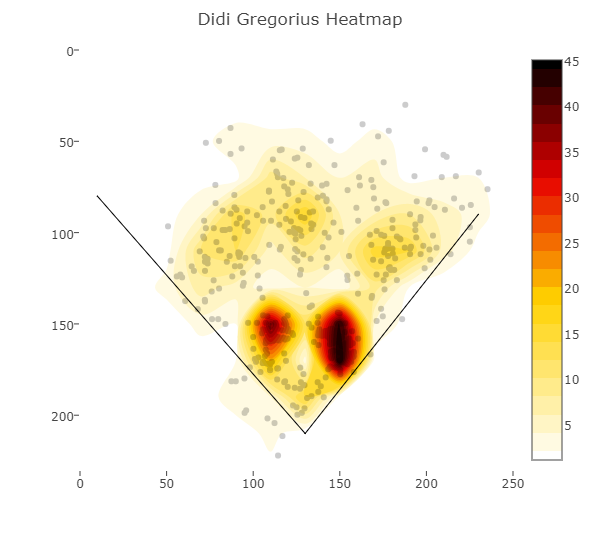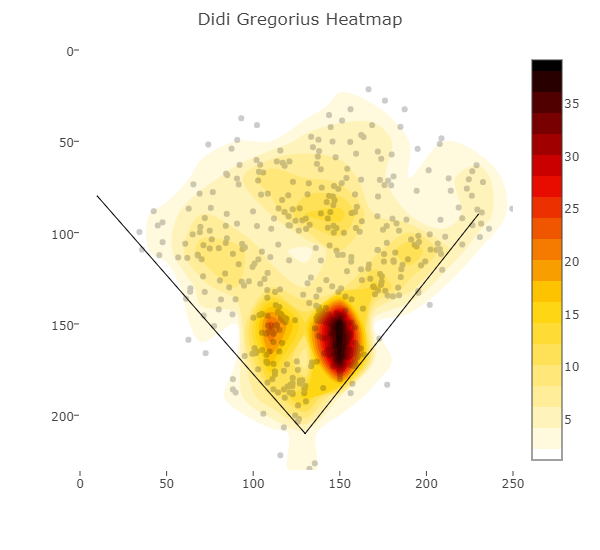 His pull percentage had decreased in 2016 to 37.6 percent but is now up to 40.6 in 2017 and he's going to the opposite field 7.3 percent less. He's actually pulling the ball more than the MLB average, which may be a tailoring of his swing to Yankee Stadium.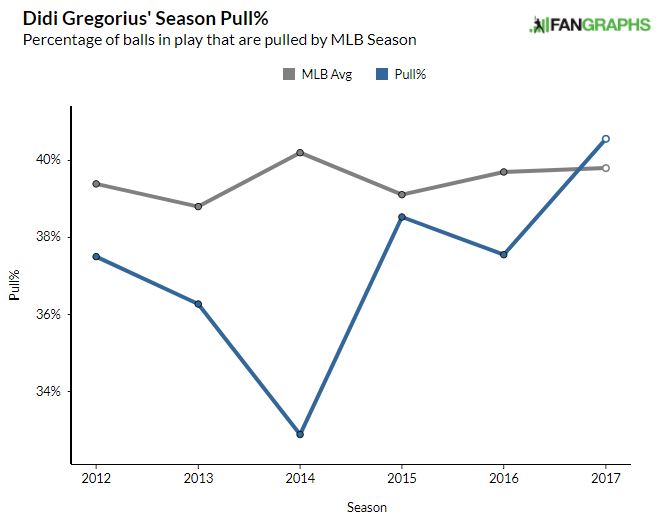 He's not hitting the ball demonstrably harder, still sporting an average exit velocity below 85 mph. However, you'll notice that he's hitting the ball harder on pitches inside and pitches higher in the zone.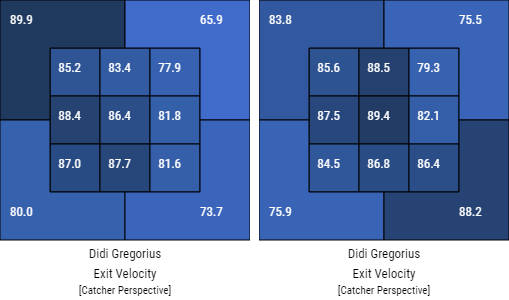 That could help explain the significant increase in ISO for nearly the entire zone as well as the increase of balls in the air. If Didi adjusted to better hit higher and inside pitches at Yankee Stadium, it makes sense that he would thus have more flyballs and a higher power output. He's also helped increase his balls in play by cutting his strikeout rate each year since 2014 and it's helped with his steadily increasing ISO in New York.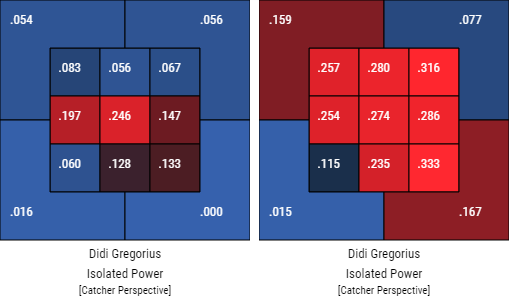 Even if he hadn't made this improvement at the plate, Gregorius likely would have been a solid Yankee for a while. His superior glove work that would be Gold Glove-worthy in the National League gets overshadowed some by Andrelton Simmons and others, but it's still something that would have made him worth a long-term investment. Furthermore, we've seen more of his personality come out, endearing him to Yankees fans one tweet at a time.
Before the year, I wrote that this season was extremely important for him to at least maintain last year's power output and overall production if he wanted to hold off Gleyber Torres and other Yankees prospects. But his production at the plate has taken the next step and that's made Gregorius a long-term piece for the Yankees alongside Torres.