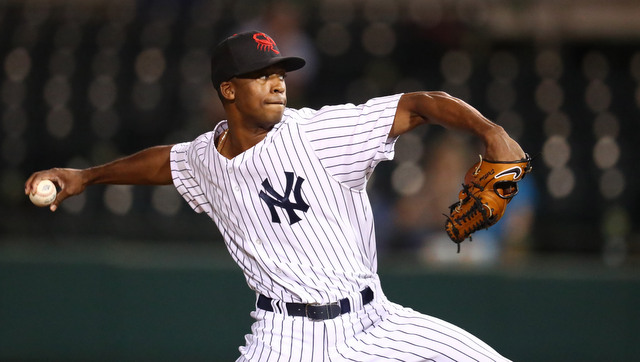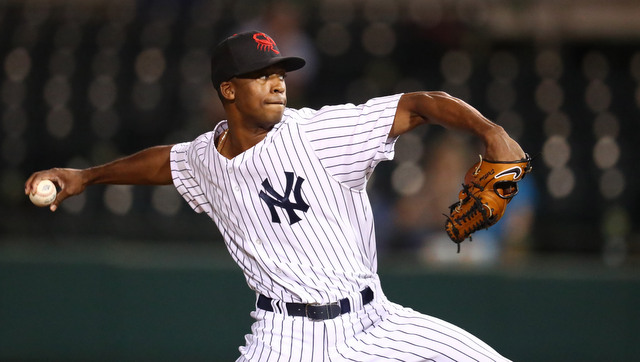 The Yankees and Rays wrap up their three-game series later today — final night game of the regular season! — so, until then, here are some stray links and notes to check out.
Two Yankees among top High-A prospects
Baseball America (subs. req'd) continued this week with their analysis of the top 20 prospects in each minor league. They covered the High-A Florida State League today, with Blue Jays 3B Vlad Guerrero Jr. and Blue Jays SS Bo Bichette sitting in the top two spots. Two Yankees farmhands made the top 20:
7) RHP Dillon Tate: "His fastball reaches 98 mph consistently, and unlike past seasons, he held his velocity, often getting up to 97 as late as the eighth inning of his last two starts. His fastball command, changeup and slider all have improved from 2016."
14) 2B Nick Solak: "(He) has fast hands, a feel for hitting and above-average speed. He's put in the work to become an average defender … 'He's a baseball player who can really hit,' one league manager said. 'He's a pain in the butt to have to play against; that's a compliment.'
In the chat, John Manuel said RHP Taylor Widener has a chance to be "in the Adam Warren family of swing man," which would be an amazing outcome for a 12th round pick. Widener successfully transitioned from college reliever to pro starter this year, though Manuel says it's unfair to compare to him to RHP Chance Adams because Adams has more fastball. Still pretty cool that Widener raised his stock this year.
Anyway, glad to hear Tate is back to being the 2015 fourth overall pick version of himself after the Rangers tried to tweak his mechanics last year. Keith Law had a similar report recently too, so we're getting a consensus here. OF Estevan Florial did not spend enough time with High-A Tampa this season to qualify for the top 20 list. Interestingly enough, neither Athletics SS Jorge Mateo nor Twins RHP Zack Littell made the top 20. I wonder if that was an oversight. I figured both would be locks, especially Mateo. Whatever.
Otani interviewing MLB agents
According to Jon Heyman, two-way superstar Shohei Otani has started interviewing prospective agents. This is another indication Otani is indeed preparing to make the jump to MLB, though it doesn't confirm anything. He could just be doing his homework. Here's more from Heyman:
Big-time agencies Wasserman (led by Joel Wolfe and Adam Katz), Octagon (headed by Alan Nero), The Legacy Agency and the Scott Boras Corporation are believed to be in the early mix and seen as among the favorites, as all have experience repping Japanese stars. Many groups declined comment or ignored messages regarding the process, but other big-time agencies with experiencing repping Japanese stars include Excel (Casey Close), CAA (Brodie Van Wagenen) and John Boggs.
Otani is basically interviewing the who's who of player agents, and the Yankees have relationships with all of 'em. Brian Cashman and his staff have hammered out deals with Wasserman (Jason Giambi, Hideki Matsui), Octagon (Hiroki Kuroda), Legacy (CC Sabathia), Boras (Mark Teixeira, Alex Rodriguez), and Excel (Derek Jeter) plenty of times over the years. I wouldn't say those relationships give the Yankees an advantage — every team has a relationship with every agent! — but they can't hurt.
Otani will be exempt from new posting agreement
MLB and NPB are currently negotiating a new posting agreement — MLB is trying to knock down the cost of acquiring players from Japan again — and, according to Jim Allen, the next agreement will not apply to Otani. Should he come to MLB, it will be under the old posting agreement, meaning the Nippon Ham Fighters will set the release fee — it'll surely be the max $20M — and whichever team signs Otani will pay it. That's good. It means no delay in Otani's posting as the two sides haggle over the posting system.
There are two posting system proposals on the table: a flat 15% of the player's contract, or 15% up to $100M with a flat $20M fee for deals in excess of $100M. Under that arrangement, the (Ham) Fighters would receive less than $1M for Otani given the international hard cap. Allen says MLB's international rules, which say players under 25 count against the hard cap and come with six years of control, effectively tell Japan's best young players to come straight to MLB out of high school. Don't bother playing in Japan because it'll just delay your big payday. Junichi Tazawa did that. NPB teams aren't thrilled, as you can imagine.