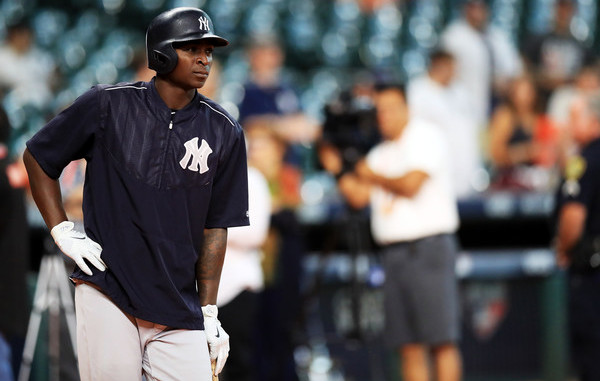 After two close games at Minute Maid Park, the ALCS now shifts to Yankee Stadium for Games Three and Four and, hopefully, Five. The Yankees are down 0-2 in the series and hey, they've been here before. They just came back from down 0-2 against the Indians in the ALDS. That doesn't mean they'll do it again. But it shows it can be done. Anyway, I have some thoughts, so let's get to 'em.
1. The Yankees are down 0-2 in the ALCS because their best players are getting outplayed by Houston's best players. Jose Altuve and Carlos Correa have outhit Aaron Judge and Gary Sanchez (by a lot), and Dallas Keuchel and Justin Verlander have outpitched Masahiro Tanaka and Luis Severino (by a lot). Heck, Altuve and Correa are 8-for-15 (.533) with a double and a homer in the series, and all the other Astros combined are 3-for-43 (.070) with a double. Good grief. The Yankees aren't going anywhere without Judge and Sanchez producing, the same why the Cubs aren't going anywhere without Kris Bryant and Anthony Rizzo producing (they're 1-for-14 combined in the NLCS). They survived Judge's brutal ALDS. They won't survive this series against the Astros with Judge and Sanchez doing nothing. The Yankees' best players are getting outplayed by the Astros' best players. Plain and simple. That's why they're down 0-2 in the series.
2. Another reason the Yankees are down 0-2: poor execution. The Astros are making every single play and even going above and beyond to make great plays. Brett Gardner getting thrown out at third on the would-be triple last game? It was a bad send by third base coach Joe Espada, but it also took an excellent set of relay throws by the Astros to get the out. They executed. Greg Bird getting thrown out at the plate in Game One? Marwin Gonzalez made a wonderful throw from left field while Bird didn't get the best jump from second base, especially considering it was a 3-2 count with two outs. Gonzalez executed and Bird did not. At this point of the postseason, the talent gap between the remaining teams is quite small. I know the Astros won ten more games than the Yankees this season, but the Yankees had the better run differential. The talent gap isn't enormous by any means. So, then, when the talent gap is small, the difference in a short series comes down to execution. The team that makes more plays — and this could be executing relay throws, or executing a single pitch, or fielding a ground ball, whatever — is the team that often wins, and right now, the Astros are the team making the plays in the ALCS. Not the Yankees.
3. Speaking of poor execution, that final play of Game Two was straight up bad by Sanchez. It was bad. I know the throw short-hopped him and everything, but that's a play a Major League catcher has to make, and Sanchez didn't. Look where Altuve was when the ball reached Sanchez: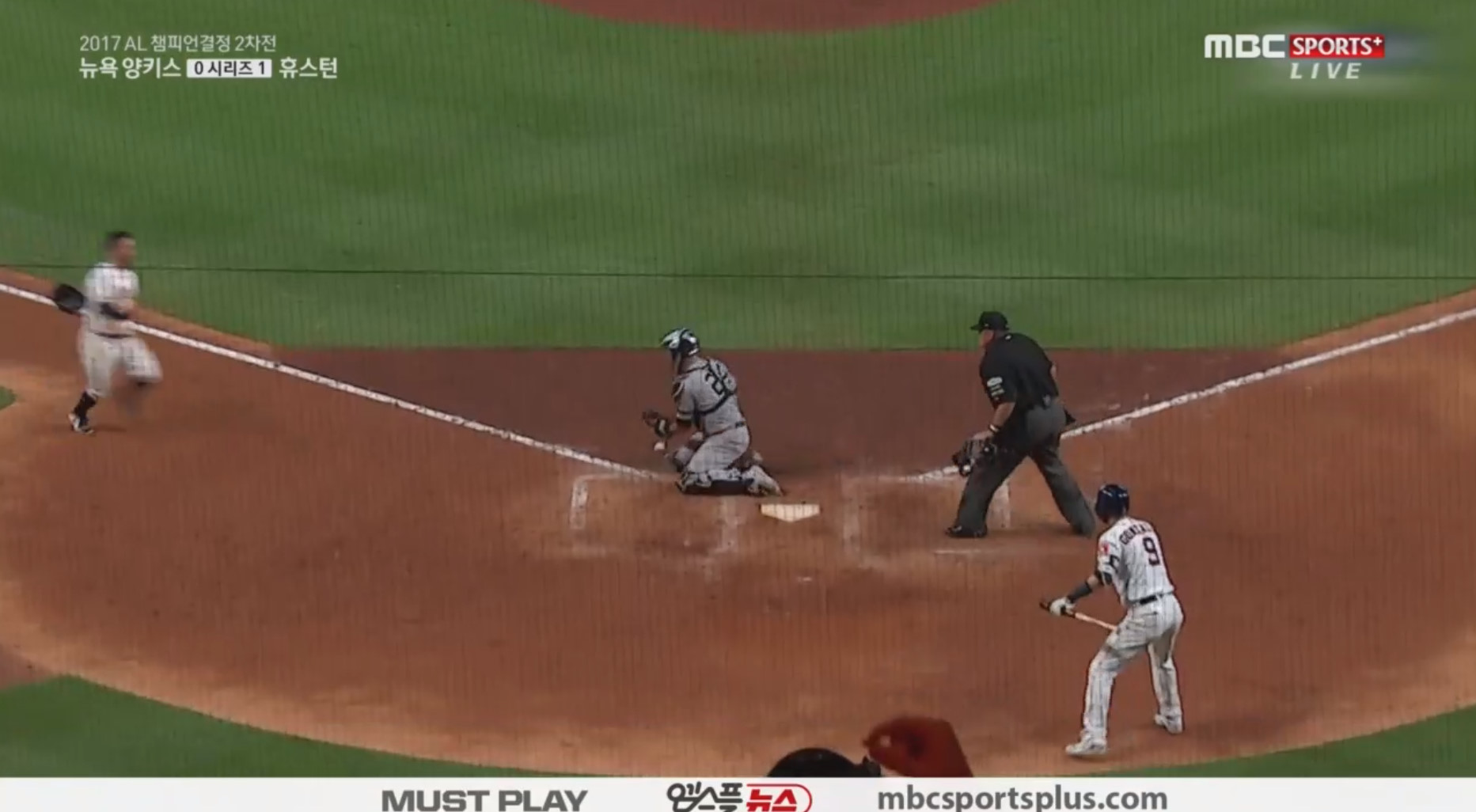 Altuve would've been out by a mile, which I'm sure would've been spun into "wow how's so amazing look at the aggressive play and how small he is like Marcus Stroman and give him the next three MVPs" even though it would've been inexcusably awful to get thrown out at home on that play, with one out in the inning, when you would've represented the winning run at third. Anyway, that play by Sanchez was terrible, and the weird thing is that prior to that play, I thought the last five games were his best defensive stretch of the season. It all started in Game Three of the ALDS, when Gary blocked the hell out of all those Tanaka splitters in the dirt, most notably when Tanaka struck out Jose Ramirez and Jay Bruce with a runner on third and one out. Sanchez was fantastic behind the plate basically since the start of ALDS Game Three through the penultimate play of ALCS Game Two. And as bad as that play was, it would be absolutely crazy to move Gary out from behind the plate going forward. You don't give up on a dude with these tools behind the plate because he struggling to block balls in the dirt at age 24, the same way you don't give up on a kid like Severino as a starter just because he had some success out of the bullpen.
4. As for Severino, I have zero problem whatsoever with him being pulled from Game Two even though he felt healthy and strong. I was shocked to see, in our comments and on social media (less shocked to see it in the tabloids), some people saying it was mistake and that Severino should've stayed in the game if he said he was fine. That is insane to me. One, you can't trust players to be honest about their health. There's that "you better be out there unless your arm fell off" tough guy mentality that exists in baseball that pushes players to play hurt even when it is a detriment to themselves and their team. And two, this is your 23-year-old franchise pitcher, who is already in uncharted workload territory. Severino is up to 204.2 total innings this year between the regular season and postseason. His previous career high was 162.2 innings. Then he windmills his arm and gives the trainer and Joe Girardi reason to believe something is up, and some people didn't want him pulled? Crazy talk. I'm happy and very relieved there is nothing seriously wrong with Severino. Even during a postseason game, I am 100% cool with Girardi playing it safe and pulling Severino. I don't care how mad Severino was. The Yankees will have to protect the kid from himself at times, and this was one of those times.
5. The strikeouts are, obviously, very bad. They've become extreme of late too. And it's not just Sanchez and Judge. Gardner is 2-for-7 with five strikeouts (1.000 BABIP!) in the ALCS. Bird and Starlin Castro are both 2-for-7 with three strikeouts. The strikeouts are a problem up and down the lineup. The Yankees have struck out 10+ times in their last seven games this postseason — the only game they didn't strike out 10+ times was the Wild Card Game — and in Game Five of the ALDS, they became the first team in history to win a postseason game while striking out 16 times. Overall, the Yankees have a 31.6% strikeout rate this postseason. Remove Judge and it's still a 28.8% strikeout rate. That's just too much. (The postseason average is a 25.0% strikeout rate.) And the solution is not simply make more contact. It has to be quality contact. The Astros had the lowest strikeout rate in baseball during the regular season and they've struck out only nine times in two ALCS games, yet their offense is hardly firing on all cylinders. Which team had the second lowest strikeout rate during the regular season? The Indians, and they're sitting at home. Ramirez (10.7%) and Francisco Lindor (12.9%) had two of the 15 lowest strikeout rates in baseball during the regular season, and they went 4-for-38 (.105) combined in the ALDS. It's not just contact. It's quality contact. The Yankees aren't getting enough of it right now.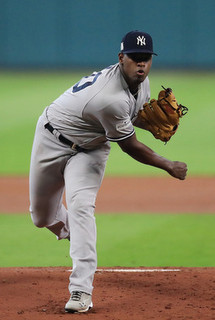 6. On one hand, going to Houston and allowing four runs total and leaving down 0-2 in the series is beyond frustrating. That's tough to swallow. On the other hand, seeing the pitching staff handle that deep power/contact lineup the Astros run out there has been reassuring. The Yankees can hang with the Astros. As bad as Judge and Sanchez have been, and as good as Keuchel and Verlander were, these were two one-run losses and very winnable games. A bounce here or a borderline call there changes everything. The Yankees could've easily left Houston with the series tied 1-1. Heck, it wouldn't have taken much to leave up 2-0. It can be easy to overlook the pitching staff given how the series has played out, but man, they've been phenomenal. The pitchers have done their part so far. All postseason, really.
7. Remember when Aaron Hicks wasn't going to play in the postseason? Gardner and Judge sure as heck aren't going to come out of the lineup, then Jacoby Ellsbury had that late season hot streak that had everyone thinking he'd start in the postseason. Instead, Ellsbury faded in the final two weeks of the regular season, and here's Hicks playing wonderfully on both sides of the ball again. He's 8-for-29 (.276) with two doubles and a homer in the eight postseason games, and he's catching everything in center field. I am a Hicks believer. I think the Aaron Hicks we saw in the first half is the real Aaron Hicks. Maybe he won't post a .420 OBP and a .550 SLG or whatever it was over a full season, but I think the tools for .280/.380/.480 with very good defense are there. Aside from Gardner and Didi Gregorius (and Bird), Hicks has been the Yankees' best player this postseason, and it wasn't that long ago that it looked like he would be stuck on the bench. Funny how that works.
8. These next two games are crucial for obvious reasons. The Yankees have to win to keep their season alive, blah blah blah, yadda yadda yadda. If the Yankees are going to make a comeback in this series, it has to start these next two games, which are at home against Houston's third and fourth starters. Don't underestimate Charlie Morton and Brad Peacock! They're good. They combined for a 3.31 ERA (3.10 FIP) in 278.2 innings during the regular season. But they're not Keuchel and Verlander. Morton and Peacock are as easy as it's going to get for the Yankees in terms of opposing starters this series. They're facing them at home in Yankee Stadium. Want to win the series? These are the pitchers you have to beat and the games you have to win before the rotation turns over and Keuchel and Verlander are back out there. At some point the Yankees have to beat Keuchel or Verlander and win a game in Houston to win the series. That's just how the math works. And that's only if they beat Morton and Peacock at home. So do that today and tomorrow.