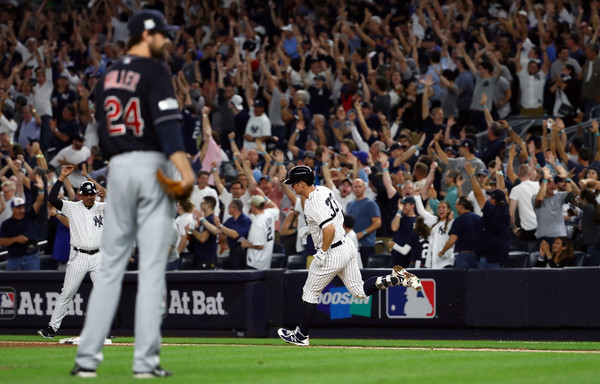 Down the road, when we look back at this 2017 season, we'll remember it for the young players who emerged to make the Yankees more competitive than pretty much everyone expected. Aaron Judge broke the rookie home run record. Gary Sanchez missed a month and still led all catchers in homers. Luis Severino pitched well enough to get Cy Young votes. All homegrown, all 2017 All-Stars, none older than 25.
There was supposed to be a fourth member of that emerging homegrown core. Greg Bird, who played very well during his late 2015 debut, was returning from shoulder surgery and set to take over first base full-time. That shoulder surgery caused him to miss the entire 2016 season, so it wasn't a minor procedure. He had plenty of rehab time though — Bird did play in the Arizona Fall League last year — and was primed for a breakout season.
And in Spring Training, the 24-year-old Bird couldn't have looked more ready for that breakout season. He hit .451/.556/1.098 with eight homers and more walks (12) than strikeouts (10) in 23 Grapefruit League. Bird led all players, Grapefruit League or Cactus League, in homers, total bases (56), and extra-base hits (16) this spring. Eight homers, seven doubles, one triple, seven singles. That was Bird's spring. He was ready to pick up where he left off in 2015.
Of course, things didn't play out that way. Bird again dealt with injuries and needed another surgery, this time to his ankle. What was supposed to be a breakout season instead featured a .190/.288/.422 (86 wRC+) batting line in 170 plate appearances. A total bummer. Not quite a second consecutive lost season, but pretty darn close. This season was about the good, the bad, and the injuries for Bird, though not in that order.
The Bad
Fun fact: Bird hit third on Opening Day. Not Judge, not Sanchez, not Matt Holliday or Starlin Castro. It was Gregory P. Bird, Esq. By the end of April, he was hitting eighth. Bird hit a miserable .107/.265/.214 (37 wRC+) in the season's first month. He went 6-for-56 — 6-for-56! — in April, and three of those six hits came in one game against the Cardinals. Bird started the season 1-for-26, had the three-hit game, then slipped into a 2-for-31 rut. Yikes.
On one hand, it wasn't a total surprise a player who missed all of last season with major shoulder surgery got off to a slow start. On the other hand, holy cow Bird was really freaking bad. The rest of the Yankees were great! The Yankees went 15-8 with a +43 run differential in April despite getting negative production from first base. They could afford to ride out Bird's slump and reap the rewards later. But we never did see any real indications Bird was ready to bust out.
Throughout April, there were signs Bird was not right physically. It wasn't the shoulder. It was his right ankle. He fouled a pitch off the ankle in the very last Grapefruit League game of the spring and it was still bothering him in April. Those suckers hurt. Paul O'Neill has talked about them on YES Network broadcasts a bunch of times over the years. He's said he's fouled pitches off his shin or foot in April and still felt it in September. I went through the trouble of finding the pitch earlier this year, so he's the foul ball that created the injury: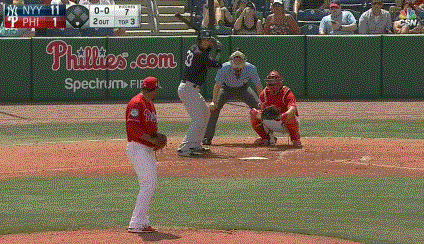 Looked innocent enough. Joe Girardi sat Bird for a few games early in the season — he sat for the fifth, sixth, seventh, and eighth games of the season, to be exact — hoping that would knock it out. But apparently not. On May 2nd, with his batting line sitting at an unsightly .100/.250/.200 (29 wRC+), the Yankees placed Bird on the 10-day DL with what they called a bruised ankle.
The Injuries
"In watching him yesterday, and talking to (hitting coach Alan Cockrell) about his work yesterday, I just didn't feel like there was a lot of explosion in his lower half," said Girardi after Bird was placed on the disabled list. "We talked after the game. We felt that we just need to give this some time … He just felt like his ankle wasn't working properly. Yesterday was the first day I really, really noticed it. Players play through things but this one just seems to not be healing. We're pretty confident there are no breaks. But bone bruises, they're tricky. They can last months."
Indeed, they can last months. In fact, it was what was originally called a bone bruise that landed Bird his first MLB opportunity. Mark Teixeira fouled a pitch off his shin in August 2015, it hurt like hell, and weeks later a hairline fracture was discovered when the shin didn't get better. That created an opening at first base. Now, two years later, there was fear the same would happen to Bird. A seemingly minor injury would blow out into something major. And that's exactly what happened.
The ankle injury saga included a lot of important steps, so let's recap this thing timeline style:
May 2nd: Bird placed on 10-day DL.
May 18th: Bird begins running.
May 24th: Bird begins baseball activities. Fielding grounders, hitting, running the bases, etc.
June 1st: Bird begins a minor league rehab assignment.
June 15th: Yankees pull Bird from his rehab assignment due to continued discomfort.
June 20th: Bird sees a specialist who gives him a cortisone shot.
June 28th: Bird resumes working out, but experiences renewed soreness.
July 14th: Bird sees another specialist, who gives him another cortisone shot.
July 17th: Bird sees yet another specialist, who says he needs surgery to treat "inflammation in his os trigonum."
The surgery, which was performed on July 18th, removed the os trigonum, which was an extra bone in his ankle. They're not uncommon. I was born with one in each foot and they've never bothered me in any way. They're just … there. It seems Bird fouled the pitch off his foot in such a way that disturbed the extra bone. Anyway, Bird's surgery came with a six-week rehab, which meant there was a chance he'd return before the end of the season, but given his career to date, it was tough to count on him getting healthy.
"In nearly four months since first injuring my ankle, it had been increasingly frustrating to have only questions and no answers," said Bird after finding out he needs surgery. "All this time, I have wanted nothing more than to be out there playing the game I love as a member of the New York Yankees. My season is not over. I plan to do everything in my power to return and help our team win in 2017."
Because the miserable April and ankle injury weren't bad enough, a "Yankee insider" ripped Bird while speaking to Bill Madden, and essentially questioned his desire to play. The quote:
"You really have to wonder what's with this guy," a Yankee insider complained to me earlier this week. "You'd think with Judge and Sanchez, the guys he came up through the system with, doing so well up here he'd want to be a part of this. Apparently not."
The identity of the "Yankee insider" still isn't known and probably won't ever be known because that person is a gutless coward. You want to question someone's desire and competitiveness? Fine, but put your name on it. Don't hide.
"I don't think I would be too happy about it," said Girardi when asked how he'd feel if someone made similar comments about him. "Only the player knows, and I would be a little bit upset if someone questioning my desire and integrity … He's done everything we've asked, it just hasn't happened."
The Good
This was a tough, tough season for Bird. Fortunately, the six-week recovery timetable meant there was still a chance he could contribute down the stretch, and on August 16th, Bird started another minor league rehab assignment. He went 11-for-26 (.423) with three homers in nine rehab games with Triple-A Scranton. Most importantly, his ankle — and surgically repaired shoulder — was feeling good.
Bird returned to the Yankees on August 26th, 117 days and one os trigonum bone lighter after being placed on the disabled list. I thought the Yankees would just wait until rosters expanded on September 1st to bring him back, but no, they wanted him in the lineup as soon as possible. And sure enough, Bird struggled out of the gate. He went 11-for-58 (.190) in his first 20 games back from the ankle injury. It was a continuation of April, basically.
Despite those ugly 20 games, there were some positive signs and things that led you believe Bird would soon figure it out. For one, he was healthy! For the first time in nearly two years. His shoulder was fine and his ankle wasn't bothering him at all. And two, Bird was showing more power. Four of those eleven hits left the park — he had only one homer in April — and his soft contact rate dropped from 23.7% before the injury to 13.0% after the injury.
On September 20th, in the 152nd game of the regular season, Bird finally had that long awaited breakout. He went 3-for-4 with two doubles in a win over the Twins. The next game he went 1-for-4 with a homer. The game after that he went 1-for-3 with a double and a walk. Then back-to-back-to-back games with a home run. Bird was finally having an impact, better late than never.
In those final ten games of the regular season Bird went 11-for-29 (.379) with four doubles and four homers. His final season numbers were ugly — again, he hit only .190/.288/.422 (86 wRC+) in 170 plate appearances — but he was starting to snap out of it just in time for the postseason. The Yankees had been short a bat for a while. Basically since Holliday got sick and stopped hitting in June. Bird stepped in to fill the void late in the season.
During the Wild Card Game, Bird drove in what proved to be the game-winning run with a two-out single to drive in Sanchez. He went 4-for-18 (.222) in the ALDS against the Indians, and while his average was low, he made up for it with walks (.364 OBP) and also two homers. Bird's second ALDS homer was probably my favorite homer of the season. Bird drove in the game's only run in the 1-0 win in Game 3 to keep the season alive.
I love everything about it. I love that, given the circumstances, the home run basically saved the season. I love Matt Vasgersian's call. I love that the crowd completely drowned out Vasgersian's call. I love that the camerawork made it look like the ball was going to land in the upper deck. I love that Bird hit it against Andrew Miller. Not because I don't like Miller. He's awesome and forever cool in my book. He's just so good and he normally chews up lefties, yet Bird took him deep anyway. So good. So, so good.
Bird added another home run in the ALCS against the Astros, and he finished the postseason hitting .244/.426/.512 with three homers and 12 walks in 13 games. He was probably the team's most consistent hitter in the playoffs. Yes, Bird did get thrown out at the plate (twice!) in the ALCS, and that was a major letdown. Both plays probably changed the series in Houston's favor. What can I say? Speed and baserunning was never Greg's thing.
After missing all of 2016 with shoulder surgery, and after being dogged by injuries and idiot Yankee insiders for the first five months of 2017, Bird finally arrived late this season, and became the impact hitter the Yankees have expected him to become for years now. Seven homers in his final 23 games? Tons of walks? Surprisingly nimble first base defense (Bird can really stretch, eh?)? We've waiting a long time to see this Greg Bird. It was glorious.
2018 Outlook
It wasn't all that long ago that there was speculation the Yankees would pursue impending free agent Eric Hosmer this offseason. Would Bird stay healthy? Would Bird hit even if he did stay healthy? We didn't know the answers to those questions, and truth be told, we still don't. We've only seen flashes of greatness from Bird. Next season will be his final pre-arbitration year and we're still waiting for even a half-season of quality play, nevermind a full season.
Signing Hosmer never seemed all that realistic to me given the plan to get under the luxury tax threshold. I mean, I suppose it could happen. The Yankees do still have an opening at DH, after all. But I don't think it'll happen. The Yankees love Bird and they want him to be their full-time first baseman, and he's going to get another opportunity to do exactly that next season. And the goal is simple: stay healthy. If Bird stays on the field, I truly believe he can become one of the better first basemen in baseball. There are 30 homers and a .400 OBP batting eye in there, waiting for Bird to stay healthy enough to be unleashed.