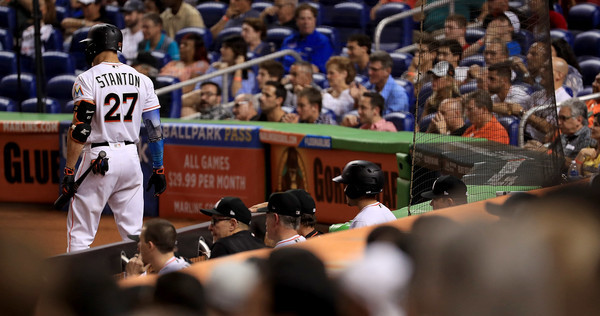 The offseason is not yet two full weeks old, but already the two biggest stories of the winter are clear. The first is Shohei Otani's impending move to MLB. The Nippon Ham Fighters announced they will indeed post Otani at some point this winter. MLB, MLBPA, and NPB still need to work out some posting agreement details, and once that happens, all 30 clubs will make a pitch to the righty-slash-slugger.
The second biggest story — these are stories 1A and 1B as far as I'm concerned — is the Giancarlo Stanton trade sweepstakes. The Derek Jeter led ownership group wants to cut payroll to get the Marlins back into the black, and the quickest way to do that is by trading the team's highest paid player. Stanton will make $25M next year and unloading that makes getting the financials in order easier.
Trading Stanton, the probable NL MVP coming who is coming off a 59-homer season, is pretty much the worst possible way for the new ownership group to make a first impression, but they seem dead set on doing it. Already rumors are the flying that the Cardinals, Giants, Phillies, and Red Sox are talking to the Marlins about Stanton. I suspect it's only a matter of time until other teams (Dodgers? Astros? Rangers? Cubs?) get involved.
The Yankees inquired about Stanton at the trade deadline and my guess is they'll check in again this offseason, if they haven't already. The Yankees check in on everyone. Brian Cashman & Co. wouldn't be doing their job if they didn't at least pick up the phone and make the call. Acquiring Stanton may seem like a long shot — there are other more desperate teams in the mix — but there are two very big reasons the Yankees should get involved.
1. Stanton is really good! A just turned 28-year-old who hit .281/.376/.631 (156 wRC+) with 59 home runs and sneaky good defense is a true franchise player and someone who makes every team better. Yes, the Yankees basically already have Stanton 2.0 in Aaron Judge, but there are three outfield spots plus the DH spot. You make room for a guy like Stanton. He's a balance of power player. He can change an entire division outlook by himself.
The Marlins are seemingly so focused on cutting payroll that it's entirely possible Stanton will come at a relative discount. His contract is massive — he's owed $295M from 2018-27 — and because of that, Miami might not receive full price in terms of prospects. I don't think Stanton will come at zero prospect cost. I expect the Marlins to get some very good young players. Stanton is that damn good and enough teams are involved to drive up the price. The idea of getting Stanton while doing nothing but taking on the contract and giving up some fringe prospects is a pipe dream.
Now, that said, the Marlins did recently hire player development head Gary Denbo away from the Yankees, so he knows the farm system. That could facilitate a trade. Denbo undoubtedly has some personal favorites in the farm system and could push for them when he's inevitably consulted prior to the trade. That could mean getting Stanton at an easier to swallow cost. Unlikely? Sure. But you never know. It's worth checking in for this very reason.
2. Drive the price up for the Red Sox. This is the big one. The BoSox are desperate for a power bat — they somehow finished dead last in the AL in home runs in 2017 — and president of baseball operations Dave Dombrowski has never been shy about making a big splash. Why trade for Stanton when you could just sign J.D. Martinez, who Dombrowski knows from their time in Detroit? Well, Stanton's a more well-rounded player and younger, and in terms of average annual salary, he might be cheaper too.
There are enough teams reportedly interested in Stanton that the Red Sox will have competition for him, but bidding against the Cardinals and Giants is not the same as bidding against the Yankees. The history and intradivision rivalry adds another layer to things. Remember the Jose Contreras bidding war? Mark Teixeira? Things are different when the Yankees and Red Sox are bidding against each other. It's unlike any other rivalry in baseball.
Keep in mind Cashman and the Yankees have a history of feigning interest in a free agent in order to make life complicated for the Red Sox. They did it with Carl Crawford. Doing the same with Stanton is a no-brainer as far as I'm concerned, and there are three reasons it could be very effective.
They have the prospects to get Stanton.
They could easily find room for him in the lineup.
They look poised to take over the top of the AL East.
Faking interest in a player to drive up the price for a rival only works if the interest is believable. If the Red Sox wanted J.T. Realmuto and the Yankees showed interest, it would seem kinda weird because they already have a great catcher in Gary Sanchez, you know? Stanton's a different story. Jacoby Ellsbury hasn't been good in a while, Brett Gardner is getting up there in age, and we still don't know whether Clint Frazier or Aaron Hicks are actually any good. The Yankees having interest in Giancarlo would be completely plausible.
* * *
As onerous as Stanton's contract appears, I think it'll look pretty darn good in about 16 months, after Bryce Harper and Manny Machado sign their new deals as free agents. Those two could very well end up making $40M annually. Once that happens, paying $30M a year for Stanton will look mighty good. The Yankees should throw their hat into the Giancarlo ring because he's really good and a deal could come along that is too good to pass up. And, of course, their interest could make life harder for the Red Sox, and that's always a plus.