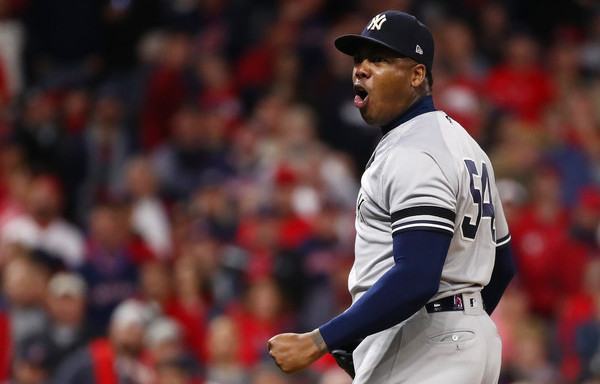 In pure baseball terms, the sequence of Aroldis Chapman deals was brilliant. For the Yankees, that is. The Yankees bought low on Chapman two offseasons ago, getting him from the Reds for four prospects they don't miss. They then traded him to the desperate to end their World Series drought Cubs for a player who is now arguably baseball's best prospect (plus others!). Then the Yankees re-signed Chapman last offseason as a free agent. Didn't even have to give up a draft pick.
Chapman's second stint in pinstripes started when he signed a five-year contract worth $86M, the largest reliever contract in history in terms of both total dollars and average annual salary. A contract that large is always a risk, that's just the way it is, though the case could be made Chapman was riskier than most. He endured a large workload last postseason and so one really knows how effective he'll be when he inevitably starts to lose some velocity.
Year one of that five-year contract was very much a mixed bag. Okay in the beginning, legitimately terrible in the middle, and excellent late. Ultimately, Chapman did what the Yankees signed him to do. He helped get them to the postseason and he was a monster in October, closing out big games against great teams. Let's review the first season of Chapman's second stint in pinstripes.
An Early Season Injury
The first few weeks of the 2017 season were fairly routine for Chapman. He allowed one run on six hits and four walks in his first 12 games and 11.1 innings, striking out 18. Opponents hit .150/.227/.200 against him and he went 7-for-7 in save chances. One of those save chances was pretty adventurous — Chapman was called on to protect a three-run lead at Fenway Park on April 26th, and the inning went:
Andrew Benintendi six-pitch walk
Mookie Betts six-pitch double
Chris Young two-pitch run-scoring ground out
Hanley Ramirez seven-pitch walk (wild pitch moved Betts to third)
Jackie Bradley Jr. four-pitch strikeout
Josh Rutledge eight-pitch strikeout
There were a lot of long at-bats — eight pitches to strike out Josh Rutledge? really? —  and loud contact that game, though considering Chapman's next four outings were basically flawless, the game at Fenway appeared to be a blip. Even the very best closers have a bad game now and then.
Chapman's midseason troubles started on May 7th, against his former team. Remember that 18-inning game against the Cubs on Sunday Night Baseball? That game went to 18 innings because Chapman blew a three-run lead in the ninth. He allowed three hits, walked two, and plunked Anthony Rizzo to force in the tying run. Annoying! At least the Yankees came back to win, I guess.
Next time out — it was five days after the blown save at Wrigley, so Chapman had plenty of rest — Chapman allowed a run and got only two outs in a loss to the Astros. He needed 24 pitches to face five batters, retiring only two. Worst of all, the hitters looked mighty comfortable in the box against Chapman. Both the Cubs and Astros. They weren't overwhelmed by his fastball. They seemingly fouled it off at will.
On May 14th, two days after the rough outing against the Astros, the Yankees placed Chapman on the disabled list with left rotator cuff tendinitis. He would miss at least a month. "I was trying to work through it. I was getting treatment. I believed it was going to go away with the treatment that I was getting," said Chapman, acknowledging he'd been pitching at something less than 100% for a few weeks. Not great!
Chapman returned to the Yankees on June 18th after one rehab appearance, and Joe Girardi eased him back into things after the shoulder injury. That Dellin Betances was nails as the interim closer helped matters. Chapman's first outing back came in the eighth inning of a game the Yankees were losing in Oakland. Next time out he pitched with a four-run lead in the ninth. The Yankees didn't seem to be in much of a rush to return Aroldis to important innings.
Demoted
July featured a few hiccups for Chapman, including allowing two runs in a win over the Blue Jays on July 3rd and two more runs in a walk-off loss to the Red Sox on July 14th. He walked Benintendi on five pitches to force in the winning run. Pretty much the yuckiest way to lose a game.
On August 1st, Chapman was sitting on a 2.97 ERA (1.64 FIP) in 30.1 innings, though it sure didn't feel like he was pitching all that well. Most notably, his 33.6% strikeout rate and 13.4% swing-and-miss rate were well below his career norms (41.4% and 17.2%, respectively). They were great numbers for most pitchers! But for Chapman, they were down noticeably.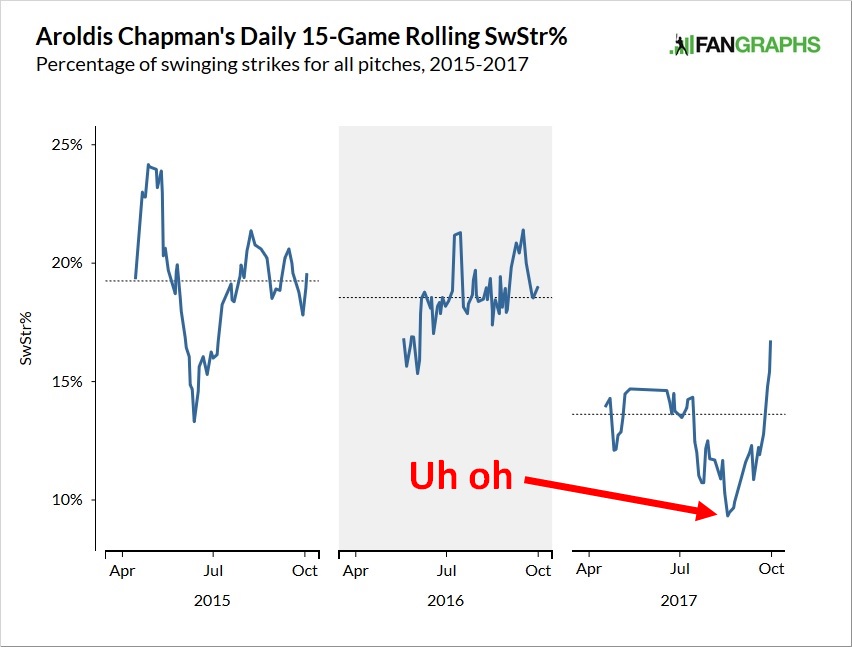 The wheels came off in August. Chapman walked three, allowed a run, and struck out none in a save against the Red Sox on August 11th. The was the game in which Aaron Hicks threw Eduardo Nunez out at third base when he tried to advance on Benintendi's sacrifice fly. Remember that?
Two days later Chapman allowed two runs and blew a save against the Red Sox. Rafael Devers took him deep to tie the game in the ninth, then Chapman stayed in to allow the game-losing run in the tenth. Two days after that, Chapman allowed another two runs in a save against the Mets. And three days after that, he allowed two runs in a loss to the Red Sox.
For the first time in his career, Chapman allowed a run in four straight outings and multiple runs in three straight outings. He also gave up home runs to two left-handed batters (Devers, Yonder Alonso) in the span of two weeks after allowing one homer to a left-handed batter from 2011-16. On August 19th, with his ERA sitting at 4.29 and his opponent's batting line sitting at .235/.331/.338 through 35.2 innings, Chapman was demoted out of the closer's role.
"I just thought for us to get him on track, maybe the best way would be to move him around a little bit until he gets going," said Girardi while making no promises Chapman would eventually return to closer. "We might find something that works so well in certain situations we might keep it."
The day after being demoted, Chapman entered a game against the Red Sox with the Yankees down two runs in the sixth inning, and he recorded four outs without incident. He got one out in the sixth inning with the Yankees down three runs to the Tigers on August 24th, in the brawl game. Chapman took the loss on August 25th when he allowed that home run to Alonso, an extra innings blast that gave the Mariners the win.
From August 26th through September 4th, a span of ten team games, Chapman pitched only once, and that was a scoreless inning against the Red Sox on September 1st. The Yankees were down three runs at the time. (Aroldis against the Red Sox in 2017: 8.2 IP, 8 H, 8 R, 7 ER, 11 BB, 12 K.) The Yankees played several lopsided games in that ten-game span, yet Chapman didn't pitch. I thought that was odd. Girardi said he was trying to get Chapman back on track, yet he weren't using him in the sort of games in which you usually try to get a reliever back on track. Huh.
Better Late Than Never
When Chapman returned to the closer's role, it was almost out of necessity more than anything. Betances allowed a walk-off homer to Manny Machado on September 5th and his control problems were becoming extreme. Chad Green and David Robertson were too important in the middle innings, and Tommy Kahnle had not yet given Girardi a reason to use him in high-leverage spots. So, in mid-September, Chapman took over as closer again.
As it turned out, Chapman returned to the ninth inning with a new fastball grip. Pitching coach Larry Rothschild tweaked Chapman's grip and got him to use more of a true four-seam grip rather than the slightly offset fastball grip he'd been using basically his entire career. "It's been an improvement. The fastball is cutting less and I'm able to get more strikes with it right now," said Chapman to Brendan Kuty.
The improvement was immediate. Velocity was never really a problem for Chapman, even when he was struggling, but his location was awful and there didn't seem to be much life on the pitch. Hitters fouled off lots of fastballs. Check out the swing-and-miss rate on Chapman's heater this season. This is whiffs-per-swing, not whiffs-per-total pitches.
April: 24.2%
May: 44.1% (3.1 innings before injury)
June: 17.8% (4.2 innings after injury)
July: 22.7%
August: 16.1%
September: 39.1%
Considering Chapman's fastball whiffs-per-swing never dipped below 29.3% in any single month from 2013-16 — it never dipped below 32.8% in any full season from 2013-16 — seeing four months well below that mark in the first five months of 2017 was pretty darn scary. Then it bounced back in September. Could a new grip really explain the sudden improvement? I don't see why not. Change the grip and the pitch will behave differently.
Chapman closed out his 2017 regular season with a scoreless September, allowing only three hits and two walks in 12 innings. He went 6-for-6 in save chances, struck out 17 in those 12 innings, and held opposing batters to a .077/.122/.133 line. All told, Chapman went 22-for-26 in save chances this year and finished with 3.22 ERA (2.56 FIP) and a 32.9% strikeout rate in 50.1 innings. The ERA, FIP, and strikeout rate were his worst marks since his rookie season in 2011.
The strong September carried over into October. Chapman allowed one run in six appearances and eight innings in the postseason — the one run was a big run, it was the walk-off run in ALCS Game Two, though Gary Sanchez deserves much of the blame for failing to catch the relay throw that would've cut Jose Altuve down at the plate by a mile — and there were some big outings in there:
1 IP, 1 H, 0 R, 0 ER, 0 BB, 3 K in the Wild Card Game (technically not a save situation since the Yankees had a four-run lead, but the season was on the line, so yeah)
1.2 IP, 2 H, 0 R, 0 ER, 0 BB, 4 K in ALDS Game Three (another elimination game)
2 IP, 0 H, 0 R, 0 ER, 1 BB, 4 K in ALDS Game Five (yet another elimination game)
1 IP, 0 H, 0 R, 0 ER, 0 BB, 2 K in ALCS Game Four
Two shutout innings against the Indians, the AL's best team during the regular season, in Game Five to complete the comeback from down 0-2 in the ALDS is no joke. Even with a three-run lead in the ninth (it was a one-run lead in the eighth). That's a Grown Ass Man save. That's why the Yankees gave Chapman that record contract. To close out games like that.
Chapman became the first American League pitcher with a multi-inning save in a postseason series clincher since (who else?) Mariano Rivera. Mo did it in Game Six of the 2009 ALCS against the Angels.
And yet, I think Chapman's most impressive postseason outing was Game Three of the ALDS, when he recorded five outs in an elimination game two days after throwing two innings in Game Two. Chapman was clearly fatigued but he gutted out the save in the 1-0 win to keep the season alive. His final postseason line: 8 IP, 7 H, 1 R, 1 ER, 2 BB, 16 K. The regular season was a bit of a slog at times, but Aroldis was great in October.
2018 Outlook
In all likelihood the downs in Chapman's up and down season were the result of many things. A hangover effect from last season's workload, the shoulder issue, mechanical (and grip) issues, so on and so forth. Very rarely is one thing to blame. Chapman again pitched a lot of intense innings this October, and the Yankees did play pretty deep into the year, so the hangover effect is something to watch again next season.
The fact Chapman rebounded late and finished very strong is comforting. If he'd struggled right through the end of the season, it would've been a red flag and he'd be a bit of a concern going into 2018. Now that he's shown he can still dominate, I feel much better about things going forward. There are still four years on Chapman's contract — he can opt out following the 2019 season — and any red flags in year one are more scary than usual. I'm glad he finished strong.
The Yankees signed Chapman to that five-year contract because they wanted a dominant closer in place when the team was ready to contend again. As it turns out, they were ready to contend in 2017. I don't think many expected that. The Yankees are ahead of schedule. Chapman's role doesn't change though. He's the closer and the guy the next manager will count on to close out big games. He did it late this year, and as long as he stays healthy, Chapman should be able to do it again next year.