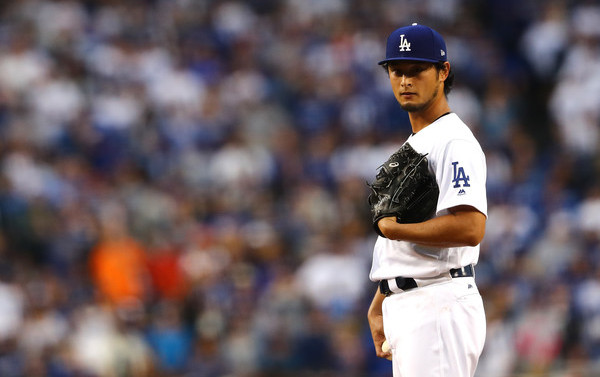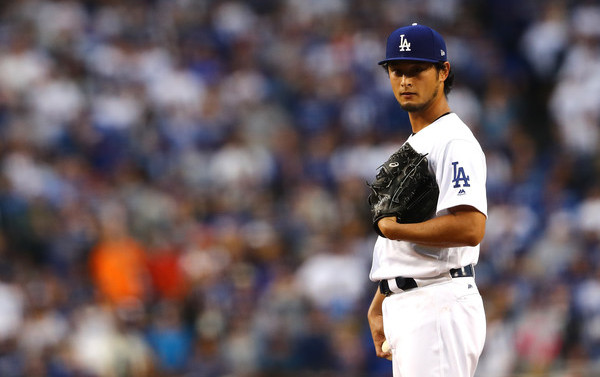 As the Yankees continue to look for another starting pitcher, their search has been limited to trades for a controllable young starter, as far as we know. They haven't connected to many free agent pitchers this winter. Or connected to any, really. At least until now. Ken Rosenthal reports the Yankees remain interested in Yu Darvish, who started meeting with teams (Cubs and Astros, most notably) this week.
Darvish, 31, had a 3.86 ERA (3.83 FIP) with 27.3% strikeouts and 7.6% walks in 31 starts and 186.2 total innings for the Rangers and Dodgers this past season. It was his first full season back from Tommy John surgery. Last year he threw 100.1 innings with a 3.41 ERA (3.09 FIP) after returning with his new elbow ligament in late May. The Yankees want another starter and Darvish is best free agent available, so I figured it was only a matter of time until the two were connected. Let's talk this out.
1. Does he fit under the luxury tax threshold? Probably not. Darvish is looking at $20M+ per season on a however many years contract, and according to our estimates, the Yankees have about $25M in payroll space under the $197M luxury tax threshold. They need to set aside some money for midseason additions though, plus there's the whole "they don't have a second or third baseman right now" thing.
For what it's worth, both MLBTR and the FanGraphs Crowdsourcing have Darvish signing a deal north of $25M annually, and that would be a luxury tax plan buster for the Yankees. Unless they can unload Jacoby Ellsbury or decide to sacrifice bullpen depth for payroll space, Darvish simply won't fit under the luxury tax threshold without taking a big discount, and I have no reason to believe he's interested in taking a discount. I wouldn't be.
2. The Yankees wouldn't have give up a draft pick. On the bright side, Darvish was traded at midseason, meaning he was not eligible for the qualifying offer. He is not tied to draft pick compensation. Because the Yankees are paying luxury tax for the 2017 season, they'll have to give up their second and fifth highest draft picks, as well as $1M in international bonus money during the 2018-19 signing period to sign a qualified free agent. All first round picks are protected now.
In Darvish's case, he's so good that the free agent compensation is a non-issue. Of course you give up your second and fifth draft picks and $1M in international bonus money for a guy like him when you're trying to win. Giving up your first rounder for Darvish is no big deal, in my opinion. In this case though, there is no free agent compensation attached, so, if the Yankees do shock the world and sign Darvish, they'll keep all their picks and bonus money.
3. The reported interest in mutually beneficial. Both Darvish and the Yankees benefit from this rumor, in theory. Darvish gets to tell interested teams the Yankees are involved, which increases his leverage. The Yankees get to tell the teams they're talking to about a pitching trade they're also in the mix for Darvish, and could sign a free agent rather than trade prospects. It's a win-win. Will it work? Eh, who knows. It can't imagine it hurts either party.
4. So what about those two World Series starts? Holy crap was Darvish bad in the World Series. He made two starts against the Astros and allowed nine runs on nine hits and two walks in 3.1 innings. Zero strikeouts. Postseason performance usually has very little impact on free agent contracts. In this case, Darvish was so bad in the World Series that you can't help but ask yourself "what's up with that?"
Two things. One, Darvish was great in his NLDS (5 IP, 2 H, 1 R, 1 ER, 0 BB, 7 K) and NLCS (6.1 IP, 6 H, 1 R, 1 ER, 1 BB, 7 K) starts before the Astros ripped him to shreds in the World Series. And two, apparently Darvish was tipping his pitches against Houston. From Tom Verducci:
According to a Houston player, the Astros often knew what Darvish was about to throw by the way he brought the ball into his glove in the set position. (Darvish pitches exclusively out of the stretch.) The player said it worked like this: Darvish holds the ball at his side when he gets the sign from the catcher. Whether he re-grips or not as he brings the ball into his glove was the tip-off whether he was going to throw a slider/cutter or a fastball.
I can buy that. And you know what? I bet any interested teams will have/have had someone on staff go back and look at the video to confirm the pitch tipping. Teams will undoubtedly use the two disaster World Series starts to try to knock Darvish's price down. It might not work, but they'll try. At least now there's an explanation for those two starts against the 'Stros.
5. Is spending big on a starter over 30 a good idea? Rarely! Darvish is 31 now and he just had his worst MLB season. Yes, it was his first year back from Tommy John surgery, and we should cut him some slack based on that. This is still a pitcher with over 2,100 innings on his arm between Japan an MLB. And his elbow just gave out. Had he not missed the entire 2015 season with Tommy John surgery, Darvish would've thrown basically the same number of innings through age 31 as CC Sabathia. These two statements are true:
Darvish is a very good MLB pitcher.
Darvish comes with lots of red flags.
A year or two ago I would've said it doesn't make sense for the Yankees to spend big on an over 30 starter because they weren't one piece away and needed to focus on getting younger. Now? The young core is in place now and the Yankees might be one piece away. Spending big to get Darvish in an effort to get over the hump is not unreasonable to me. Will the Yankees do it? Who knows. But at some point the potential reward is worth the risk, and the Yankees might be there now.
* * *
As things stand, I would be surprised if the Yankees sign Darvish only because of the luxury tax plan. They'd either have the abandon the luxury tax plan (nope), trade Ellsbury (unlikely), trade some relievers (possible), or trade someone we don't expect (Sonny Gray?). I don't really see it. I think the Yankees checked in on Darvish because they check in on everyone, though they remain focused on trading for a cheaper and younger starter they can control for several more years.