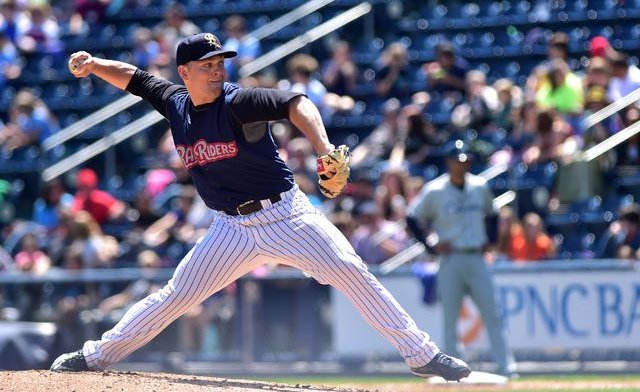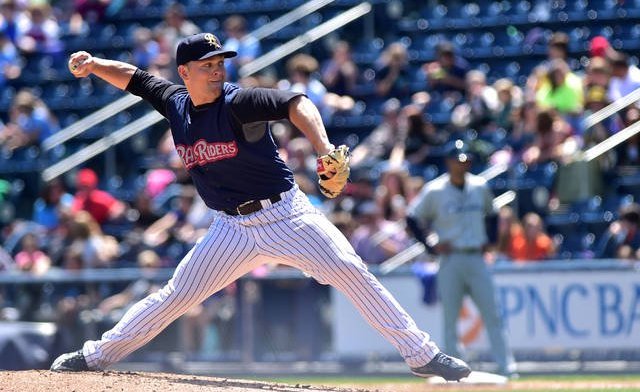 If the Yankees get their way, they will go into Spring Training with six viable big league starters for five rotation spots. They've been trying to add a starter to a group that already includes Luis Severino, CC Sabathia, Masahiro Tanaka, Sonny Gray, and Jordan Montgomery. And not just a depth arm, either. They've been after guys like Gerrit Cole, Michael Fulmer, and Chris Archer. The Yankees want impact.
Of course, even if the Yankees get that impact pitcher, they're probably going to end up using more than six starters this coming season. That's baseball. Last season the Yankees used eleven different starting pitchers, right at the MLB average of 11.6 starters. The last team to use as few as six starters in a single season is the 2013 Tigers. The 2003 Mariners are the last team to get through a season using only five starters. Think we'll ever see that again?
The Yankees have five starters at the moment, so while they would like to add another high-end starter, they're not desperate. They can wait out the market until the price drops to their liking. As for their depth starters, well those guys are going to come from the farm system, and the Yankees have some quality arms slated to begin the season in Triple-A. Here are the team's No. 6-10 starters according to their 2018 ZiPS projections:
6. Chance Adams: +1.4 WAR in 132.2 innings
7. Domingo German: +1.0 WAR in 113.1 innings
8. Domingo Acevedo: +0.7 WAR in 117.1 innings
9. Justus Sheffield: +0.6 WAR in 99 innings
10. Luis Cessa: +0.3 WAR in 115.2 innings
Being able to stash two +1 WAR pitchers in Triple-A for emergencies is a pretty nice luxury. (I'm higher on Cessa than basically everyone, so I think it's more like three +1 WAR pitchers in Triple-A, but ZiPS says what ZiPS says.) Lots of teams will go into the new season with a +1 WAR guy slated to be their fifth starter, hoping they won't have to dip into the replacement level fodder sitting in the minors.
Teams do not base their rotation depth charts on ZiPS, however. Real live depth charts are based not only on the team's internal statistical projections — yes, teams develop their own projections — but also scouting reports, development goals, and the 40-man roster. Oftentimes the spot starter decision will be made for the team. Who lines up to pitch that day? Okay, well, he's getting the ball then. It happens all the time. A few thoughts on the rotation depth chart.
1. Do the Yankees consider Adams ready? Last season, they did not. At least not enough to justify putting him on the 40-man roster two years earlier than necessary. The Yankees wanted Adams to meet some developmental goals in the minors before bringing him to the Bronx, which is why those midseason spot starts when to Cessa and Bryan Mitchell and whoever else.
Adams put in close to a full season at Triple-A last year, and he did well superficially: 2.89 ERA (3.76 FIP) with 22.3% strikeouts and 9.3% walks in 115.1 innings. Those numbers usually do not tell the entire story, however. The Yankees may want Adams to, say, improve his changeup. Or get more comfortable pitching lefties inside. Or do a better job locating his fastball from the stretch. That sorta stuff determines MLB readiness more than stats.
I expected Adams to make his MLB debut last season, and if you'd have told me in March he wouldn't, I would've assumed an injury was involved. Instead, the Yankees wanted Adams to continue working on some things in Triple-A. Has he improved enough to get the call this year? If not, how long until that happens, assuming he isn't traded before Opening Day? When it comes to Adams being an MLB option, the numbers tell one story. The Yankees' actions tell another.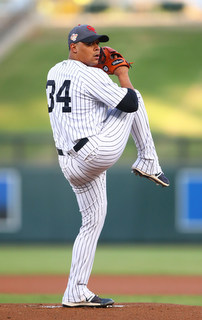 2. Acevedo and Sheffield aren't rotation options yet. Unless the Yankees manage to get to August or even September without needing their eighth or ninth starter, I don't think Acevedo and Sheffield are really eighth and ninth on the depth chart, as ZiPS suggests. Acevedo made two Triple-A starts last year and spent most of the summer in Double-A. Sheffield spent the season at Double-A and missed several weeks with an oblique injury.
Based on the Adams (and Severino and Montgomery) precedent, both Acevedo and Sheffield are going to get Triple-A time before the Yankees are ready to bring them to the show. Acevedo is on the 40-man roster, so perhaps he gets called up as a shuttle arm or emergency starter or something, but I think the plan is to give him a bunch of innings in Triple-A so he can continue working on his breaking ball and command. Sheffield isn't on the 40-man and has yet to throw even 130 innings in a season. The Yankees will stick to their development plan with him. It'll probably be a few months before these two are realistic big league options.
3. Like it or not, Cessa is going to keep getting chances. Like I said, I'm a Cessa fan. I like his velocity, his array of secondary pitches, and his athleticism. Does that mean I think he'll be an impact starter? Of course not. I think the tools are there for him to be a solid fourth starter, the kinda guy who gets about $10M a year in free agency. At the same time, I know I am in the minority. Cessa has a 4.49 ERA (5.58 FIP) in 106.1 MLB innings, so yeah.
Clearly, there's something the Yankees like about Cessa, because he keeps getting chances. He joined the rotation late in 2016 after Nathan Eovaldi got hurt, and he drew spot starts last year when Sabathia's knee acted up. Cessa can start, he can relieve, and he's on the 40-man and optionable. Maybe the Yankees don't like him as much as me. They probably don't. But Cessa is a viable depth arm and he's only 25, so the Yankees are going to continue giving him opportunities to see if something clicks. Maybe it clicks in relief, ultimately. Either way, I think Cessa is the de facto sixth starter right now, regardless of the ZiPS projections.
4. Mystery starters are coming. Who had Caleb Smith making starts at midseason last year? Or Cessa and Chad Green two years ago? Or Chase Whitley in 2014? These unexpected call-ups happen all the time and for all different reasons. Smith was having an exceptional Triple-A season and impressed enough in a long relief outing to get a start. Green was throwing the snot out of the ball for the RailRiders two years ago. Whitley handled the reliever-to-starter conversion better than anyone expected.
These surprise starters come with the territory during a long 162-game season. Who will be the random minor leaguer who ends up making some starts this summer? My money is on Brady Lail, but don't sleep on Nestor Cortes. He'll be in camp as a Rule 5 Draft pick with the Orioles, though if he comes back, he could get a look. That's basically what happened with Smith last year. He was a Rule 5 Draft guy with the Cubs, came back to the Yankees, then got called up. Point is, we can put together this carefully thought out rotation depth chart, then some random minor leaguer will barf all over it.
* * *
Rotation depth tends to disappear quickly. As soon as you think you have it, you don't. Guys get hurt, guys underperform, things never go according to plan. That's why the Yankees are looking to add a high-end starter. The more the better. I have some concerns about the current rotation given last year's workloads, but I'm also comfortable with Cessa and German as the sixth and seventh starters, especially with Adams waiting behind them. At the same time, if the Yankees want to add more arms for depth, I am all for it.