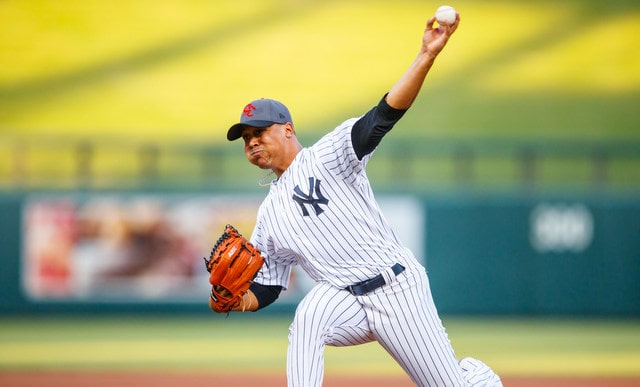 Spring Training is a few weeks away and that means we're in top 100 season. Baseball America released their annual top 100 prospects list earlier this week, and a few days ago, Keith Law published his top 100 list as well (1-50, 51-100, just missed). It's all behind the Insider paywall.
Braves OF Ronald Acuna sits in the top spot on Law's top 100, just like Baseball America's top 100. Blue Jays 3B Vladimir Guerrero Jr. and Padres SS Fernandez Tatis Jr. are second and third, respectively. Lots of good sons of former big leaguers in the minors right now. (Bo Bichette is a top prospect too.) Here are the Yankees prospects in Law's top 100:
5. SS Gleyber Torres
16. LHP Justus Sheffield
54. 3B Miguel Andujar
73. RHP Freicer Perez
99. RHP Albert Abreu
Just Missed: RHP Domingo Acevedo and OF Estevan Florial
Athletics SS Jorge Mateo (No. 39) and RHP James Kaprielian (No. 56) both made the top 100 as well. They went to the A's in the Sonny Gray trade. As a reminder, OF Clint Frazier exceeded the 130 at-bat rookie limit by four at-bats last season, so he is no longer rookie (or prospect) eligible. He would've surely made Law's (and Baseball America's) top 100 lists had he still been eligible. Anyway, I have some thoughts on Law's list and the Yankees' top prospects in general.
1. Let's talk about Gleyber's power. There's a difference of opinion about Torres' power these days. Law's write-up says Torres projects to "probably just 10-15 homers a year," which is below-average pop. Especially these days with the juiced ball. Baseball America and MLB.com both slap a 55 on Gleyber's future power, which is a tick above-average on the 20-80 scouting scale. Generally speaking, 55 power projects to about 18-22 homers per season. Maybe a little more in this homer happy era. Either way, Law is lower on Torres' long-term power than Baseball America or MLB.com, which doesn't mean one or the other is wrong. They could both be wrong! It just means there's a difference of opinion. In his limited time last season Torres hit seven homers in 235 plate appearances as a 20-year-old in Double-A and Triple-A, which is damn impressive. These days it seems like young players are coming up and hitting for more power than expected almost instantly, and it's not just the Gary Sanchezes and Cody Bellingers and Aaron Judges. Guys like Tyler Naquin came up and started smacking homers. Based on that and the whole Yankee Stadium thing, I'd take the over on 10-15 homers annually from Gleyber.
2. Setting the record straight on Andujar's defense. The Yankees opted to keep Andujar in Triple-A during the second half last year to work on his defense even though they needed another bat and had an opening at DH. There was a clear path to regular big league playing time. Instead, the Yankees left Andujar in Triple-A so he could work on his defense in games that don't count. That seems to have created the narrative that Andujar is bad in the field. That's not true. He's not Brooks Robinson, but he's a fine third baseman. "He has a rifle of an arm and has improved his footwork to the point that he should be an average defender at third," wrote Law. More than anything, the Yankees kept Andujar down to correct some bad habits in the field. He tends to show off his arm, which robs him of accuracy, and there are times he'll rush and let the ball play him. Andujar's defensive tools are fine. He has plenty of arm and he has the quick twitch reactions needed for the hot corner. He just needs to iron some things out. This isn't like Marcus Thames playing third base. The Yankees aren't forcing something that obviously won't work.
3. Perez has at least one big fan. I'm pretty sure you're not going to see Freicer Perez on another top 100 list this spring. Law calls him a "potential front-line starter" who "pitches at 94-98 now and shows a plus curveball and projectable slider along with a changeup that he's still learning to use." I haven't seen a report that glowing basically anywhere. Everything I've heard and read says Perez's secondary pitches are still iffy. It's possible Law caught him on a good day(s) and/or received favorable reports. If someone saw it though, it's in there, and it's a matter of getting to it consistently. Pretty much every tall Yankees pitching prospect — Perez is 6-foot-8 — gets compared to Dellin Betances at some point, though that's unfair. When one of these guys goes out to the mound with 98+ and that breaking ball, we can talk about the Dellin comparison. Let's let Freicer Perez be Freicer Perez. Law's scouting report is glowing, and there's no doubt Perez is a quality prospect even if you aren't this high on him. Not too bad for a kid who signed for $10,000 back in the day.
4. Let's talk about who is not on the top 100. Florial is going to be a top 100 prospect pretty much everywhere else and the same is probably true for Chance Adams as well. I'm not a big Adams guy — I think he's probably a reliever long-term (a good reliever, I should add) because his fastball is true and he's been unable to prevent upper level hitters from getting the ball airborne (41.4% grounders in Triple-A last year) — and I wouldn't have him in my personal top 100 list, so I don't have a problem with Law excluding him. As for Florial, Law explains it's all about pitch recognition. "On raw tools, Florial would go somewhere in the top half of the list. Maybe in the top 25 … His pitch recognition, however, is a huge problem … in large part because he does not seem to recognize changing speeds at all," says the write-up. Last year's 31.1% strikeout rate — it was 35.8% against mostly Double-A caliber and above pitchers in the Arizona Fall League — doesn't lie. The kid is super talented, but he has some holes in his swing and issues with breaking balls. The Yankees love Florial and expect him to get better as he gains experience after not playing a ton as an amateur. Until he gets better though, he'll be a very high risk prospect. High reward! But also high risk. And besides, Law's lists always seem to generate a ton of outrage no matter what. The focus is on Florial not making the top 100 rather than Perez making it, or Sheffield ranking way higher than he'll rank anywhere else, or Acevedo being a borderline top 100 guy.