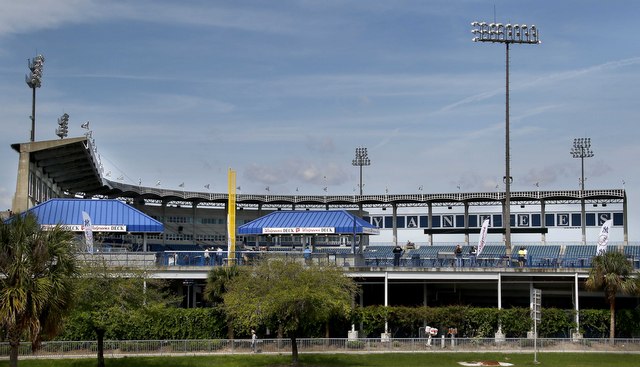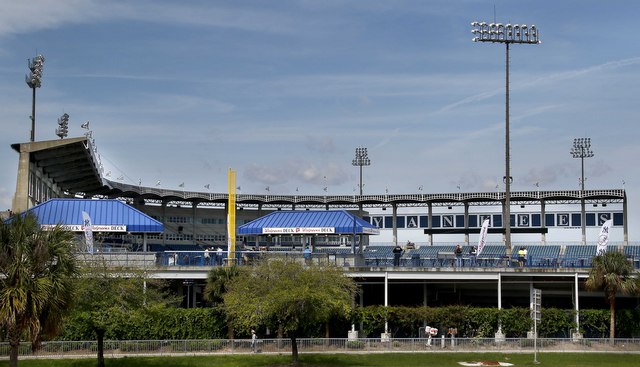 A few weeks ago MLB announced a new set of pace-of-play rule changes, and earlier today, Minor League Baseball announced their own set of pace-of-play measures. They are much more extensive than what we'll see in the big leagues this summer. Here are the details:
15-second pitch clock with the bases empty and 20-second pitch clock with men on base.
Mound visit limits for Triple-A (six per game), Double-A (eight per game), and Single-A (ten per game). There are no mound visit limits in the short season leagues. Each team gets one additional mound visit for each extra inning.
In extra innings, every half-inning will begin with a runner on second base. If that runner scores, it is charged to the pitcher as an unearned run.
There was a 20-second pitch clock at Double-A and Triple-A the last three years, and now the pitch clock extends all through the minors. The mound visit rule is whatever. I'm glad teams have more allotted mound visits the lower you go in the minors. Those young kids in Single-A need lots of help.
The extra-inning rule was used in rookie ball last season and now it will be used through the minors. Strategically, it is dumb as hell. With the extra-inning rule, every inning begins with a sac bunt to move the runner to third, then an intentional walk to set up the double play. Every time! I say go full crazy and start each extra-inning with the bases loaded and no outs. That'd be fun.
In all seriousness, I think the extra-inning rule is a good thing in the minors. Development is the top priority down there, winning is secondary, and the rule change helps avoid overworking arms. "I really like (the extra-inning rule). The worst day of a farm director's year is when a young team plays 15+ innings," said an unnamed farm director to J.J. Cooper. Teams want games over as soon as possible.
That said, I really hope the extra-inning rule in the minors is not a trial balloon for the big leagues. I'm cool with the runner on second in the minors. I absolutely do not want it at the MLB level. I'm okay with the mound visit rule and I am pro pitch clock if MLB wants to add it. Get that extra-inning rule outta here though. I don't ever want it in the big leagues.