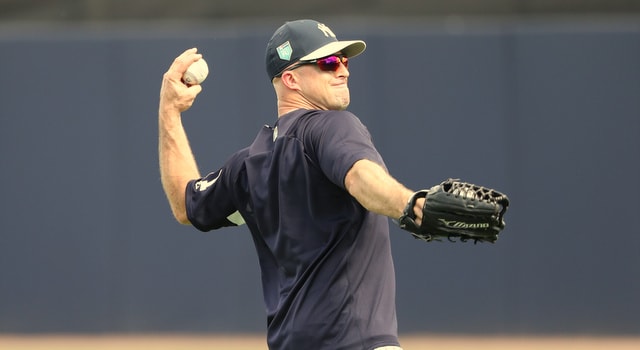 Ready to feel old? There are only 91 active players who played a game in the old Yankee Stadium. Only eight of those 91 played in the old Yankee Stadium as a Yankee. The eight: Melky Cabrera, Robinson Cano, Francisco Cervelli, Brett Gardner, Phil Hughes, Ian Kennedy, David Robertson, and Chris Stewart. Apparently Stewart played one game for the 2008 Yankees. Who knew?
Anyway, only eight players who played a home game in the old Yankee Stadium are still active today. Pretty crazy, huh? Gardner is the longest tenured Yankee in terms of continual service — Robertson made his MLB debut the day before Gardner, though he spent time with the White Sox — and he is the longest tenured player in the organization overall. No big leaguer or minor leaguer has been a Yankee longer than Gardner, who was drafted in 2005.
It has been nearly a decade since Gardner had to beat out Melky for the center field job. Now he is the club's elder statesman. The unofficial captain according to basically every Yankee who is asked to name the team leader. (Aaron Judge singled out Gardner for his leadership on a recent R2C2 podcast.) It's kinda weird. It feels like just yesterday he was the young guy on an aging, veteran team.
For all intents and purposes, things are the same as they've always been with Gardner. He was again productive last year, he was mentioned in trade rumors basically all winter, and he is flying under the radar in Spring Training because everyone is focusing on the shiny new addition. That's the Brett Gardner story. Let's preview his upcoming season.
Consistency is boring …
… and in that case Gardner qualifies as boring. His power numbers has fluctuated a bit in recent years — Gardner popped a career high 21 dingers in 2017 after hitting only seven in 2016, and obviously the juiced ball has something to do with that — but otherwise his numbers have been remarkably consistent the last few years. Look at this:
| | AVG | OBP | BB% | Pitches per PA |
| --- | --- | --- | --- | --- |
| 2015 | .259 | .343 | 10.4% | 4.16 |
| 2016 | .261 | .351 | 11.0% | 4.09 |
| 2017 | .264 | .350 | 10.6% | 4.23 |
| Career | .264 | .347 | 10.3% | 4.25 |
Gardner hit .259 with a .345 OBP and a 10.2% walk rate back in 2011, and he saw 4.19 pitches per plate appearance. If I'd just dumped those numbers in front of you, I wouldn't blame you for thinking they were his 2017 stats. That's Gardner. He's going to hit .260-ish with a .350-ish OBP while drawing lots of walks and seeing lots of pitches. It is no surprise then ZiPS projects a .264 AVG, a .347 OBP, and a 10.2% walk rate in 2018. I mean, duh. Those numbers and 20-ish steals — he's stolen between 16 and 24 bases each of the last five years — are what you're going to get from Brett.
There were no statistical red flags in Gardner's game last season. He didn't swing-and-miss more, he didn't struggle to get the ball in the air, and his hard contract rate stayed the same. The only reason to worry about a potential decline this season is — and this is a big one — Gardner's age. He's 34 now and he'll turn 35 in August. Gardner plays very hard and he plays hurt, which is admirable, but isn't exactly conducive to aging well. Chances are Gardner will hit .260-something with a .350-ish OBP because that's what he always does. With each passing year though, he is more and more at risk of age-related decline. So it goes.
Platoon issues and additional rest
After years of holding his own against southpaws, Gardner has shown a pretty significant platoon split the last two seasons, hitting .276/.367/.429 (116 wRC+) against righties and .230/.307/.313 (69 wRC+) against lefties. That includes a .209/.299/.291 (62 wRC+) line against southpaws last season. So while Gardner's overall numbers have been ridiculously consistently the last few seasons, his numbers against lefties are trending down.
It is no surprise then that the Yankees have indicated Gardner will get more rest this season, primarily against southpaws. How the roster will work those days — who hits leadoff? who plays left field? — is still being sorted out, but the point is Gardner is going to get more time on the bench this season, particularly when a lefty is on the mound. And that's perfectly fine. He's getting up there in age and Gardner always plays hard. Some more rest figures to serve him well going forward. Totally cool with it.
The looming no-trade clause
On or about June 30th of this season, Gardner will receive his ten-and-five full no-trade protection. That is ten years in the big leagues and the last five with the same team. At that point, Gardner will finally have control over the situation after years of trade rumors. He won't have to go anywhere if he doesn't want to.
I wouldn't call it likely, but it is definitely possible the Yankees will look to trade Gardner before his ten-and-five rights kick in. That's what the Rays did with Evan Longoria. They traded him this winter because he was due to get ten-and-five rights two days — literally two days — into the 2018 season. Tampa traded Longoria and his contract before he receive the ability to block any deal.
Gardner is not signed long-term like Longoria, so the Yankees won't have the same motivation to shed all those contract years, but the point remains the same. Move Gardner now to clear up luxury tax payroll space and open a spot for a younger player before he has ten-and-five rights and can block a deal. I don't think the Yankees will trade him. They value him highly. I'm just saying it's not out of the question.
The looming option decision
This is the final guaranteed season on Gardner's contract. He'll make $11.5M this year — his luxury tax hit is $13M — before the Yankees have to make a decision about his $12.5M club option for 2019. Since the option includes a $2M buyout, it is effectively a $10.5M decision. Brian Cashman recently told Kevin Kernan the Yankees haven't yet thought about Gardner's future, which doesn't surprise me. See how the season plays out, then make a decision.
Given his age, the current free agent climate, and the stockpile of young outfielders in the organization, it is entirely possible the Yankees will decline Gardner's option even if he has another typical Gardner season. Or maybe they'd rip up the option and agree to a new contract, say two years and $16M from 2019-20? I'm not sure. That option decision is coming though, and it is basically impossible to predict what will happen right now. Gardner could decline and the Yankees might still exercise the option because they value his leadership so much. Who knows?
* * *
By sheltering him against lefties and giving him more rest — assuming those things actually happen, of course — the Yankees are reducing Gardner's on-field role this season. His off-the-field role is unchanged. He's still a leader in the clubhouse. When Gardner goes the Yankees seem to go. The Yankees are just acknowledging that, at this point of his career, Brett might be better as a 125-game player than a 150-game player.
As for the ten-and-five rights and option decision, that's something worth worrying about later. The Yankees have yet to receive what they consider an acceptable trade offer for Gardner — I know that because he is still a Yankee — and the option decision is still so far away. Who knows what'll happen this year. For now, Gardner remains the team's leadoff hitter and clubhouse leader, and age is pretty much the only reason to believe he might not be the player he was from 2015-17 again in 2018.