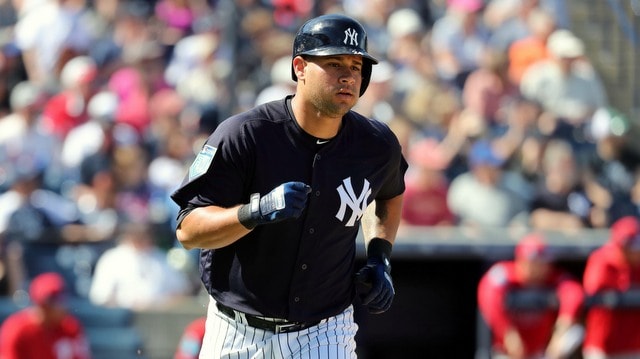 With Spring Training well underway and Opening Day inching closer and closer, the Yankees have started signing their pre-arbitration-eligible players to one-year contracts for the 2018 season.
As a reminder, players with less than three years of service time do not have arbitration rights, so clubs are essentially free to pay them whatever they want. Teams usually negotiate a salary with the player to maintain a good relationship, however. Here are the Yankees' known 2018 pre-arb deals, according to the Associated Press and Ken Davidoff:
| | Service Time (years.days) | MLB salary | MiLB salary |
| --- | --- | --- | --- |
| Brandon Drury | 2.034 | $621,900 | ? |
| Ronald Torreyes | 2.022 | $615,500 | $280,950 |
| Gary Sanchez | 1.086 | $620,400 | $278,950 |
| Chad Green | 1.050 | $570,800 | $229,005 |
| Luis Cessa | 1.013 | $568,925 | $171,615 |
| Ben Heller | 0.096 | $547,475 | $96,395 |
| Clint Frazier | 0.093 | $559,200 | $135,943 |
| Tyler Wade | 0.081 | $551,300 | $122,214 |
| Domingo German | 0.071 | $548,225 | $88,900 |
| Gio Gallegos | 0.062 | $549,575 | $144,811 |
| Miguel Andujar | 0.020 | $545,800 | $88,900 |
| Jake Cave | 0.000 | $545,000 | $88,900 |
| Gleyber Torres | 0.000 | $545,000 | $44,500 |
| Thairo Estrada | 0.000 | $545,000 | $44,500 |
| Jonathan Loaisiga | 0.000 | $545,000 | $44,500 |
All pre-arb players sign split contracts that pay them one salary in the big leagues and another salary in the minors. And just to be clear, these 15 players will not become free agents after the season just because they signed a one-year contract. They remain under team control until they have six full years of service time. These players now have a contract in place for 2018. They'll do this all again next year.
Like most teams, the Yankees are said to have a sliding salary scale based on service time for pre-arb players, with escalators for All-Star Games and awards finishes, things like that. Also, these contracts are not guaranteed, so the Yankees could release any of these guys before Opening Day and only have to pay them either 30 days or 45 days of termination pay, depending on the timing of the release. I don't expect that to happen with anyone. I'm just saying.
The Yankees still have ten unsigned pre-arb players: Albert Abreu, Domingo Acevedo, Tyler Austin, Greg Bird, Kyle Higashioka, Jonathan Holder, Aaron Judge, Billy McKinney, Jordan Montgomery, and Luis Severino. I imagine Abreu, Acevedo, and McKinney will get the same $545,000/$44,500 deal as Torres, Estrada, and Loaisiga since they all have zero MLB experience and no more than one year of Triple-A time. Austin, Higashioka, and Holder will probably fall somewhere in the Cessa-Gallegos-Cave range as guys with big league service time and multiple years at Triple-A.
Bird, Judge, Montgomery, and Severino are the major remaining pre-arb cases. Montgomery has less than one year of service time, so I think he falls in the $565,000 range. Somewhere just south of Green and Cessa. Remember, these salaries are based more on service time than performance. Bird has more than two years of service time (2.053 to be exact) but he's missed so much time with injury that he's only played 94 big league games. I wonder if the injuries will prevent him from cracking $600,000. Otherwise Drury/Torreyes money seems likely.
Judge is a special case given everything he's accomplished so far in his young career. Home Run Derby champ, leading fan vote-getter for the All-Star Game, unanimous Rookie of the Year, MVP runner-up, AL home run champ … the usual sliding salary scale doesn't really apply to him. Here are the largest pre-arb salaries in history:
2017 Kris Bryant (1.171): $1.05M (Rookie of the Year and MVP)
2018 Carlos Correa (2.119): $1M (Rookie of the Year)
2014 Mike Trout (2.070): $1M (Rookie of the Year and two MVP runner-ups)
2017 Mookie Betts (2.070): $950,000 (MVP runner-up)
On one hand, Judge has a Rookie of the Year and an MVP runner-up, which suggests his salary should fall somewhere between Betts and Trout. On the other hand, Judge only has a bit more than one year of service time (1.050), whereas Betts and Trout were both over two years. My guess — and this is just a guess — is Judge will come in somewhere around $750,000. Lots more than the typical pre-arb player but a notch below Trout and Betts given the one fewer year of service time.
Severino finished third in the Cy Young voting last season and that will undoubtedly earn him a nice little raise this offseason. Kyle Hendricks is a potential salary comp. He finished third in the 2016 Cy Young voting and earned $760,500 with 2.081 service time in 2018. Severino is at 1.170 service time right now. Another potential comp: Jose Fernandez. He finished third in the 2013 Cy Young voting and got $635,000 with exactly one year of service time in 2014. That was back when the minimum salary was $500,000. This season the minimum is $545,000.
Because he doesn't yet have two full years of service time — Severino is at 1.170, two days short of two years, so the Yankees narrowly managed to push back his free agency when they sent him down in 2016 — I think Severino falls a bit short of Hendricks money. He might fall in the $650,000 to $700,000 range. Well below his actual worth but pretty darn good relative to other pre-arb players.
It's worth noting the Yankees can renew the contract of any pre-arb player at any salary, as long as it is not less than 80% of their previous year's salary. The Yankees could renew Judge at the $545,000 league minimum. They (probably) won't, but they could. Two years ago the Yankees renewed Dellin Betances at the minimum because they couldn't agree to a contract. That was notable because it rarely happens. The Yankees have shown they will do it, which increases their leverage during contract talks, but they don't want it to come to that.
As far as the luxury tax payroll, the pre-arb salaries don't change much. Based on our estimates the Yankees have approximately $22M to spend under the $197M threshold, though we used the $545,000 minimum for pre-arb players on the 25-man roster. Sanchez, Drury, Torreyes, and Green are the only safe bets among the 15 signed pre-arb guys to spend the entire season on the MLB roster. Their combined 2018 salaries is $2,428,600. Four players at the minimum is $2.18M. So that is $248,600 less available in luxury tax payroll. Not a big dent.
Once the Yankees get their remaining pre-arb players signed, that $22M under the luxury tax threshold will be more like $21M under the threshold. Maybe $20.5M if they really take care of Judge and/or Severino. That's still a lot of breathing room under the $197M threshold, but these pre-arb players make real dollars, real dollars that can't be spend elsewhere. The pre-arb players are the key to the luxury tax plan. They're providing lots of value at little cost.