Sixteen games into the 2018 season, the Yankees have been mediocre and Aaron Judge has been awesome. Judge is hitting .339/.480/.593 (193 wRC+) in the early going, which is more or less in line with his numbers prior to the shoulder injury/second half slump last season. Aaron Judge, it appears, really is this damn good. Fun!
As good as Judge's overall numbers are right now, one number is flying under the radar: 24.0%. His strikeout rate. That's down from 30.7% last year and 31.7% in the second half last year. We're only 16 games into the season, so that 24.0% strikeout rate could easily be small sample size noise. It did catch my eye though, so I decided to dig into things a bit.
First things first: Judge is always going to have some swing-and-miss in his game simply because he's so big and he has a large strike zone to cover. Secondly, Judge is a very disciplined hitter. He led the league with 127 walks last season and he leads the league with 15 walks right now. Getting Judge to expand the zone isn't easy, especially since he decided to stop chasing out of the zone: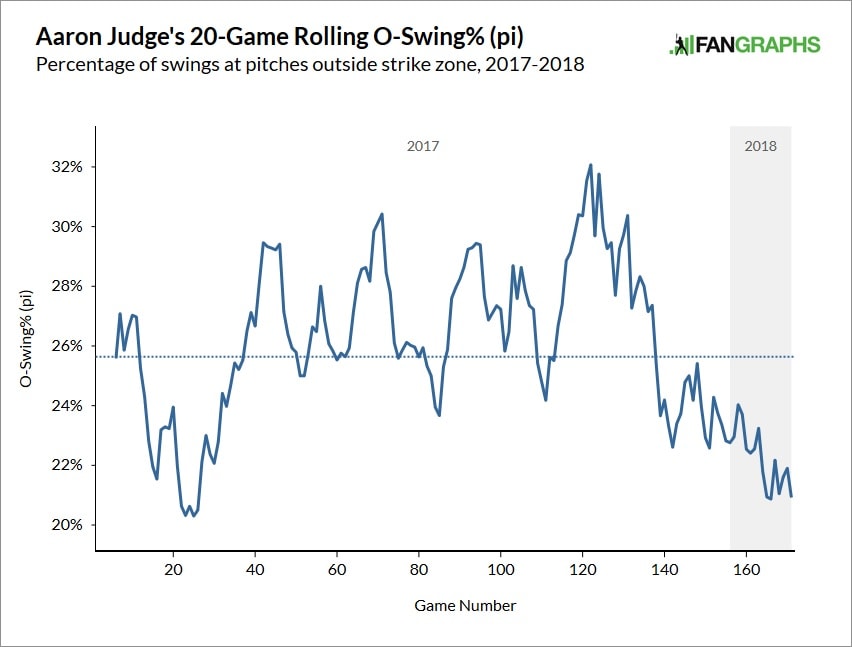 Judge's swing rate on pitches out of the zone is 21.5%. The league average is 28.6%. Furthermore, on pitches in the strike zone, Judge ranks 13th in baseball with a .460 wOBA and 18th in baseball with a .519 xwOBA. Pitch him out of the zone and he'll take the walk. Pitch him in the zone and he's going to hammer the ball. The hallmarks of a great hitter. How do you pitch to this guy?
Since last season right-handed pitchers have been going after Judge with sliders, mostly down and away, which makes sense. Sliders are harder to hit than fastballs, and sliders down and away from same-side pitchers tend to look like hittable fastballs out over the plate before they start sliding. It would be lazy to say Judge struggles against sliders, however. Since the start of last season:
Judge vs. sliders: .210 AVG and .167 ISO (.318 xwOBA)
MLB vs. sliders: .215 AVG and .148 ISO (.262 xwOBA)
Judge has been a better than average hitter against sliders since Opening Day 2017. He's also been otherworldly against fastballs (.493 xwOBA), so yeah, keep feeding him sliders. Judge is still going to hurt you, but he'll probably hurt you less with a slider than he will with a heater. Look how many sliders Judge has seen over his last 70 regular season games or so: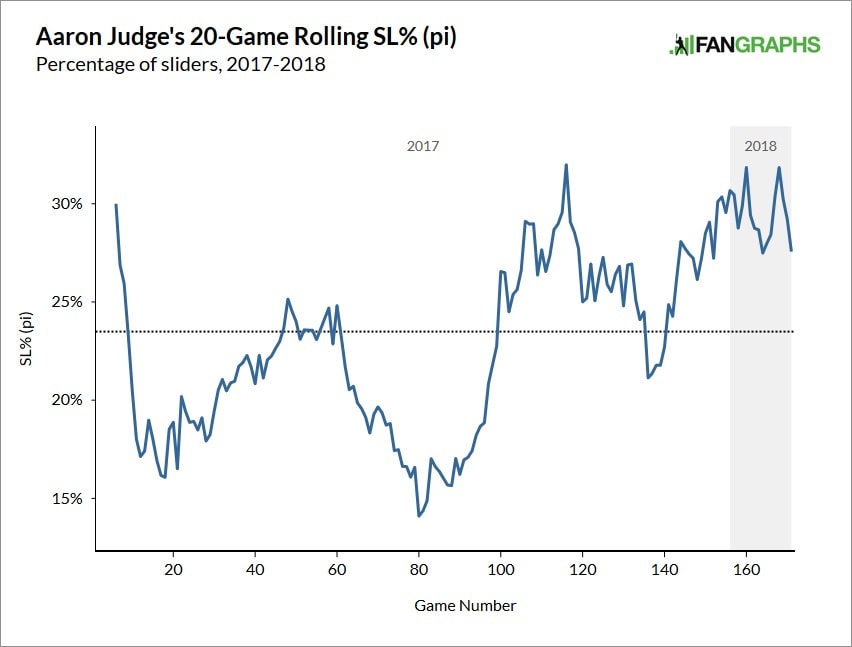 I do not see that changing anytime soon. Judge is going to continue to see lots of sliders, especially from right-handed pitchers. That's how I'd pitch him. Judge vs. righty sliders is an ongoing battle that will require adjustment after adjustment. Hitting good sliders is not realistic. No one does that. Laying off good sliders, those nasty down and away sliders, would be neat.
As that last graph shows, opponents really started to barrage Judge with sliders in the second half last season. Look at his month-by-month chase rate against right-handed sliders:
April 2017: 21.6%
May 2017: 31.5%
June2017: 22.8%
July 2017: 23.6%
August 2017: 35.4%
September 2017: 17.4%
April 2018: 21.4%
Unexpected! The average chase rate for right-on-right sliders is 31.8%. Judge was better than that every month last season except August, which, not coincidentally, was his worst month (90 wRC+). Judge had a ridiculous September, hitting .329/.448/.691 (197 wRC+) with 15 home runs — 15 home runs! — his most homers in any month. It was also the month he most avoided chasing sliders.
This isn't rocket science. When Judge doesn't chase those sliders, he tends to be really good. Spitting on sliders out of the zone equals more favorable counts, and more favorable counts means more damage. I was kinda sorta hoping to see a trend here. Few chases early last season, lots of chases in the middle of last season, then few chases late last year and again this year. Alas. Judge had a better than average chase rate every month except August last year.
So far this season Judge has struck out a bit less than last year, mostly because he's reduced how often he chases anything out of the zone, not just sliders. His contact rate (67.2%) is identical to last year (67.4%) while his chase rate (21.5%) is down quite a bit from last year (26.1%). Judge was one of the most disciplined hitters in baseball last season. This season he's had even better discipline in the early going, and it's showing in his overall results.