The Yankees made it clear during Spring Training they were not comfortable going into the 2018 season with rookies at second and third bases. They traded for Brandon Drury and signed Neil Walker, pushing Miguel Andujar and Gleyber Torres to Triple-A. And now, less than four weeks into the regular season, Andujar is the starting third baseman and Torres is the starting second baseman. Go figure.
Injuries and poor performance have pushed Andujar and Torres into starting duty, and while Gleyber's big league career is only two games old, Andujar has made a real impact over the last ten days or so. Enough of an impact that you can't help but wonder how he and Drury will coexist once Drury returns from the disabled list. Look at the all the infielders the Yankees have at the moment:
Miguel Andujar
Tyler Austin
Greg Bird
Brandon Drury
Didi Gregorius
Gleyber Torres
Ronald Torreyes
Neil Walker
Eight infielders deserving of spots on the big league roster, and that list doesn't even include Tyler Wade, who was sent to Triple-A to make room for Torres on Sunday. Of course, not all eight are available right now. Bird is rehabbing from ankle surgery and is still a few weeks away. Drury is slated to begin a rehab assignment Wednesday and is probably at least a week away.
Gregorius isn't going anywhere. Torreyes probably isn't going anywhere either. He's quite valuable as a utility guy who can come off the bench and produce at a moment's notice. Torreyes is perfect for the reserve infielder's role. All those other guys though? That's where it gets complicated. Some things to keep in mind about the infield logjam:
1. It's too soon to cut Walker. Walker hasn't hit much so far — he's sitting on a .183/.246/.217 (25 wRC+) batting line at the moment — but the track record is there and it's worth being patient with a switch-hitter who can play the three non-shortstop infield positions. Maybe Walker is the new Chris Carter, that cheap late offseason pickup who seems like a good fit and just never gets it going. It could happen. It's too early to say that though. Way too early, I think.
Besides, the Yankees probably won't cut ties with Walker until Bird returns at the earliest. Let's be honest here, Bird has had lots of trouble staying on the field the last few years, and the Yankees aren't really in position to give away first base depth. Perhaps Adam Lind will show enough in Extended Spring Training to warrant a longer audition, and make the Yankees feel good enough about unloading Walker. Eh. I think Walker's roster spot is safe for the foreseeable future, like it or not.
2. Austin will have to keep hitting to stick around. Through 21 games Austin is hitting .296/.377/.611 (168 wRC+) with four home runs, which more or less matches the best case scenario for Bird coming into the season. Bird got hurt, Austin took his spot, and he's taking advantage of the opportunity. Good for him. It was hard to see where he fit in the organization before these first few weeks.
Austin's performance has been very good but the underlying skills are unchanged. He's a first base only guy and his defense isn't very good at all. Furthermore, he's a right-handed batter with a history of struggling against right-handed pitchers, and a defensively limited righty platoon bat isn't exactly a hot commodity. Austin has hit righties very good so far this season, but:
Austin vs. RHP: 9-for-34 (.264) with three homers
Austin vs. non-Marco Estrada RHP: 6-for-29 (.216) with no homers and 46.9% strikeouts
Austin had the two-homer game against Estrada in the opening series and he took him deep this past weekend too and hey, those games and those homers count. They helped the Yankees win. (The Yankees actually lost both Estrada games, but not because of Austin.) The point is Austin's early season numbers against righties are skewed. Estrada is a finesse guy who doesn't crack 90 mph often. Righties with velocity have given Austin a hard time.
As good as Austin has been, his roster spot very well might be in jeopardy once Bird returns in a few weeks. If he slows down at all, especially while seeing more time against righties, the Yankees could go back to the original plan and stash him in Triple-A. Austin is going to have to maintain this pace to force the Yankees to keep him on the roster. A great performance in early April won't have an impact come roster decision time in mid-to-late May.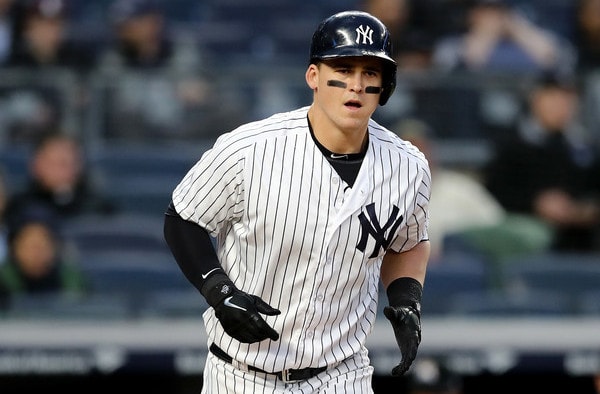 3. The Yankees are carrying eight relievers. It seems Drury is expected back reasonably soon — again, he's tentatively scheduled to begin a minor league rehab assignment Wednesday — and when he does return, the Yankees do not necessarily have to send down Andujar or Torres (or Torreyes). They can send down a reliever. Maybe Jonathan Holder, maybe Domingo German, maybe the recently acquired A.J. Cole. A reliever. Doesn't matter which one.
By time Drury returns the Yankees will be approaching the end of his 18 games in 18 days stretch, and once this stretch ends, the Yankees will have four off-days in the next two and a half weeks. Carrying an extra reliever may no longer be necessary. Demote a reliever, activate Drury, and the Yankees are rolling with a seven-man bullpen and four-man bench. Crazy idea, I know. But it just might work.
Fitting Drury onto the roster won't be a problem. Divvying up the playing time? That's another matter. That's something Aaron Boone and the Yankees will have to figure out. Perhaps that means moving Torres and Walker around, and maybe even Drury as well. He's played second base and the corner outfield spots in the past. I know this much: However the playing time gets distributed, fans won't be happy. Some who isn't playing should be. Such is life.
4. This will all work itself out. As a wise man once said. Remember when the Yankees had too many outfielders in Spring Training, then Jace Peterson and Shane Robinson started the 9th, 10th, and 11th games of the regular season in the outfield? The infield logjam will work itself out like that. The Yankees appear to have too many bodies for two few infield spots, then, before you know it, Peterson will be starting at third base or something.
Does it look like the Yankees will have to make some tough infield decisions once Drury and Bird return? Yes, absolutely. Andujar and Austin have played well, Torres is a top prospect who deserves a long look, Bird and Drury have a chance to be really good, and Walker's track record is tough to ignore. It might take some creativity to get everyone playing time, but having too many good players is never a problem. And besides, baseball has a way of making sure too much of anything never lasts.