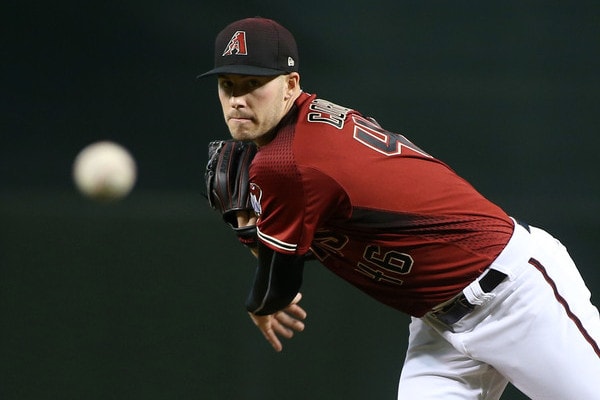 Over the winter the Yankees looked high and low for pitching help, and since they came up empty, the pitching search will continue in the weeks leading up to the trade deadline. The search for pitching never ends, really. The pitching has been great the last few days and the rotation still has a 4.30 ERA (3.96 FIP). There's room for improvement for sure.
Among the pitchers the Yankees reportedly pursued this offseason was Diamondbacks lefty Patrick Corbin, an impending free agent who owns a 1.89 ERA (1.99 FIP) with a 39.3% strikeout rate in five starts and 33.1 innings so far this year. He's been awesome. The D'Backs gave Corbin the Opening Day nod over Zack Greinke and he's pitched like an ace.
The 28-year-old Corbin is a native New Yorker from up near Syracuse, and during a recent chat with Bob Nightengale, he sure made it sound like he'd welcome a chance to pitch for the Yankees. From Nightengale:
"It would definitely be great to play there," Corbin says. "I grew up a Yankee fan. My whole family are Yankee fans. My mom, my dad, my grandpa, everybody. Really, every generation of my family has been Yankee fans.

…

"I know the Yankees have had some interest in the past, and there were a lot of rumors this winter that got my family excited," Corbin says. "It would have been cool. You just want to go where you're wanted, and every team will have an opportunity.
Corbin added the obligatory "I want to play for a contender" and "I'm just focusing on this season" comments as well. The D'Backs have not yet approached him about a contract extension according to Nightengale, though I'm sure that'll happen at some point this summer. Point is, a very good pitcher said some things that could indicate he wants to play for the Yankees, and that's worth discussing. Let's talk this out.
1. Corbin's breakout started last year. It actually started back in 2013, when he was an All-Star and threw 208.1 innings with a 3.41 ERA (3.43 FIP). His elbow gave out the following Spring Training and he needed Tommy John surgery, and it took him some time to get back up to speed. Last season Corbin was mediocre in the first half (4.71 ERA and 4.25 FIP) and much better in the second half (3.27 ERA and 3.87 FIP). That second half success has carried over to this season.
Corbin told Nightengale he has been tinkering with his trademark slider — "I don't think I've seen a slider like that since Steve Carlton. I mean, it just disappears," said Giants assistant hitting coach Rick Schu to Nightengale — mostly by varying the shape and velocity. He's also throwing it much more often. Look at this: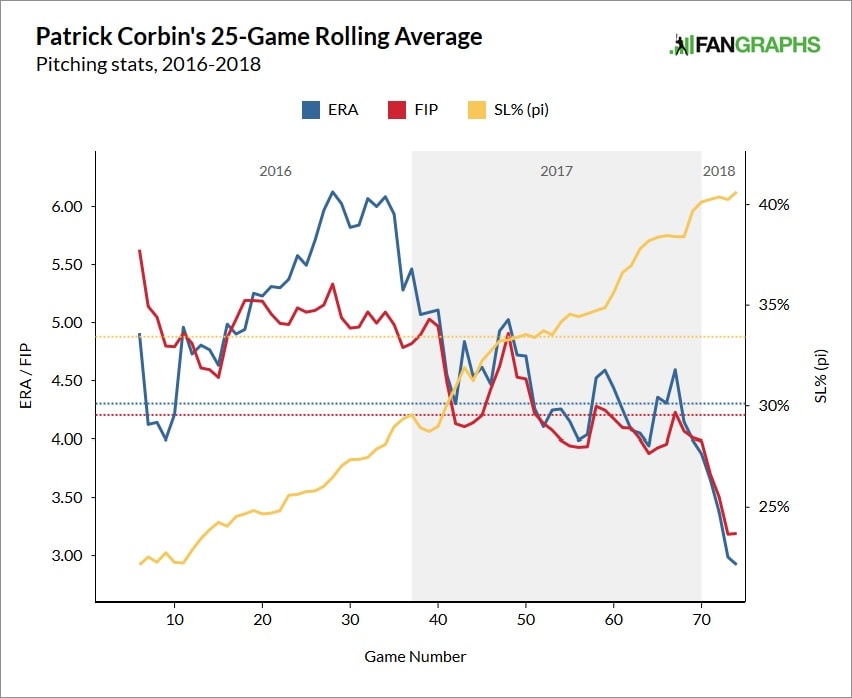 I doubt Corbin is a true talent sub-2.00 ERA/sub-2.00 FIP pitcher like he has been this year. But he's been a successful big league pitcher, and it's not crazy to think a 28-year-old who has learned some new tricks with his slider may've taken his game to the next level. Lefties who can get strikeouts (21.7% from 2016-18) and grounders (52.1% from 2016-18) fit well in Yankee Stadium.
2. It's cool he's a Yankees fan. But who cares? This is one of the most overplayed talking points. Unless Corbin is willing to take a discount to come to the Yankees — who's the last player to take a discount to sign with his childhood team? — the fact he grew up a Yankees fan is meaningless. Gerrit Cole grew up a Yankees fan too, they threw gobs of money at him, and he still didn't sign with them out of the draft.
If Corbin signs with the Yankees as a free agent after the season, it'll be because they make a strong competitive offer, and because Corbin believes they're the best fit for him and his family. That's it. He's not going to make an eight-figure (nine-figure?) life decision based on his childhood rooting interests. As far as I'm concerned, Corbin growing up a Yankees fan means nothing. The Yankees can't proceed as if it gives them some sort of free agent advantage.
3. A midseason trade is extremely unlikely. Why? Because the D'Backs are good and Corbin is their best pitcher. Arizona sits in first place in the NL West at 15-6 and they went to the postseason last year, remember. They were on a 101-win pace even before the J.D. Martinez trade. Maybe outlasting the Dodgers all season won't happen. But the D'Backs are very good and there is every reason to believe they will be in the postseason race all season.
It would take a collapse — or an offer they can't refuse — for the D'Backs to consider trading Corbin at the deadline. In fact, in the wake of the Taijuan Walker injury, Arizona is more more likely to add pitching at midseason than subtract it. Corbin's been great and he would be a very welcome addition to the Yankees. It just doesn't seem all that realistic that he'll be made available at the trade deadline. The D'Backs are trying to win too. This is a conversation we'll have to revisit in the offseason, assuming Corbin becomes a free agent and doesn't sign an extension.