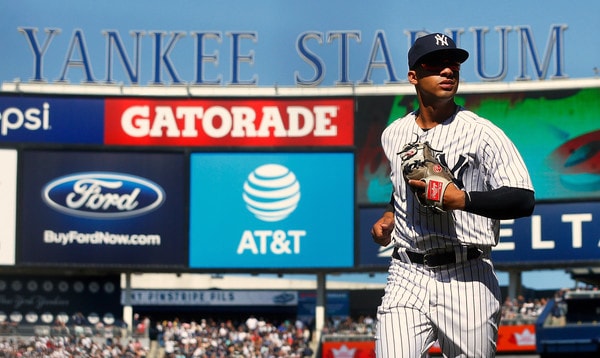 The Gleyber Torres era is now three games old. The Yankees are undefeated and have outscored their opponents 27-5 in those three games and that's awesome, but it's not because of Torres. Not entirely, anyway. Gleyber is 3-for-12 (.250) with three singles in the early going. A nice and clean .250/.250/.250 batting line.
At 21 years and 133 days, Torres is currently the third youngest player in the big leagues, older than only Ozzie Albies (21 years, 109 days) and the just called up Ronald Acuna (20 years, 128 days). It takes a special talent to reach the big leagues at that age, and remember, if not for the elbow injury, there's a good chance Gleyber would've debuted as a 20-year-old at some point last season.
Torres is a highly regarded prospect not only because of his physical gifts. He's long been considered a very cerebral and instinctual player who is baseball wise beyond his years. Baseball America (subs. req'd) touted Gleyber's ability to make adjustments this past offseason, when they ranked him the sixth best prospect in baseball. From their scouting report:
In particular, Torres' ability to make quick adjustments set him apart from other high-pedigree prospects. Coaches noted how quickly he would identify the way pitchers were working to get him out, then adjust and close those holes.
MLB.com's scouting report backs that up, saying Torres is an "advanced hitter for his age" who "makes adjustments easily." Some guys hit a ball 500 feet and others run like the wind. Torres is more of a well-rounded prospect who does everything well but nothing spectacularly, and makes quick adjustments to eliminate weaknesses.
"I think that's part of the hype around him, is the makeup of it," said Aaron Boone to Dan Martin after last night's game. "He's a slow heartbeat, special between the ears kind of guy."
Gleyber showed his ability to make adjustments in his first MLB game. His first two at-bats. Torres came out like a nervous kid swinging hard in his first at-bat, and the veteran battery of Jaime Garcia and Russell Martin picked him apart with pitches down and in. Torres struck out for the first (and thus far only) time in his MLB career.
In his next at-bat, Garcia and Martin went down and in again because hey, why not? Let the rookie show he can handle that pitch before changing it up. Torres took two down and in pitches for balls, forcing Garcia and Martin to attack him another way. Gleyber didn't reach base, but the adjustment was there. He wouldn't get beat by the down and in pitch again.
Last night, that ability to make quick adjustments was on full display in the fourth inning, when Torres singled back up the middle against Jose Berrios for his first career run batted in. Berrios fell behind in the count 3-0 and got it to 3-1 with a get-me-over fastball. Gleyber swung out of his shoes at the 3-1 pitch. Look at this: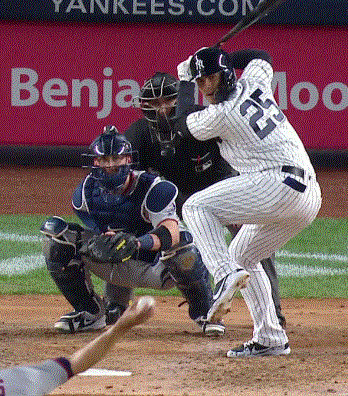 That was not a "let's serve the ball the other way to get the run in" swing. Torres was trying to hit that ball to the moon. Not a bad idea! Against an unproven rookie, you'd expect a guy like Berrios to go with a 3-1 fastball, and he threw a 92.5 mph heater right by Torres. Right by him. Torres was late. The fastball beat him, plain and simple.
As the old saying goes, if you throw it 3-1 you might as well throw it 3-2, and Berrios did exactly that. He went right after Torres with another heater in the 3-2 count, that one at 93.6 mph and a little lower in the zone. Gleyber wasn't having any of it. The RBI swing: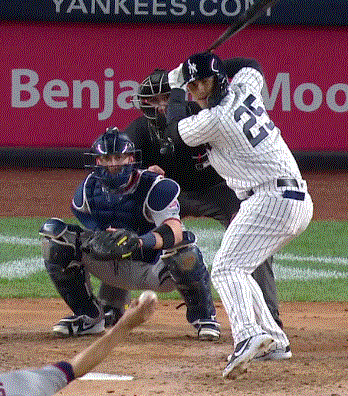 The leg kick is gone and Torres keeps his head on the ball rather than flying open wildly like he did on the 3-1 swing. Berrios beat him with the 3-1 fastball, Gleyber knew it, so he shortened up and got as direct to the baseball as possible, and he was rewarded with a single up the middle. Beautiful.
Remember, this is a 21-year-old kid we're talking about. A 21-year-old kid in his third big league game against an excellent pitcher. Torres made the mid-at-bat adjustment that, frankly, lots of veterans are unable to make. That's not a knock on them. Baseball is ridiculously hard. Some guys make it look easier than others, and Gleyber has already shown us he has a pretty good idea at the plate.
As he matures and gains experience, Torres is going to destroy pitches like that 3-1 fastball. The mid-at-bat adjustment is cool and all, but that 3-1 fastball was the pitch to hit. Middle-middle at 92.5 mph? You work the count to get a pitch like that. Gleyber missed it, so he made the adjustment and didn't miss the 3-2 fastball. In time, he won't miss pitches like that 3-1 heater.
There will be growing pains with Torres. It's inevitable. Even the most talented players need some time to find their footing in the show. That's part of the process of turning a prospect into a big leaguer, and Torres has started that process. The good news is the Yankees don't need him to be a major factor right now. They can let Torres develop at his own pace. And given his baseball aptitude and ability to adjust on the fly, Gleyber's learning curve may not be as steep as it is with most kids his age.