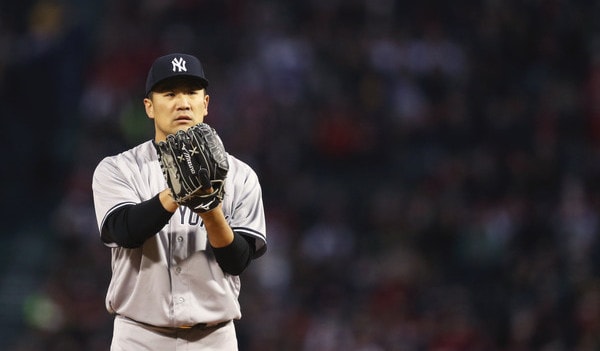 Later tonight Masahiro Tanaka will make his fourth start of the season in the second game of this quick little two-game series against the Marlins. Tanaka has a 5.19 ERA (4.34 FIP) in three starts and 17.1 innings so far this year, though those numbers are skewed a bit by last week's rough outing in Boston. His first two starts of the season were quite good.
So far this season Tanaka has continued a trend that started sometime last June, when he was in the middle of the roughest stretch of his MLB career. Tanaka simply scaled back on his fastball, his worst pitch, and started to emphasize his slider and splitter. A graph of interest: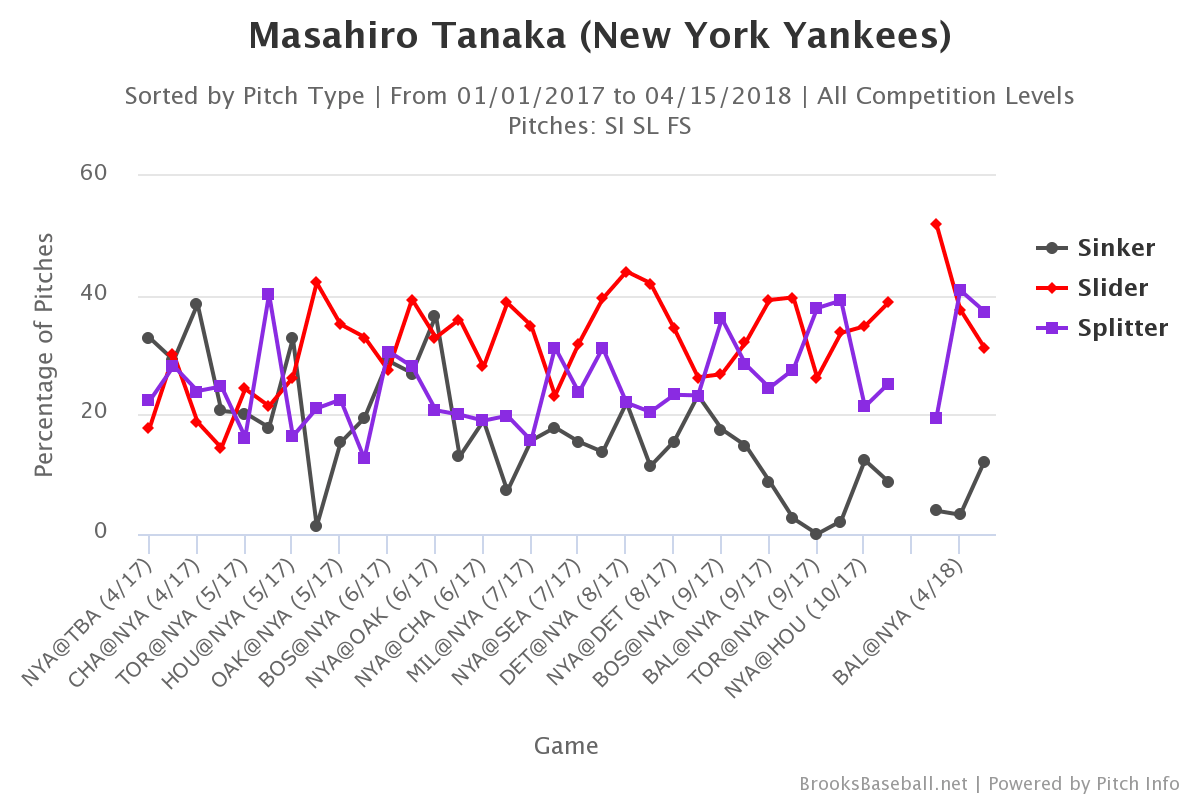 Tanaka throws other pitches (four-seamer, cutter, curveball), but those are his three main pitches in the graph. The slider and especially the splitter are his money pitches. That's how he gets his outs. Whatever Tanaka was doing early last year was not working, so he changed it up, and he pitched pretty well the final few weeks of the season.
The Yankees in general are an anti-fastball team. Tom Verducci wrote about it last year and more recently Jeff Sullivan wrote about it as well. The Yankees collectively throw fewer fastballs than just about any other team in baseball. Last year they had the lowest fastball rate by nearly five percentage points. This year:
Yankees: 46.1% fastballs
Tigers: 51.1%
Rays: 51.9%
Angels: 54.2%
Phillies: 55.7%
Intuitively, it makes sense. Breaking balls are harder to hit than fastballs. The numbers bear that out. Here's what the league is hitting against various pitch types:
Fastballs: .261 AVG and .169 ISO (.368 xwOBA)
Breaking Balls: .198 AVG and .124 ISO (.268 xwOBA)
Offspeed Pitches: .227 AVG and .128 ISO (.292 xwOBA)
Throwing fewer fastballs means you're throwing more pitches that are harder to hit, which will lead to more success (in theory). Every pitcher is different, so an umbrella one size fits all policy doesn't make sense. Telling Luis Severino to throw fewer fastballs may not be such a good idea. In Tanaka's case though, his slider and splitter are clearly better than his fastball, so he's a good candidate for the anti-fastball approach. Here is the bottom of the fastball usage leaderboard:
Masahiro Tanaka: 22.0% fastballs
Alex Wood, Dodgers: 35.3%
Jordan Montgomery: 35.4%
Zack Greinke: 36.0%
Lance McCullers Jr.: 38.3%
Given the team's pitching philosophy and Montgomery's arsenal, it doesn't surprise me to see he's near the bottom of the fastball usage leaderboard. Those five pitchers are the only starters who have thrown fewer than 40% fastballs so far this season. Clayton Kershaw (43.7%) has the seventh lowest fastball rate this season, so the anti-fastball thing is something bonafide aces do too.
The anti-fastball approach is relatively new, and I have two questions. One, does it put the pitcher at greater risk of injury? Popular belief is that bendy pitches are harder on the elbow than fastballs — Tanaka's partially torn elbow ligament has widely been blamed on his heavy splitter usage — yet recent studies found conflicting results. One said throwing more fastballs leads to injury. Another said pitch type doesn't make a difference. Who knows?
The Yankees (and Astros, another anti-fastball team) are one of the smartest and most progressive organizations in baseball, so they I'm sure they considered the physical ramifications of throwing fewer fastballs. They didn't do this on a whim. The Yankees aren't sending Tanaka and his $22M a year salary out there to do this without first thinking long and hard about it.
My second question is at what point do we start seeing diminishing returns? Tanaka's slider and splitter are very effective pitches, but if he continues throwing them at this rate, will they eventually be less effective? Hitters aren't stupid. They know about the anti-fastball approach, and the more they see Tanaka's slider and splitter, the better they may get at hitting them. How well will this work the fifth and sixth time he sees the Red Sox and Orioles this year, for example?
There is a point of diminishing returns somewhere. I don't know where it is, and for all I know, it could be years away. It could be so far away that it's not worth worrying about. The Yankees are a win-now team that will (and should) prioritize the present over the future. If throwing fewer fastballs helps you win in 2018 but hurts in, say, 2020, so be it. You take the good with the bad.
Tanaka, maybe moreso than any other pitcher in baseball, is the poster boy for the anti-fastball movement. He's thrown 54 fastballs total in three starts so far. Chad Green, a reliever, has thrown 104 fastballs so far this year. Nearly twice as many. The anti-fastball approach has mostly worked for Tanaka since he made the adjustment midway through last season. Will it work long-term? My hunch is yes, though I do think Tanaka and the Yankees will see diminishing returns at some point.