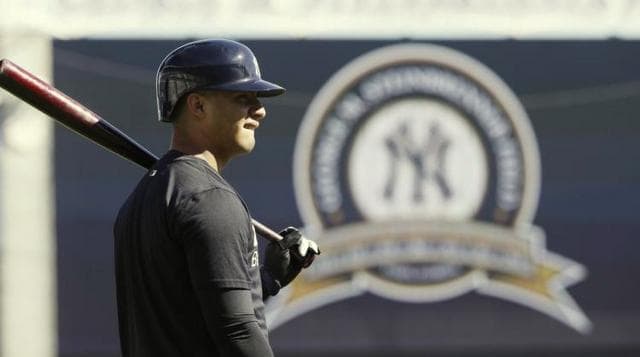 Tomorrow is the day. Tomorrow is the earliest teams can call up their 40-man roster prospects with no MLB experience and still gain that extra year of control. Gleyber Torres is one of those prospects. The Yankees can call Torres up tomorrow, have him for the remaining 146 games of the season, and still get six full years of team control from 2019-24.
The Yankees aren't going to call Torres up tomorrow, however. I know that with a great deal of certainty. Why? Because tomorrow's an off-day. No point in calling the kid up on an off-day, you know?
Thursday is another matter. The Yankees very well might call Torres up Thursday, and install him as a starting infielder. Gleyber is a highly regarded young player, he's hitting .366/.386/.537 (159 wRC+) through eleven games for Triple-A Scranton, and no one is really standing in his way for playing time. The Greg Bird and Brandon Drury injuries have opened at-bats.
"I'd say anything's possible," said Aaron Boone to Erik Boland over the weekend when asked whether Torres could be summoned at some point this week. "We have have conversations about that kind of thing. Possible? Yes. Likely? Not necessarily."
A diplomatic answer, that is. Unless we're talking about a starting pitcher filling a specific rotation spot, I can't remember the last time a manager or team executive gave a firm call-up date for a prospect. Especially when service time manipulation is involved. Even if the Yankees are planning to call Torres up Thursday, Boone wouldn't say so.
Whenever the Yankees call up Torres, they don't want to ever have to send him back down again. They'll call him up when they're confident he's ready for the big leagues. They're not going to call him up just because the service time cutoff passes. Calling a prospect up too soon can screw up his development and that's the last thing the Yankees want to do with Gleyber. Here's what Boone told Randy Miller about this:
"I think there's a lot that goes into it as far as evaluating him," Boone added. "We see he's getting a couple hits a game. Is he where we think we want him to be physically? Is he having the at-bats that we want him to have to where he's ready to come up and impact us.

"And with a guy that we think is going to be such an important part of our organization for a long time, we want to feel really good that he's in a really good place when we do bring him here because he's not a guy that we want to just pull up to plug a hole for a second and go back and forth (between Triple-A and the Yankees) for a while. We want him to be in a good place, so when he comes up here he's ready to impact our club for the long haul."
It's easy to equate a potential Torres call-up to the Robinson Cano call-up in 2005, but there are some key differences. Cano was a year older, he wasn't coming off a major injury, and the 2005 Yankees were desperate for a spark. The 2018 Yankees have been mediocre to date, but desperate they are not. Gleyber may not be Robbie (few are), though there are still signs the Yankees are considering a call-up in the not too distant future.
1. Naehring has watched him recently. One of the most important things an organization can do is self-scout. You have to know your own players better than anyone. Because of that, it is commonplace for the brain trust to visit the minor league affiliates throughout the season. It's not often the team will send a high level executive to see one specific player like the Yankees have done with Torres, however.
Over the weekend Boone confirmed vice president of baseball operations Tim Naehring, Brian Cashman's right-hand man, was in Scranton to get eyes on Torres. That whole "is he having the at-bats that we want him to have?" thing Boone talked about? A box score won't tell you that. Surely Naehring watched other players while tailing the RailRiders, but the fact the highest ranking non-GM executive in the front office — or, to put it another way, the highest ranking executive with a scouting background — was watching the top prospect suggests promotion conversations are afoot.
2. The Yankees have already changed his development plan. This, to me, is the biggest indication a call-up is on the table. At the end of camp Boone and the Yankees said the plan was for Torres to split his time 50-50 between second base and shortstop. Shortstop is his natural position and they wanted him ready in case something happened to Didi Gregorius, but second base is likely his long-term home. (Because Gregorius is awesome.)
Less than two weeks into the season, plans changed. Torres is now splitting his time between second and third bases, not second and short, and it's not a 50-50 split. Gleyber has started his last six games at third base now. Drury went down with migraines and the Yankees immediately shifted Torres to third. Teams do not change development plans on a whim. Drury's migraines mean third will be open for the foreseeable future and the Yankees want Gleyber ready to play the position.
I will note I do find it interesting Gleyber has started six straight games at the hot corner, only because it would seem the greater need is at second. Miguel Andujar has started to swing the bat better recently, and Drury took batting practice yesterday, so he is inching closer to a return. Maybe Gleyber is comfortable enough at second base that he doesn't need a ton of work there? I dunno. Point is, the plan for Torres called for one thing, but as soon as injury created a need at the MLB level, the plan changed.
* * *
A wrench may have been thrown into any potential call-up plans yesterday when Torres exited last night's game with back stiffness. The move was precautionary and Triple-A Scranton manager Bobby Mitchell told Conor Foley it's nothing serious. "He's fine," said Mitchell, specifically. The Yankees will of course play it safe with Torres, especially with something like a stiff back, so this could change any imminent call-up plans.
I know this much: As long as the Yankees continue to get little production from Tyler Wade (and Andujar), the calls for Torres are only going to grow louder. The "he can't be worse" reasoning is specious at best, but at some point when the players you're running out there aren't doing the job, you have to make a change. The challenge here is making sure Torres is big league ready and making sure he's 100% ready to go after last year's injury.
I'm pretty sure Gleyber has already shown he's over the injury and shaken off any rust, so the question is when will the Yankees deem him MLB ready? Could be Thursday, conveniently. Might be later. When it comes to determining a prospect's big league readiness, I will always defer to the team. A box score only tells you so much. Expecting Gleyber to come up and be Cano circa 2005 is unfair. But, whenever he gets the call, Torres could step in and give the Yankees a real shot in the arm.