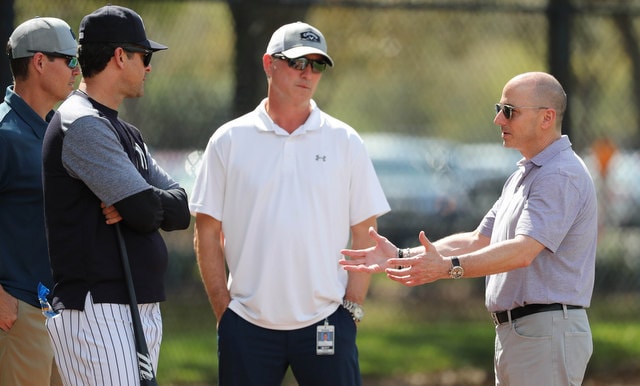 The 2018 regular season is six days old and so far we've learned … well, pretty much nothing. Didi Gregorius is still pretty cool and maybe the bullpen isn't invincible after all. That's about it. Six days and five games doesn't mean a whole lot. The Yankees are incredibly talented and I'd bet on them winning lots of games this year.
As talented as they are, the Yankees are far from flawless, and of course needs could pop-up during the season. Someone could get hurt, someone could underperform, or the Yankees could just decide to find something better than what they already have. Good teams never stop trying to improve. These days there are too many bad teams willing to sit back and tank rather than try to improve, but I digress.
At some point down the line the Yankees (and fans) will be able to identify a part of the team that needs help. Pitching is always a safe bet because of the inherent injury risk. Maybe they'll wind up needing another first baseman should Greg Bird have more trouble staying on the field. Whatever it is, the Yankees are in great position to add impact pieces prior to the trade deadline for two reasons.
They have a great farm system and plenty of prospects to trade.
They have a good amount of luxury tax payroll space remaining.
Ranking prospects and farm systems is highly subjective, but according to the various scouting publications, the Yankees have a top tier system. And even if they continue to make prospects like Gleyber Torres, Justus Sheffield, Estevan Florial, and Miguel Andujar untouchable, there are still enough pieces to make deals. Clint Frazier, Chance Adams, Freicer Perez, so on and so forth.
(I suppose the Yankees could remove the untouchable label from Andujar should Brandon Drury establish himself as a keeper at third base. The Yankees reportedly took Andujar off the table in Gerrit Cole trade talks — Joel Sherman says they tried to get the Pirates to take a package headlined by Frazier and Nick Solak — though that was before the Drury trade. The equation has changed now. Andujar may be — and should be, I believe — more available.)
As for the payroll situation, the Yankees have about $13.5M in space under the $197M luxury tax threshold, though the recent Ben Heller injury and Trayce Thompson claim it more like $13M. Either way, that's quite a bit of payroll flexibility. The Yankees have lots of cheap (i.e. league minimum-ish) short-term call-up options and luxury tax hits for in-season additions are pro-rated. Acquire a $10M player at a midway point and the luxury tax hit is only $5M, for example.
Furthermore, the Yankees could always have their trade partner eat money to make the payroll situation work better. They'd have to give up more prospects to make that happen — the other team won't eat salary out of the kindness of their hearts, you know — but, when you have a farm system this deep, that's easier to do. The Yankees are loaded with risky lower level arms. Trading one or two to make the big league payroll work better isn't a bad idea.
Between their prospect cache and apparently payroll flexibility, the Yankees are in really good shape to do something meaningful prior to the trade deadline. What could that something meaningful be? That's what everyone wants to know and I don't have a good answer for you. Tough to predict which players will be made available in trades. Everyone was waiting for the Royals to sell at the deadline last year and it didn't happen.
The big names on the pitching front remain Chris Archer and Cole Hamels, the latter of whom is an impending free agent on what figures to be a non-contending Rangers team. I'm a Michael Fulmer guy and I'd love to see that get revisited come June or July. My #teamtowatch: The Cardinals. If they flounder and appear destined to miss the postseason for the third straight year, do they do something drastic like make Carlos Martinez available?
I'd be lying to you if I said I hadn't thought a little about potential first base trade targets in the wake of Bird's latest injury. The Yankees so obviously love Bird and want him to be their long-term everyday first baseman. Right now though, the injuries are a real problem. I could see rental bat like Lucas Duda potentially being of interest should Bird's ankle continue to be a problem. The Yankees have to be prepared for the possibility.
This is all my long way of saying that when the time comes to get help at midseason — and the time always comes — the Yankees are in really good shape. We sat through plenty of trade deadlines over the years in which the Yankees couldn't get an impact player because they didn't have the prospects to make the best offer. That is no longer the case. The luxury plan is something of an obstacle, but right now, the Yankees appear to have enough wiggle room to get any help they may want or need.