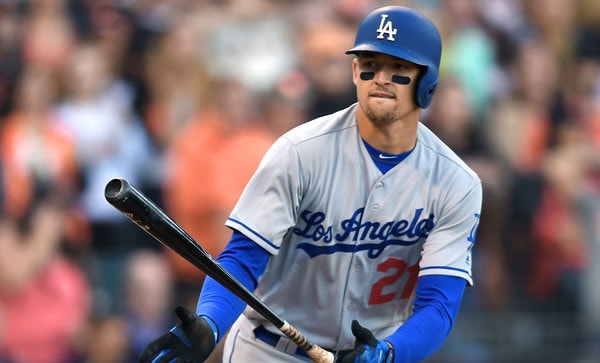 Thursday: And he's gone. Thompson was claimed off waivers by the Athletics today, the Yankees announced. Aaron Boone said yesterday the Yankees were planning to send Thompson to Triple-A, and since he's out of options, he has to clear waivers to go to down. The A's claimed him when the Yankees tried to pass him through. I'm not sure why Oakland didn't claim him the first time — they have a higher waiver priority than the Yankees — but whatever. At least now Trayce can room with Klay.
Tuesday: The Yankees have claimed outfielder Trayce Thompson off waivers from the Dodgers, the team announced. Ben Heller was transferred to the 60-day DL to clear a 40-man roster spot. No word on when Thompson will join the Yankees, though I imagine it'll be soon.
Thompson, 27, hit .212/.269/363 (58 wRC+) with nine homers in 95 Triple-A games last season, and .122/.218/.265 (25 wRC+) in limited big league time. The right-handed hitter is a career .233/.310/.445 (105 wRC+) hitter in 452 big league plate appearances, including .236/.295/.458 (101 wRC+) against southpaws. Not much of a platoon split there.
The Yankees are currently without Jacoby Ellsbury (oblique), Aaron Hicks (intercostal), Billy McKinney (shoulder), and Clint Frazier (concussion), so they're running short on outfielders. Thompson can play center field and he figures to be a fill-in fourth outfielder until guys get healthy.
The Dodgers designated Thompson, who is out of minor league options, for assignment at the end of Spring Training when he didn't make the team. If you're an NBA fan, he is Klay Thompson's brother