Enough with the days off. Let's get back to the road trip, starting with the rebuilding Kansas City Royals.
The Last Time They Met
The Yankees last series against the Royals was May 22-24 of last season in the Bronx with the May 25 game postponed and played on Sept. 25. The Bombers took three of four.
In the May part of the series, Didi Gregorius hit his second and third home runs of the season, finally starting to flex some of his power. The soon-to-be-DFA'd Chris Carter also had two homers.
Luis Severino looked like a Cy Young candidate, tossing eight shutout innings on May 24 before Dellin Betances closed the game by striking out the side.
In the September makeup game, Aaron Judge hit his 49th and 50th homers of the season, breaking the single-season rookie record. CC Sabathia tossed six strong innings.
For more information, check out Katie's Yankeemetrics post on the May series there … and the makeup game here.
Injury Report
Starting first baseman Lucas Duda was recently placed on the 10-day DL with plantar fasciitis. Third baseman Cheslor Cuthbert is day-to-day with back spasms.
On the pitching side, starter Jesse Hahn has a UCL sprain and is on the 60-day DL. Nate Karns is dealing with right elbow inflammation and likely won't be back for the series while reliever Justin Grimm is in the middle of a rehab assignment and could return soon.
Their Story So Far
At 13-30, the Royals come into this series with the second most losses in baseball … yet they're not even in last place in their own division. They're a paltry 7-14 on the road and are even worse (6-16) at home. Kansas City has lost five straight games and is looking like the rebuilding franchise that they are.
As a team, the Royals don't hit for much power (29th in ISO) and they like to put the ball in play, sporting the lowest strikeout rate in baseball to go with a low walk rate as well. Their young pitching staff has been dreadful with a 5.48 team ERA and they've struck out very few batters while giving up a lot of homers. That's a bad recipe.
Lineup We Might See
This team has seen some improvement from Jorge Soler and Alex Gordon along with some veteran help from Jon Jay and Mike Moustakas. They don't have a set DH, so I have Moustakas there in this lineup, but he may well play all three games at third.
1. LF Jon Jay
2. RF Jorge Soler
3. DH Mike Moustakas
4. C Salvador Perez
5. 2B Whit Merrifield
7. 3B Cheslor Cuthbert
7. CF Alex Gordon
8. 1B Hunter Dozier
9. SS Alcides Escobar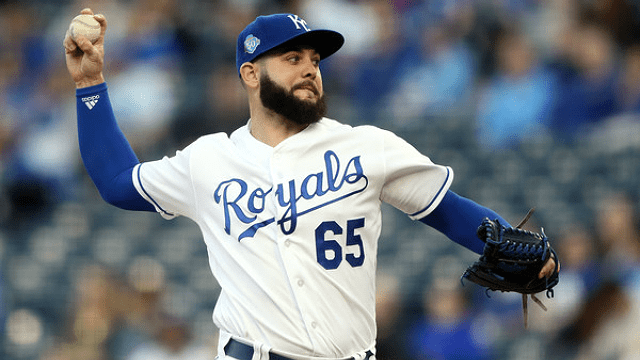 The Starting Pitchers We Will See
Friday (8:15 PM EST): LHP CC Sabathia vs. RHP Jakob Junis
These two faced off in the September makeup game last year and CC got the best of Junis, who allowed six runs in 5 2/3 innings. He gave up homers to both Judge and Gary Sanchez.
Junis has been the Royals' best starter in 2018, sporting a 3.53 ERA through eight starts and 51 innings. He's good! The righty does a good job of limiting walks while striking out nearly eight batters per nine. His bugaboo is flyballs as he allows a lot of them, leading to an ugly home run rate. He gave up five homers in one outing, though only six runs, against the White Sox in April.
The 25-year-old lives in the low-90s with his fastball and sinker and goes almost exclusively to his slider as his primary offspeed pitch. He throws the slider about 38 percent of the time. Both the slider and fastball have been effective for him.
Last Outing (@ CLE on May 12) – 5.2 IP, 6 H, 4 R, 2 BB, 7 K, 1 HR
Saturday (7:15 PM EST): RHP Luis Severino vs. LHP Danny Duffy
Duffy was supposed to be the Royals' ace, signing a five-year, $65 million extension last year that runs through 2021. However, he's been downright awful this year. He has a 6.51 ERA in 47 innings (nine starts) and has seen his home run rate balloon, having given up 12 this year after allowing just 13 in 146 1/3 innings last year. Combine that with a lot of walks and things have gotten ugly.
His velocity is down from his career-best 2016, though it's about on line with his 2017. He goes with a 93 mph fastball/sinker just over half the time while turning to his low-80s slider and changeup as his go-to offspeed offerings. His stuff has generally worked against the Yankees, beating them in back-to-back starts last May. It may be tough to replicate that success amid his recent struggles.
Last Outing (@ CLE on May 13) – 3.1 IP, 8 H, 9 R, 5 BB, 2 K, 2 HR
Sunday (2:15 PM EST): RHP Sonny Gray vs. LHP Eric Skoglund
Unlike with the previous two starters, the Yankees have not seen Skoglund before as the southpaw made his MLB debut last season (somewhat infamously wearing No. 69). He threw 18 innings in 2018, so he's still a rookie this year and has a 5.58 ERA through 40 1/3 innings. He's coming off back-to-back quality starts against the Orioles and Rays, respectively.
At 6-foot-7 and 200 lbs, Skoglund is a lanky lefty that can throw off a hitter. He's mostly a fastball-curveball pitcher with a changeup for righties. His fastball sits in the low-to-mid 90s and his curveball is in the low 80s. Here's him getting a swing and miss on the curve.
Last Outing (vs. TB on May 14) – 7.2 IP, 7 H, 2 R, 0 BB, 4 K
The Bullpen
As you'd expect with a rebuilding team, there aren't many familiar names in this bullpen. They've got Kelvin Herrera closing and still left over from their 2015 championship team, but that's about it. Former Red Sock Blaine Boyer has a 13.83 ERA and likely won't have as much of a role in this series.
They use a pair of Rule 5 picks: Brad Keller and Burch Smith. Keller has been more effective this season while Smith struggles with control. Rookie LHP Tim Hill and RHP Jason Adam have gotten off to strong starts, though Hill has pitched in 17 games to Adam's three. Righty Kevin McCarthy has held down a role in middle relief.
KC's pen doesn't strike many batters out and they've been one of the worst collectives in the league, albeit due to more outlier outings. They had Thursday off, so they should be fresh for this series.
Yankees Connection
Only Yankee connection is Ian Kennedy, who started on Tuesday and therefore won't be pitching in this series. As is custom, Kennedy has a strong post-Yankees beard.
Who (Or What) to Watch?
How will the layoff affect the Yankees? The Bombers will have had two days off and have only played half a game in four days. Their bullpen will be rested or rusty depending on point of view.
Beyond Jorge Soler, there isn't much to get excited about in KC. So this series, let's see how Clint Frazier does when he likely starts against one of the two lefty starters.