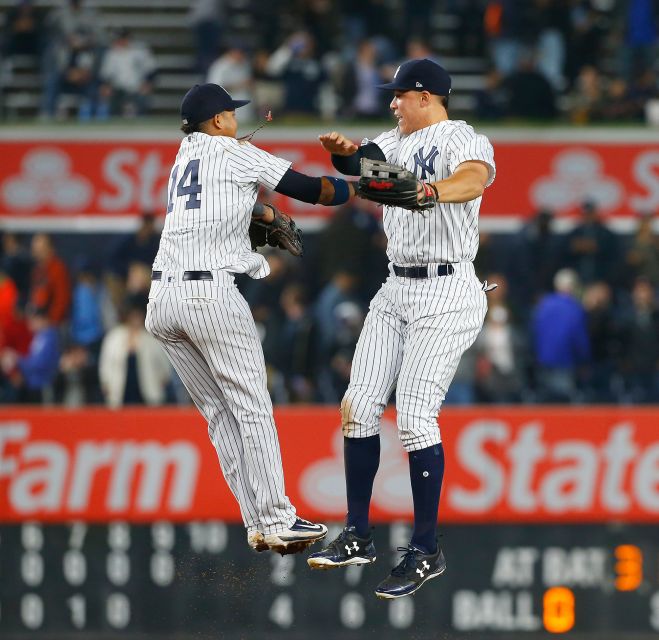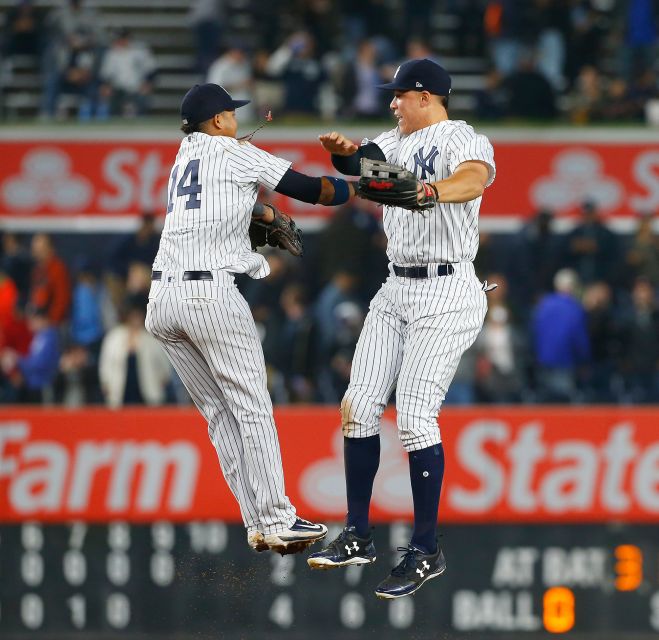 Bronx Bombers Born Again
The Yankees returned to the Bronx on Monday and kicked off their seven-game homestand with a sweet comeback win over the Royals, 4-2.
Michael Pineda continued to shed the enigma label that had defined his time in pinstripes leading up to this season with his eighth straight start of at least five innings pitched and no more than three earned runs allowed, easily the longest streak of his career. He didn't have his dominant stuff, but executed well in tough spots as the Royals went 0-for-8 with runners in scoring position against him.
That's been one of the biggest keys to his resurgent campaign this year – remaining focused and poised while getting big outs when he needs them. Pineda has held batters to a .143/.162/.229 line with RISP in 2017, and most impressive is that .162 opponent on-base percentage, the lowest in the majors (min. 35 batters faced) through Monday.
Down 2-0 early, Brett Gardner ignited the Yankees rally with a third-inning solo homer, his ninth dinger of the season. All nine of those homers came in a span of 80 at-bats from April 29 through Monday, an at-bat per homer rate of 8.9 that should be familiar to Yankee fans: during Babe Ruth's 60-homer campaign in 1927, he homered once every 9.0 at bats.
Another key moment in the game was the Yankees' successful replay challenge prevented tying run from scoring in the seventh inning. That was their 14th challenge in 2017, and the 12th time they've had the call overturned. Thanks to our unsung hero of the season – coaching assistant Brett Weber – that "replay win percentage" of 85.7 was the best in the majors through Monday.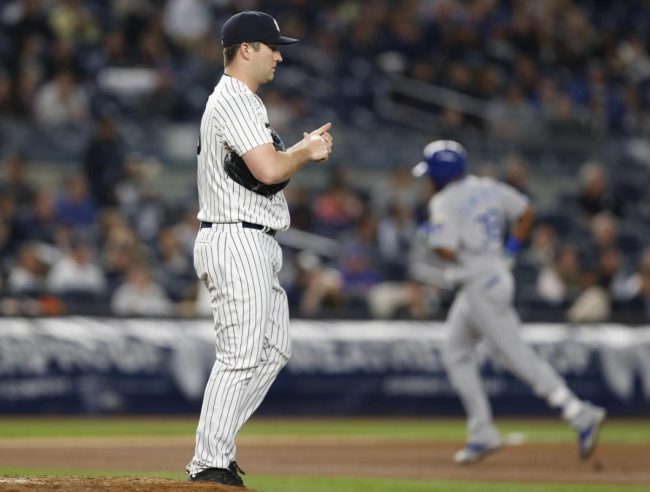 Magnificent Monty
The Royals handed the Yankees a rare loss on Tuesday night in the Bronx, one where the home team saw its normally lock-down bullpen implode in the late innings after an unprecedented outing by one of its young pitchers.
The Yankees wasted a historic gem by Jordan Montgomery, who was nearly perfect as he took a one-hit shutout and a 2-0 advantage into the seventh frame before giving up a solo homer to Lorenzo Cain. The bullpen then coughed up the lead and more, allowing five runs on four hits, including three home runs.
Let's put all that craziness into context:
Before Tuesday's meltdown, the Yankees were 15-0 when taking a multi-run lead into the seventh inning.
The bullpen entered the game with the fewest homers allowed (5) and the lowest homer rate (0.32 per nine innings) in the majors.
The final longball was surrendered by Chasen Shreve, who had not given up a single run, let alone a homer, in 2017. His 44 batters faced prior to Tuesday were the most of any pitcher in MLB that had yet to be scored on this season.
At the age of 24 years, 147 days, Montgomery became the youngest Yankee in franchise history to produce this impressive pitching line: at least six strikeouts, zero walks, no more than two hits allowed and six-or-more innings pitched.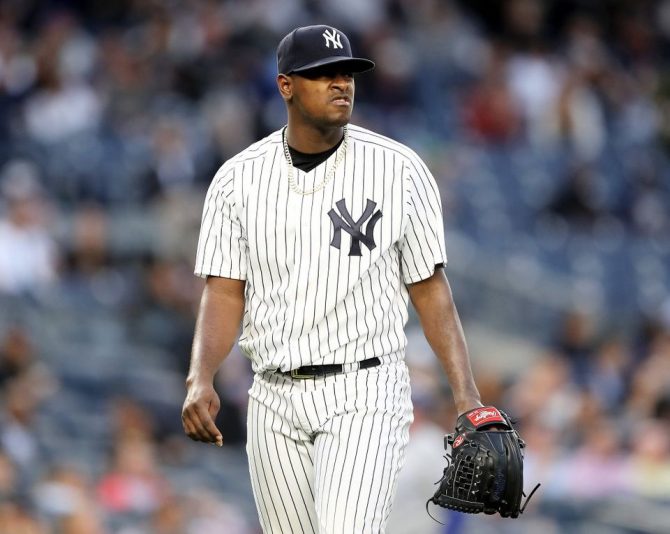 Ace Sevy
Luis Severino made sure there would be no chance for another bullpen disaster on Wednesday as he delivered a dazzling performance with a 114-pitch, three-hit, eight-inning, scoreless gem in the Yankees 3-0 win.
It's crazy but true: this was the first time the Yankees shut out the Royals since September 15, 2004 in Kansas City. They were the only AL team the Yankees hadn't blanked in that span of nearly 13 years. Also crazy but true: it had been more than 16 (!) years since the Yankees shut out the Royals in the Bronx – the last time it happened was April 5, 2001. They were the only AL team the Yankees hadn't yet held scoreless at the new Yankee Stadium.
Back to the highlight of the night … Severino's ace-like domination of the Royals lineup. The 114 pitches were a career-high, and most impressively, he averaged 98 mph on his four-seamer in the seventh and eighth innings (!). He faced just one batter with a runner in scoring position all game, and nobody even reached third base against him.
One of the key at-bats came in the fourth with a man on first and two outs and the Yankees clinging to a 1-0 lead, when Severino struck out Eric Hosmer looking on a 3-2 changeup to end the inning. It was a perfectly placed pitch in the zone that completely fooled the Royals lefty: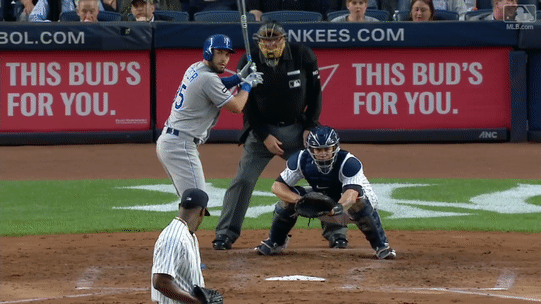 Severino's changeup has been a surprising weapon for him this season, as he's allowed just two hits in 19 at-bats (.105) with four strikeouts ending in the pitch this season. While the pitch doesn't generate a ton of whiffs, it's super-effective at keeping hitters off-balance thanks to a 46 percent foul rate that is the second-highest among all major-league starters (min. 50 pitches). This command and confidence in his changeup has helped him hold lefties to a .600 OPS this season, a nice improvement from the .727 OPS he allowed to opposite-handed batters in his first two seasons.
How impressive was Severino's masterpiece? Consider this fun nugget: Severino became first Yankee age 23 or younger to pitch at least eight scoreless innings and strike out seven-or-more batters in a game since a 23-year-old Dave Righetti on May 22, 1982 vs. the Twins.