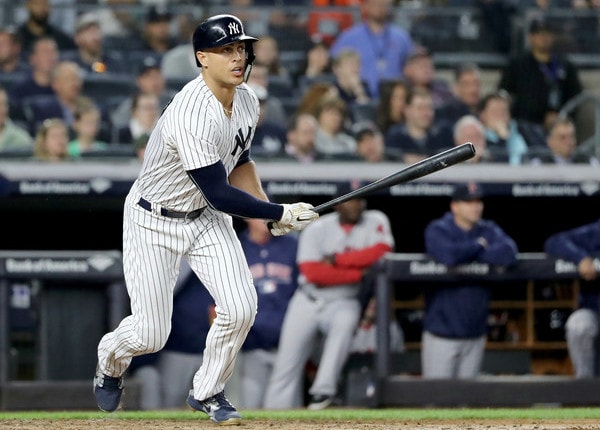 After a slow start to the 2018 season, Giancarlo Stanton is starting to hit his stride as a Yankee. He went 10-for-31 (.323) with six extra-base hits during the nine-game homestand, drawing five walks against only six strikeouts. In fact, Stanton has struck out only twice in his last 28 plate appearances. That has dropped his season strikeout rate to a still high but more manageable 31.1%.
Stanton is hitting .252/.339/.516 (127 wRC+) at the quarter point of the season, which is both very good overall and below expectations for the reigning NL MVP. One thing Giancarlo has done, literally since his first at-bat of the season, is mash left-handed pitchers. He took lefty J.A. Happ deep in his first plate appearance as a Yankee, and 40 games later, his numbers against southpaws are silly. Look at this:
| | PA | AVG/OBP/SLG | wRC+ | HR | XBH | K% | BB% | Hard% | GB% |
| --- | --- | --- | --- | --- | --- | --- | --- | --- | --- |
| vs. RHP | 120 | .192/.297/.325 | 70 | 3 | 10 | 33.3% | 10.9% | 35.1% | 56.8% |
| vs. LHP | 35 | .457/.487/1.171 | 326 | 7 | 10 | 23.1% | 7.7% | 74.1% | 33.3% |
Goodness. Stanton's numbers against lefties are comical. I mean, he's slugging 1.171 with a 74.1% (!) hard hit rate against southpaws. Yeah, it's only 35 plate appearances, but they're 35 out of this world plate appearances. They all count too. All the damage Stanton has done against lefties has helped the Yankees win games (like this and this one).
On the other hand, wow has Giancarlo been bad against righties. For reference, his 70 wRC+ against righties is on par with the overall season numbers for guys like Jordy Mercer, Jose Iglesias, and other no-bat/all-glove middle infielders. Stanton has always been better against lefties than righties, there's nothing unusual about that, but his platoon split was never this massive.
Two things stand out to me watching Stanton against righties this season. One, he's been swinging and missing a lot, especially at fastballs. Not just fastballs, but hittable fastballs. Last year he missed with 25.9% of his swings against right-handed fastballs. So far this year it's 34.5%. And just like last season, most of those swings and misses have come on high fastballs: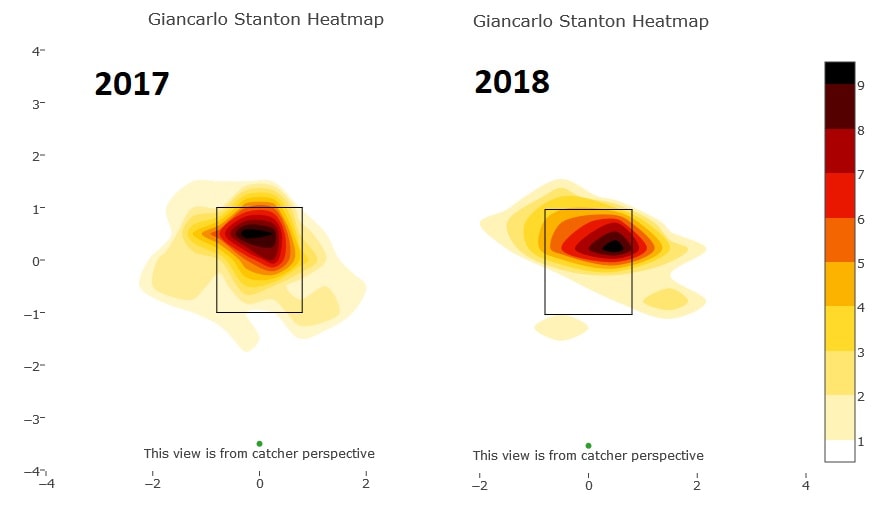 Elevated fastballs are a great swing-and-miss pitch, especially against Stanton. There is always going to be some swing-and-miss in his game. That's just who he is as a hitter. This year though, he's swinging and missing against right-handed fastballs far more often than in the past. We've even seen him swing through less than elite fastballs too. It's not only the guys throwing 97-98 mph who've gotten heaters by him.
And two, when Stanton does make contact against righties, he's hit an awful lot of ground balls. Go look at the table at the top of the post again. He has a 56.8% ground ball rate against righties. Last season Stanton had a 44.0% ground ball rate against righties. It was 38.0% the year before. His career rate is 43.7%. Check out Giancarlo's spray chart against right-handers so far this season: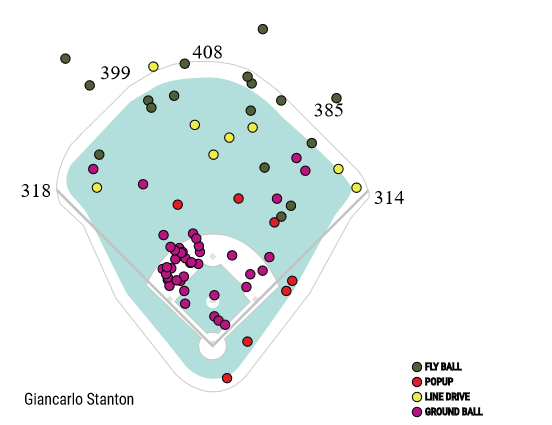 Stanton has been wearing out the left side of the infield with jam shot grounders. How many bats has he broken this season? It feels like two a game. For a power hitter — the game's preeminent power hitter at that — a 56.8% ground ball rate against righties is a problem. You can't hit grounders over the fence. Against righties, Stanton has been swinging and missing a bunch, and he's been hitting lots of ground balls. Not a good combination!
The question now is why. Why against righties is he swinging and missing so much and hitting so many ground balls? I'm certain it's a combination of things rather than one thing. To start with the obvious: Is Stanton's stance too closed? I mean, look at it: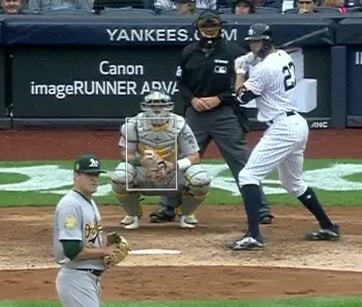 I can't remember seeing another hitter with a stance that closed. It is extreme. Is Stanton too closed? Maybe! But he crushed righties last season and was NL MVP using that extremely closed stance. I'm inclined to believe the closed stance is not the problem right now. I'm going to defer to Giancarlo here. He knows what works for him and what doesn't.
New pitchers? Pressing? Small sample size? All possible explanations for Stanton's struggles against righties. Right now I'm in wait and see mode. As bad as they've been, I don't think 120 plate appearances warrant a mechanical change or outright panic. Give it a few weeks, see whether Stanton is coming around against righties, then reassess.
The good news is the Yankees are scheduled to face a lefty tonight (Gio Gonzalez), two more lefties this weekend in Kansas City (Danny Duffy, Eric Skoglund), and another lefty next week in Texas (Cole Hamels). Stanton crushes lefties and the Yankees are going to see some the next few days. At some point they're going need him to come around against righties though. They need Stanton to be more than a high-end platoon player.