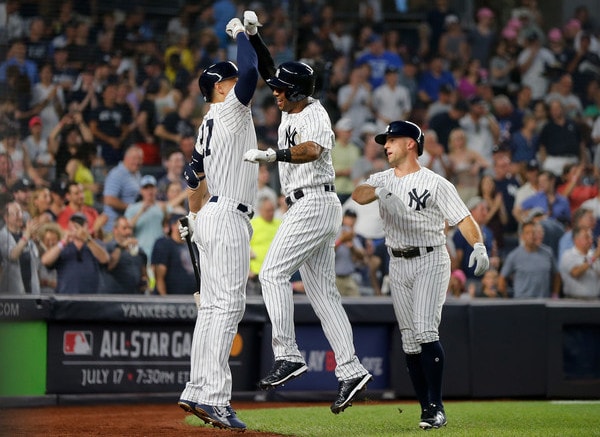 On the position player side of things, the outfield has been the biggest strength for the 2018 Yankees so far this season. The team's outfielders have combined for a .261/.353/.480 (123 OPS+) batting line and they rank fourth in baseball in OBP, second in SLG, and second in OPS+. They're also third with +26 DRS and second with a +15.1 UZR. The outfield ranks near the top of the league in offense and defense. Pretty great. Let's review the outfield's first half.
Brett Gardner
Midseason Grade: B+
Gardner deserves a "meets expectations" note more than an actual letter grade. He is, once again, putting up numbers right in line with his career norms. Yes, Gardner has his ups and downs like every player, but it is uncanny how consistent he is on a year-to-year basis. Look at this:
| | AVG/OBP/SLG | wRC+ | K% | BB% | WAR |
| --- | --- | --- | --- | --- | --- |
| 2018 | .254/.345/.403 | 107 | 14.9% | 11.7% | +4.1 (pace) |
| 2015-17 | .262/.348/.397 | 104 | 18.4% | 10.6% | +3.2 (per 162 games) |
| Career | .263/.347/.394 | 104 | 18.3% | 10.4% | +4.1 (per 162 games) |
Consistency is boring. Consistency is Brett Gardner. Year in, year out Gardner provides the same level of on-base ability and defense, and that has been true again thus far in 2018. He's also provided several big hits this season, most notably his go-ahead triple against the Red Sox, game-tying homer against the Astros, and go-ahead homer against the Mets. By WPA, three of the team's six biggest hits of the first half came off Gardner's bat.
As indicated back in Spring Training, Aaron Boone has cut back on Gardner's workload this season. Gardner, despite being the regular leadoff hitter, has only the fourth most plate appearances on the team, and he's on pace for 628 plate appearances on the season. That's after averaging 706.5 plate appearances per 162 games from 2014-17. Gardner is seeing less time against lefties and less time overall. Boone said he'd try to get Gardner more rest and he has.
And, with Gardner set to turn 35 in August, I am totally on board with this plan. The Yankees have four viable everyday outfielders, which makes rotating them a breeze. Gardner is not the Yankees best player, though he is a heart and soul player who really sets the tone from the leadoff spot. Keeping him fresh and productive should be a priority and it has been to date. Gardner's been great. Same guy he's always been, and that is a-okay with me.
Aaron Hicks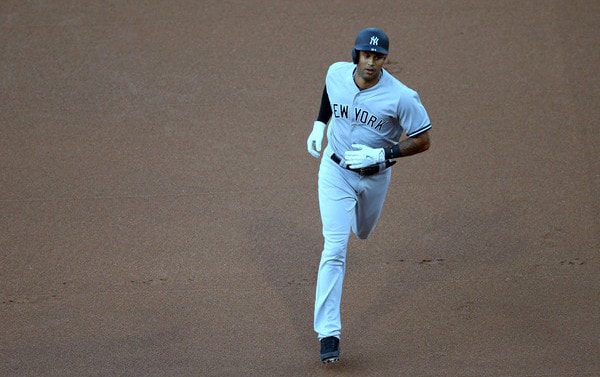 Midseason Grade: A-
Hicks is a tough one to grade because what were the expectations coming into the season? There were reasons to be skeptical about his 2017 performance given his career to date, though the high-end tools are fairly obvious. Hicks is a great athlete, he's a switch-hitter with tremendous plate discipline, and he's a very strong defensive center fielder. But he never did anything like what he did last year. How many people expected him to do it again?
I'm all in on Hicks and I expected him to carry his 2017 performance into 2018 — I even boldly predicted he'd lead the 2018 Yankees in WAR — and you know what? He's done pretty much exactly that. He's traded some batting average for power, but the overall numbers are very close:
| | PA | AVG/OBP/SLG | wRC+ | HR | SB-CS | K% | BB% | WAR |
| --- | --- | --- | --- | --- | --- | --- | --- | --- |
| 2017 | 361 | .266/.372/.475 | 127 | 15 | 10-5 | 18.6% | 14.1% | +3.3 |
| 2018 | 318 | .249/.348/.491 | 128 | 16 | 8-1 | 19.5% | 12.9% | +2.6 |
Last season Hicks started hot and finished slow and hurt. This year he started slow and hurt before getting hot. Hicks strained his intercostal on Opening Day, the very first game of the season, and he missed about two weeks. Then, once he returned, it took some time to get going. Hicks did hit .273/.367/.564 (152 wRC+) with 13 homers in his final 200 plate appearances of the first half. That, my friends, is star level production.
Among full-time center fielders only the great Mike Trout and slightly less great Lorenzo Cain have Hicks beat in WAR this season. WAR of course is not the be all, end all stat, but it shouldn't be discarded either. Point is, Hicks is a comfortably above-average player on both sides of the ball. Very good offense and very good defense. He's a former first round pick and highly regarded prospect — Baseball America ranked him 19th on their 2010 top 100 list — who's put it all together. Hicks is not starting to put it together. He's put it together. It's happened.
Aaron Judge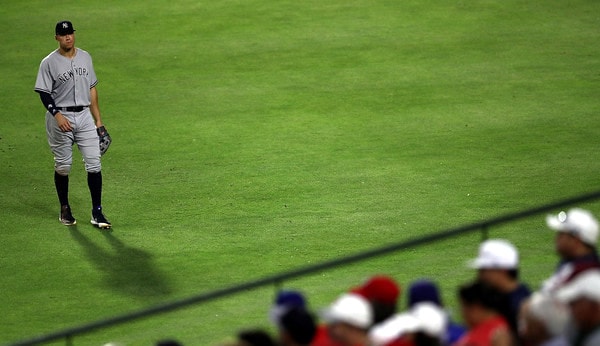 Midseason Grade: B+
I feel like a B+ is a tough grade but I'm going to stick with it. Judge has been objectively awesome this season. He just hasn't been as awesome as last season, which was truly one of the greatest rookie seasons in baseball history. It was the greatest power hitting season by a rookie in baseball history. Judge set the bar awfully high last year and he hasn't quite returned to that level this year.
That said, Judge has been great this year. He went into the All-Star break with a .276/.392/.544 (155 wRC+) batting line with 25 home runs. Judge is third in baseball in home runs and, among the 164 hitters with enough plate appearances to qualify for the batting title, he is 13th in OBP, 12th in SLG, and ninth in wRC+. Add in above-average right field defense and both the FanGraphs (+4.5) and Baseball Reference (+5.0) versions of WAR rank him as a top five position player in 2018. Pretty great.
And yet, despite that all around greatness, it does still feel like something is holding Judge back this season, and that something is his sudden inability to hit away from Yankee Stadium. You'd expect any player to hit better at Yankee Stadium than on the road, though Judge has taken it to the extreme this year. The home/road splits are stark:
| | PA | AVG/OBP/SLG | wRC+ | K% | BB% | Hard% | xwOBA | BABIP |
| --- | --- | --- | --- | --- | --- | --- | --- | --- |
| Home | 166 | .355/.478/.735 | 223 | 27.8% | 19.1% | 54.6% | .459 | .452 |
| Road | 185 | .205/.308/.373 | 89 | 34.6% | 12.1% | 42.0% | .358 | .288 |
Hmmm. Judge was better at home (199 wRC+) than on the road (147 wRC+) last season, though the split wasn't nearly this drastic. Also, Judge wasn't a below-average offensive producer on the road last year — he was a much better than average offensive producer on the road last year, in fact — as he's been this year. There are 136 players with at least 150 plate appearances at home and on the road this season. Judge's wRC+ split is by far the largest:
Aaron Judge: +134 (home wRC+ minus road wRC+)
Yasmani Grandal: +104
Manny Machado: +95
Trevor Story: +80
Jason Kipnis: +79
For whatever reason — and I have no idea what the reason(s) is — Judge has significantly higher ground ball (47.3% vs. 36.4%) and pull (48.2% vs. 35.5%) rates on the road than at home, which certainly helps explain the difference in production. He's hitting the ball in the air and to all fields at home. On the road, he's been a left field hitter who hits a lot of balls on the ground. A few weeks ago I noticed teams were pounding Judge inside with fastballs, leading to more pulled grounders, but why would that be limited to the road?
Maybe the Yankees have an elaborate sign-stealing system at home that explains Judge's production. That'd be quite the story. Then again, if that is the case, why don't other Yankees have huge home/road splits? The team's next largest home/road split is Didi Gregorius at +45 wRC+. No one else is above +10. Part of me wonders whether Judge has duped himself into thinking the short porch is the only way he can hit opposite field dingers, so he's trying to compensate by pulling everything on the road. That sounds kinda silly. He can hit the ball out in any direction in any park.
It is also possible Judge's home/road woes are sample size noise. And hey, that might apply to last year. Maybe this is the real Aaron Judge away from Yankee Stadium and last year was the anomaly. I'd bet against it, but you never know. Whatever it is, it sure would be rad if Judge figured it out in the second half. For now, he was great in the first half. Not as great as last year, but still great. It still feels like Judge has more to give because of his road woes, though maybe that's an unfair expectation on my part.
Giancarlo Stanton
Midseason Grade: B
I can already tell a small army of Yankees fans are upset I had the audacity to give Stanton that grade for his first half. He had a rough start to the season, especially at Yankee Stadium, and first impressions matter. They can stick with folks a looong time. That slow start is a thing of the past though. Stanton has been getting better and better as the season has progressed: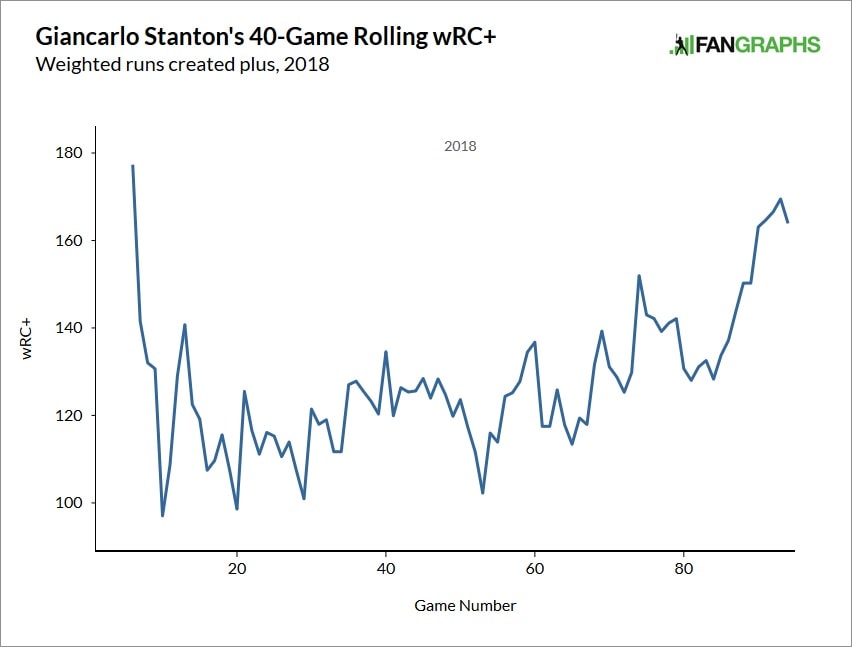 Stanton is sitting on a .278/.346/.518 (133 wRC+) batting line with 23 home runs overall — he's on pace for 40 home runs and +5 WAR — and, since May 1st, he's hitting .298/.361/.558 (147 wRC+). Giancarlo career: .269/.359/.551 (143 wRC+). Giancarlo since May 1st: .298/.361/.558 (147 wRC+). Aside from a little more batting average these last few weeks, Stanton has been hitting like he has his entire career to date, which is borderline MVP caliber.
There are two lingering offensive concerns with Stanton. He didn't hit righties and he didn't hit in Yankee Stadium earlier this season. Remember when I said Judge had the largest home/road wRC+ split? Stanton has the third smallest at -67 wRC+ points. His overall numbers at home (97 wRC+) and against righties (105 wRC+) still aren't great, though things are evening out:
| | Home | vs. RHP |
| --- | --- | --- |
| March/April | .182/.257/.333 (59 wRC+) | .202/.290/.337 (74 wRC+) |
| May | .240/.328/.480 (113 wRC+) | .186/.279/.305 (58 wRC+) |
| June | .231/.311/.462 (102 wRC+) | .304/.364/.544 (144 wRC+) |
| July | .333/.333/.722 (185 wRC+) | .314/.352/.588 (155 wRC+) |
Stanton currently leads the Yankees in hits (103) and total bases (192), and is one point behind Miguel Andujar for the team lead in batting average, and he leads baseball in four-hit games, if you can believe that. He has five, Jose Altuve has four, and a bunch of dudes have three. Stanton has five four-hit games and the rest of the Yankees have five (Gardner has two and Andujar, Gregorius, and Gary Sanchez have one each).
Furthermore, Stanton has handled the shift to left field about as well as I would've expected a player with zero experience at the position to handle it. He lost two balls in the sun in Spring Training in literally his first left field game and that seems to have led to the perception he is not a good defender, which is a flat out wrong. Is Stanton a Gold Glover in left? No, but he's done well (+4 DRS if anyone cares) and he remains a strong defender in right.
Based on what I've seen on social media and in our comments and in the media, I've come to the conclusion Stanton is A-Rod 2.0 in terms of how people feel about him. He is tolerated when he does well and lots of folks are ready to pounce and blame him for everything that goes wrong. Starting pitcher gets bombed? Stanton should've hit more homers. I felt it in Spring Training and I've seen nothing since then to convince me things will be different. Whatever.
Expecting Stanton to repeat last year's 59-homer effort was never fair or realistic — that was a top ten home run season all-time — though his slow start to the season was disappointing, especially at home, and fans let him hear it. It was dumb, but whatever. Giancarlo has been the Yankees' best hitter since May 1st. He's been hitting for average and power, and playing wherever the team needs. The slow start prevents him from getting an A in the first half. Otherwise Stanton's been pretty great, and I'm looking forward to seeing what he does in the second half as he grows more comfortable with his new team.