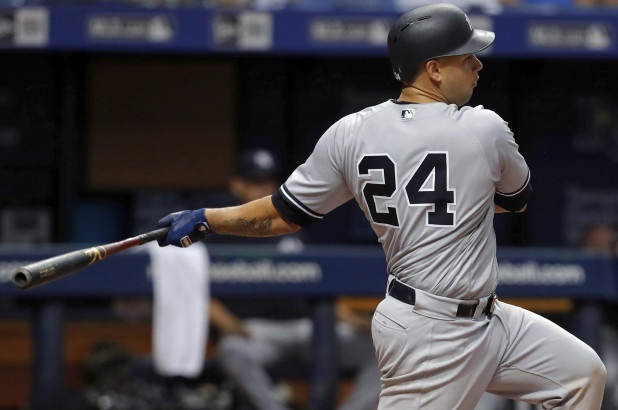 Severino slumping, Gary the goat
The Yankees opened up their quick road trip in Tampa with what had become an all-too-familiar result recently — a frustrating loss with numerous wasted scoring chances and unfulfilled rallies.
Gary Sanchez, who reportedly re-injured his groin early in the game and later landed on the DL, bookended the game with two seemingly lazy and costly plays.
In the first inning he was charged with a passed ball that scored a run from second base and gave the Rays an early 1-0 lead. While Sanchez has a lot of defensive value based on his framing (top-10 per StatCorner's metric and top-20 per Baseball Prospectus' metric) and his strong arm (top-10 pop time and top-5 throw velocity, his struggles blocking pitches are no secret. He has 10 passed balls, tied for the most in MLB; according to Sports Info Solutions tracking, he has the third-lowest rate of successfully blocking pitches (88%).
In the ninth inning, with the bases loaded and two outs and trailing by a run, he scorched a game-ending groundout. Regardless of whether Sanchez was already injured or not hustling or both, according to the Statcast in-game tracking, his speed on that play was below his already-mediocre season averages
Statcast on Gary Sanchez's game-ending, no-hustle groundout:

Home-to-1st time: 5.39 seconds
Sprint speed: 24.4 feet per second

His season averages on max-effort runs are a 4.53-second home-to-1st and a 25.7 ft/sec sprint speed.

— David Adler (@_dadler) July 24, 2018
He is now 6-for-45 (.133) in "Late and Close" situations (plate appearances in the 7th inning or later with the batting team tied, ahead by one, or the tying run at least on deck) this season, the fifth-worst batting average in the majors (min. 45 at-bats).
Sanchez, though, was hardly the only Yankee to blame for the loss. Aaron Hicks had his chance to play hero in the ninth inning too, but came up small prior to Sanchez's at-bat. Although his grounder scored a run to make it 7-6, he failed to get the cash-money hit with the bases loaded, a recurring nightmare for Hicks. After Monday's failure, he was 3-for-38 (.079) with the bases loaded in his career, tied with J.B. Shuck for the lowest batting average among active players (min. 30 at-bats).
Luis Severino also contributed to the Yankees early deficit, allowing a season-high seven runs and 11 hits — including two homers — before getting pulled in the sixth inning. It was the third straight game he coughed up multiple dingers, the longest streak of his career, and the third straight start he failed to get an out in the sixth. The only other Yankee in franchise history with three games in a row allowing at least two homers while pitching no more than five innings was Freddy Garcia in September 2011.
Severino appears to be in a little slump …
Luis Severino This Season

| | IP | ERA | HR | K% | Opp OPS |
| --- | --- | --- | --- | --- | --- |
| Last 3 Starts | 15 | 7.80 | 6 | 20.3% | 1.103 |
| First 18 Starts | 118.1 | 1.98 | 6 | 30.1% | .533 |
Tanaka Time
The Yankees snapped their five-game losing streak against the Rays — which was tied for their longest ever in this rivalry — thanks to a dominant performance by Masahiro Tanaka and won 4-0 on Tuesday night. It was their eighth game allowing no runs this season, one more than they had in all of 2017.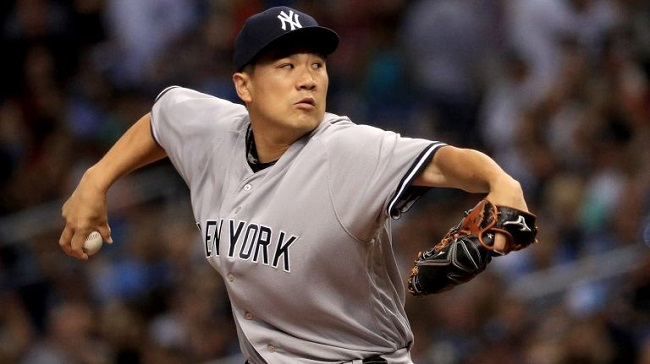 Tanaka was dazzling on the mound, throwing a three-hit shutout with nine strikeouts and one walk. He retired the first 12 batters, and faced just two batters over the minimum thanks to a couple inning-ending double plays. The most encouraging stat might have been zero — as in the number of homers he gave up (and runs). Tanaka had surrendered at least one longball in eight straight starts and 13 of his first 15 games this season.
Instead, he was masterful in locating his nasty slider/splitter combo low in the zone and burying those pitches in the dirt.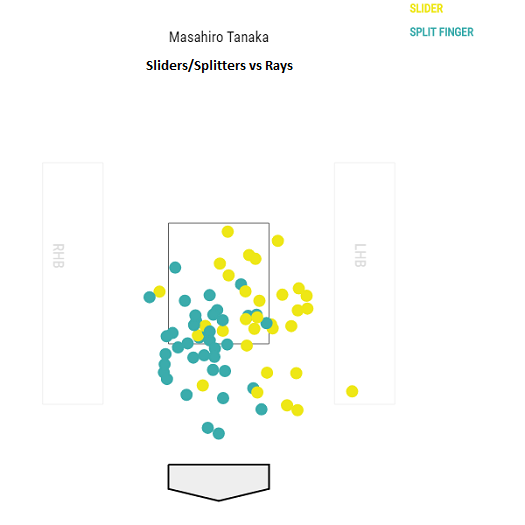 A season-best 82.9 percent of his sliders and splitters were thrown in the lower third of the zone or below the knees, and overall he got a season-high 16 outs via grounders.
Tanaka's brilliant performance deserves a sweet bullet-point Yankeemetric recap:
He joined Orlando Hernandez (June 22, 1999) as the only Yankees to throw a shutout at Tropicana Field.
Tanaka is the first Yankee since Mike Mussina on August 17, 2003 against the Orioles to allow three hits or fewer and strike out at least nine batters in a shutout.
This was Tanaka's third career shutout; since his 2014 rookie season, all other Yankee pitchers have combined to throw two individual shutouts (Luis Severino this year and Brandon McCarthy in 2014).
And finally, he is the first Yankee pitcher with at least three shutouts in his first five MLB seasons since Ron Guidry tossed 16(!) across his first five big-league seasons from 1975-79.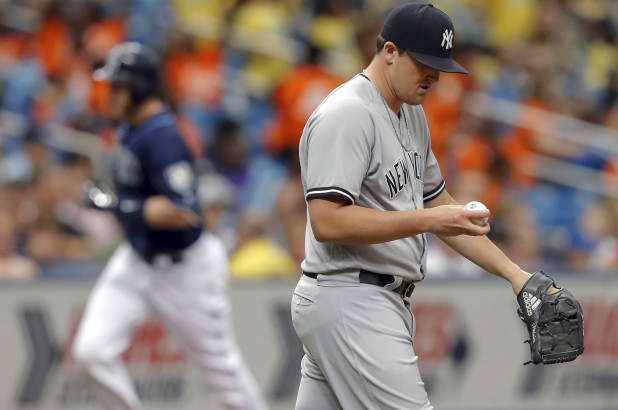 Dead wood society
The Yankees capped this series the same way they started it — a frustrating one-run loss filled with tons of RISP-fail and cold bats — at their newest House of Horrors. The ugly stats for the Yankees at Tropicana Field:
Yankees are 7-14 at Tropicana Field over the last three seasons, their worst record at any AL ballpark, and tied with Twins (3-6) and White Sox (2-4) for the worst record at the Trop by any AL team since 2016.
This season they are averaging 3.2 runs per game in six games at Tampa Bay and 5.0 runs per game in all other road games.
Yankees are 0-4 in one-run games at Tropicana Field this season, and 6-4 in one-run games at all other road ballparks.
Yankees have lost two series over the past two months — and both of them were at Tropicana Field (also June 22-24).
The Rays were also the first team to hold the Yankees without a homer in a three- or four-game series this season. In fact, it's the first time in nearly two years the Yankees have gone three games in a row without a dinger, since September 22-24, 2016.
They have gone deep just once in five games since the break, their fewest homers in a five-game span since June 10-15, 2016 against the Tigers and Rockies. The Yankees entered the break with an MLB-best 161 homers; their one home run since the break is the fewest by any team.