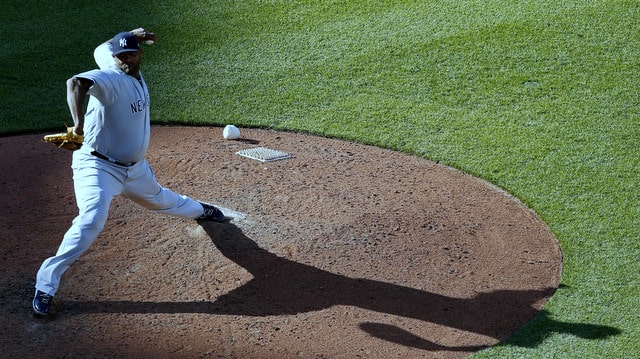 A few weeks ago CC Sabathia said he would retire if the Yankees won the World Series, which is a very real possibility. However, if you listen to the R2C2 podcast at all, you know Sabathia has kinda been waffling on that retirement talk recently. He's made the "I'm gonna retire if we win the World Series" thing seem more spur of the moment than a well thought out plan.
Well, last week, Sabathia essentially took back the retirement talk and told reporters he intents to pitch in 2019. Why? "The team is going to London (and) it's free," he jokingly told Pete Caldera. The Yankees will play two games in London against the Red Sox next June and Sabathia has been talking about wanting to make the trip since it was announced. So there you go. A good reason to come back.
In all seriousness though, Sabathia told Jon Morosi he does want to play one more season, though it'll depend on the health of his right knee more than anything. From Morosi:
"I'm [going] start to start," Sabathia said in Cleveland last weekend, prior to his final start of the first half. "I go out one start and feel like I can pitch five more years. I go out another start and I'm [feeling] done. But if I can stay healthy — if my knee holds up — hopefully I'll play one more."
Sabathia's knee is bone-on-bone at this point and he received a lubrication injection over the All-Star break to help get him through the season. That's nothing new. He's been getting lubrication injections in the offseason and during the All-Star break for a few years now. All those years of that big body coming down on that right (landing) knee have taken their toll. Sabathia's even said he'll probably need the knee replaced once he retires.
Anyway, the just turned 38-year-old Sabathia has a 3.53 ERA (4.55 FIP) in 104.2 innings so far this season. He spent a little bit of time on the disabled list earlier this year for a hamstring issue, not the knee. Sabathia is, once again, a soft contact master. He has the second highest soft contact rate (25.9%) and the third lowest average exit velocity allowed (84.7 mph) in baseball. That's who he is now. His days of overpowering hitters are over.
As long as the knee holds up, Sabathia returning to the Yankees is a no-brainer to me. The Yankees will need the pitching — Jordan Montgomery is not due back from Tommy John surgery until late next season, remember — and Sabathia will come on another cheap one-year contract. He's a leader in the clubhouse and he's shown that, even this late in his career, he can be effective in the tough pitcher's environment that is Yankee Stadium and the AL East.
And for Sabathia himself, why in the world would he go anywhere else? His family lives in the area full-time and the Yankees will give him as good a chance to win as any team in baseball. Heck, Sabathia is talking about re-signing with the Yankees like it's a foregone conclusion. He wants to go to London next season! Unless he signs with the Red Sox, no other team offers that opportunity. As long as the knee is okay, a new one-year deal is a no-brainer. As far as I'm concerned, the Yankees should give CC one-year contracts as long as he wants to keep pitching, Andy Pettitte style.
For now, the Yankees and Sabathia have to worry about getting through the 2018 season first. They're trying to catch the Red Sox in the AL East and that's something that starts tonight, when Sabathia gets the ball in the first of four at Fenway Park. Time to stop treading water and make a move. Once the season ends, it seems like a new contract with Sabathia should come together quickly. Let's worry about everything that has to happen between now and then first.