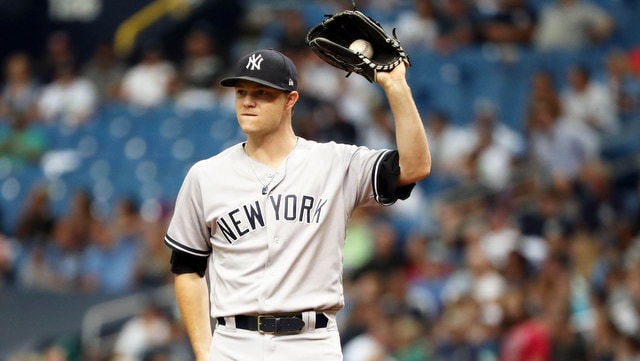 Once the offseason really gets going in a few weeks, we'll all focus on who the Yankees will add over the winter. Manny Machado? Bryce Harper? Patrick Corbin? Mystery players? Brian Cashman has said the rotation will be the "focus point" this winter and that is no surprise given the state of the starting staff. The Yankees also need to figure out left field, the infield without Didi Gregorius, and also reinforce the bullpen.
While we understandably spend an unhealthy about of time looking at who the Yankees could acquire this winter, we also have to remember the Yankees are trying to subtract a player as well. That player: Sonny Gray. Gray has been a colossal disappointment in pinstripes (4.51 ERA and 4.40 FIP in 195.2 innings) and Cashman Has made it clear the Yankees will look to trade Gray this winter. He was unusually candid at his end-of-season press conference.
"It hasn't worked out thus far," said Cashman at that press conference. "I think he's extremely talented. We'll enter the winter, unfortunately, open-minded to a relocation. To maximize his abilities, it would be more likely best somewhere else. If I do find a match, you're gonna see what we had hoped to see here … Someone, if they trade for him, is gonna get the player we wanted. I fully expect that."
Cashman made a point of saying he won't give Gray away — what's he supposed to say? — but, clearly, the Yankees want to move him. Usually in these cases the GM says it's up to the team to help the player figure it out. Cashman skipped that entirely. Having listened to Cashman and Aaron Boone and Larry Rothschild all season, I sense a lot of frustration here, and the Yankees are ready to move on. I'm not surprised.
As a 28-year-old starting pitcher with a good track record — even after last season, Sonny has a 3.66 ERA (3.74 FIP) in 900.2 big league innings — and a relatively low salary (projected $9.1M in 2019), I get the feeling the Yankees will have no trouble finding potential trade partners for Gray. And remember, he was great outside Yankee Stadium this year (3.17 ERA and 2.65 FIP). Teams will notice. If Sonny were on any other team, wouldn't we look at him as a possible buy-low candidate? Sure we would. That's how other teams see him.
With the caveat that things can be unpredictable in the offseason, I've singled out several clubs who appear to be possible trade suitors for Gray. Even though he'll be a free agent next offseason, I don't think Gray's market is limited to contending teams. A rebuilding club could be looking at him as a buy-low candidate they could flip for more at the trade deadline, or sign long-term. The Reds traded for Matt Harvey, right? Same idea. Let's dive in. (Reminder: My trade proposal sucks.)
Chicago White Sox
Why would they want Gray? The rebuild hit a bump in the road this season. Yoan Moncada and Tim Anderson didn't take that step forward, Lucas Giolito went backwards, and Michael Kopech went down with Tommy John surgery. The ChiSox are always looking to acquire high-end talent though — they reportedly made a run at Machado at the deadline — and Don Cooper is a highly regarded pitching coach with a history of fixing pitchers. Getting Sonny on the cheap and seeing whether he can be a viable long-term rotation piece could interest the White Sox.
Who could they send the Yankees? Gray for Carson Fulmer? Eh, that's one headache for another. Fulmer hasn't even pitched well in Triple-A. The only thing he has going for him right now is the fading "eighth overall pick in 2015" shine. Unless a deal gets expanded, the return here would most likely be a prospect(s). Not sure there's a Gray for big leaguer trade that makes sense, not unless the ChiSox are willing to sell super low on Giolito, which kinda defeats the purpose.
Cincinnati Reds
Why would they want Gray? Again, they traded for Harvey, right? The Reds took a flier on a talented pitcher to see whether he could be a long-term option. A no-risk move that didn't cost them anything. Cincinnati desperately needs pitching help and taking a chance on Gray the same way they took a chance on Harvey could be a worthwhile endeavor. From their perspective, it's all about cost.
Who could they send the Yankees? One year of Gray for one year of Scooter Gennett? The Yankees would do that in a heartbeat and the Reds would assuredly want more, and hey, maybe that's a gap the two teams can bridge. The Reds have a lot of young pitchers who've stalled out at the MLB level (Cody Reed, Amir Garrett) and the Yankees could try to pry one (or two) of them loose in hopes of adding a long-term piece. Reclamation project for reclamation project, basically.
Houston Astros
Why would they want Gray? The Astros could lose Dallas Keuchel and Charlie Morton to free agency this offseason, and while they have some in-house rotation options (Josh James, Collin McHugh, Brad Peacock), they could pursue outside help. Sonny still has excellent spin rates across the board and Houston may see him as a good low-cost, high-upside candidate for their pitching lab. Keep in mind the Astros pursued Gray at the 2017 trade deadline as well. They've had interest in him before.
Who could they send the Yankees? Despite being a World Series contender, Houston has not been shy about trading players off their MLB roster, though they've been spare parts (Joe Musgrove) and out-of-favor guys (Ken Giles). The Yankees could push something like one year of Gray for one year of Peacock or one year of McHugh. Peacock was quite good as a starter last season before shifting to the bullpen this year and eventually being left off the postseason roster. Gray for Peacock? That seems like it could be a potential win-win or a potential lopsided deal for either team.
Los Angeles Angels
Why would they want Gray? Pretty simple, really. Mike Trout is two years from free agency, so the Angels aren't about to rebuild, and they need rotation help. Andrew Heaney and Tyler Skaggs are a good enough rotation top two. Getting a guy like Gray to slot in behind Heaney and Skaggs and ahead of dudes like Felix Pena, Jaime Barria, and Nick Tropeano makes sense for the Angels. Get Sonny out of New York and into a more pitcher friendly ballpark.
Who could they send the Yankees? Gray for Kole Calhoun? It's a one-year commitment for each and the money is close to a wash, plus the Angels wouldn't have much trouble finding a replacement corner outfielder in free agency. Calhoun's a lefty bat and a very good defender who would slot in nicely in left field. He just stopped hitting though. Calhoun went from a 117 wRC+ in 2016 to a 98 wRC+ in 2017 to a 79 wRC+ in 2018. Eh. Put Gray in a more pitcher friendly ballpark and Calhoun in a more hitter friendly ballpark and maybe it works out for both teams?
Milwaukee Brewers
Why would they want Gray? I still think the Brewers are the best landing spot for Gray. They need rotation help and their pitching coach, Derek Johnson, was Sonny's pitching coach at Vanderbilt. The two are close. It's a fit. Milwaukee has done a real nice job accumulating talent under GM David Stearns and Gray seems right up their alley as an upside play.
Who could they send the Yankees? Two names jumped to mind: Chase Anderson and Eric Thames. Anderson was great in 2017 (2.74 ERA and 3.58 FIP) and not so great in 2018 (3.93 ERA and 5.22 FIP), so much so that he was left off the postseason roster. He is guaranteed $6.5M next year with affordable options for 2020 and 2021. I'm not sure the Brewers are ready to give up on him yet. They're trying to add pitching, not subtract it. Besides, bringing a dude who gave up 30 homers in 158 innings this season into Yankee Stadium might not work out too well.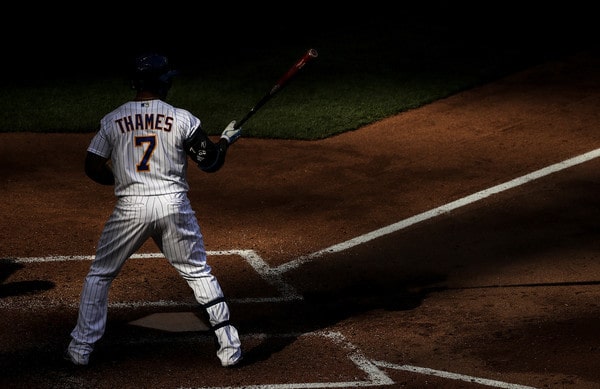 As for Thames, remember his huge April last year? Well, his performance has cratered since, and he hit .219/.306/.478 (105 wRC+) this year. Jesus Aguilar jumped him on the first base depth chart. Ryan Braun has also played some first base, so Thames is probably third on their first base depth chart. He wasn't even on the Brewers postseason roster. Thames has one guaranteed year remaining on his contract ($7M) and Gray for Thames gives the Brewers a starter and the Yankees a lefty power bat they could plug in at first base or DH or, in an emergency, the outfield. Hmmm.
UPDATE: I should've mentioned Jonathan Schoop here as well, given that he's a free agent next winter who is projected to make similar money as Gray. I just assumed the Brewers are not ready to flip him after trading some pretty good prospects to get him at the deadline. Schoop's someone to keep in mind though.
Oakland Athletics
Why would they want Gray? I've heard through the grapevine that the A's checked in on Gray at this year's trade deadline. They really need starting pitching — they didn't have anyone to start in the Wild Card Game! — and they know Sonny as well as anyone. The Athletics do have a history of trading for pricey veteran players one year before free agency (Jim Johnson and Luke Gregerson jump to mind) and again, they know Gray. They showed interest at the deadline and may look to bring him back to Oakland again this winter.
Who could they send the Yankees? Reverse the trade! Gray for James Kaprielian, Jorge Mateo, and Dustin Fowler! Nah, not happening. This trade has no winners right now. Mateo stunk this year, Kaprielian still hasn't returned to game action following Tommy John surgery in April 2017, and Fowler struggled in MLB this year and was passed by Ramon Laureano on the center field depth chart. I don't see an obvious big leaguer for big leaguer trade match here. It would have to be a prospect(s) that come back to New York.
Pittsburgh Pirates
Why would they want Gray? This is a long shot, I think. The Pirates traded Gerrit Cole last year because they were worried they couldn't sign him long-term. Would they then turn around and trade for Gray when he could leave next year? I mean, sure, it's possible, and they do need someone to slot alongside Chris Archer, Jameson Taillon, Ivan Nova, and Trevor Williams in the rotation. Money might be the issue here. Pittsburgh operates on a strict budget and Gray may not fit.
Who could they send the Yankees? Hey, if Gray signs at his MLBTR projected salary, he and Nova would be a wash financially. The Pirates aren't doing that though. Besides, I've seen enough Ivan Nova for one lifetime. He's been the same old Ivan Nova the last two years (98 ERA+ and 4.51 FIP) after his stellar eleven-start cameo with Pittsburgh in 2016. Would the Pirates do Gray for Corey Dickerson? The Yankees could slot Dickerson in at left field and DH and he'd give them a good lefty bat. Seems unlikely. I don't see a good big leaguer for big leaguer trade. A prospect(s) trade it would have to be.
San Diego Padres
Why would they want Gray? The Padres are my sleeper team. They have no money on the books long-term other than Wil Myers and Eric Hosmer, and their farm system is incredible. One of the best I've ever seen. They are very well-positioned to take a chance on Gray, see what he does next season, then pay to keep him if he's a fit. San Diego reportedly tried to land Noah Syndergaard at the deadline. They're looking for pitching. Gray's no Syndergaard, but he could be really good, and the Padres are the perfect team to roll the dice.
Who could they send the Yankees? I thought about Cory Spangenberg. He'll never live up to hype associated with being the tenth overall pick in 2011, but he's a lefty bat who can play the three non-first base infield positions and also left field. The downside is Spangenberg has only hit .252/.318/.385 (88 wRC+) with a 29.0% strikeout rate in 815 plate appearances the last two years. He has two years of control remaining and perhaps the Yankees will see him as a poor man's Didi Gregorius/Aaron Hicks. The talented player who hasn't put together yet. I dunno. Aside from prospects, there's no much on San Diego's roster that excites me.
San Francisco Giants
Why would they want Gray? San Francisco's interest in Gray depends entirely on their long-term plan. They're hiring a new baseball operations head this winter and, if they decide to rebuild, forget it. No reason to bring in Gray. If they decide to go for it next year while Madison Bumgarner and Buster Posey (and Brandon Crawford and Brandon Belt) are in their primes, then the Giants could definitely be a team to watch for Gray. Their rotation is pretty sketchy with Jeff Samardzija crashing and Johnny Cueto having Tommy John surgery.
Who could they send the Yankees? In last week's mailbag I looked at Joe Panik and Tony Watson. I can't see the Giants trading Watson for Gray for two reasons. One, they could get more for him elsewhere. And two, if they trade for Gray, it's because they want to win in 2019, and trading Watson hurts that cause. As for Panik, that seems more reasonable. Both he and Gray are reclamation projects at this point and San Francisco has some others they could plug in at second base. The Yankees have liked Panik in the past and they could bring him aboard as their second baseman (with Gleyber Torres shifting to shortstop) until Gregorius returns. Other than Panik and Watson, I don't see another fit with the Giants. Their big league roster is thin and their farm system is weak.
Seattle Mariners
Why would they want Gray? Depending who you ask, the Mariners have either seven viable big league starters (Roenis Elias, Marco Gonzales, Felix Hernandez, Mike Leake, Wade LeBlanc, James Paxton, Erasmo Ramirez) or three viable big league starters (Gonzales, Leake, Paxton). Felix has crashed hard the last few years and Elias, LeBlanc, and Ramirez are journeymen. If Gray leaves New York and pitches like he did earlier in his career, he'd be the second best starter in Seattle's rotation, hands down. The window is closing and GM Jerry Dipoto has made it clear he's going to do all he can to win before it slams shut.
Who could they send the Yankees? Geez, I have no idea. Their farm system is barren and their best big leaguers with short-term control are Felix (nope), Denard Span (eh), Juan Nicasio (nope), and Nick Vincent (nope). I'm sure we could cobble together an acceptable trade package if we tried hard enough. Nothing jumps out to me though.
Washington Nationals
Why would they want Gray? As bad as they were this year (82-80), the Nationals remain a win-now team. They still have Max Scherzer, Stephen Strasburg, Anthony Rendon, Trea Turner, Juan Soto, and Victor Robles even if Bryce Harper leaves. Pretty good core! The Nationals could absolutely contend next season in the blob of mediocrity that is the National League. Washington has Scherzer, Strasburg, Tanner Roark, and maybe Joe Ross in their rotation. There is definitely room for Gray.
Who could they send the Yankees? Gray for Adam Eaton? The money is close to a wash and the Nationals could still move forward with a Soto-Robles-Michael Taylor/free agent outfield should Harper not return. Knee and ankle injuries have limited Eaton to 118 games the last two seasons, but, when healthy, he's hit .300/.394/.422 (123 wRC+). That's really good! The downside is the leg injuries have sapped his defensive and baserunning value. As a stopgap left fielder, Eaton could work real nice. Would the Nationals really trade such a high on-base leadoff hitter if they're trying to win though? I don't see any other players on their big league roster that make sense.
* * *
Cashman is not an idiot. He was so open about trading Gray because he knows there's interest and he won't have any trouble drumming up potential trade partners. If he were worried at all about his trade leverage, he would've said the Yankees plan to keep Gray and get him right. That's not what happened. In all likelihood multiple teams will be involved and the Yankees will benefit from a bidding war.
That doesn't mean they're going to walk away with a great package, of course. At the end of the day, Sonny is still coming off a terrible season and he's still only under control one more season. His trade value is not sky high. It's not nil though. I get the feeling we're in for a lot of Sonny Gray rumors this winter, and, when it's all said and done, the Yankees are going to end up with more than you'd expect for a dude coming off a replacement level season.