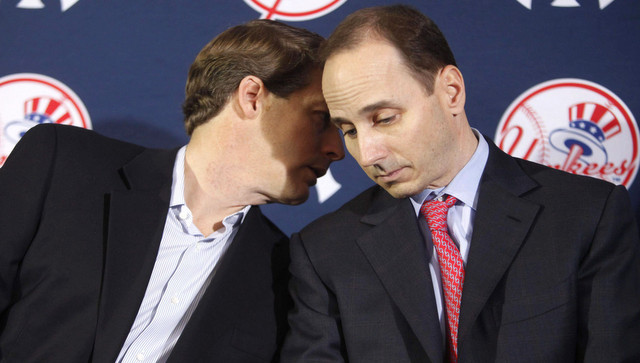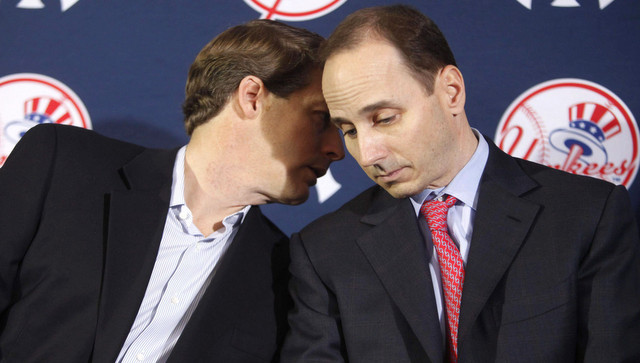 Last night the Red Sox clinched the 2018 World Series championship with a Game Five win over the Dodgers. That is now four titles in the last 15 years for the BoSox after zero titles in their previous 86 years. The Dodgers are still looking for their first championship since 1988.
Anyway, now that the World Series and the 2018 baseball season are over, the 2018-19 offseason is officially underway. There are a ton of important dates and deadlines coming up these next few weeks, plus some not so important ones as well. Here is the offseason calendar and what each of these dates means for the Yankees.
Today, October 29th: The start of free agency, kinda
As of 9am ET today, all eligible players became free agents. Players used to have to file for free agency, which was a waste of everyone's time, but now it happens automatically. Eight Yankees became free agents this morning: Zach Britton, J.A. Happ, Adeiny Hechavarria, Lance Lynn, Andrew McCutchen, David Robertson, CC Sabathia, and Neil Walker. They aren't able to sign with new teams just yet, but they are free agents. There are now 32 players on the 40-man roster.
Wednesday, October 31st: Option decisions due
Generally speaking, all option decisions are due three days after the end of the World Series. Some contract stipulate other dates — my go-to example is the Phillies having to making a decision about their 2011 club option for Jimmy Rollins following the end of the 2009 World Series — but three days after the World Series is most common. I should note Masahiro Tanaka announced he wouldn't opt-out a day before the deadline last year. Announcements could come earlier.
The Yankees have one option decision this offseason: Brett Gardner. They hold a $12.5M club option for Gardner next season with a $2M buyout. It is a net $10.5M decision. If they decline the option, Gardner gets his $2M and becomes a free agent. If they pick it up, he's back next season with a $12.5 salary. My guess is the Yankees will decline the option and look to re-sign Gardner at a lower salary to play a more part-time/platoon role. We'll see.
Friday, November 2nd: Qualifying offer and disabled list activation deadline
The qualifying offer has been set at $17.9M this offseason and the Yankees only have two free agents eligible for it: Sabathia and, if his option is declined, Gardner. None of the other free agents are eligible for various reasons. The Yankees won't make either Sabathia or Gardner the qualifying offer. They'd both accept it in a heartbeat. Sabathia could come back at something similar to his $10M salary this year. The Yankees wouldn't decline Gardner's $12.5M option only to turn around and give him the $17.9M qualifying offer, you know?
Also by this date, all players must be activated off the 60-day disabled list. The Yankees have four players on the 60-day DL: Ben Heller (Tommy John surgery), Jordan Montgomery (Tommy John surgery), Jacoby Ellsbury (hip surgery), and Clint Frazier (post-concussion migraines). Once these guys are activated, the Yankees will go from 32 players on the 40-man roster to 36 players on the 40-man roster. It'll be 35 if Gardner's option is declined.
Saturday, November 3rd: The start of free agency, for real
The five-day exclusive negotiating period ends this coming Saturday and free agency will officially begin. Saturday is when free agents are truly free to negotiate and sign with any team. Keep in mind MLB free agency is a marathon, not a sprint. There typically is not a rash of signings on Day One. I do think we'll see some second and third (and fourth and fifth) tier free agents sign earlier than usual after what happened with free agency last winter — Eduardo Escobar already re-signed with the D'Backs — but probably not this early.
Sunday, November 4th: Gold Glove winners announced
The Yankees have three Gold Glove finalists this year: Gardner in left field, Tanaka at pitcher, and Aaron Judge in right field. I can't see Judge beating out Mookie Betts. Gardner and Tanaka could win though. The last Yankee to win a Gold Glove was Gardner in 2016. The last time the Yankees had multiple Gold Glove winners in one season was 2012 with Mark Teixeira and Robinson Cano. The Gold Glove winners will be announced during a live ESPN broadcast at 9pm ET. I guess MLB doesn't want anyone watching.
Sunday, November 5th: Awards finalists announced
MLB has been announcing three finalists for each of the four major awards (Manager of the Year, Rookie of the Year, Cy Young, MVP) for a few years now. They're trying to generate some buzz during a slow time of the year. Judge's injury takes him out of the AL MVP race and Luis Severino's second half fade takes him out of the AL Cy Young race. I can't see Aaron Boone finishing in the top three of the Manager of the Year voting either. Count on both Miguel Andujar and Gleyber Torres being among the three Rookie of the Year finalists though. It'll be surprised if it's not those two and Shohei Ohtani. The awards finalists will be announced during a live MLB Network broadcast at 6pm ET.
Tuesday, November 6th to Thursday, November 8th: GM meetings in San Diego
Carlsbad, actually, but close enough. The GM meetings typically cover off-the-field stuff. I suspect improper use of electronics (sign stealing, etc.) will be a hot topic this year after the Astros were caught red-handed during the postseason. (Their excuse was they were monitoring their opponents electronically to make sure they weren't using electronics improperly. Come on.)
Off-the-field matters are usually the focus here, but, whenever you put all 30 GMs together in one spot, deals can and do happen. The John Ryan Murphy-for-Aaron Hicks trade went down at the GM meetings. The groundwork for the three-team trade that brought Curtis Granderson to the Yankees was laid at the GM meetings way back in the day. Even if some deals aren't completed at the GM meetings, they will surely be discussed, and possibly revisited and completed at a later date.
Thursday, November 8th: Silver Sluggers announced
If Silver Sluggers are your thing, this is the date for you. Judge's injury and Gary Sanchez's poor year mean the Yankees don't have a serious Silver Slugger candidate this year.
Thursday, November 8th to Thursday, November 15th: MLB Japan All-Star Series
As they do every few offseasons, MLB is sending a team of All-Stars ("All-Stars") to Japan to play a series of exhibition games against Nippon Pro Baseball All-Stars. So far seven players have committed to the event: Ronald Acuna Jr., Rhys Hoskins, Yadier Molina, Carlos Santana, Eugenio Suarez, Chris Taylor, and Christian Yelich. Don Mattingly will manage. Here are the game dates and locations:
November 8th to 11th: Tokyo
November 13th: Hiroshima
November 14th and 15th: Nagoya
I have to think MLB would love to get a Yankee on the roster. The Yankees are the sport's most recognizable team and they'd help create buzz. Didi Gregorius would've been perfect for this event. He's got a great personality and he spends every offseason traveling and making fun videos. Didi would've been great. Too bad he got hurt.
From MLB's perspective, Judge would be ideal here, though he had the wrist injury in the second half may not want to push it. Perhaps MLB could convince Giancarlo Stanton? Eh. The rest of the roster will be announced sometime soon. I mean, this thing starts next week, so it has to be soon. The last Yankee to participate in the MLB Japan All-Star Series was Mike Myers in 2006. For real. Jason Giambi and Bernie Williams were part of the 2002 team. These games will all be televised live on MLB Network.
Update: The MLB roster was announced this morning. It includes no Yankees. So much for that.
Monday, November 12th: Qualifying offer decision deadline
Players used to get seven days to decide whether to accept or reject the qualifying offer. Now they get ten. How very kind of the owners to give players that after receiving massive luxury tax concessions from the MLBPA. Anyway, the extra three days give these free agents a little extra time to shop around for a deal before taking or declining the qualifying offer. Again, the Yankees don't have any qualifying offer candidates this year. This deadline means nothing to them. They'll just monitor who rejects the qualifying offer and is attached to draft pick compensation. (The Yankees will have to give up their second highest draft pick and $500,000 in international bonus money each time they sign a qualified free agent this winter.)
Monday, November 12th to Thursday, November 15th: Major award winners announced
It Manager of the Year on Monday, Rookie of the Year on Tuesday, Cy Young on Wednesday, and MVP on Thursday. Andujar and Torres both have a chance to be named Rookie of the Year. Maybe they'll tie in the voting and be named co-Rookies of the Year! That'd be neat. But yeah, Ohtani's gonna win. Sorry folks. All the awards are announced live during an MLB Network broadcast.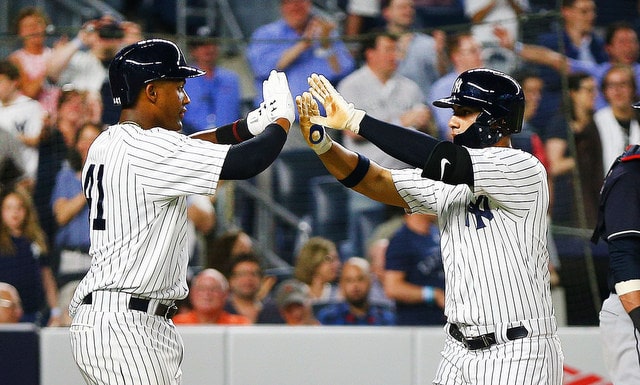 Wednesday, November 14th to Thursday, November 15th: Owners meetings in Atlanta
A bunch of rich guys get together to talk about how rich they are and figure out ways to get even richer. They squeeze in some baseball talk if time allows. Nothing exciting happens here from a hot stove perspective, usually.
Tuesday, November 20th: Rule 5 Draft protection deadline
The Yankees got a head start on their Rule 5 Draft protection this year when they called up Chance Adams, Justus Sheffield, and Stephen Tarpley during the season. Also, Rule 5 Draft eligible prospects Cody Carroll, Juan De Paula, Josh Rogers, and Dillon Tate were traded away at the deadline.
Generally speaking, college players drafted no later than 2015 and high school players drafted no later than 2014 are Rule 5 Draft eligible this winter, as are international free agents signed no later than 2014. Here are the Yankees' notable Rule 5 Draft eligible prospects:
Catchers: Jason Lopez
Infielders: Diego Castillo, Dermis Garcia, Kyle Holder, Hoy Jun Park, Brandon Wagner
Outfielders: Trey Amburgey, Pablo Olivares
Pitchers: Nick Green, James Reeves, Erik Swanson
The Yankees will have four open 40-man roster spots once free agents are removed from the roster and 60-day DL guys are activated. It'll be five spots if Gardner's option is declined. I think Holder and Swanson are locks to be added to the 40-man with Amburgey, Green, and Wagner on the bubble. There's always a chance for a surprise 40-man roster addition too, like Jonathan Loaisiga last year. He was much more highly regarded than I know I realized.
Keep in mind the Yankees can't just load up their 40-man roster with Rule 5 Draft prospects. They have eight players becoming free agents, right? Well, those eight players have to be replaced, so those roster spots will be needed.
Monday, November 26th to Thursday, November 29th: MLBPA executive board meeting in Dallas
The MLBPA is preparing for a labor war. The union made two high profile additions in recent weeks, which suggests they're ready to dig in and make some demands in the next round of Collective Bargaining Agreement talks. Fortunately the current CBA does not expire until December 2021, so a work stoppage is not imminent. But this is the MLBPA's first executive board meeting since the free agent hell of last offseason. Their CBA planning starts in earnest here.
Friday, November 30th: Non-tender deadline
The non-tender deadline is usually December 2nd, but December 2nd is a Sunday this year, so MLB moved it up to the prior business day. On this date teams have to tender their pre-arbitration and arbitration-eligible players a contract for the 2019 season. They don't have to sign them, they just have to make a contract offer. Players who don't receive a contract offer become free agents. They are considered … wait for it … non-tendered.
The Yankees could be in for an interesting non-tender deadline. Would they non-tender Didi Gregorius rather than pay him a projected $12.4M to rehab from Tommy John surgery next year, only to have him become a free agent after the season? Would they non-tender Sonny Gray and his projected $9.1M salary if they can't find a trade partner? What about Tommy Kahnle? Is he so far gone that the Yankees dump him and his $1.5M projected salary?
Aside from those guys, I think the Yankees might try the non-tender/re-sign trick with Heller. They've non-tendered young players coming off injury and re-signed them to a minor league contract several times in the past, most notably with Domingo German and Vicente Campos. Heller's rehabbing from Tommy John surgery and the non-tender is a way to get him off the 40-man roster and keep him in the organization without exposing him to waivers.
Monday, December 9th to Thursday, December 13th: Winter Meetings in Las Vegas
The busiest week of the offseason, historically. This is when most major free agent signings and trades will take place. That was the case for years and years and years. How will things play out this offseason? After last winter, I could see teams waiting out free agents because it proved to be so effective last year. There were some great bargains to be had in January and February. In all likelihood the Winter Meetings will be packed with hot stove action (if not trades and signings, then at least rumors) because the Winter Meetings are always packed with hot stove action. Should be fun.
Monday, December 9th: Hall of Fame Today's Game committee announcement
The Hall of Fame replaced the old Veterans Committee with four "eras" committees a few years back: Early Baseball (pre-1950), Golden Days (1950-69), Modern Baseball (1970-87), and Today's Game (1988 to present). The committees meet every few years in irregular intervals to vote on players who fell off the BBWAA ballot, and this winter the Today's Game committee is up. It's hard to know who will and who won't be on the ballot, but the folks at Hall of Stats came up with some names. Former Yankees David Cone and Jimmy Key are among them.
Thursday, December 13th: Rule 5 Draft
As a reminder, players selected in the Rule 5 Draft must remain on their new team's 25-man big league roster all next season, or be placed on waivers and offered back to their original team. The Yankees had multiple players selected in each of the last three Rule 5 Drafts and one only (Luis Torrens with the Padres last year) stuck. Even with an underwhelming crop of Rule 5 Draft eligible prospects this winter, it wouldn't surprise me if the Yankees have multiple players selected again. Upper level bullpen arms like Joe Harvey and Raynel Espinal could interest a team enough to get a Spring Training look.
The Yankees have not made a Rule 5 Draft pick since taking Cesar Cabral and Brad Meyers in 2011. Depending on their 40-man roster situation offseason, I think the chances of the Yankees making a Rule 5 Draft pick this year are better than they have been in years. Maybe they'll look for a live-armed last guy in the bullpen type or a corner infielder to compete with Luke Voit and Greg Bird at first base in Spring Training. Probably not, but maybe!
Friday, January 11th: Deadline for teams and players to submit salary arbitration figures
The player files what he believes he should be paid in 2019 and the team files what they believe the player should be paid in 2019. It's important to note the two sides could still agree to a contract of any size after filing salary arbitration figures. Generally speaking, most arbitration-eligible players sign before the filing deadline. The Yankees signed all their arbitration-eligibles before the filing deadline last offseason. The same will probably happen this year too. That's usually how it goes.
Mid-January: BBWAA Hall of Fame class announced
Voting results for the 2019 Hall of Fame class will be announced sometime in January. This is a big Hall of Fame year. Know why? Because Mariano Rivera is eligible. He'll be on the Hall of Fame ballot for the first time this year. Rivera's going to get voted in, of course, I just wouldn't expect it to be unanimous. There are 400-something ballots cast each year and inevitably one of them will exclude Rivera. That's just the way these things go.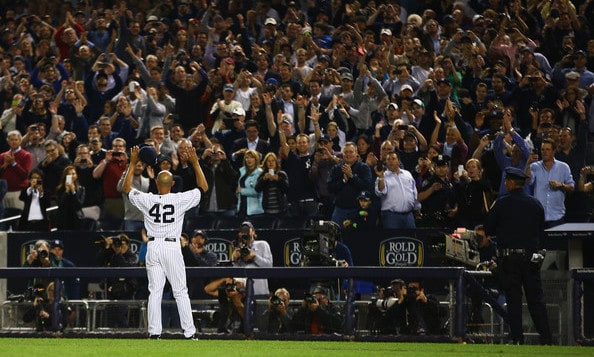 Andy Pettitte joins the Hall of Fame ballot this year as well, though I think he's a borderline candidate at best. He'll clear the 5% threshold to remain on the ballot next year but I don't see him coming close to the 75% needed for induction. Former Yankees Roger Clemens (7th year), Mike Mussina (6th), and Gary Sheffield (5th) return on the ballot. I hope Mussina gets in. His voting percentage has increased from 20.3% to 24.6% to 43.0% to 51.8% to 63.5% in his five years on the ballot. Hopefully he gets over the 75% threshold this year. Here's the full Hall of Fame ballot.
Friday, February 1st to Wednesday, February 20th: Arbitration hearings
The Yankees went to what is now a rather infamous arbitration hearing with Dellin Betances two years ago. Prior to that they hadn't gone to an arbitration hearing since beating Chien-Ming Wang in 2008. Lots of teams these days are "file-and-trial" clubs, meaning they cut off contract talks after filing salary figures and go to a hearing. That's designed to put pressure on the player. I don't think the Yankees are a file-and-trial team though. They signed Aroldis Chapman and Nathan Eovaldi after the filing deadline but before a hearing in 2016. Seems Betances was a special case because the two sides were far apart. As always, I'd bet against a hearing. They're uncommon and both sides try to avoid them.
Saturday, February 23rd: Grapefruit League play begins
The Yankees open their 32-game exhibition schedule with a road game against the (groan) defending World Series champion Red Sox. They play their spring home opener two days later against the Blue Jays in Tampa. The Yankees have not yet announced their reporting dates (those are usually announced in mid-November), but, based on the last few years, pitchers and catchers will report ten days before the Grapefruit League opener (Wednesday, February 13th) and position players will report six days before the Grapefruit League opener (Sunday, February 17th).
Thursday, March 28th: Opening Day!
The 2019 regular season beings on March 28th — actually, it begins March 20th in Tokyo, where the Athletics and Mariners are scheduled to play their first two games of the season — and the Yankees will be at home to take on the Orioles. The home opener was snowed out last year and twice in the last three years. I really hope that doesn't happen again.