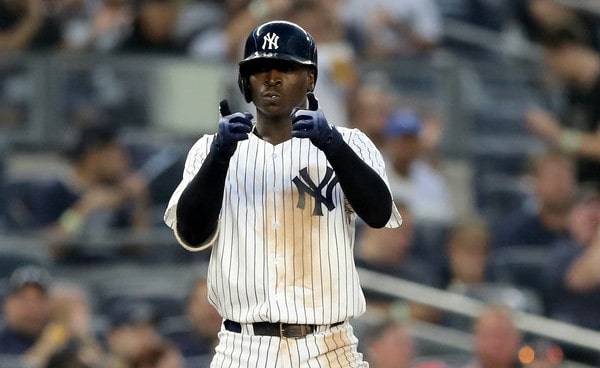 Given the roster situation and contention window, the Yankees figure to be very active this winter. The team is ready to win now but they need help, particularly in the rotation, but also elsewhere on the roster. The injured Didi Gregorius has to be replaced, as do impending free agents David Robertson and Zach Britton, among others. These next few months should be busy.
The Yankees already have their core in place — they need to supplement this offseason more than overhaul — and they're going to spend at least part of the offseason keeping that core in place. Guys like Aaron Judge and Gleyber Torres and Gary Sanchez are still in their pre-arbitration years and will make something close to the league minimum next year. Others like Gregorius and Luis Severino are arbitration-eligible and will cost a bit more.
Last week Matt Swartz released his 2019 salary arbitration projections at MLB Trade Rumors. There are always exceptions, but Matt's system is very accurate overall. These aren't "in the ballpark" numbers. These tend to be close to dead on. Here is the Yanks' arbitration class and their projected 2019 salaries:
Didi Gregorius: $12.4M (fourth time eligible as a Super Two)
Sonny Gray: $9.1M (third time)
Dellin Betances: $6.4M (third time)
Aaron Hicks: $6.2M (third time)
Luis Severino: $5.1M (first time as a Super Two)
Austin Romine: $2.0M (third time)
Tommy Kahnle: $1.5M (second time as a Super Two)
Greg Bird: $1.5M (first time)
Ronald Torreyes: $900K (first time as a Super Two)
The nine-person arbitration class projects to cost the Yankees a whopping $45.1M in 2019. Goodness. Last year's arbitration class ran $29.2525M even when including Adam Warren's full salary. The Yankees have about $55M in free agents coming off the books this winter. Going from a $29.2525M arbitration class last year to a $45.1M arbitration class this year eats up about $15M of that $55M. Hmmm. Anyway, let's talk about the arbitration class a bit.
1. What happens with Gregorius? Sir Didi needs Tommy John surgery and I have to think that means the Yankees will not pursue a long-term contract extension, if they were even planning to pursue one in the first place. Don't you have to wait and see what Gregorius looks like post-surgery before committing? I mean, he'll probably be fine, but you never really know. It's a major surgery.
As I mentioned yesterday, I don't think the Yankees will non-tender Gregorius, but I don't think it would be as egregious as it may seem. He might not be back until August or September. Is it really smart to commit $12.4M to a guy who may not help you much, if at all, when he'll become a free agent next winter? That's a lot of money to give to a guy who is going to spend most of the year rehabbing. The potential reward isn't all that great.
Perhaps there's a compromise to be made here? Rather than a one-year contract at the projected arbitration salary, the Yankees and Gregorius could work out a two-year agreement? Something like, say, two years and $25M? Or maybe even $30M? That ensures two things:
The Yankees won't pay Gregorius a hefty sum during his injury shortened 2019 season only to possibly lose him to free agency next winter.
Gregorius gets a nice little guaranteed payday and will still be able to become a free agent prior to his age 30 season, when he'll still have good earning potential.
The Gregorius injury is really unfortunate. He's a great player who proved difficult to replace during his short time on the disabled list this past season. The injury also complicates his contract situation for next year. Maybe the Yankees will fork over that projected $12.4M contract for the season then worry about Didi's free agency next winter. I guess we'll find out soon enough.
2. Gray's salary is higher than I expected. I didn't expect Gray's salary projection to come in north of $9M. He made $6.5M this season and was terrible. His past accomplishments (2015 All-Star, third in the 2015 AL Cy Young voting, etc.) are doing the heavy lifting here. No player has ever had his salary cut during arbitration and Sonny sure as heck won't be the first. I thought maybe he'd get $8M to $8.5M. I underestimated.
Brian Cashman was very open about trading Gray during last week's end-of-season press conference. I can't remember him ever being that candid about trading a player. Here's what Cashman said, via Brendan Kuty:
"I think it's probably best to try this somewhere else," Cashman said. "It hasn't worked out this far. I think he's extremely talented. I think that we'll enter the winter unfortunately open minded to a relocation. Probably to maximize his abilities would be more likely best somewhere else. But then it comes down to the final decision of the price in terms of trade acquisition and matching up with somebody, if we match up."
I don't think Cashman would've said that unless he was confident he could find a trade match for Gray and get something decent in return. The Yankees very clearly want to get rid of him. It doesn't mean they'll give him away. Pitching is in demand and hey, if you were another team, wouldn't you have interest in buying low on Gray? I think there will be enough of a market that the Yankees get something good in return. Not great, but good.
Now, that said, if the Yankees have trouble finding a trade partner for Gray, would they consider non-tendering him? I don't think so, but it's not impossible. Worst case scenario is you take Sonny into Spring Training and essentially audition him for teams. Some team is going to suffer an injury and need a starter. That team might be the Yankees! But yeah, Gray's a goner. His projected salary is higher than expected but I don't think it'll be an obstacle during trade talks.
3. Time to talk extension with Betances? Next season is Dellin's final season of team control. He'll be a free agent next winter. Historically, players who sign extensions the year before free agency get free agent contracts. There's no discount. I don't think Betances would get Wade Davis money (three years, $52M), but Bryan Shaw money (three years, $27M) ain't cutting it. I could see Dellin's camp pushing for four years and $44M or so next year.
Betances is an all-time personal fave and he had a tremendous bounceback season this year. He went from completely unusable in the postseason last year to being the team's No. 1 bullpen weapon this postseason. There were a lot of folks (a lot of folks) who wanted Betances traded last offseason. Fortunately the Yankees kept him. That said, there are some reasons the Yankees should pass on an extension this offseason.
Betances turns 31 in March and his free agent contract begins during his age 32 season. Dellin's not that young anymore! He's almost certainly had his best years already.
As we know, Betances is extremely volatile. When he's good, he's unhittable. It's so fun. When he's bad, he's unusable. What if it goes bad again in 2019? I hope it doesn't happen, but it might.
Dellin does have an injury history. He's been very durable as the big leaguer, so he deserves credit for that, but he has Tommy John surgery in his past and also shoulder issues while in the minors.
As much as I love Betances and hope he gets to record the final out of the World Series for the Yankees one day, I wouldn't blame the Yankees one bit for not signing him long-term this offseason. Relievers are inherently volatile and Betances is more volatile than most. They have him for another season and that means another year of gathering information. If he's willing to take a sweetheart deal, then by all means, sign him. Otherwise I think waiting is the right move.
4. Time to talk extension with Hicks? Yes, I think so. Switch-hitting center fielders who provide big value on both sides of the ball are worth keeping. Hicks turned 29 only two weeks ago, so he has several peak years remaining, and I want him to spend those peak years in pinstripes. Both versions of WAR had Hicksie as a top seven outfielder in baseball this season. Dude's legit.
Hicks will be a free agent next offseason and, as noted earlier, players who sign extensions at this service time level usually get free agent contracts. There's no more discount. The contract comparables for Hicks are pretty straightforward. He figures to seek Dexter Fowler (five years, $82.5M) and Lorenzo Cain (five years, $80M) money. And you know what? I'd give it to him. That's the going rate for a comfortably above-average center fielder.
It's important to note here that a five-year contract would cover Hicks' age 29-33 seasons. He's younger now than Fowler (age 31-35) and Cain (age 32-36) were when they signed their deals. Hicks is younger but he also doesn't have as long a track record, which kinda balances things out. If the Yankees give Hicks a five-year deal this winter, they avoid all those nasty decline years in his mid-to-late 30s, at least in theory. This should be a thing they pursue this winter.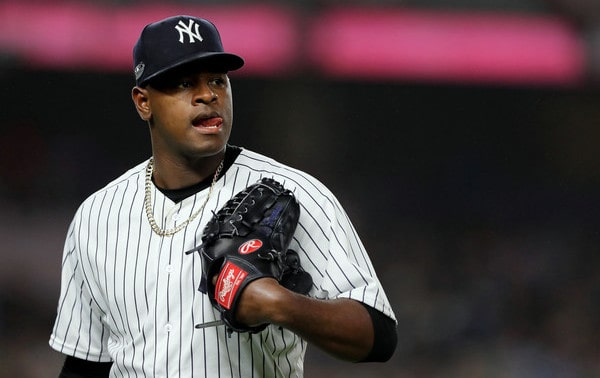 5. Severino's cheapest years are over. The Baby Bombers are growing up. Severino is arbitration-eligible for the first of four times as a Super Two this season. He has two years and 170 days* of service time, which is well over whatever the Super Two cutoff will be this winter. (It varies year to year and is usually somewhere around two years and 120 days.) Severino's first big payday has arrived.
* The MLB season runs 186 days but it only takes 172 days to qualify for a full season's worth of service time. That means, come the 2022-23 offseason, Severino will be *two days* short of qualifying for free agency. Ouch. He spent juuust enough time in Triple-A in 2016 to push his free agency back and I doubt that was a coincidence.
The salary record for a first time arbitration-eligible pitcher belongs to Dallas Keuchel, who received $7.25M for the 2016 season, the year after he won his Cy Young award. Severino doesn't have a Cy Young but he didn't finish third in the voting last year, which will boost his earning potential. Within the last three offseasons five starting pitchers went through arbitration for the first time as a Super Two. Their salaries:
Kevin Gausman, 2016-17: $3.45M
Marcus Stroman, 2016-17: $3.4M
Chase Anderson, 2016-17: $2.45M
Taijuan Walker, 2016-17: $2.25M
Mike Foltynewicz, 2017-18: $2.2M
Severino's been better than all those dudes and, frankly, it's not all that close either. His first year salary is considerably higher than theirs, as it should be. Using the $5.1M projection as a starting point, Severino's salaries during his arbitration years could go something like $5.1M, $10M, $15M, $20M. More high finishes in the Cy Young voting will equal more money.
Should the Yankees sign Severino to an extension this winter? Eh, I don't see the need to rush into it. The Yankees can of course afford big arbitration salaries and pitchers are known to break down. It sucks, but it happens. We spent a few years here saying the Yankees should sign Chien-Ming Wang long-term, they didn't, then he broke down. Baseball can be cruel like that. I am totally cool waiting at least one more year before discussing a Severino extension. Free agency is still a ways away.
* * *
Even subtracting out the likely to be traded Gray, the Yankees have a very expensive arbitration class this offseason. Their most expensive in years. That tends to happen when you have a lot of good young players. The Yankees will have to make some big decisions with this year's arbitration class too. Do they approach Gregorius, Hicks, or Betances about extensions the year before free agency? Or just let the year play out? There's a case to be made for both approaches.