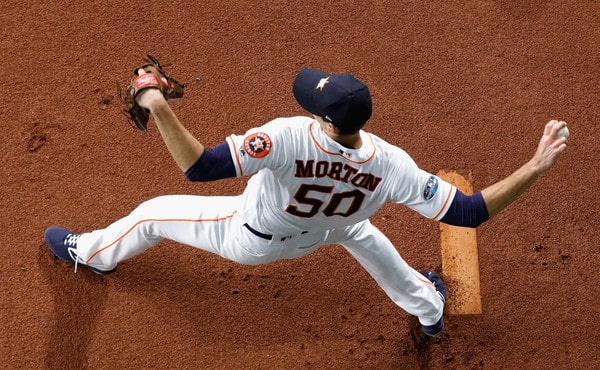 The offseason is not yet two weeks old and already the Yankees have added a starting pitcher. Earlier this week they re-signed CC Sabathia to a one-year contract worth $8M. The Yankees came into the offseason needing multiple starters though, and, even after re-signing Sabathia, Brian Cashman told Brendan Kuty he is still looking to acquire "multiple" starting pitchers.
"In CC's case, we have multiple needs in that area," Cashman added while speaking to Bryan Hoch. "If we were ready to promote three more Severinos, then I wouldn't be looking in acquisition mode for starting pitching. I'd be saying goodbye to people probably, moreso than not … We're going to engage every free agent in the marketplace and assess their price tags and how they may fit for us."
Among the many free agent starters on the market this winter is right-hander Charlie Morton, most recently of the Astros. He had some success with the Pirates back in the day, then really took his game to another level in Houston. Morton was one of the very first identifiable cases of teams prioritizing spin rate. Two offseasons ago the Astros gave him two years and $14M despite a serious hamstring injury in 2016 and a disappointing 2015, and it turned out to be a bargain.
This past season Morton, who turns 35 next week, threw 167 innings with a 3.13 ERA (3.59 FIP) and good strikeout (28.9%) and ground ball (47.4%) rates. His walk rate (9.2%) was a tad high, but not excessively so. For what it's worth, the Yankees have requested Morton's medical information as part of their early offseason due diligence. Lots of teams request lots of medical information. It happens a lot. Anyway, is there a fit? Let's break it down.
Background
Morton is a semi-local guy. He was born in New Jersey and he grew up in Connecticut, and last year he told Abby Mastracco he grew up idolizing Derek Jeter and Roger Clemens. The Braves drafted him out of high school in the third round in 2002, but it wasn't until June 2008 that he made his MLB debut. Atlanta traded Morton to the Pirates in the Nate McLouth deal in June 2009 and, after parts of seven seasons in Pittsburgh, they salary dumped him on the Phillies in December 2015. The next offseason he signed with Houston. Morton has a career 4.23 ERA (3.95 FIP) in 1,206.2 innings across parts of eleven seasons. He was a first-time All-Star this year.
Performance
We can split Morton's career into two unequal parts: Astros and pre-Astros. Morton threw 893 innings with a 4.54 ERA (4.10 FIP) with the Braves, Pirates, and Phillies from 2008-16. With the Astros, he had a 3.36 ERA (3.53 FIP) in 313.2 innings from 2017-18. Morton always had pretty good stuff. Then Houston tweaked some things and he took off. Here are some numbers:
| | IP | ERA | FIP | K% | BB% | GB% | HR/9 | RHB wOBA | LHB wOBA |
| --- | --- | --- | --- | --- | --- | --- | --- | --- | --- |
| 2014-16 | 303.2 | 4.21 | 3.88 | 18.5 | 8.2 | 56.8 | 0.68 | .295 | .340 |
| 2017 | 146.2 | 3.62 | 3.46 | 26.4 | 8.1 | 51.8 | 0.86 | .345 | .249 |
| 2018 | 167 | 3.13 | 3.59 | 28.9 | 9.2 | 47.4 | 0.97 | .279 | .308 |
The Astros, through adjustments to his pitch selection and pitch usage, helped Morton trade some ground balls for strikeouts, and also helped him improve against lefties. His 2017 platoon splits are the outlier. Morton's always been better against righties than lefties, though that year it was reverse. I don't think he'll ever be that good against lefties again, but there's been real improvement the last two years.
What the Astros did with Morton was basically the same thing they did with Gerrit Cole. The Pirates preach quick outs with a sinking two-seam fastball. The Astros scaled back on the sinker and had Morton (and Cole) incorporate more four-seamers, specifically elevated four-seamers to get swings and misses and help the breaking ball play up. Doing this is easier said than done, of course, but that's why the grounders declined and the strikeouts increased. Fewer sinkers and more elevated heaters for swings and misses.
Morton's quality-of-contact numbers have been real good the last two seasons. He's run a hard contact rate south of 30% and an expected wOBA under .300, both of which are better than league average. So, in addition to the uptick in strikeouts, Morton hasn't allowed much hard contact the last two years. The change in pitching style has led to considerable improvement. There's a tangible explanation for the improvement. Can Morton continue to be this effective at age 35 and beyond? That's a fair question. This isn't all small sample size noise though.
Current Stuff
Morton is essentially a three-pitch pitcher. He throws his four-seamer, sinker, and curveball about 30% of the time each. Morton will also mix in a few splitters per start and his slider is more of a cutter/slider hybrid. It's a mid-to-upper-80s pitch with bigger break than a cutter but shorter break than a slider. It's a little weird. The splitter and cut-slider are his clear fourth and fifth pitches.
These last two seasons with Houston, Morton's fastballs have jumped into the mid-90s and even flirted with triple-digits on occasion. Here are his average four-seamer and sinker velocities over the years: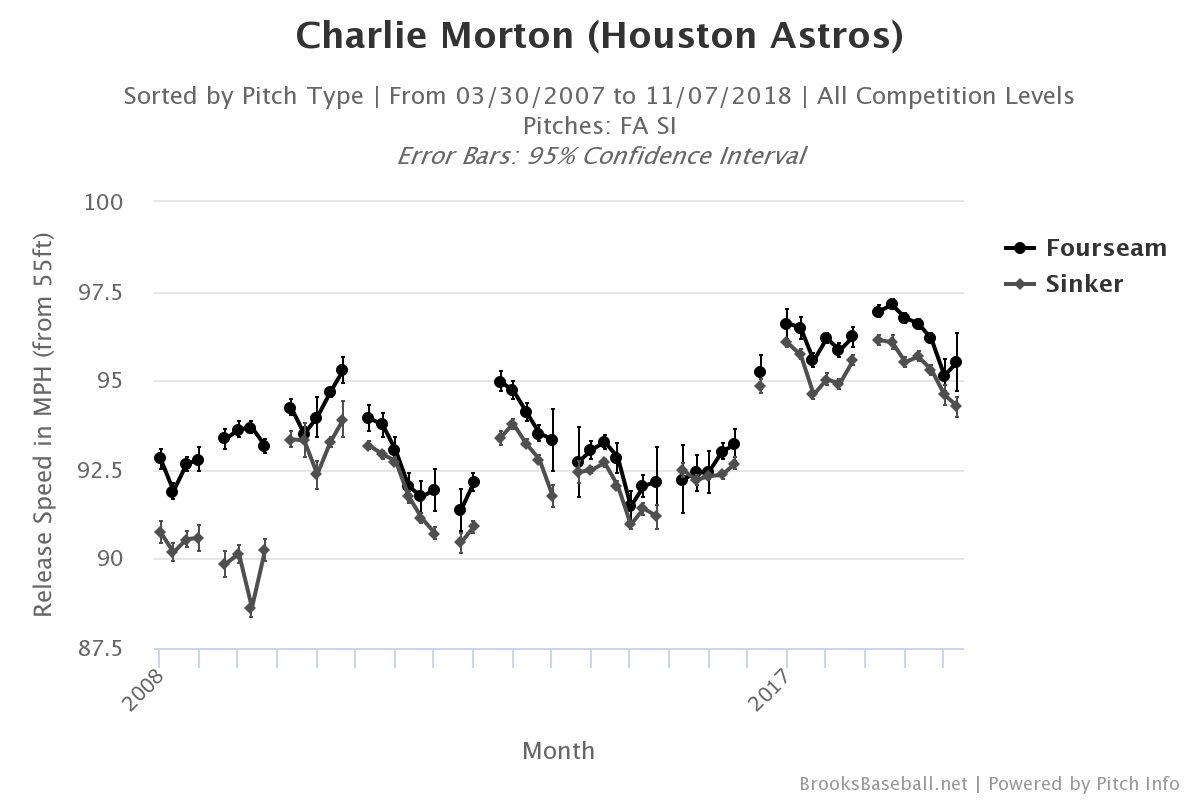 That's a big jump! It's also a jump that first happened with the Phillies in 2016. Morton only made four starts with Philadelphia in April 2016 before hurting his hamstring, but, in those four starts, he threw harder than he had at pretty much any point in the previous seven years with the Pirates. He was not only able to maintain the velocity spike after the hamstring injury, his velocity jumped another notch as well. Hmmm.
"For some reason, I just went out there and tried to throw the ball hard one game. I wound up throwing it harder. I'm really excited about it. Hopefully I can maintain it going forward" said Morton to Matt Gelb in 2016. "I feel like my arm is working really well. My timing is really good. I feel like my arm is quicker. I'm maintaining my pitch speed throughout the game, which is really promising. It's not just I go out there, throw hard, and it fades away."
That's kind of a weird explanation. "I just went out there and tried to throw the ball hard one game?" Really? I mean, yeah, it's possible, but baseball players aren't always the most forthcoming people you'll meet. It's possible there was something going on behind the scenes that Morton didn't want to reveal. My guess is there were some mechanical adjustments, and also good health after years of arm trouble.
Whatever the reason, Morton's velocity jumped these last few years, and it has undoubtedly played a role in his success. He pairs those high-velocity four-seamers and two-seamers with a hellacious high-spin curveball that snaps hard and fast. (Morton uses a spike curveball grip he learned from A.J. Burnett when they were teammates in Pittsburgh.) On April 30th of this year Morton struck out ten Yankees and allowed one run in 7.2 innings. Everyone complained the Yankees strike out too much, but look at this:
Video game stuff. Morton was throwing mid-to-upper-90s with two fastballs and
that
breaking ball. Three starts before that, he struck out 12 batters. Two starters after that, he struck out 14. Morton was ridiculous in the first half this year. He did fade a bit late, but he was excellent in the first half and merely pretty good in the second half. With stuff like that, it's easy to understand why.
Also, there's one more thing worth mentioning because it's part of the Charlie Morton experience. This dude is beloved by his teammates. I never did write it up for CBS, but at the All-Star Game this year and during the postseason the last two years Astros players and coaches couldn't stop praising the guy for his work ethic, the way he overcame adversity (injuries) earlier in his career, his humility, and for being a role model.
"Maybe in this stage of my career, maybe give guys that are older, or they've gone through failures or injuries, give them something to look at, like, 'Maybe it's not over just because people are saying it's over, or I'm bad because people say I'm bad,'" Morton said to Hunter Atkins earlier this year. "What I get out of it now is that I know I'm contributing. That's a good feeling."
Aside from Sabathia and Hyun-Jin Ryu, there is no free agent starting pitcher this offseason that I worry less about handling New York than Morton. He's a tough dude who's had to work hard to get healthy and have success, and he's thrived in big situations. Morton threw the final four innings in Game Seven of the World Series last year three days after throwing 6.1 innings in Game Four, remember.
You never know how a guy will react to a situation until you put him in that situation. Maybe Morton will come to New York and get overwhelmed by the city and the media and the small ballpark and whatever else. There was nothing in Sonny Gray's history that suggested New York would crumble him (quite the opposite, in fact, he had a lot of success in pressure moments), yet it happened. Based on what I've seen, I'm not worried with Morton. He is a tough dude.
Injury History
Morton's injury history is long, ugly, and diverse. He's hurt everything there is to hurt at some point. Let's go through the injury timeline:
2009: Missed two weeks with an oblique strain and three weeks with a hamstring strain.
2010: Missed six weeks with shoulder fatigue.
2011: Missed three weeks total (two bouts) with shoulder fatigue.
2012-13: Had Tommy John surgery in June 2012 and returned in June 2013.
2014-15: Missed final week of 2014 and first two months of 2015 with hip labrum surgery
2016: Had season-ending surgery to repair a torn hamstring in April. He got hurt on a bunt.
2017: Missed six weeks with a lat strain.
2018: Missed ten days with shoulder discomfort.
Yikes! Morton's been on the disabled list every season of his big league career and there are some serious injuries in there. Tommy John surgery? Hip labrum surgery? Torn hamstring? That is serious stuff. Morton has come back from all of it, and that's part of the reason why his teammates respect him so much. This dude has been through a lot.
Morton only spent ten days on the disabled list with the shoulder discomfort this year but the injury was more serious that that would lead you to believe. He went on the disabled list in late August and returned in early September. Morton made four appearances after that. His pitch counts: 94, 70, 24, 34. The Astros more or less shut him down in mid-September, before they even clinched the AL West. The shoulder needed rest.
Houston had little choice but to start Morton in ALCS Game Four — he started that game on 17 days rest — and he clearly did not look like himself. The velocity was okay and the breaking ball looked good, but Morton was all over the place and not sharp at all. Chris Sale had shoulder trouble in the second half and looked kinda crummy in the postseason. Morton looked the same way.
Because of all those injuries, Morton has never thrown more than 180 innings in a season and only twice has he reached 170 innings, and that was back in 2010 and 2011. His 167 innings this year were his most since 2011. Outside 2016, the torn hamstring season, Morton's been a 140-150 inning guy the last few years. Given his age and injury history, whoever signs him kinda has to assume a stint or two on the disabled list is coming each season.
Contract Estimates
The Astros did not make Morton the $17.9M qualifying offer prior to last week's deadline, which kinda surprised me. Is that an indication the 'Stros are scared of his injury history? Or just a sign they believe they can re-sign him at a lower average annual value and don't want to risk him accepting the qualifying offer and blowing up their budget? Anyway, here are some contract estimates:
I'm with the FanGraphs crowd and MLBTR on this one. I think Morton gets two years. Unless his shoulder looks like ground beef, and it very well might, I think he can pull down two years this offseason. Morton's been really good these last two seasons, and, in recent years, we've seen other starters in their mid-30s get multiple years. Rich Hill got three years at age 36. Jason Vargas got two years at age 35. J.A. Happ got three years at age 33.
The free agent market was pretty weird last offseason and who knows how things will shake out this offseason. In a "normal" offseason, a two-year contract at $16M annually would seem about right for Morton given his track record. Perhaps the injuries and the general anti-free agent climate in baseball mean he will have to settle for one year like Bowden projects?
What About The Retirement Talk?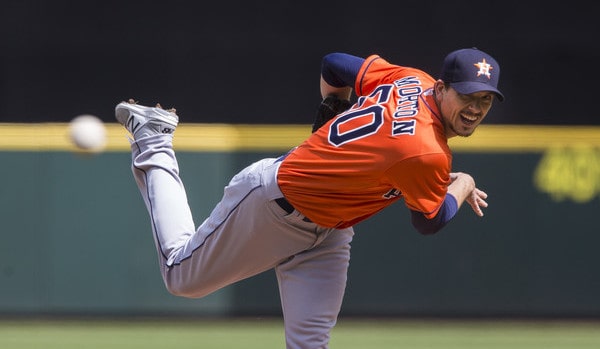 During an interview with Jake Kaplan (subs. req'd) earlier this year, Morton hinted at retirement and said he wants to spend more time with his family. "My goals in baseball have pretty much been fulfilled," he said, referring to winning a World Series ring and making enough money that his family is set financially. Here's what Morton told Kaplan when asked whether 2018 could be his final season:
The situation would dictate whether or not I keep playing. Am I healthy? Probably the biggest question would be my health. What am I doing? Am I rehabbing from something? Am I rehabbing from another surgery? Like, you don't know. But kind of the way my career has been the last five to six years, where I've been dealing with not just injuries but surgeries and lengthy rehabs — that would be a factor. How am I pitching? How am I pitching at the end of the year? What do contract offers look like? Where are those teams that are offering the contracts? Where are they located? All of these things are going to factor into it, and then we're going to make a decision.
Morton and his wife are both from the East Coast — he's from Connecticut and his wife's family lives in Delaware — and, during the interview with Kaplan, he indicated he would like to be closer to his family. That was all back in April. Last month, after the Astros were ousted in the ALCS, Morton said he wants to continue playing and he would like to remain with Houston.
"I'd love to keep playing, I'd love to be an Astro. I'd love to be part of this again. Ultimately, it's not really up to me. It's not solely up to me," he said to Chandler Rome. Morton also admitted that he and his family are planning to settle down in Washington DC and are shopping for homes. So he's willing to continue playing in Houston, away from home, but will settle down permanently on the East Coast.
Some (most, really) free agents focus on money and go wherever the largest offer takes them and that is totally cool. I'd do the same exact thing. Morton might be an exception. He seems content with his career and, if the situation is not right, he'll happily go home and be with his family. Comfort may matter more than money. The Yankees can offer Morton a chance to win and the opportunity to be close to home. Closer to home than Houston, anyway. Is that enough to get his attention?
Does He Make Sense For The Yankees?
I'm on the fence about this one. I mean, yes, obviously Morton would be an upgrade to the rotation as presently constituted. But there are lots of free agents and trade targets out there. Is a soon-to-be 35-year-old with a scary as hell injury history the best way to fill a rotation spot? The Yankees already have one 150-something-innings guy with injury concerns in Sabathia. Is spending money on another one the way to go?
Morton has said he would like to remain with the Astros and their interest will be telling. Dallas Keuchel and Morton are free agents and Lance McCullers Jr. just had Tommy John surgery. Houston is suddenly really short on starters. If they pursue a reunion with Morton, cool. If not though, why? Are they scared about his shoulder? What do they know that everyone else doesn't? Know what I mean? Sure seems to me there's a clear fit for a reunion.
Also, I can't help but wonder how sustainable Morton's success is away from the Astros. He's obviously been very good the last two years. Can he continue to do that with another organization? Not that long ago pitchers who left the Braves and Cardinals were notorious for falling apart with their new teams. Whatever they did with Atlanta and St. Louis wasn't working elsewhere. Will it be like that for Houston's pitchers away from their spin rate lab? It's something that has to be considered.