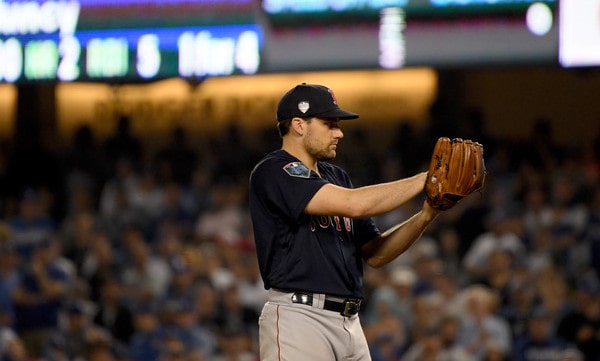 Patrick Corbin is a Washington National and Paul Goldschmidt is a St. Louis Cardinal. He's been traded for four players and a draft pick. Despite their first base situation, the Yankees were never seriously connected to Goldschmidt this winter. Anyway, here are the latest hot stove rumblings as the Yankees shift gears following the Corbin news.
Eovaldi, Lynn among Plan B's
Now that Corbin is off the board, the Yankees are "engaged" with Nathan Eovaldi and Lance Lynn as potential Plan B rotation options, reports Mark Feinsand. J.A. Happ is also in that group, of course. A week or two ago we heard the Yankees were not among the early suitors for Eovaldi, but this stuff can change in a hurry. For what it's worth, Joel Sherman says the Yankees are hesitant to reunite with Eovaldi if it takes four years.
I've said all I have to say about Eovaldi. Good dude and I hope he gets paid, but I am a hard pass on an enigmatic two-time Tommy John surgery guy who succeeds with max effort velocity. Happ is fine and nothing more in my opinion. Re-signing him would be okay but underwhelming. Lynn? Blah. He had a 4.41 ERA (2.17 FIP) in 54.1 innings with the Yankees this past season — the low FIP is the result of an unsustainably low homer rate (0.33 HR/9 and 4.5% HR/FB) — and I guess he could fit as a swingman. As a full-time starter though? Not interested.
Yankees have interest in Soria
According to Jesse Sanchez, the Yankees are among the teams with interest in veteran reliever Joakim Soria. They're said to want two relievers to replace David Robertson and Zach Britton. Soria is still only 34 — I would've guessed he's 37 or 38 by now — and this past season he had a 3.12 ERA (2.43 FIP) with a 29.4% strikeout rate in 60.2 innings for the White Sox and Brewers. He was still throwing fastballs by dudes in October too. The stuff remains pretty lively.
The Yankees have been connected to Soria a bunch of times over the years though they never have acquired him. This would not qualify as a sexy pickup, I know, but I'd be cool with signing Soria to a one-year deal or even a lower cost two-year contract. He'd be what, the fourth best reliever in the bullpen? Maybe fifth? He's fine in that role. Soria is still effective and he's wily as hell (
his new thing is changing arm slots
) and he has experience in every relief role imaginable.
Yankees, Brewers have talked Gray
Add another team to the Sonny Gray trade rumor mill. Jon Morosi reports the Yankees have spoken to the Brewers about Gray. Morosi also reiterates the Padres' interest in Gray and says they're having "ongoing discussions" with the Yankees. Eleven teams are reportedly in on Sonny and we know eight of them: Brewers, Padres, Mariners, Athletics, Reds, Braves, Rangers, and Twins. There are still three Mystery Teams™ out there.
I'm surprised Gray has not been traded yet but I guess it makes sense for the Yankees to hang on to him until they acquire another starter, even though it seems they're beyond the point of no return given Brian Cashman's comments this offseason. Bottom line, if there are truly eleven teams in on Gray — or even just three or four teams — the Yankees are going to get something nifty for him. Not a star prospect or anything, but something better than nothing, which is what you might normally expect for a guy who had as poor a season as Sonny just did.