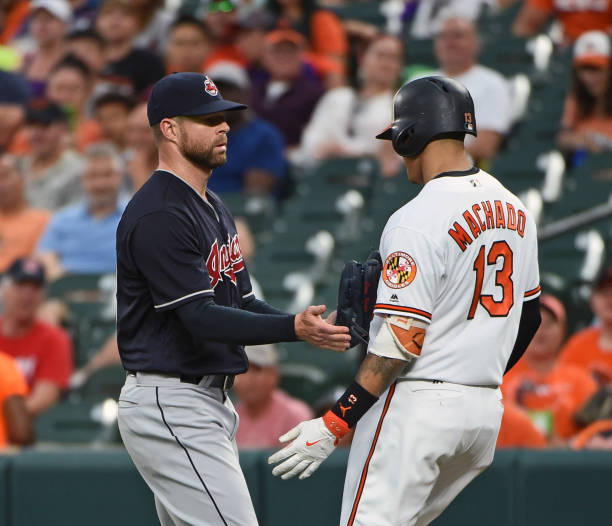 The Yankees did not sign this year's top free agent starting pitcher: Patrick Corbin will instead have six tries to help the Washington Nationals win their first playoff series. Many Yankee fans, myself included, believed that Corbin represented the Yanks' best path to creating a dominant rotation—but the reality is that he was never the only option. The Indians are reportedly "increasingly motivated" to move Corey Kluber (and another very good but not-to-be-named starter) and the Yankees should do everything they can to acquire him.
That will not be easy. The Yankees once stacked farm system has depleted significantly over the last several years—and even if that depletion was for all of the right reasons, it significantly complicates any effort to trade for an ace. But it is not impossible. If the Yankees decide to flex their financial muscles and sign Manny Machado, it will make available precisely the type of talent needed to trade for a pitcher of Corey Kluber's status. Let's break this one down step-by-step.
Signing Machado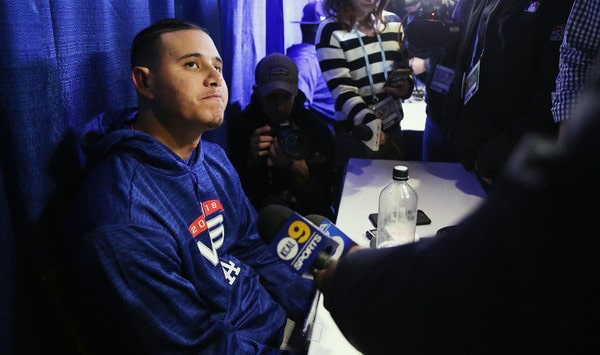 The case to sign Machado, of course, is a simple one to make. The 26-year-old should be one of the most coveted free agents in MLB history, boasting a career .282/.335/.487 (120 wRC+) line in just over 4,000 plate appearances. Like Bryce Harper (who they should also sign), he is just now entering his prime—meaning he should, in theory at least, be as good as he'll ever be in the next four seasons or so.
That alone should put him on every team's radar. The fact that he has posted a wRC+ greater than 130 in three of the last four seasons (with the fourth being a down year in 2017 that was clearly an outlier) ought to only sweeten the deal. In each of those seasons, he has hit at least 33 home runs. And last year, when he hit .297/.367/.548 (141 wRC+) with 37 home runs, was the most productive of his career.
Machado is about as good as it gets offensively. Defensively, the story is a bit murkier—but it doesn't have to be. He switched positions from third to short in 2018 with mixed results. He struggled with the analytically-inept Baltimore Orioles but, if the data is to believed, he seemed to benefit from better positioning in Los Angeles. As a third baseman, though, Machado is as impressive a defender as I can remember seeing, an observation supported by most defensive metrics.
Even though he prefers shortstop (his natural position), Machado is reportedly willing to shift back to the hot corner if it meant playing in the Bronx. That is exactly what the Yankees should insist, and not just the Yanks are loaded with groundball pitchers and struggle with infield defense. Doing so would also allow the Yankees to slide Gleyber Torres to short until Didi Gregorius returns while slotting Machado in at third—opening up Miguel Andújar to be the centerpiece in a package for a top-shelf starting pitcher like Corey Kluber.
Saying Goodbye to Miggy Mantle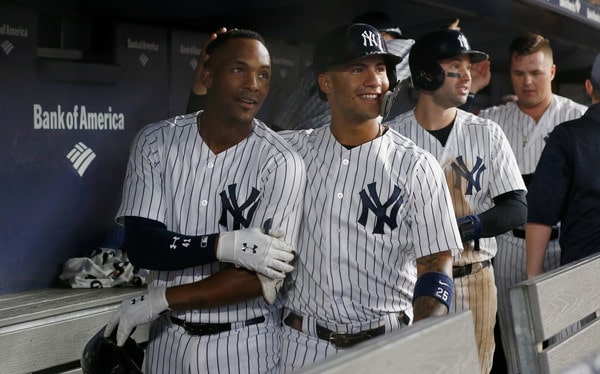 The case to trade Andújar, unlike signing Machado, is a bit more difficult to make. Miggy Mantle burst onto the scene in 2018, hitting .297/.328/.527 (128 wRC+) with 27 home runs in just over 600 plate appearances. His ability to make hard contact on almost any pitch and drive it is a rare offensive skill—and it is the reason why he hit so many balls for extra bases in 2018. Andújar quickly became one of my favorite Yanks, and it is hard to imagine what the 2018 squad would have been like without Andújar's steady performance.
But that does not mean that it would not make sense to say goodbye. Andújar's defense is a work in progress to put it kindly, and that was enough to have him be replaced in the 6th (!) inning of the Wild Card Game this October for defensive reasons. That the team didn't start or pinch hit him in the deciding game of the ALDS suggests that these worries may run deep in the front office—even if that decision, in my opinion, was an obvious tactical blunder.
Andújar will start 2019 at age 24—but Machado will begin the season at age 26. In fact, replacing Andújar with Machado is one of the few ways where the Yankees would get a significant defensive upgrade in the infield without sacrificing any offensive value, and Machado is an even better hitter than Andújar to boot.
Miggy's trade value figures to be about as high as any player in the league—any 23 year-old who put up those offensive numbers at the league minimum salary will get teams interested. Even with his obvious defensive warts, another team may see a way to improve his defense at the hot corner, or perhaps they see a future for him in left field ala Ryan Braun or at first base. But in any case, Andújar is the type of talent who commands a large return.
Welcoming Corey Kluber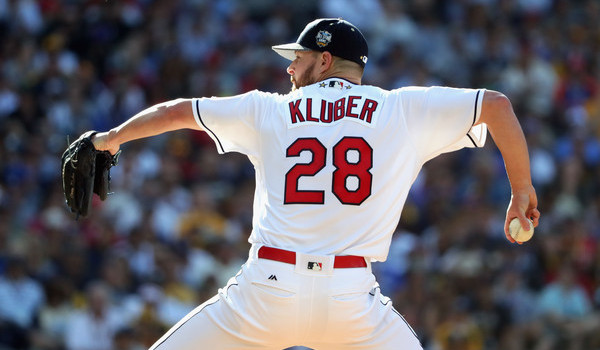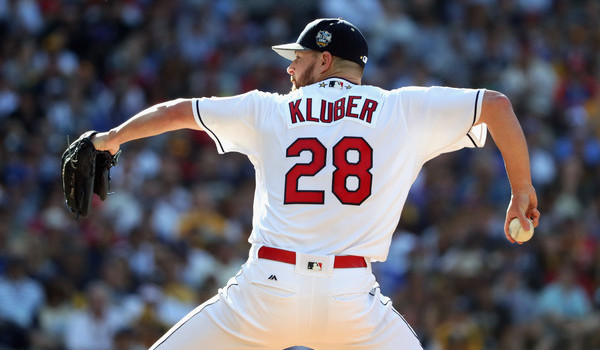 The pertinent question, now, is if a package based around Andújar would be enough to entice Cleveland to say goodbye to one of the best pitchers in baseball. The 32-year-old ace has won two of the last five AL Cy Youngs—finishing no lower than 3rd in overall voting with one win in the last three years—and it is clear why. Since 2014, Kluber has posted a 2.85 ERA (152 ERA+) with a 2.84 FIP over 1091.1 innings. He has struck out more than 10 batters per 9 in that with less than 2 walks per 9 innings across that stretch, with a WHIP just barely over 1. There are few signs of decline: he is just one of the best pitchers in the league.
If Cleveland will be cheap enough to ship him off in a trade while in the middle of their own (alleged) title run, then the Yankees should simply do everything they can to bring him to the Bronx—even if that means trading one of the league's most exciting young pieces. Cleveland has a very good infield as it is, but they did just trade for Josh Donaldson last year, so they have been willing to add offense to that infield as recently as last summer.
On the Yankees side, the need is obvious. Adding Kluber as the final piece of a rotation that already includes Luis Severino, James Paxton, Masahiro Tanaka and CC Sabathia would position the Yankees to have a truly dominating staff in 2019 and 2020. To me, that's easily worth the haul it would take to get him, which would likely be Andújar+. Always trade your prospects for dominating starting pitchers. Just look a bit to the north to see why.
Will it Happen?
To sum up, this plan involves shelling out a significant sum of money (likely more than $300 million) on Manny Machado and then turning around and trading one of their most exciting young (and thus cheapest) players. It still isn't clear that the Yankees are willing to take on that much salary—though Kluber would be a steal at his current contract, especially compared to Patrick Corbin.
But what is clear is that this path is out there and isn't that far-fetched. The Yankees have always had interest in Machado, and he'd take all of the sting away from losing Andújar. Meanwhile, the team would be in a position to get a starting pitching upgrade beyond any of our wildest dreams even eight weeks ago.
As Yankee Twitter's Thought Leader and Official Friend of RAB™ put it the other day, a path like this is really the easiest and most straightforward way to create a roster that would likely be the World Series favorites on Opening Day. And if the Yankees spend as they can, they have the chance to add two prime-aged generational talents alongside one of the league's best starting pitchers to their already loaded roster. It's been a decade since the Yankees have won the championship, and now the only thing standing between them and their best shot since 2009 is Hal Steinbrenner's willingness to spend.