By

10:10pm: Awful news. Beltran announced on Facebook that he and his wife lost their son. A newspaper report out of Puerto Rico says his wife had a miscarriage. "Everything happens according to God's perfect timing, and my wife and I accept it that way. Thank you for all the messages of love," said Beltran. Our condolences go out to the Beltran family.

12:30pm: Carlos Beltran has left the Yankees to attend to a family matter, Joe Girardi announced following last night's game. There is no timetable for his return but it will be at least a few days. The Yankees are out of the race and Beltran has started just one of the last eight games because the bone spur in his elbow has been acting up, so his absence isn't going to hurt the team or be especially noticeable. Hopefully everything's okay with his family. · (135) ·
Things got a little heated between the Yankees and Rays last night after Derek Jeter was hit by a pitch up high. Tampa has plunked several Yankees hitters in their last few meetings. Following the game, Joe Girardi and some players said they weren't necessarily upset with getting hit, but where they were getting hit, specifically up high around the hands and head. If you're going to pitch inside, do it down in the zone. That was their basic message.
The Yankees are clearly upset with the Rays and frustrated by the way their season has played out in general, so if there is going to be any sort of retaliation, it'll happen tonight, in their final head-to-head game of the season. It's worth noting that Joe West, tonight's scheduled home plate umpire, was just suspended one game by MLB for an incident over the weekend, meaning there will be a replacement umpire on the staff. Hopefully nothing happens and these two teams just play baseball. Throwing at people is weak. Just beat them. Here is the Rays lineup and here is the Yankees lineup:
SS Derek Jeter
LF Chris Young
2B Brendan Ryan
RHP Brandon McCarthy
More heat, more humidity, and more rain in the St. Petersburg area today. The Tropicana Field dome came in handy this series. Tonight's game is scheduled to begin at 7:10pm ET and you can watch on YES. Enjoy.
On Sunday, Masahiro Tanaka will get back on the mound and pitch in the big league game for the first time since the week before the All-Star break. It will be the biggest step in his rehab from a partially torn elbow ligament, and, really, the best case scenario is seeing that the ligament won't blow out the instant is it subjected to a game action stress level. It's either going to blow out or not blow out, but even if it doesn't, there is no guarantee it will stay intact going forward.
No matter what, Tanaka will head into next season as a big health question mark. The Yankees have to go into the offseason assuming the worst — that the elbow will give out at some point relatively soon — and act accordingly, meaning bringing in plenty of pitching depth. In fact, just about every big league caliber starter in the organization will carry uncertain health into next season if Hiroki Kuroda does not return. To wit:
And then there's Tanaka's elbow on top of all of that. We already know Nova will not be ready come Opening Day and the recent rash of pitchers who have had complications coming back from Tommy John surgery — with the last 14 months Daniel Hudson, Cory Luebke, and Jonny Venters all needed a second Tommy John procedure before completing the rehab from their first surgery — is a reminder that Tommy John is not fullproof. Several doctors, most notably Dr. James Andrews, have said the 12-month rehab may be too aggressive, so the Yankees might take is slow with Nova.
No one really knows what to expect out of Sabathia going forward, so at this point the safest bets to be healthy at the start of next season are Pineda and Phelps, and that is kinda scary because neither of them is all that durable. As I've said before, I think the Yankees need to focus on adding depth and multiple pieces to strengthen the roster for top to bottom this offseason. Adding one star caliber pitcher like Max Scherzer or Jon Lester will certainly help, but in the end those guys only fill one of five rotation spots while the other four remain questionable.
Priority number one this winter will clearly be improving the offense. It has to be. The patchwork rotation has done a fine job filling in this year but many of the rotation injuries are going to carry over to next year. In a perfect world I'd like to see Pineda and Phelps penciled in as the fifth and sixth starter again, respectively, but at the moment they are the team's two healthiest starters under contract (or team control, really) for next year. Bringing in a starter to replace Kuroda this winter is the bare minimum. The Yankees have a lot of injury risks in the rotation and the offseason is the time to add some protection.
Yesterday afternoon the Yankees announced Masahiro Tanaka will make his (hopefully) triumphant return to the rotation on Sunday after more than two months on the shelf with a partially torn elbow ligament. Unfortunately the team is out of the postseason race, so there won't be a fun "Tanaka comes back from his injury and leads the Yankees to October" storyline to follow. Bummer. That really would have been something.
Tanaka has spent the last two months rehabbing the ligament tear and the last six weeks actively working his way back with bullpen sessions and simulated games. He threw 65 pitches during his most intense simulated game on Monday and apparently that was enough to convince the Yankees he is ready for game action. Tanaka will be limited to 70-75 pitches on Sunday, plus there's even enough time left in the season for him to make another start after that.
Now, this entire situation is sorta weird. Four doctors (four!) advised Tanaka to rehab his injury rather than undergo Tommy John surgery, but there's still a chance he will need to go under the knife. In fact, it's almost an inevitability. Once the ligament starts to tear, even a tiny little bit like Tanaka's, it's usually only a matter of time before it goes. It could blow on Sunday, it could blow in April, it could blow in 2023. Adam Wainwright pitched five years with a partial tear before his elbow gave out. Ervin Santana's been pitching with one since 2009.
No one has any idea when the elbow will give out and that's why Tanaka is pitching this weekend. To find out if it will happen immediately. The alternative is what, spend the winter resting and rehabbing and hoping it will improve his chances of delaying surgery some small percentage without guaranteeing anything? If four doctors tell you to rehab your $175M pitcher, then you rehab your $175M pitcher. And if he competes his rehab and is healthy enough to pitch, you let him pitch. Going against doctors' orders in any way would be the most irresponsible thing ever. Fireable offense, no doubt.
"More than anything, I want to see if my body is able to go fully on a Major League mound. Pitch on the mound," said Tanaka to Chad Jennings yesterday. "That's by far, (more than) anything, most important to me. Also, the fact that, to be able to contribute in the team's win would be something important to me too … Even if it's short, if I'm able to go out there and have a strong outing, it'll give me some good confidence (that the elbow has healed)."
Tanaka made it clear he wants to test his elbow and see how it holds up before the season lets out. And you know what? I don't blame him one bit. Put yourself in his shoes. You know you have this ticking time bomb in your elbow, so would you rather see what happens in a meaningless game or two late in the season or having it linger in the back of your mind all winter? Making it through two starts with the elbow intact doesn't mean the Yankees will be able to pencil him in for 230 innings next year, but it will allow Tanaka to go home for the winter with some peace of mind and that's important.
So, one of two things will happen when Tanaka starts this weekend. Either he'll blow out the elbow and need Tommy John surgery, or he'll come through it healthy and go into the winter feeling good about things. In either case, the Yankees have to approach the offseason assuming Tanaka will miss a lot of time in 2015. They have to prepare for the worst case scenario in this situation no matter what. But there is value in finding out whether he needs surgery right now. There's also value in letting your ace have a clear mind all winter. The Yankees aren't sending Tanaka out there recklessly, the doctors are behind them. This is simply the next step in the process.
Because New York is out of the postseason race, they can afford to let Tanaka pitch on Sunday even though he himself admitted he is still rusty following the long layoff. Losing that game won't matter. Maybe things would be different if they were closer to the second wildcard spot, but I'm guessing not. Either way, Sunday is an important day for Tanaka as well as the 2015 Yankees. The health of his elbow is paramount to the team's success going forward and this weekend he'll test it out in game action for the first time, which is the biggest step in his rehab.
It looks like we're in for an ugly end to the season, doesn't it? The Yankees are out of the postseason race and another weak game by the offense led to some frustration boiling over in the late innings on Tuesday. The Rays won the game 6-1. The Yankees have lost five of their last six games and seven of their last ten.
A Run!
For the seventh time in the last six games, the Yankees scored a run. Chris Young and Ichiro Suzuki teamed up for this historic event with two outs in the second inning. Young doubled down the left field line and Ichiro drove him in with a single through the right side of the infield. Young's at-bat was very impressive. He fell behind in the count 0-2, took three straight balls to work it full, fouled off two more pitches, then ripped the double. Somehow Chris Young is the team's best hitter.
The Yankees had some chances to score additional runs but quickly made sure not to capitalize. Brendan Ryan (walk) and Jacoby Ellsbury (single) reached base to start the third inning before Derek Jeter (bunt), Brett Gardner (pop-up), and Brian McCann (strikeout) made outs. Francisco Cervelli and Ryan (both singles) reached base to open the fifth, then Ellsbury (line out), Jeter (fly out), and Gardner (strikeout) ended the inning. The Yankees have had two runners on base with no outs three times in the first two games of the series and have scored zero runs.
Big Mike For Four Innings
Things sorta spiraled out of control for Michael Pineda in the fifth inning on Tuesday. He cruised through the first four innings, allowing just two singles (both by James Loney, of course) and another runner to reach on the ol' strikeout/wild pitch combination. His pitch count sat at 52 starting the fifth inning, but Pineda would only record four more outs.
The Rays scored their first run thanks to some of the Yankees' trademark bad infield defense, specifically errors by Ryan and Pineda. Ryan short-hopped a throw to first, allowing Kevin Kiermaier to reach with one out, starting the rally. Ryan Hanigan followed that with a walk, then Ben Zobrist slapped a ground ball to first base. McCann scooped it up and made a less than perfect flip to Pineda, who bobbled the ball and eventually dropped it. Zobrist was safe and Kiermaier chugged around to score from second.
An inning later, three consecutive Tampa hitters reached base without only one ball being hit out of the infield. Nick Franklin sliced a one-out double to left field and Matt Joyce worked a walk to put two men on base. A wild pitch during Joyce's at-bat moved Franklin to third. Joe Girardi came out to chat with Pineda, left him in the game, then Yunel Escobar laid down a beautiful safety squeeze to score Franklin. Cervelli didn't even bother to throw to first after looking home. The Rays took the 2-1 lead on the bunt.
Josh Outman came in to clean up the mess — Kiermaier bunted into an inning-ending 1-6-3 double play because he slipped coming out of the box and was slow to get off the ground — so Pineda's final line was two runs (one earned) on four hits and two walks in 5.1 innings. He struck out five. After allowing three (really two) base-runners in the first four innings, five of nine Rays reached base at one point spanning the fifth and sixth innings.
Benches Clear
Things got dumb in the eighth inning. In the top half, home plate ump Rob Drake warmed both benches after Steve Geltz accidentally plunked Jeter. I didn't get that, it was clearly unintentional (0-2 count!). Girardi was ejected after coming out of the dugout to yell at Geltz. Then, in the bottom half, David Phelps immediately threw at Kiermaier and was tossed. Both benches cleared though nothing really happened. Lots of standing around and yelling. Usual baseball scruff stuff. Phelps didn't even hit Kiermaier, the pitch buzzed him. The Yankees can't even do beanball wars right these days. There's a lot of frustration in the dugout and it's starting to show.
Leftovers
The law firm of Rogers, Hill & Phelps combined to allow four runs in the seventh inning to put this one out of reach. Esmil Rogers was charged with three runs after allowing two hits and a walk. He got one out. Rich Hill failed to retire either batter he faced and was charged with one run. Ellsbury made an unbelievable diving catch in center to take extra bases away from Wil Myers, though two runners scored on the sac fly anyway. Double sac fly! The trail runner was Loney too. Good grief. Apparently tagging up on a sac fly isn't reviewable either. Who made up these rules?
Jeter's slump reached 0-for-26 and lowered his batting line to .249/.298/.297 (67 wRC+). He did have the sac bunt and was hit by a pitch though. The Yankees had three base-runners after Ryan singled to put two on with no outs in the fifth — Cervelli's one-out single in the seventh, Jeter getting hit by Geltz, and Chase Headley's leadoff single in the ninth. They scattered seven hits, two walks, and a hit batsman.
Hanigan's one-out walk in the fifth inning snapped a string of 119 consecutive batters without a walk for Pineda. That dates back to August 20th, his second start off the disabled list. That's not any sort of record — Phil Hughes went 178 (!) batters between walks earlier this year — but it is a really impressive streak.
Girardi was ejected in the top of the eighth after both benches were warned, then bench coach/acting manager Tony Pena was ejected after Phelps threw at Kiermaier. Third base coach Robbie Thomson took over as acting manager. Is it bad when you have three times as many managers as runs in a game? That seems bad.
Box Score, WPA Graphs & Standings
For the box score and video highlights, go to MLB.com. For some other game stats, go to FanGraphs. For the updated standings, go to ESPN. The Yankees will be either six games (Royals lose) or seven games (Royals win) back of the second wildcard spot with a dozen games remaining. FanGraphs puts New York's postseason odds at 0.4%. Their elimination number is down to seven and will drop to six if the Royals win. The Orioles clinched the AL East title on Tuesday, by the way.

Source: FanGraphs
Up Next
The Yankees and Rays will wrap up their season series on Wednesday night. (Tampa has already clinched it at 11-7.) Brandon McCarthy and Alex Cobb will square off in a battle of aces (?).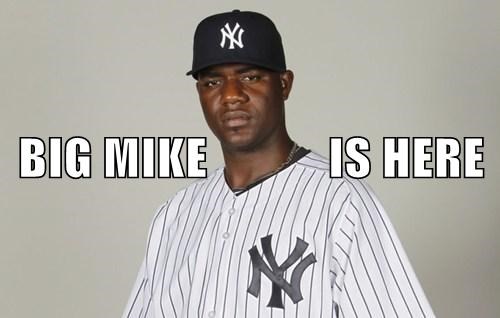 Michael Pineda is very familiar with the Tampa area. Big Mike spent the better part of the 2012-13 seasons at the team's Spring Training complex while rehabbing from his shoulder surgery, so pitching in Tropicana Field — which is really across the bridge in St. Petersburg, not Tampa — should feel like a homecoming. Will his teammates actually score runs for him? The magic 8 ball says … "Don't count on it." So there you have it. Here is the Rays lineup and here is the Yankees lineup:
It's a typical Florida day down in St. Pete, meaning hot, humid, and rainy. Good thing the Trop has a roof, I guess. Tonight's game is scheduled to begin a little after 7pm ET and you can watch on My9. Enjoy.
Injury Updates: Mark Teixeira is out with soreness in his surgically repaired wrist and there is no timetable for his return at this point … obviously Frankie Cervelli (migraines) is feeling better and has been cleared to play … in case you missed it earlier, Masahiro Tanaka is tentatively scheduled to return to the rotation on Sunday.
After more than two months on the shelf, Masahiro Tanaka will return to the rotation this weekend. Joe Girardi announced that his ace right-hander is tentatively scheduled to start this coming Sunday. He will be limited to 70-75 pitches. The Yankees will have to make a 40-man roster move to accommodate Tanaka coming off the 60-day DL, but that's no big deal. You won't even notice Chaz Roe is gone.
Tanaka threw 65 pitches during a five-inning simulated game on Monday. He did get knocked around a little bit but the most important thing is that he came through it healthy. Tanaka, who played catch today, said he feels good and has no problems with his elbow. The partially torn ligament hasn't bothered him for a few weeks now. He is rusty, though that is to be expected.
There is enough time left in the season for Tanaka to make two starts with the Yankees, though he told reporters one will be enough to give him peace of mind heading into the offseason. These final two starts are about testing the elbow and finding out whether he needs Tommy John surgery now or at some point in the future. The Yankees are out of the race, so it doesn't matter if they win or lose his starts because he isn't sharp.
Four doctors advised Tanaka and the Yankees to rehab the injury rather than go under the knife, which is what they've done. All the pitchers who have had complications following Tommy John surgery in the last year or two (Ryan Madson, Brandon Beachy, Kris Medlen, Daniel Hudson, Cory Luebke, Jarrod Parker, etc.) are a harsh reminder that the procedure isn't fullproof. So far everything has gone well and hopefully that continues Sunday.
Let's start with the obvious: the Yankees have struggled to score runs all season. This recent five-game skid is more of a 2014 skid than a five-game skid, though things have been especially bad since Friday. The Yankees have scored six runs total in their last five games, or one fewer run than the Angels scored in 3.2 innings against Hisashi Iwakuma last night. Iwakuma finished third in the AL Cy Young voting last year. In related news, the Halos became the first team to clinch a postseason spot last night.
The Yankees scored those six runs on four solo homers (Chris Young, Martin Prado, two by Brian McCann), a single by September call-up and minor league journeyman Antoan Richardson, and a steal of home against a rookie catcher. Richardson stole second and when Caleb Joseph tried to throw him out, Young trotted home. That's all the offense since Friday. The Yankees were shut out twice, scored one run once, scored two runs once, and broke out for three runs on Saturday.
According to Katie Sharp, the six runs are the fewest the Yankees have scored in a five-game span since late-June/early-July way back in 1997. They've hit .175/.239/.271 as a team during these five games, which is so bad that I'm not even upset. I'm amazed more than anything. As I'm sure you know after watching these last few days, it takes a total team effort to be this feeble offensively in five straight games. Here's a real quick breakdown of the team-wide offensive malaise:
Jacoby Ellsbury: 2-for-21 (.095) with no walks or extra-base hits
Martin Prado: 7-for-18 (.389) with a homer and no walks
Brian McCann: 3-for-16 (.188) with two homers and two walks (.278 OBP)
Chris Young: 4-for-15 (.267) with two doubles, a homer, and two walks (.353 OBP)
Mark Teixeira: 2-for-14 (.143) with no extra-base hits and three walks (.294 OBP)
Brett Gardner: 1-for-14 (.071) with two walks (.188 OBP)
Derek Jeter: 0-for-11 with one walk (.083 OBP)
Ichiro Suzuki and John Ryan Murphy: both 1-for-7 (.143) with a walk (.250 OBP)
Everyone Else: 6-for-30 (.200) with no extra-base hits and one walk (.226 OBP)
Prado is playing on one good hamstring and he's still the best hitter on the team. Naturally, his season is now over due to an emergency appendectomy. Young has had a nice run of late and I'm inclined to give McCann a pass for these last five games because his two solo homers account for one-third of the team's total offense. The rest of them? Terrible. It's not even a bad luck thing. Most of their at-bats are bad and their contact is weak. Subjectively, of course.
"As well as we've pitched, we didn't need to be great (offensively). We just needed to be good. And we haven't been," said Gardner to Chad Jennings following last night's loss. "You feel like you're due at some point. I don't feel like it's been a couple of games. I feel like it's been pretty much all season. We've had flashes of being pretty good, but for the most part, we've just struggled to get guys across the plate … It's just really frustrating. Guys are working really hard. Guys are trying. Guys are putting in the effort. For one reason or another, we're just not getting it done."
The offense has gone stagnant and the Yankees were officially eliminated from the AL East race last night. They can be eliminated from the wildcard race as soon as Friday. This past weekend was their last gasp, their final opportunity make a run and start an improbable comeback, but instead the offense fell flat on its collective face. At a time when the Yankees needed their lineup to be at its absolute best, they responded with their lowest scoring five-game stretch in 17 years.
By

12:05pm: The Yankees officially announced Prado is done for the year following the appendectomy. He has been placed on the 60-day DL and utility man Jose Pirela was called up. Pirela, 24, hit .305/.351/.441 (117 wRC+) with ten homers and 15 steals with Triple-A Scranton this year. He was due to become a minor league free agent after the season and was a borderline 40-man roster candidate.

11:12am: Martin Prado will likely miss the remainder of the season after undergoing an emergency appendectomy, according to Meredith Marakovits. The season ends in 12 days and most players need several weeks to recover from an appendectomy, though Matt Holliday only missed seven games following the procedure a few years ago. Holliday is the exception, not the rule. The Yankees are out of the race and there's no sense in rushing Prado back though. Let him heal up and get ready for next year. · (147) ·
One thing is very clear with less than two weeks remaining in the regular season: the Yankees need to improve their offense this offseason. They tried to do it last winter by signing Jacoby Ellsbury, Carlos Beltran, and Brian McCann to big free agent contracts (while simultaneously letting one of the best hitters in world leave) but it didn't work. They're on pace to score only 627 runs this year, 23 fewer than last year.
The Yankees are locked into players at catcher, first base, left field, center field, maybe third base, and either right field or DH already, so their options to fix the offense are limited. Martin Prado is going to play somewhere — I'd prefer second base until the inevitable Alex Rodriguez injury, but that's just me — leaving shortstop and either right field or DH as the most obvious places to add an impact bat. There are slated to be plenty of free agent shortstops but not as many impact outfielders outside of Melky Cabrera and Nelson Cruz.
The free agent market is likely to add another potential impact outfield bat in the coming weeks, when MLB officially declares Cuban defector Yasmany Tomas a free agent. (It's Yasmany, not Yasmani, apparently.) Jesse Sanchez and Ben Balder report that Tomas has already established residency in Haiti and has been unblocked by the Office of Foreign Assets Control, an important step needed to become a free agent. Badler says MLB should declare him a free to sign relatively soon.
Tomas, 23, defected back in June and he is scheduled to hold a showcase for scouts in the Dominican Republic this Saturday, according to Badler and Tomas. There's no word on whether the Yankees (or any other team, for that matter) will be in attendance, but they've gone to see every other notable Cuban free agent at their workouts, so I expect them to be there just to do due diligence, at the very least. Here's what we know about Tomas, first from Sanchez:
Tomas is known for his power and he has a reputation for launching long home runs, but he's also prone to big swing and misses. He's agile for his size, and he has a strong arm, but there is room for improvement on defense. As a result, he's characterized as "high-risk, high-reward" type of player in some international scouting circles. He is said to be in much better physical shape and has worked on his approach at the plate since leaving the island.
And now from Badler:
At 6-foot-1, 230 pounds, Tomas is a righthanded hitter with plus-plus raw power, although with some swing-and-miss tendencies, and a strong arm that should fit in right field. A standout on Cuba's 2013 World Baseball Classic team, Tomas hit .290/.346/.450 with six home runs, 21 walks and 46 strikeouts in 257 plate appearances this past season in Cuba's Serie Nacional.
One scout told Nick Cafardo that Tomas will likely command upwards of $100M while Jay Alou, Tomas' agent, told Jorge Ebro (translated article) he is shooting for a record deal this winter. The contracts for big name Cuban free agents are only getting bigger and bigger, going from Yoenis Cespedes ($36M) to Yasiel Puig ($42M) to Jose Abreu ($68M) to Rusney Castillo ($72M, the current record for an international position player), so I can totally buy the $100M number, especially since Tomas is several years younger than Abreu and Castillo. It doesn't sound far-fetched.
The Yankees have an obvious need for a big right-handed power bat and they have room on the roster for right field-type heading into next season. They've begun showing more interest in Cuban players this year, reportedly spending much more time scouting Aledmys Diaz and Castillo than they did Cespedes and Puig, even inviting them down to Tampa for private workouts. They didn't sign either guy but it wasn't because they didn't take the time to evaluate them. Like I said, I expect them to do the same with Tomas out of due diligence if nothing else.
The jury is still out on Castillo and Diaz (and Jorge Soler and Alex Guerrero), but Cespedes, Puig, and especially Abreu have all exceeded expectations so far. Alexei Ramirez, Leonys Martin, Jose Iglesias, and Adeiny Hechavarria have all been pretty much exactly what they were expected to be. Dayan Viciedo is the only notable disappointment among the current crop of Cuban big leaguers. We're talking position players only here, not pitchers. This small sample of players suggests Cuban players have a pretty high success rate when it comes to being at least serviceable big leaguers.
Does that mean Tomas will work out? Of course not. His propensity to swing-and-miss is a concern, especially since the pitching in Cuba is pretty weak, but 70 power (which is what Badler said Tomas has back in June) is an unteachable skill. Unteachable like Cespedes' and Abreu's power or Puig's freakish athleticism. It's also a very rare and valuable skill in this era where the entire league seems to have forgotten how to hit. If you want to dream, maybe the big righty pop and swing-and-miss-ability means he's Alfonso Soriano without the steals. That would be pretty great, actually. Soriano was awesome in his 20s.
I think one of the reasons the Yankees passed on Castillo was because he is an imperfect fit for the roster. (Whether that's right or wrong is another matter.) He was billed as a leadoff hitter type with strong defense, and, well, the Yankees already have two of those guys in Brett Gardner and Ellsbury. A third isn't necessary. Tomas profiles more as a middle of the order hitter and that's something the Yankees desperately need. Add in the fact that he is only 23 (four years younger than Castillo), has a strong right field-caliber arm, and plays a position of need, and you've got a player who makes a lot more sense for New York going forward.
As always, information about these Cuban players is very limited. Everything I know about the guy is in this post. The number of teams that pursue Tomas when he becomes a free agent — Cespedes, Abreu, and Castillo (and Masahiro Tanaka, he was in a similar situation) all had multiple top dollar suitors while the Dodgers reportedly blew everyone out of the water for Puig — will tell us more about how teams view him than anything Baseball America publishes. Teams don't go hard after nobodies. The Yankees went all-in on Tanaka because he was an ace in his mid-20s. If Tomas is a middle of the order hitter in his early-20s, then they need to go all-in on him as well.