Good win. Solid win. The Yankees opened this four-game turned three-game series against the Orioles with a 4-1 win Friday night. At .672, the Yankees have the best winning percentage in baseball.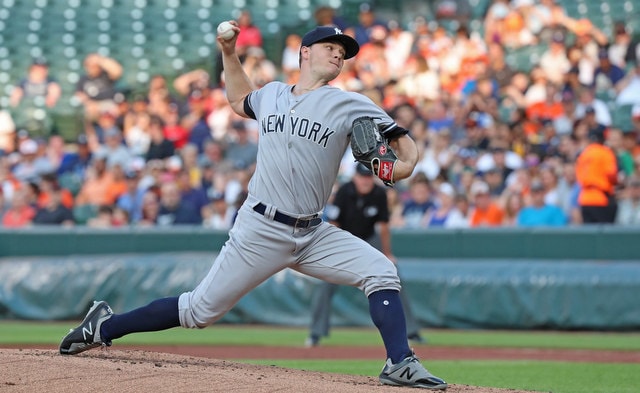 Six Strong From Sonny
Rocky start to the game for Sonny Gray, who allowed a solo homer to Manny Machado in the first inning and a leadoff double to Jonathan Schoop in the second. To be fair, the double clanked in and out of Aaron Judge's glove, but he was mid-dive and had to go a ways for the catch attempt. It was a well-struck ball. Sure seemed like Sonny was heading for another one of those duck-and-cover starts.
But, to Gray's credit, he settled down very nicely after the Schoop double. Two ground outs — including one back to Sonny, who looked Schoop back to third before throwing to first for the out — and a strikeout allowed him to escape the jam. After that Schoop double Gray retired 14 of the final 17 batters he faced, and one of the three baserunners was a hit batsmen. Mark Trumbo and Machado had scattered singles the other way.
Gray's final line: 6 IP, 4 H, 1 R, 1 ER, 0 BB, 6 K, 1 HR on 90 pitches. It seemed he had enough in the tank to start the seventh, but I thought it was a good decision to get out him out three. Sonny's had a mess of a season. Get him out on a high note. Will Gray build on this start and go on a nice run? Recent history suggests no. The Orioles are pretty bad, remember. But! A man can dream. Good game, Sonny. Please do this more often.
One Run In Four Innings
Instead of many runs in one inning, the Yankees scored one run in many innings Friday night. They were definitely set up for a big inning though. They had the bases loaded with no outs and the 2-3-4 hitters coming to the plate in the second inning. Then Judge struck out, Greg Bird grounded into a fielder's choice (Chris Davis threw home for the force), and Giancarlo Stanton struck out. Not ideal. Felt like the Yankees would regret that. Thankfully they did not.
The Yankees scored their first run earlier in that second inning. Neil Walker pulled a single to right, Johnny Bench Austin Romine worked a walk, and Gleyber Torres brought home Walker with a single. That tied the game 1-1. In the fifth, Brett Gardner split the infielders with one out single to center and scored on Bird's two-out triple (!). Adam Jones nearly made the catch in center field. Greg Bird triples are rare, so here's the video:
That was Bird's first triple as a big leaguer and his first since his post-shoulder surgery stint in the Arizona Fall League in 2016. That, by the way, should've been the Yankees' second triple of the inning. Gleyber hit one to start the frame — it was a double into the left field corner that Trey Mancini kicked around — but he lost his cleat between second and third, which slowed him down enough for the O's to tag him out at third.
Three things about this. One, making the first out at third is terrible. Two, Torres was definitely going to be safe had his cleat not flown off. That slowed him down juuust enough. And three, Gleyber was safe! Replays sure made it seem like his hand got in under the tag. Aaron Boone elected not to review that and gosh, I do not approve. Leadoff runner at third? Feels like that's one you have to challenge. Alas.
Anyway, the Bird triple gave the Yankees a 2-1 lead. They took a 3-1 lead in the sixth inning when Mike Piazza Romine doubled over Joey Rickard's head in right field to score Didi Gregorius. Gregorius singled and stole second earlier in the inning. Judge added a solo homer in the seventh and, in the dugout afterward, he gave the demoted Ronald Torreyes a little air high-five: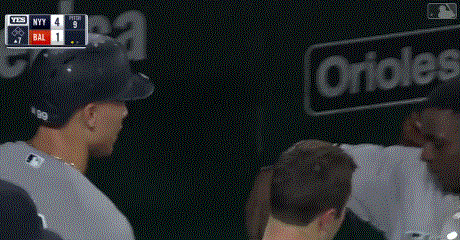 Aw geez. Judge told Bryan Hoch that air high-five was indeed for Torreyes, by the way. I'm not making that up. I am compelled to mention that Tanner Scott, who gave up the homer to Judge, was mighty impressive. Lefty sitting 98-99 mph with his heater and 90-91 mph with his slider? Good gravy. He struck out Gardner, Bird, and Stanton. Too bad the kid is an O's pitching prospect. He has no chance.
Leftovers
Both Chad Green and Dellin Betances made the game interesting. Green allowed a double and a walk in the seventh before striking out Pedro Alvarez to escape. Betances walked two and hit a batter to load the bases with one out in the eighth, then he struck out Schoop and got Chris Davis to fly out to center. Could've done without that, dudes. Aroldis Chapman struck out the side in the ninth. Chapman: 1.48 ERA (1.11 ERA) and 46.3% strikeouts. Insane.
Gary Carter Austin Romine added an eighth inning single to finish the night 2-for-3 with a double and a walk. He's up to .375/.453/.625 (194 wRC+) on the season. For real. Your updated wRC+ leaderboard (min. 60 plate appearances):
Mookie Betts: 212 wRC+
Mike Trout: 200 wRC+
Austin Romine: 194 wRC+
Two singles for Gardner, who is up to .259/.364/.378 (107 wRC+) on the season. He hit .263/.350/.396 (104 wRC+) from 2015-17. Same as he ever was. Two doubles for Hicks and a single and a double for Torres, though he was thrown out trying to stretch that double into a triple when his cleat flew away. He's still hitting .325/.380/.598 (163 wRC+). That'll play, kid.
Box Score, WPA Graph & Standings
Head over to ESPN for the box score and the updated standings, and MLB for the video highlights. Here's our Bullpen Workload page and here's the win probability graph:

Source: FanGraphs
Up Next
The Yankees and Orioles are scheduled to play the middle game of this series Saturday afternoon — that's a 4:05pm ET start — but there's rain in the forecast. Lots and lots and lots of rain. Sucks. If they do play, Masahiro Tanaka and Kevin Gausman will be the starting pitchers.