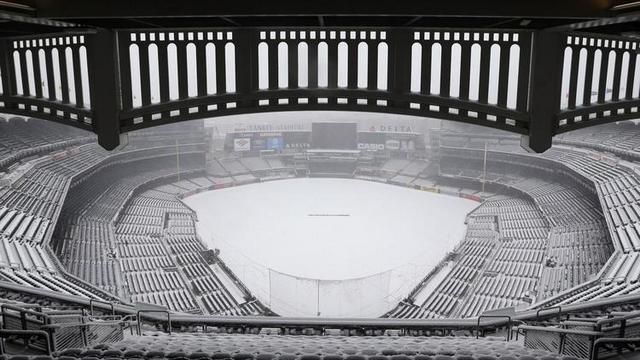 Later today the Yankees will again attempt to open the Yankee Stadium portion of their schedule after getting snowed out yesterday. The forecast doesn't look so good today, but maybe they'll get the game in. Hope so. I'm looking forward to seeing baseball return to the Bronx. Here are some thoughts prior to the second attempt to play the home opener.
1. The first few days of the Aaron Boone era feel like the first few days of the Joe Girardi era. The new managers both inherited similar teams — the 2018 Yankees have more talent than the 2008 Yankees did, but both teams went into the season looking to contend — and they both had uneven starts to the season. An Opening Day win later followed by a disheartening loss to fall to 2-2. Justin Smoak hit the grand slam the other day. In 2008, the Yankees dropped to 2-2 when they were blown out by a Tampa team that lost 96 games the previous year. I specifically remember having a conversation with Ben about Joe Torre being let go and whether Girardi was the right man for the job early in the season. How silly. The first four games weren't indicative of Girardi as a manager at all. That's where we are with Boone. He's going to be subject to more scrutiny because he is a rookie manager — Girardi wasn't the most experienced manager in the world in 2008 — and because expectations are high, but in the end, four games are four games. I've seen plenty of folks questioning Boone in our comments and on social media, and I was that guy ten years ago with Girardi. I'm not really sure what I'm getting at here. I guess I just think it's funny how history repeats itself. Ten years ago the Yankees replaced a successful long-term manager and people were uncertain about his replacement early in the season. Here were are again with Boone. Same story a decade later.
2. Following his two-homer game on Opening Day, the Blue Jays didn't give Giancarlo Stanton a whole lot to hit the rest of the series. He walked four times in the final three of the games and two of them were obvious unintentional intentional walks with the bases empty and two outs. Here is the heat map of pitches thrown to Stanton in the series. There's not much out over the plate: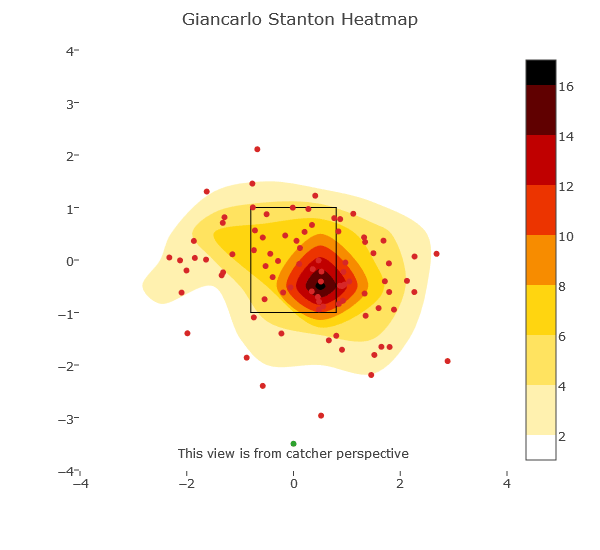 Didi Gregorius did make the Blue Jays pay for one of those unintentional intentional walks, with a booming double into the left-center field gap, so that's cool. Given what he did last year and what he is a threat to do each time he comes to the plate, I think Stanton is going to get pitched around a bunch this season no matter who hits behind him. They'll take their chances with someone else. Two things about this. One, Gary Sanchez is the better bet to make teams pay for pitching around Stanton than Gregorius, so I'd rather see him hitting cleanup. And two, the best protection for Stanton will come from the guys hitting in front of him, not behind him. Brett Gardner and Aaron Judge getting on base will force teams to pitch to Giancarlo more than anyone hitting behind him ever will. Gardner (.118/.211/.294) and Judge (200/.333/.267) didn't do much against the Blue Jays. Once they get going, the runs will come in a hurry.
3. So the Brandon Drury era is off to a nice little start, eh? He's gone 5-for-13 (.385) with three walks and two strikeouts in the four games, plus he's had a couple big two-out hits. There was the homer against Marcus Stroman of course, and before that he banged an opposite field double against Aaron Sanchez that was this close …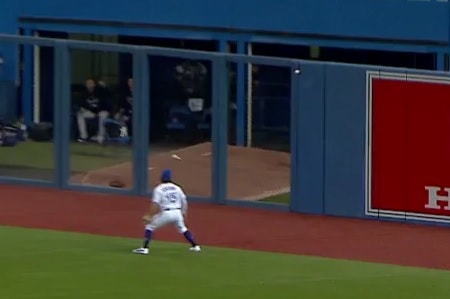 … to being a three-run homer. Drury did make the one error that started a rally for the Blue Jays — his throw short-hopped first base and Tyler Austin couldn't make the scoop — otherwise he's looked pretty good at third base. We'll see how the rest of the season plays out, but he's looked pretty good overall. There's pop in his bat, his glove is fine, and coming up with some clutch hits is always a good way to endear yourself to the fan base. Chase Headley was boringly adequate at third base. Nothing spectacular about him, yet at the end of the year, he was a +2 WAR or so player like clockwork. Drury oh so obviously offers more upside than Headley, and I feel like the worst case scenario is he puts up a Headley-esque season. So far, so good. The Yankees have had some nice luck with Diamondbacks infielders in recent years. I wonder who Arizona wants to give up in a three-team deal next?
4. With any luck the Yankees will get Jacoby Ellsbury and/or Aaron Hicks back from the disabled list soon — Ellsbury is eligible to be activated Thursday, Hicks can't be activated until Sunday — but, until then, I want Miguel Andujar in the lineup at DH. (Or third base if Drury needs a day.) He's a potential long-term piece and Tyler Austin isn't. I know Austin hit two homers the other day and that's great. He has not been good against right-handed pitchers, historically — even last year in Triple-A he hit .241/.306/.470 with a 28.4% strikeout rate against righties — and I wouldn't bank on him against hard-throwing righties like Chris Archer, Andrew Cashner, and Kevin Gausman, who the Yankees will see in coming days. Marco Estrada grooved two upper-80s fastballs and Austin crushed them. That's great. Going forward, I think Andujar will be the more productive hitter and I want him at DH until an outfielder returns, even if it's only a few days. Calling up Andujar only to have him sit in favor of Austin doesn't make much sense to me. Let the kid play.
5. I spent more time thinking about this than I should have: Why did Gardner play left field after Billy McKinney got hurt Saturday? He went to left, Judge stayed in center, and Stanton stayed in right. Then, the very next day, it was Stanton-Gardner-Judge from left to right to start the game. I think Boone went that way because CC Sabathia was on the mound against an all-righty lineup Saturday, so there were likely to be a bunch of balls pulled with authority to left field, and he wanted Gardner there rather than Stanton. Sonny Gray is a ground ball pitcher, meaning you could expect fewer fly balls to left field Sunday, making it easier to "hide" Stanton out there. That makes sense! Otherwise I don't really get it. Maybe Stanton didn't do any pregame work tracking fly balls in left and Boone didn't want to put him out there cold? Seems unlikely. I bet Stanton is doing basically all his pregame work in left. The whole "all the righties make it more likely a bunch of balls are pulled to left field" thing seems more plausible. If so, I like it. Smart move. I also like Boone's willingness to play Judge in center field. I'm not sure Girardi would've done that in anything other than an emergency. Can't say I was surprised by the general reaction though. People freaked out and thought it wasn't worth the risk. In the offseason people talk about moving Clint Frazier to third base. During the regular season people freak out about a right fielder playing center field. Go figure.
6. The season is five days old, but based on what I've seen with the Yankees and elsewhere around the league, I love love love the new mound visit rule. The game flows so much better without the catcher or an infielder going to the mound one or twice (or more) an inning. The pace is so much better and that's the point, right? I don't care so much about how long it takes to play a game — MLB seems a little too caught up with time of game, in my opinion — I just hate all the downtime within games. The mound visits, the batter adjusting his gloves, all that. Too much standing around has invaded the game over the years. The mound visit rule has helped cut down on that, and you know what? No one has run out of mound visits yet. The Royals got down to two visits a few days ago. That's the closest I've seen to a team using all six. (I could've easily missed a team running out at some point though.) It's only five days so far and we'll see how the rest of the season goes. Right now, the new mound visit rule gets two thumbs up from me. The game moves along much more crisply.