The Yankees and Astros have split the first two games of this three-game set, so New York needs s win tonight to avoid what would be an undeniably disappointing series loss to the worst team in the league. Tomorrow is an off-day, and off-days are always better when they following wins.
Because tomorrow is an off-day, the entire bullpen should be ready to go behind David Phelps, who is making his first start in place of the injured Ivan Nova. Something like ten pitchers have already set a career-high in strikeouts against Houston this year, so can Phelps top the nine whiffs he recorded against the Blue Jays five days ago? I'll settle for two or fewer runs instead. Here's the lineup that will face veteran left-hander Erik Bedard…
And on the mound is the 2005 Missouri High School All-State MVP, David Phelps.
Yet another gorgeous night in New York. The game is scheduled to start at 7:05pm ET and can be seen on YES. Enjoy.
Mark Teixeira Update: Teixeira (wrist) hit in the batting cage today for the first time since suffering his wrist injury. Joe Girardi said he was still limited to dry swings, but Teixeira confirmed he was actually hitting baseballs on Twitter.
By

Via Danny Knobler: The Yankees have been asking around about right-handed hitters in the wake of Kevin Youkilis' back injury and subsequent trip to the DL. Considering they passed on Casper Wells three times this month, it's safe to say they don't think much of the suddenly well-traveled outfielder.

It's still a little too early in the season for teams to start selling off parts, even non-contenders, so the market for a right-handed bat figures to be limited. I'm sure Alfonso Soriano could be had right now, though impending free agents like Corey Hart, Paul Konerko, Mike Morse, Mark Reynolds, and Michael Young will probably have to wait for their teams to fall out of contention before becoming available in trades. Lesser pieces like Marlon Byrd and Placido Polanco could become available sooner. Yuck. · (17) ·
By

4:00pm: Joe Girardi confirmed that Granderson took two at-bats in ExST today, calling it "encouraging." Well that's welcome news.

3:30pm: Via Dan Martin: Curtis Granderson has continued to swing a bat at the team's complex in Tampa, and there's a chance he will be able to start playing in Extended Spring Training games this weekend. "He's doing all the things we feel he needs to get ready for a game and hopefully we feel he'll be in some games pretty soon … So far, we have not had any issues," said Joe Girardi yesterday.

Granderson, 32, had his forearm broken on the fifth pitch he saw in Grapefruit League play, so he'll need what amounts to a full Spring Training before rejoining the team. He estimated that at 50-75 at-bats last week. ExST games are informal and Granderson will be able to leadoff every inning, stuff like that, which will speed up the process. Martin says the Yankees are hopeful he will be back in the lineup in about two weeks, which would be swell. It'll be nice to actually get a player back from the DL for once. · (11) ·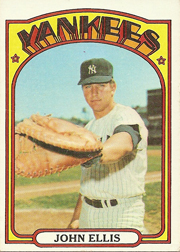 Recently, I had the distinct pleasure of chatting with former Yankee backstop, John Ellis. Mr. Ellis played for the Bombers from 1969-1972. He would go on to spend the rest of his career playing for both Cleveland and Texas. Ellis played side-by-side with Yankee legend, Thurman Munson, was part of the trade that brought fan favorite Graig Nettles to New York, and was also listed as the first official designated hitter in Cleveland Indian history.
Matthew Warden: A lot of us here at RAB were disappointed to see Russell Martin relocate to Pittsburgh. He seemed to be generally regarded as a quality defensive catcher with some pop in his bat. What are your thoughts on his skillset and did the Yankees make a mistake in letting him go?
John Ellis: Russell Martin was a tough, good catcher. But no, I don't think [they made a mistake]. Based on the start of the season, Martin's replacements are doing very well. Most importantly, the pitching staff is responding.
MW: When you watch the Francisco Cervelli/Chris Stewart tandem, what do you see?
JE: This tandem is as good as Martin, maybe not for homeruns, but as defensive catchers, who will [hopefully] hit for a higher average.
MW: Now that Cervelli is injured, what about Austin Romine? How hard is it for a kid to come up and immediately build that rapport with the pitchers?
JE: I do not think it is that hard to learn the pitcher's breaks [movement on pitches]. What is hard is learning the AL batters and how to set them up and get them out.
MW: Pretend you're the starting catcher on the Yankees roster today. What advice would you have for Ivan Nova? It seems like his control is simply not there. Do you see any mechanical flaws, or is he simply not the pitcher we saw in the second half of 2011?
JE: I have to believe that his arm must still be bothering him. As far as being an effective sinker-slider pitcher, he will just not have the consistency [while experiencing injuries].
*Note: this question was posed prior to Nova being sent to the DL for triceps inflammation. Turns out, Mr. Ellis was right on the money with his reply about a potential lingering injury.
MW: Can Nova be a viable starting pitcher for the Yankees once healthy? Do you see enough potential there?
JE: Of course. Definitely.
MW: On the other hand, how impressive have Andy Pettitte and Hiroki Kuroda generally been thus far?
JE: As far as Andy and Hiroki, they are healthy. They are pitching great and using all their pitches.
MW: How concerned are you about CC Sabathia's declining velocity?
JE: As many have said, "he just gets it done."
MW: So we can tell folks to take a step back from the ledge? The big guy will be fine?
JE: Absolutely. He is great.
MW: Alex Rodriguez, Derek Jeter, Mark Teixeira, and Curtis Granderson are all on the DL. Nick Swisher, Russell Martin, Andruw Jones, Eric Chavez, and Raul Ibanez are no longer with the team. That's a lot of talent (and power) that's no longer present. What are your expectations for this team offensively?
JE: Presently, [the offense] is doing more than anyone expected. Travis Hafner, Vernon Wells, Kevin Youkilis and Lyle Overbay have all done a great job. All of these guys have had a great start in NY and I expect them to get better.
MW: Chicks love the long ball though. Are homeruns as necessary as we make them out to be? Are you okay with a more National League style of play?
JE: I like the AL's designated hitter and I like the homeruns. But the Yankees will still have to find ways to get it done with or without them. They have to.
MW: One of the big narratives of the offseason was the new austerity budget that could take effect in 2014. What are your thoughts on the possibility of a new financially leaner Yankee squad?
JE: I am not sure about the austerity budget but the Yankees continue to find talent and I expect that to continue.
MW: Do you foresee some "rebuilding years" in New York's near future — a few seasons where they simply aren't competitive?
JE: No, they have a chance to rebuild the team right now [as they go] … and they are. If they rebuild anything, it will be replacing some of the great pitchers they have now [who may not return next season].
MW: Speaking of finances, how about the looming Robinson Cano contract? The man is going to be paid, and paid handsomely. What do you expect his next contract will look like? Will it be with the Yankees? Does Robbie belong in pinstripes for the foreseeable future?
JE: Cano is a great player and I expect the Yankees to sign him to a mega deal and be with the team for the remainder of his career.
MW: Are you in favor of teams making these mega deals? Does it matter that they can cripple roster flexibility down the road? Any idea what that mega deal might look like (in terms of dollars and years)?
JE: Firstly, I believe they insure their mega deals and I expect teams to continue making them [regardless of whether they hinder the team or not down the road] … especially for starting pitchers. As for Robbie, [his contract] could go as high as 10 years $20M a season. That said, I'm in favor of retaining the talent.
MW: The AL East is a gauntlet this year. It's probably about as balanced as it's ever been in terms of competitiveness. Who's going to pose the most threat to the Yankees?
JE: Boston and Tampa.
MW: What do these teams have that Baltimore and Toronto don't?
JE: Better starting pitching.
MW: Who wins the division?
JE: The Yankees.
MW: Does Toronto end up living up to the preseason hype?
JE: Yes, but one game still separates everybody.
MW: So you envision this year's race to come down to the very end then?
JE: To the last day.
MW: Who's the best player in the AL these days in your eyes?
JE: Mike Trout from the Angels.
MW: Do you see him ever topping his numbers from last season?
JE: It's certainly possible.
MW: Just for some perspective here, what former ball player would you compare Trout too?
JE: Fred Lynn.
MW: How about in the NL?
JE: John Buck from the Mets.
MW: Wow! Really? You're okay with putting him before guys like Andrew McCutchen, Buster Posey, or Bryce Harper? What are you seeing in Buck that I am not?
JE: Homeruns. Just having a better season so far!
MW: I'm sensing a little catcher bias here … maybe.
JE: [Laughs]
MW: What were your thoughts on the Zack Greinke altercation? Don Mattingly suggested that Carlos Quentin should be punished as long as Greinke is injured. Agree?
JE: Nice thought, but I do not recall the incident (who threw or charged who?).
MW: All indications were that Greinke accidentally hit Quentin. However, those guys had a "history" prior. Apparently, before the charge, Greinke did verbally provoke Quentin though. Does this change anything?
JE: Not really. It happens.
MW: Did you have a "history" with any players during your days in The Show?
JE: No, I was a gentleman.
MW: Be Honest now! There wasn't anyone that got your blood boiling?
JE: [Laughs] Nope.
MW: [Laughs] Let me ask you this then. Are you obligated to join the brawl if the benches start clearing?
JE: Yes.
MW: What's the expectation there for players?
JE: Hold each other back and protect your own players.
MW: You knew this question was coming. How far do the Yanks go assuming they win the division?
JE: All the way!
MW: Thank you so much for your time Mr. Ellis.
JE: You're welcome! Thanks for having me.
For more baseball banter with John, be sure to check out the first time I interviewed Mr. Ellis back in 2011.
Aside from being a former Big Leaguer, current entrepreneur, and a gentleman, Mr. Ellis is also a philanthropist. Be sure to check out Mr. Ellis' charity, the Connecticut Sports Foundation Against Cancer (CSFAC) for additional information or if you're interested in becoming a donor.
By

Via Focus Taiwan: Chien-Ming Wang decided to remain with the Yankees following the first opt-out date in his minor league contract, agent Alan Chang confirmed. There are five opt-out dates in the contract: April 30th, May 31st, June 30th, August 10th, and August 31st. (h/t goterpsgo)

Wang, 33, has pitched to a 0.95 ERA (2.94 FIP) with a 59% ground ball rate in 19 innings across three starts for Triple-A Scranton. He reportedly hit 90-91 mph with his trademark sinker in last night's seven-inning complete game after sitting in the mid-to-upper-80s the first two times out. If Wang has a few strong weeks and continues to show legitimate low-90s velocity, there's no doubt he'll get some big league rotation offers. For now, he'll remain with the team for at least another month. · (47) ·
The Yankees have dealt with more than their fair share of injuries already this year, but Kevin Youkilis' recent back trouble takes an especially big bite out of the team's roster. After all, he was originally signed as the replacement for another injured player, Alex Rodriguez. New York placed Youkilis on the DL yesterday, meaning they will be without their replacement third baseman for at least the next two weeks.
Because of the timing of the injury, the Yankees were left without a suitable roster fill-in. Corban Joseph got the call, but Brian Cashman made it clear they view him as a right-side infielder and emergency option at the hot corner only. Since Robinson Cano never takes a day off, it's unclear how exactly the left-handed hitting Joseph helps the team right now. He's one notch above a dead spot on the roster at the moment, a square peg forced into a round bench hole.
In a perfect world, the Yankees would have called up David Adams instead of Joseph. The 25-year-old would have given the team a legitimate option at third base and because he's a right-handed hitter, he also would've helped with their struggles against southpaws. Theoretically, anyway. Unfortunately Adams can not be called up to the show until May 15th because he signed a minor league deal with the club after they released him last month. For whatever reason, those guys are forced to wait 30 days before returning to the show. Clay Rapada is in the same boat. The injury-prone Adams is perfectly healthy, but the rulebook keeps him in Triple-A.
Adams wasn't the only right-handed option though, the Yankees also could have gone with 28-year-old Ronnie Mustelier instead of Joseph. He plays third base and left field, meaning he would have added some usable versatility and been an option to replace Ben Francisco once Youkilis did return. Mustelier is out with an injury though, specifically some kind of bruise suffered right at the very end of Spring Training. He was scheduled to play in his first minor league rehab game with High-A Tampa last night, but Mother Nature got in the way and the game was rained out.
There is never a good time for an injury, especially one to a player as important as Youkilis. The timing of this injury was particularly bad because the team's best internal replacements are non-options. Adams is still two weeks away from being big league eligible and Mustelier still has an entire rehab assignment ahead of him before being ready for meaningful games. By the time Adams or Mustelier become legitimate options for the big league team, Youkilis will hopefully be ready to come off the DL. Given the way things have gone for the team health-wise this year, I guess we shouldn't be surprised the latest injury comes at a time when the team's best replacements aren't even truly available.
I feel like games against the Astros should be a little easier than this. The Yankees labored to a 7-4 win on Tuesday night following Monday's shellacking, but a win is a win.
Kuroda Walks A Tight Rope
Had he been facing a better offensive team that the Astros, I'm not so sure Hiroki Kuroda gets through four full innings in this game. He was very rough early in the game, putting a man on third base in each of the first three innings while workings at a snail's pace. Everything was up in the zone, nothing was going where it was supposed to go … it was pretty bad. And yet, Kuroda managed seven scoreless frames on 108 total pitches with a season-high eight strikeouts. He also walked a season-high four.
The key for Kuroda appeared to be his slider, which he started to use heavily around the fourth inning. After putting seven men on-base during the first three innings, he allowed just one base-runner through the next four frames. He retired 15 of the final 16 batters he faced and the final nine overall. By no means was it pretty, but seven scoreless is seven scoreless. I'll take it every time out no matter how stressful.
Four Crummy Runs
New York's first four runs all came on crappy little scoring plays. I would be annoyed if the other team scored four runs like that against the Yankees. The first run came on Travis Hafner's single to left, which Brandon Barnes trapped rather than caught. The second run scored when Hafner grounded a single to the shortstop side of second base while Houston had the shift on. The third run scored when Brennan Boesch beat out an inning-ending double play by about a quarter of a step. The fourth scored when Jayson Nix reached on an infield single because the shortstop muffed a hard-hit grounder. They all count, but geez. Let's not call them aesthetically pleasing runs.
Those four runs stood up for the first seven innings before the Yankees blew things open in the eighth, getting a cheap Yankee Stadium solo homer from Lyle Overbay and run-scoring singles from Chris Stewart and Hafner. Stewart's was a solid line drive to center while Pronk's was a bloop job to shallow left. There was nothing funny about those plays, no traps in the outfield or muffed ground balls. Conventional run-scoring plays.
Leftovers
A few hours after I said Eduardo Nunez needed to give the team more on offense, he went 3-for-4 with a pair of hustle doubles. It would be awesome if he started to chip in a little more from the bottom of the lineup. Ichiro Suzuki (three), Robinson Cano (two), Hafner (three), and Stewart (two) all had multiple singles. Nix had his infield single, Overbay the homer, Hafner an intentional walk, and Brett Gardner an unintentional walk to round out the offense. Ichiro and Gardner stole bases.
David Robertson allowed a two-run homer to Chris Carter in the eighth, which temporarily made it a two-run game before the offense tacked a few insurance runs on a half-inning later. Shawn Kelley allowed two runs on three hits in the ninth inning before giving way to Mariano Rivera, who recorded the final out without incident. Not exactly a banner night for the bullpen, but at least the offense gave them some breathing room.
Box Score, WPA Graph & Standings
MLB.com has the box score and video highlights, FanGraphs the nerdy stuff, and ESPN the updated standings.

Source: FanGraphs
Up Next
The rubber game of this three-game set will be played on Wednesday night, when David Phelps makes his first start of the season in place of the injured Ivan Nova. Veteran left-hander Erik Bedard will be on the bump for the Astros. Check out RAB Tickets for some last minute ticket deals.
By

Via Andy McCullough: The Yankees have discussed infielder Chris Nelson with the Rockies recently, but they don't appear to have a ton of interest in trading for him. He was designated for assignment over the weekend and New York actually showed some interest in acquiring him back during the Winter Meetings. I wrote about him as a possible target just yesterday.

Nelson, 27, put up a .242/.282/.318 (51 wRC+) batting line in 71 plate appearances with Colorado before getting cut. He is one year removed from a 105 wRC+ though, plus he can play all three non-first base infield positions in a pinch. The Yankees desperately need some infield help while Kevin Youkilis is on the DL — Corban Joseph is a utility infielder in theory only given his defensive issues — so Nelson would help them out in the short-term. Even if it's only a two-week thing while Youkilis is out, he fits their current needs better than their internal options. · (7) ·
The Yankees got walloped by the lowly Astros on Monday night, losing 9-1 to the league's worst team in their own building. Stuff like that will happen a few times each year, it's inevitable with a 162-game schedule, but that doesn't make it feel any better. It's pretty embarrassing.
Luckily, the Yankees and Astros are back on the field today for game two of the three-game series. New York has a chance to put the blowout loss behind them and get back to winning, something they've done very well since that brutal 1-4 start. They aren't scoring a ton of runs — 3.8 runs per game since the two de-pants-ings of the Indians — but their pitching has been stellar. Well, stellar outside of Andy Pettitte last night. Here's the lineup that will face right-hander Phil Humber…
And on the mound is the veteran right-hander, Hiroki Kuroda.
It's a lovely day in New York, perfect baseball weather. The game is scheduled to begin at 7:05pm ET and can be seen on YES. Enjoy.