Phew. The Yankees really needed that win. The five-game losing streak is over thanks to Sunday afternoon's 5-0 win over the Blue Jays. Toronto still won three of four this weekend, which sucks, but at least the Yankees avoided the sweep. Small victory.
Two Runs, One Hit
The Yankees were able to strike early Sunday afternoon, and they scored their two second inning runs despite getting just one hit, which didn't come with runners in scoring position and didn't leave the yard. R.A. Dickey set the whole inning up when he lost the strike zone — Alex Rodriguez sandwiched a line drive single between walks by Brian McCann and Chase Headley. The bases were loaded with no outs. Just six of Dickey's first 18 pitches in the inning were strikes.
The big hit never did come that inning, but the Yankees did score thanks to a pair of productive outs. Dustin Ackley, who was in the starting lineup because he came into the game 6-for-17 (.353) in his career against knuckleballers (Dickey and Tim Wakefield, basically), lifted a sacrifice fly to deep center field to score McCann for the first run. A-Rod tagged up and went to third on the play, which was big because Didi Gregorius followed a fly ball to medium center field.
Off the bat, I didn't think it was deep enough to score A-Rod, and once they sent him I was hoping for an off-line throw. The throw was pretty much perfect though, and Alex simply outran it. He slide across the plate headfirst to score the second run, then pumped his fist. Rodriguez looked better running those 90 feet than he's looked on the bases all season. A star player doing star player things. The Yankees had an early 2-0 lead.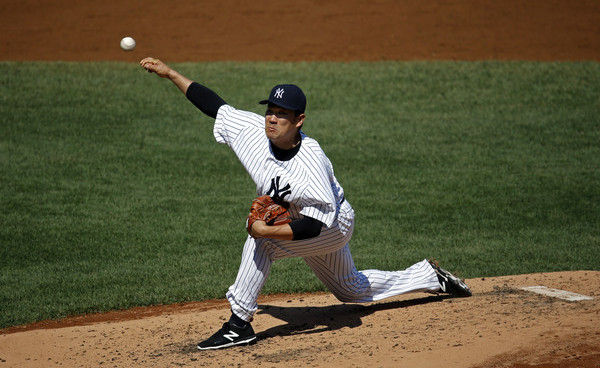 The Ace They Need, Not The Ace We Deserve
The Yankees didn't need a good start from Masahiro Tanaka on Sunday. They needed a great start, and a great start is exactly what the staff ace delivered. Four hits and no walks in seven shutout innings against the best offense in baseball, with seven strikeouts and nine other outs on the infield. Although three of the four hits were doubles, the Blue Jays never had a runner make it as far as third base.
Tanaka threw 78 of his 111 pitches for strikes (70%) and he crushed Toronto by mixing his six-pitch arsenal. Look at this pitch distribution. Other than his trademark splitter, which he threw 47 times, Tanaka didn't throw another pitch more than 19 times or fewer than eleven times (via Brooks Baseball):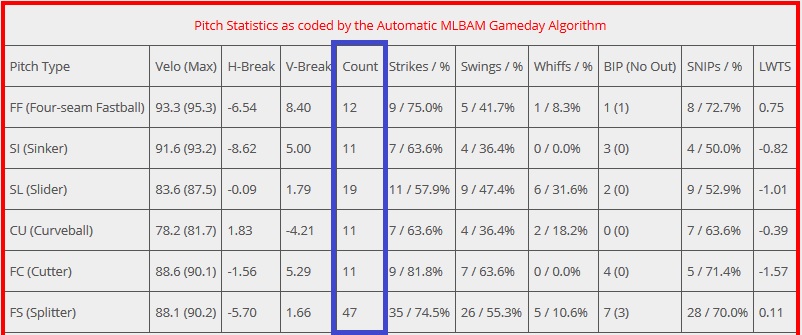 Tanaka pitched backwards too. He faced 24 batters and only four saw a first pitch fastball. Four! The Blue Jays took 55 swings and missed 14 times, or 25%. That's pretty great. Tanaka retired a dozen in a row from the third through seventh innings and never once appeared to be in something less than total control. That was domination. He did what he wanted whenever he wanted.
In eight starts since August 1st, Tanaka now has a 2.78 ERA with 48 strikeouts and eight walks in 55.1 innings. That includes three starts against the Blue Jays. Tanaka held Toronto to three runs on 12 hits and three walks in 22 innings in those three starts. He struck out 20. Not an ace? Please. He's ace incarnate. Tanaka stepped up Sunday and delivered when the Yankees desperately needed him to.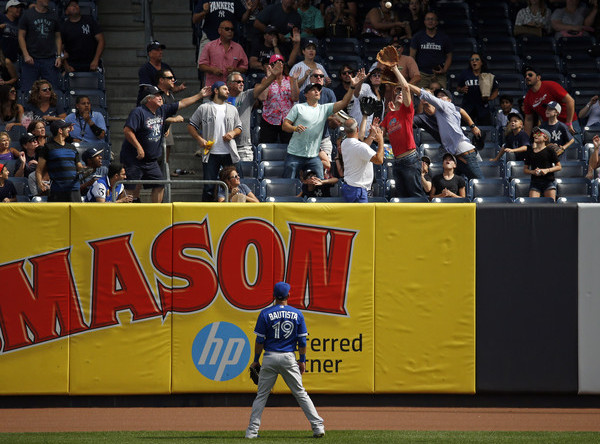 Insurance Runs
These are the Blue Jays, of course, and two runs won't be enough to beat them most days. Thankfully, the Yankees tacked on three more runs throughout the course of the game to make things a bit more comfortable and give Tanaka a little more breathing room. I think fans appreciated the insurance runs more than Tanaka.
Joe Girardi's decision to play Ackley at first base worked out pretty well. He had the sac fly in the second inning and drove in two more runs with a two-run homer in the fourth. It was a Yankee Stadium cheapie into the third or fourth row in right field, no doubt about that, but it was a clear line drive over the right fielder's head. Extra-base hit all the way. Double in some parks, a homer in this one. That made it 4-0 good guys.
Then, in the eighth, Carlos Beltran and A-Rod teamed up for another run with an assist from Rico Noel. Beltran singled, Noel pinch-ran, then Alex doubled into the left field corner to score Noel. Ben Revere bobbled the ball a bit, and the relays were less than perfect, so Rico slid in safely. That's why Noel is on the roster, to score from first on hits like that. The designated runner is not just there to steal bases. That gave New York their 5-0 lead.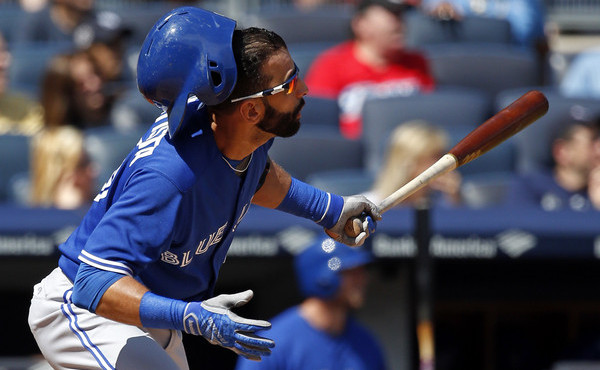 Leftovers
Once Tanaka was done, Girardi turned to Dellin Betances for the eighth inning, and he struck out the side on eleven pitches. For the first time in about three weeks, he looked like vintage Dellin. Easy domination. James Pazos (one out) and Caleb Cotham (two outs) retired the side in order in the ninth. The stress-free nine-pitch ninth inning against the top of Toronto's lineup was unexpected.
The top of the order didn't do a whole bunch Sunday. Jacoby Ellsbury, Brett Gardner, Beltran, and McCann went a combined 1-for-15 (.067) with a walk. Add in Stephen Drew and it's 1-for-18 (.056) for the wrap around 9-1-2-3-4 portion of the lineup. The 5-6-7-8 hitters went 6-for-11 (.545) and drove in all five runs. A-Rod and Ackley had two hits apiece.
Box Score, WPA Graph & Standings
Here are the box score, video highlights, updated standings, and postseason odds. The magic number to clinch a postseason spot is down to 17. Now here are our Bullpen Workload and Announcer Standings pages, and here's the win probability graph:

Source: FanGraphs
Up Next
This not very good homestand is finally over. The Yankees head to Tampa next, their home away from home, and will start a three-game series with the Rays Monday night. Both starting pitchers are officially listed as TBA right now, though CC Sabathia will start for the Yankees. Erasmo Ramirez is lined up for Tampa, though I don't know if they have some other plans at the moment.