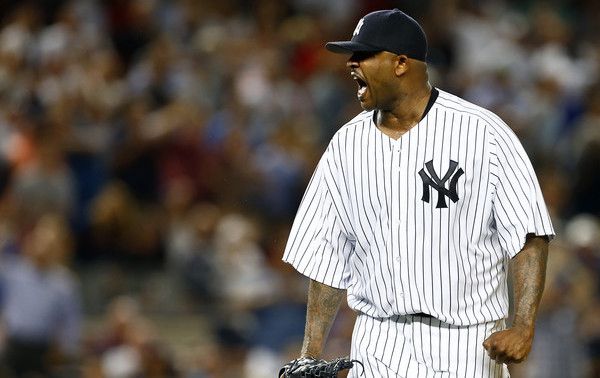 For better or for worse, CC Sabathia is going to be a member of the Yankees starting staff for the rest of the season. There are plenty of reasons why the large lefty shouldn't be taking the ball every fifth or sixth day — a quick scan of the pitching leaderboards is a good place to start. But the reality is Joe Girardi has insisted Sabathia remain in the rotation despite his obvious struggles, and Brian Cashman confirmed they haven't had any conversations about changing Sabathia's role.
Sabathia is not even close to the dominant ace he once was and it is clear that he is working with diminished stuff every time he takes the mound. Yet as he showed in his most recent start last week against the Red Sox, Sabathia still has the competitiveness and pitching savvy of a former Cy Young winner who is capable of delivering a gem on any given night.
There were a lot of positives that emerged from that excellent outing against Boston: he shut down the Red Sox bats — both lefties and righties — giving up three hits and one run in six innings; he dialed up the heat, averaging a season-best 93 mph on his four-seamer and sinker; he kept the ball on the ground, recording his second-highest ground ball rate of the season (69 percent); he was effective in putting away hitters, allowing just one hit and a walk while netting 13 outs in two-strike counts; he avoided the "disaster" inning, getting two huge strikeouts with runners on base when he ran into trouble in the fifth. Should we officially call this the CC Shimmy?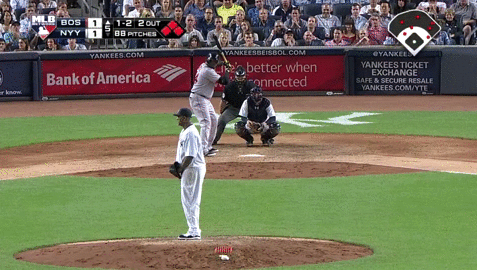 As strong as he looked last Thursday, it is silly to think that Sabathia can be that effective every time his number comes up in the rotation. We're not here to declare that "he's fixed" or that "he's back." But the vintage performance seems to indicate that Sabathia might have regained some of his confidence on the mound, and provides him with some much-needed momentum as he makes his next start tonight against the Indians.
With that optimistic perspective in hand, here's five stats that favor Sabathia putting together another effective outing in Cleveland tonight:
• Sabathia was drafted by the Indians in the first round of the 1998 draft and spent the first six-plus seasons of his career with the Tribe, but has shown the ability to raise his game when facing his former team. He's 4-1 with a 2.94 ERA and 51 strikeouts in 49 innings against the Indians, his second-best ERA and second-best record against any AL squad.
• The Indians have been pretty awful overall this year, and their struggles against lefties really stand out. They are just 13-24 in games started by southpaws, the third-worst record in the majors, and their .678 OPS against lefty starters ranks 26th in baseball. They are also missing their best hitter, Jason Kipnis, who was placed on the disabled list last week.
• Sabathia, of course, has been terrific versus same-sided hitters, holding lefties to a .189/.216/.297 line. That platoon split should give Sabathia an advantage against the Indians lineup which (with Kipnis on the shelf) is now led by the left-handed Michael Brantley, who has a sub-.700 OPS against lefty starters and has also struggled against Sabathia in their previous matchups (1-for-11, six strikeouts).
• Although his fastball remains very hittable, Sabathia's nasty slider has returned to form in the past month and a half. Since the start of July, batters are just 2-for-21 (.095) in at-bats ending in a slider, and he's gotten whiffs on more than 30 percent of those swings against the pitch in that span. In the first three months of the season, batters hit .298 and slugged .500 against his slider, which yielded a whopping 11 extra-base hits during April, May and June. It's been his go-to pitch with two strikes against lefties — as Robinson Cano found out on July 19 against Sabathia: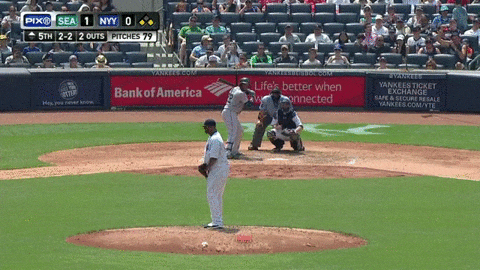 • The longball has been one of Sabathia's biggest bugaboos this season — his rate of 1.76 homers per nine innings leads the AL — but that problem might not be a huge concern against the Indians, who have hit the third-fewest homers in the league.
*******************
None of this is going to guarantee a win or even a quality start by Sabathia. But these statistical advantages, combined with the renewed spirit, pitching smarts and fiery attitude he showed in his last start, do provide a glimmer of hope and optimism that Sabathia can deliver another solid performance tonight against the Indians.