By

Via Alex Seixeiro: The Yankees have signed right-hander Chris Leroux to a minor league contract with an invitation to Spring Training. He will presumably compete for a bullpen spot with other non-roster invitees like Brian Gordon, Robert Coello, and Matt Daley.

Leroux, 29, spent last year with the Yakult Swallows in Japan, pitching poorly (26 runs in 22 innings with a 14/11 K/BB) before a shoulder injury ended his season. He dominated in winter ball (2.76 ERA and 16/3 K/BB in 16.1 innings) and spent the 2011-12 seasons as an up-and-down arm with the Pirates. He's got a 5.56 ERA (3.32 FIP) in 69.2 career big league innings. Leroux has a low-90s fastball and he relies heavily on his low-80s slider. Another arm for the stable. · (27) ·
It was brutally cold up in the grandstand, but yesterday's Rangers-Devils game at Yankee Stadium was one of the five best sporting events I've ever attended. Maybe top three. Everything about the experience was awesome and the light snow that fell during the second period was the icing on the cake. You can see various shots of the Stadium in the highlight video above and there are photo galleries at NHL.com and Eye on Hockey. I'm sure there are tickets still available for Wednesday's Rangers-Islanders game in the Bronx, so if you're a hockey fan and can swing it on short notice, I recommend going. It was a blast.
This is your open thread for the evening. The Nets and Islanders are both playing, but you're on your own for entertainment otherwise. Talk about those games, yesterday's game at Yankee Stadium, or anything else right here. Enjoy.
By

Jason Parks at Baseball Prospectus published his list of the top 101 prospects in baseball today, a list that doesn't require a subscription and is free for all. Twins OF Byron Buxton sits in the top spot and is followed by Red Sox SS Xander Bogaerts and Cardinals OF Oscar Taveras. Those will be the top three guys on pretty much every list you see this spring.

C Gary Sanchez was the only Yankees farmhand to make the list and he ranked 85th. That's down from 47th last year. OF Mason Williams, who ranked 51st last year, fell off the list following a disappointing season. This is probably the lowest you'll see Sanchez on a top 100 list this year and that's fine. Parks doesn't like him as much as some others and it's not like he's some flawless prospect who clearly deserves a better ranking.

Other top 100 lists: MLB.com. · (24) ·
The Yankees are said to be done with their offseason "heavy lifting" following the Masahiro Tanaka signing, but there is still some roster fine-tuning to be done. More than fine-tuning, really. The infield and bench are glaring needs and the final open position player spot figures to address both. The team is said to be leaning towards someone like Eduardo Nunez, Scott Sizemore, or Dean Anna for that spot at the moment.
Aside from Stephen Drew, who may or may not interest the Yankees, the free agent infield market is thin. Michael Young and Placido Polanco are among the biggest name players still available, but New York doesn't need another player casual fans will recognize. They need someone who can actually produce. The best available option might be someone who is more of a utility man than a full-time guy: the right-handed hitting Jeff Baker. The Yankees showed interest in him last month and they've been connected to him at various points in the past. He appears to be a great fit for that last roster spot, at least on paper, but what does he really bring to the table? Let's look.
The Pros
The 32-year-old Baker punishes left-handed pitching. He hit .314/.407/.667 (186 wRC+) against southpaws last season and .287/.342/.496 (124 wRC+) against them over the last three years. All but two of his 18 homers since 2011 have come against lefties.
Baker hits the ball to all fields and has power the other way against left-handers (spray chart). He does the most damage when pulling the ball like everyone else, but has power to right and that fits well with Yankee Stadium.
Since breaking into the league, Baker has played every position other than shortstop, center field, pitcher, and catcher. He has plenty of experience on the infield and enough in the corner outfield to be more than an emergency fill-in.
This is easy to overlook, but Baker knows how to remain productive as a bench player (he has played more than 100 games just once in parts of nine big league seasons). A lot of guys struggle initially when moved into a part-time role. It can be a tough adjustment to make.
The Cons
Baker is a pure platoon player. He mustered a weak .204/.250/.286 (41 wRC+) batting line against righties last summer and over the last three seasons, it's a .213/.251/.298 (45 wRC+) line. Don't kid yourself: this is a straight platoon player who is completely unusable against same-side pitchers.
The various defensive metrics says Baker is a below-average gloveman pretty much everywhere. He's versatile but not an asset in the field. It has been a few years since he played more than ten games at second or third as well.
Injuries have been an issue. Baker suffered a thumb sprain during a high-five last year and missed a month (true story), and he's also had groin (2011), hand (2009), and elbow (2009) problems over the years.
Baker won't give you anything on the bases. He has gone 13-for-14 in stolen base attempts in his career, but he's never stolen more than four bags in a season and over the last three years he's taken the extra-base (first-to-third on a single, etc.) just 25% of the time, well below the 40% league average.
There hasn't been much interest in Baker this winter despite his obvious usefulness as a right-handed platoon bat. The Rangers want him back according to Gerry Fraley and of course the Yankees have interest, but that's pretty much it. The Giants checked in earlier this offseason but Andy Baggarly says the two sides stopped talking in December. Baker signed a minor league deal with Texas late last January and he might have to do something similar this winter.
The Yankees could really use a no doubt everday infielder regardless of position. Derek Jeter is going to need to spend time at DH given his age and myriad of leg injuries, plus we all know Brian Roberts is very unlikely to make it through the season healthy. With Mark Teixeira's wrist still stiff, Kelly Johnson is the team's only question-free infielder. Baker wouldn't improve that situation any, but he would given them a legitimate starting option against southpaws and an awesome pinch-hitter for lefty relievers. He's a useful but limited player when used properly. Nothing more than that.
By any measure, Kei Igawa was one of the biggest busts in Yankees history. The team spent a total of $46M to acquire him ($26M posting fee and then a five-year, $20M contract) during the 2006-07 offseason, and in return they received a 68 ERA+ in 71.2 big league innings. Igawa made his final appearance in pinstripes in June 2008 and spent most of those five years in the minors.
"It was a disaster. We failed," said Brian Cashman to Bill Pennington in July 2011 when asked to evaluated the southpaw's tenure with the team. According to NPB Tracker, Igawa told the Japanese version of the Wall Street Journal that Cashman and the team's coaching staff had to ask him what his best pitch was during their first meeting. It became clear then and is obvious now the Yankees didn't do their homework before investing $46M in the lefty. Failed might be an understatement.
For the first time since the Igawa fiasco, the Yankees finally dipped back into the Japanese talent pool last week, signing right-hander Masahiro Tanaka to a seven-year contract worth $155M. The $20M release fee means the total investment is $175M, or nearly four times what they put into Igawa. Tanaka is younger and has been statistically better than Igawa was when the team signed him, but, more importantly, the Yankees made sure not to repeat their mistake and actually did their homework this time.
"We started evaluating [Tanaka] back in 2007," said Cashman to reporters (including Andy McCullough) during a conference call last week. "So clearly we've been scouting over in Japan for quite some time. The evaluations on him started on him back in 2007. Certainly paid attention to him back in the 2009 WBC, when we were first able to evaluate him with a Major League baseball, against Major League hitters. This year we were at 15 of his games, including the WBC, and we sent a Major League scout from the U.S. to evaluate him in the playoffs as well."
Tanaka was an 18-year-old rookie with the Rakuten Golden Eagles in 2007, so the Yankees have essentially watched him grow from a just-graduated high schooler into the best pitcher in the world who wasn't employed by a Major League team. "By 2009, the Yankees were drooling over Tanaka and imagining what it would be like to have him in their rotation," wrote Jack Curry following the deal. Here's some more from his post:
Across the last few seasons, the Yankees have studied Tanaka's impressive exploits on the mound and have seen a fierce competitor, someone that reminds them of CC Sabathia. The Yankees interviewed Andruw Jones, Casey McGehee and Darrell Rasner, former Yankees who all were teammates with Tanaka, and heard superb reports about his demeanor and toughness. By the time the Yankees made their offer to Tanaka, they had 11 different scouting evaluations from members of their organization.
When that many people evaluate a player, there are bound to be differences of opinion. It's no surprise then that we heard one unnamed team official recently say: "Just because he had great success over there doesn't mean he's going to be lights out here. We'll find out soon enough, but it's not like he's a sure-fire thing. I'd like to think so, but I'm not convinced." Those differences of opinion are a good thing. There should always be someone challenging the popular opinion and forcing them to look deeper, especially when talking about a deal of this magnitude.
"We made a determined effort to put ourselves in the position to know as much as we possibly could, in the event that he was ever posted," added Cashman. "So this has been a long, drawn-out process, not just from the financial negotiating standpoint that's taken since he was posted. But obviously making sure that we were in a position that in the event a talent such as his became available that we were able to make recommendations accordingly, based on the scouting assessments."
Based on various reports, several other clubs had interest in Tanaka and were offering contracts in excess of $100M, including the pitching-wise Dodgers, White Sox and Diamondbacks. The Cubs supposedly made an offer similar to the Yankees' but refused to include the opt-out clause after the fourth year, which is why they lost out. They aren't ready to contend immediately and didn't want to lose him right as their window opened. Those teams all spent time scouting Tanaka and thought enough of him to make significant offers, so the Yankees aren't the only team to consider him an impact starter. (Just FYI: The next highest bid for Igawa was $15M by the Mets.)
It's entirely possible Tanaka will be a bust like Igawa, just way more expensive. No one can truly know how he will handle the big leagues until he gets up on a mound in games that mean something. If Tanaka does flame out or merely settles in as a number four or five starter rather than the number two he is widely considered, it won't be because the Yankees didn't do their homework. They've been on him for years and were one of several teams to think highly of his combination or age, ability, and stuff. Igawa was a disaster, no doubt about it, but the Yankees seem to have learned from that experience. They won't be caught with too little information again.
2013 Season: 85-77 (637 RS, 671 RA, 77-85 pythag. record), didn't qualify for playoffs
Top stories from last week:
Please take a second to answer the poll below and give us an idea of how confident you are in the team. You can view the interactive Fan Confidence Graph anytime via the nav bar above, or by clicking here. Thanks in advance for voting.
Update: I forgot to reset the poll following last week, so please re-submit your vote if you voted before 10:30am ET. Thanks.
Given the team's current roster construction, farm system, management, etc., how confident are you in the Yankees' overall future?
Well that was a pretty eventful week. If Masahiro Tanaka lives up to the hype, it might have been one of the most important weeks in recent Yankees history. Let's not get ahead of ourselves though. The Yankees did announce Tanaka will wear #19 today, in case you missed it. Here are the weekly links:
Friday: Here is your open thread for tonight and the next two nights as well. The Devils, Knicks, and Nets are all playing, so talk about those games or anything else. Have at it.
Saturday: Once again, this the open thread for the night. None of the local hockey and basketball teams are playing tonight, but the first NHL outdoor game will be on at 9:30pm ET (NBC Sports). It's the Kings and Ducks at Dodger Stadium. The first of the two Yankee Stadium games is tomorrow. Talk about whatever. Enjoy.
As part of the sale agreement made with News Corp. in late 2012, 21st Century FOX is increasing its ownership stake in the YES Network from 49% to 80%, it has been announced. The move is expected to be final by the end of March. News Corp. had the option of increasing its stake within 3-5 years of the original deal, but FOX and News Corp. have since split into two corporations and everyone agreed to accelerate the timetable.
"Clearly, 21st Century Fox is a great partner for us as the YES Network fulfills and expands its potential as one of the nation's premier regional sports networks," said Hal Steinbrenner said in a statement. "We are gratified that 21st Century Fox has increased their stake and investment in the network. Yankee Global Enterprises is eager to continue working with 21st Century Fox as we explore ways to take YES to even greater heights."
"Our investment in the YES Network underscores our commitment to growing our global sports portfolio with offerings that are exceptional and unique," said James Murdoch, COO of FOX. "We look forward to expanding our partnership with Yankee Global Enterprises and to working with the network's management team to build on the YES Network's success."
Yankee Global Enterprises still owns the remaining 20% of YES and they're getting a boatload of cash through the deal, with annual television revenue jumping from $85M to an estimated $150M. That number is expected to climb to $350M (!) annually within the next 30 years. That money is separate from what amounts to a $420M signing bonus Yankees Global Enterprises will receive from 2013-15 as part of the deal. More details on the original News Corp. deal are here, here, and here.
So what does the deal mean for you? Not much, really. Your cable bill might be a few dollars higher when YES raises the monthly fees it receives from cable providers when their contracts expire, but that is apparently a few years away. The Yankees retain control of Yankees-related programming on YES but FOX will bring some of their own programming to the network. That's the whole point of the deal. It's unclear what kind of programming FOX will bring at this time. A Sportscenter-esque nightly news show is reportedly not in the works.
There had been speculation the agreement with News Corp. meant the Steinbrenners were preparing to sell the Yankees, but as Richard Sandomir explained in November 2012, the deal actually makes it more likely they will hold onto the team, mostly because the tax bill would be enormous. Also, the team's sale value would have been higher without a finalized television agreement — the potential for a huge television deal is worth more than the actual deal itself. Just look at the Dodgers sale.
Now that Masahiro Tanaka is officially a Yankee, we can finally stop talking about what it will take to land him and begin to focus on how he might actually … you know … pitch next season. Novel idea, I know. Unfortunately scouting reports and NPB stats don't tell us much about how Tanaka will handle the transition from NPB to the AL East, nevermind the cultural change and all the off-the-field stuff he'll have to deal with. It can be overwhelming.
Most reports have indicated Tanaka will be a number two starter in the big leagues and that means … I don't know, really. Aces are pretty easy to identify; they're the guys who have strung together a few years of truly elite production*. Justin Verlander, Felix Hernandez, Clayton Kershaw, guys like that. You can see them a mile away. They're in their own little world. Number twos are a little different, they're a notch below the aces but still among the top 25-30 starters in the game. At least that's what I think.
* That "strung together a few years" part is important in my opinion. It's possible for a pitcher to have a random ace-like season (Esteban Loaiza!) but the true aces are the guys who do it year after year.
A few days ago Dan Szymborski (subs. req'd) ran Tanaka through his ZiPS system to come up with a projected performance over the life of the seven-year contract. Projections are not predictions, they're just an estimation of a player's true talent level. There's wiggle room in each direction and that is especially true when talking about a pitcher making the transition from NPB to MLB. Here's what the system spit out: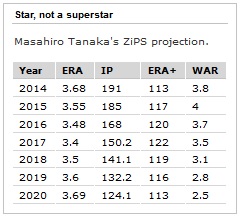 Let's focus on 2014-17 since Tanaka can opt-out after the fourth year. They're the only guaranteed years of the contract. ZiPS has Tanaka sitting in the 3.5-4.0 WAR range during those four years, averaging 3.8 WAR per seasons. Pitchers who have averaged roughly 3.8 WAR per year from 2011-12 include Kris Medlen, Jhoulys Chacin, Kyle Lohse, Zack Greinke, and Doug Fister. Those guys feel like number twos right? They were among the top 25 pitchers in baseball by WAR over the last two seasons, so they fit what we talked about a paragraph or two ago.
I suspect the general sense will be that Tanaka did not live up to expectations if he manages a 3.68 ERA and 3.8 WAR next season, but I think that would actually be pretty awesome in his first year stateside. ZiPS projected Yu Darvish for a 3.62 ERA and 4.5 WAR two years ago, a bit better than his actual 3.90 ERA and 3.9 WAR. The system was in the ballpark, at least. If Tanaka finishes with, say, a 4.00 ERA and 3.0 WAR in 2014, it would still be pretty good but I think most would say he failed to meet expectations, fair or not.
The projections shouldn't be taken to heart, obviously. It is an objective measure based on historical data though, and that's better than guessing, which is what we'd be doing otherwise. If Tanaka lives up to the projections and gives the team something close to 4.0 WAR during the first four years of his contract, he'll have more than lived up to the contract. If he settles in as a 3.0 WAR pitcher instead, that'll be fine too. Maybe not what we all expected but not bad by any means.
By

Left-handed pitching prospect Omar Luis was arrested for driving under the influence in Tampa early Friday morning, reports the Tampa Tribune. It took two police cars to pull him over after he drove the wrong way down not one, but two one-way streets. He registered a 0.102 blood-alcohol level compared to the 0.08 legal limit. Luis was released after posting bail.

The Yankees signed the 21-year-old southpaw in July 2012 for $2.5M, their final big money international signing before the new spending restrictions were implemented. He originally agreed to a $4M bonus, but it was reduced after something popped up in his physical. Luis defected from Cuba two years ago and made his pro debut in the Rookie Level Gulf Coast League last summer. DUI is very bad and hopefully he is punished accordingly. · (33) ·