By

The MRI on Kevin Youkilis' stiff back was clean — no structural damage, that means — but he will receive an epidural tomorrow. The team is discussing a DL stint and frankly that seems incredibly likely. Too bad he played on Saturday, otherwise they could have backdated the DL trip and been half done with it already. · (3) ·
Winning four of four against the Blue Jays over the weekend was the start of what could be an outstanding homestand. The Astros bring the second worst record (7-18) and first worst run differential (-50) in baseball into this three-game midweek series, so the Yankees have a chance to really fatten up their win total as the calendar gets ready to flip over to January. No big league team is a pushover and it's unrealistic to expect a sweep in any series, but taking two of three against Houston feels like an absolute bare minimum to me. Here's the lineup that will face right-hander Lucas Harrell…
And on the mound is the former Astro, Andy Pettitte.
It's been raining on and off all day in New York and there are expected to be some light showers tonight, but it's not supposed to be anything heavy enough to delay or postpone the game. It will just be one of those ugly, misty games. Tonight's game is scheduled to start a little after 7pm ET and can be seen on YES. Enjoy.
Kevin Youkilis Update: Youkilis (back) had an MRI today as scheduled, but the results are not back yet. He isn't too concerned, but obviously something is wrong. He wouldn't have missed seven of the last eight games otherwise.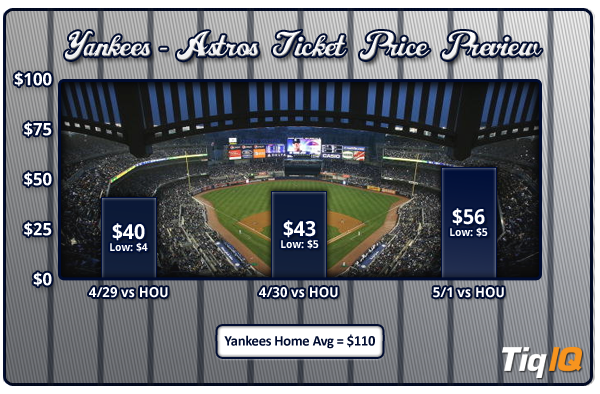 By Dan Groob, TiqIQ
Given the Yankees' large market and devoted fan base, it is always expensive to procure New York Yankees tickets. Although this season seemed to begin a bit unenthusiastically, the Yankees fast start still has them right among the league leaders in average attendance and as April comes to a close, the New York Yankees appear to have silenced their critics by surging to the third best record in all of baseball. Despite playing the first month of the season without arguably their three best power hitters in Curtis Granderson, Mark Teixeira, and Alex Rodriguez, the Yankees have done significant damage with the long ball. Paced by Robinson Cano (7), Vernon Wells (6), and Travis Hafner (6), the Bronx Bombers' have smacked 33 home runs so far, good for first in the American League.
Coming off a four game sweep of the Toronto Blue Jays, the preseason favorites to capture the AL East crown, the Yankees look to keep things rolling through a three game set with the Houston Astros. With the worst record in baseball at 7-18, the Astros essentially represent a polar opposite team from the Yankees. Much has been made of the Yankees possessing four players—Alex Rodriguez, Mark Teixeira, CC Sabathia, and Vernon Wells—who will make more than the entire Astros 25-man roster this season. Additionally, the Yankees are Major League Baseball's oldest team, with an average age of 30.9, while the Astros are the youngest at 27.2. Those Astros come to town this week, with their lack of star power, are one of the lesser road draws this season. That creates an opportunity for cheaper tickets in major markets such as New York, even as the team heats up into the summer months.
According to TiqIQ, the three game set with the Astros that kicks off tonight is the least expensive series of the season at Yankee Stadium. Games 1 and 2 of the series are the two cheapest individual games of the season. While the Yankees carry an average home ticket price of $110 dollars, the average ticket price for tonight's game checks in at just $40 dollars—a 64% discount to the season average.
Yankees home avg: $110
Game 1: $40/$4
Game 2: $43/$5
Game 3: $56/$5
Series Avg: $46
Game 2 of the series doesn't command much of a premium to game 1, pricing at an average of just $43 dollars. Prices receive a slight bump for Wednesday night's game, the first game of May, but only to $56 dollars—still roughly half the season average. With tickets available for as little as $4 or $5 dollars depending on the night, this Houston series represents a tremendous opportunity for fans to catch some action at Yankee Stadium on the cheap.
The Yankees just rattled off four straight wins over the division rival Blue Jays and have now gone 14-5 since the ugly 1-4 start. The middle relief has settled down, the rotation overcame some early woes, and the lineup has really started to click even if they still stink against left-handers (71 wRC+). It took a few weeks (as usual), but things are starting to come together.
Of course, there is always room for improvement, especially for a team as injury-riddled as New York. They've already used the DL a league-leading nine times this season, and that could grow to ten depending on the results of today's MRI on Kevin Youkilis' stiff back. Three players lost their jobs with other teams over the weekend, and all three could represent upgrades on the fringes of the Yankees' roster.
Casper Wells
Wells, 28, was designated for assignment by the Athletics yesterday, the third time a team has cut ties with him in the last month. That's a pretty good indication front offices don't consider him to be as productive as WAR or other freely available metrics say. He was claimed off waivers and traded for $100k this month, so the price is obviously low.
The Yankees aren't looking for an offensive savior, they just need to find a better right-handed platoon bat than Ben Francisco (-7 wRC+ overall and -16 wRC+ against lefties). Wells has decent numbers against southpaws during his career (129 wRC+), but 317 plate appearances spread across three years aren't definitive proof of anything. The various defense stats say he's serviceable at worst in all three spots. Francisco hasn't just looked bad, he's looked horrible without even a hint of snapping out of it. Wells is freely available and it would be tough for him to give the team less than what they're currently getting from Francisco*.
* That said, Wells has had five plate appearances in the last month because he's been in transactions limbo, so rust is a very real concern.
Chris Nelson
The Rockies called up top third base prospect Nolan Arenado this weekend, and the 27-year-old Nelson was the roster casualty. Colorado designated him for assignment and it's very likely another team will pick him up despite his poor performance this month (51 wRC+) because he's versatile, one year removed from a 105 wRC+, and not too far removed from being a top prospect.
I wrote about Nelson as a potential target last month, so I'll just refer you back to that to keep things simple. Nelson can provide depth at the three non-first base infield positions, which is something pretty much every team needs. The Yankees will be without Derek Jeter and Alex Rodriguez until at least the All-Star break and there's a chance Youkilis will wind up on the DL following today's MRI, so adding an infielder seems rather prudent. Even if David Adams or Corban Joseph are the team's preferred call-up options, there is still an opening to stash Nelson in Triple-A. That would require signing him to a minor league contract following his release, which seems unlikely. I'm guessing he doesn't go through waivers unclaimed.
Humberto Quintero
Quintero, 33, was cut loose by the Phillies over the weekend when Carlos Ruiz was eligible to return following his 25-game amphetamine-related suspension. The veteran journeyman barely played with Philadelphia (21 plate appearances), but he's managed over 1,300 plate appearances (55 wRC+) in parts of 11 big league seasons. He's always had a strong throwing arm (83-for-257 career, 32.3% caught stealing rate) and the rest of his defensive game is well-regarded, but who really knows these days.
The Yankees will be without Frankie Cervelli for at least six weeks thanks to his broken hand, and it could be even longer considering how hand/wrist/finger injuries tend to linger. They're unlikely to find anyone better than Chris Stewart and Austin Romine right now, but Quintero is someone they could stick in Triple-A for further catching depth. Remember, Romine has a series of back injuries in his recent past, so it wouldn't take much for the team to have to dip into it's backstop depth again in the coming weeks. Quintero is likely to clear waivers and take a minor league contract, which fits what the team needs at the moment.
By

… to a one-day contract so he can retire in pinstripes, reports George King. Matsui officially announced the end of his career over the winter, but King says "plans are in the works" for the one-day contract so he can have a ceremonious retirement. The Yankees are giving away Matsui bobbleheads on July 28th, so that seems like as good a day as any for all of this go down. I have no doubt it will awesome. · (75) ·
The Yankees are fresh off a four-game sweep of the division rival Blue Jays, and I'm not sure the schedule could have worked out any better to help continue the winning streak as the Astros are coming to the Bronx for three games. Then again, this has classic "trap series" potential.
What Have They Done Lately?
Lose, unsurprisingly. The Astros were just swept by the Red Sox in a four-game series, getting outscored 28-10. They did win two straight against the Mariners before that though. Overall, Houston is 7-18 with a -50 run differential, both the worst marks in the AL.
Offense
The Astros average 3.9 runs per game with a team 97 wRC+, both a touch below the league average. They are missing two important right-handed platoon bats in OF J.D. Martinez (92 wRC+) and former Yankees property OF Justin Maxwell (87 wRC+) due to a knee sprain and a broken hand, respectively.
Manager Bo Porter's best full-time hitter is also his leadoff hitter, 2B Jose Altuve (121 wRC+). LF/DH Chris Carter (101 wRC+) and 1B Carlos Pena (86 wRC+) both play everyday as well, and both guys can hit the ball out of any park despite their massive strikeout issues. C Jason Castro (94 wRC+) and slick-fielding 3B Matt Dominguez (81 wRC+) are the team's only other everyday guys. Marwin Gonzalez (138 wRC+) and Ronny Cedeno (116 wRC+) split time at shortstop.
The rest of the Houston lineup is filled by platoon players, including right-handed hitters OF Brandon Barnes (178 wRC+ in limited time) and former Yankee 1B/3B Brandon Laird (129 wRC+ in limited time). Lefty bats OF Rick Ankiel (112 wRC+ with a 58 K% (!)) and OF Fernando Martinez (64 wRC+) start against righties. OF Robbie Grossman (-20 wRC+ in limited time) has taken over in center following Maxwell's injury while C Carlos Corporan (90 wRC+) backs up Castro. It's not a great lineup obviously, but they aren't total pushovers.
Starting Pitching Matchups
Monday: LHP Andy Pettitte vs. RHP Lucas Harrell
The Astros struck waiver wire gold with the 27-year-old Harrell last year, as he pitched to a 3.76 ERA (3.75 FIP) in 193.2 innings after being selected from the White Sox. He owns a 4.08 ERA (5.54 FIP) through five starts this year even though his strikeout (6.28 K/9 and 16.3 K%) and ground ball (54.7%) rates are basically identical to last season. His walk (4.71 BB/9 and 12.2 BB%) and homer (1.57 HR/9 and 22.7% HR/FB) numbers have jumped a ton though. Harrell is a big time two-seam fastball guy, throwing the low-90s pitch roughly 60% of the time. He'll also throw a low-90s four-seamer and upper-80s cutter on occasion, and his array of offspeed pitches includes a mid-80s slider, a low-80s curveball, and a low-80s changeup. He doesn't throw any of those pitches more than eight or so percent of the time, however. That two-seamer is his bread-and-butter. Harrell has never pitched against the Yankees in his career and only three players (Brennan Boesch, Jayson Nix, and Travis Hafner) on the roster have ever faced him before.
Tuesday: RHP Hiroki Kuroda vs. RHP Phil Humber
Baseball has not been kind to Humber since his perfect game last April. The 30-year-old has pitched to a 7.54 ERA (~5.99 FIP) in 111 innings since making history, including a 7.99 ERA (4.69 FIP) in five total starts this year. He hasn't struck anyone out (4.94 K/9 and 11.5 K%), but he has done an okay job of limiting walks ( 3.04 BB/9 and 7.1 BB%) and getting grounders (45.5%). Either way, he's been pretty close to the worst starting pitcher in baseball so far this year. Humber is very offspeed heavy, throwing his upper-80s two- and four-seamers a combined 41.2% of the time. Upper-70s curveballs and mid-80s sliders are his top secondary pitchers, and he'll also throw a mid-80s changeup. The Yankees have faced Humber twice before, both times when he was having success with the White Sox back in 2011.
Wednesday: RHP David Phelps vs. LHP Erik Bedard
Bedard, 34, has managed to stay healthy in the early going after years and years of injury trouble. The results haven't been very good (7.98 ERA and 6.47 FIP) so far, which isn't terribly surprising given his walk (4.91 BB/9 and 11.4 BB%), ground ball (33.3%), and homer (3.07 HR/9 (!) and 23.8% HR/FB) rates. He is striking out plenty of batters though (11.66 K/9 and 27.1 K%), which is something he never really stopped doing even while battling all the physical problems. Bedard's money-maker remains a knockout mid-70s curveball he can throw for a called strike or bury in the dirt for a swing-and-miss. He'll also throw an upper-70s changeup and set things up with three fastballs: upper-80s/low-90s two-seamer, four-seamer, and cutter. The two-seamer is the most used by far. The Yankees saw Bedard a bunch during his Orioles days, but he hasn't started a game against them since May 2008.
Bullpen Status
Despite the beatdown in Boston, Porter's bullpen is in decent shape because Bud Norris threw six innings yesterday before RHP Jose Cisnero (2.08 FIP) followed with two innings to wrap things up. The team carries three long man types out of necessity, with RHP Paul Clemens (6.48 FIP) and LHP Travis Blackley (7.16 FIP) doing the honors alongside Cisnero.
When they do actually have a lead, the Astros use former Yankee Jose Veras (1.86 FIP) to slam the door in the ninth inning. The setup crew is some combination of matchup guys RHP Rhiner Cruz (6.48 FIP), LHP Wesley Wright (3.08 FIP), and RHP Hector Ambriz (3.45 FIP). The Yankees have relied on their late-game arms pretty heavily of late, which could limit their availability in this series. Check out our Bullpen Workload page for the exact details. There aren't a ton of Astros blogs out there, but Crawfish Boxes is the best of the bunch.
Record Last Week: 5-2 (24 RS, 24 RA)
Season Record: 15-9 (112 RS, 97 RA, 14-10 pythag. record), 2.5 games back in AL East
Opponents This Week: vs. Astros (three games, Mon. to Weds.), Thurs. OFF, vs. Athletics (three games, Fri. to Sun.)
Top stories from last week:
Please take a second to answer the poll below and give us an idea of how confident you are in the team. You can view the interactive Fan Confidence Graph anytime via the nav bar above, or by clicking here. Thanks in advance for voting.
Given the team's current roster construction, farm system, management, etc., how confident are you in the Yankees' overall future?
Well that was an incredibly satisfying series. Four games against the offseason champion Blue Jays, four wins. Love it. They should do this more often. Sunday's final score was 3-2.
Brennan & Lyle
The Yankees used homers from Brennan Boesch and Lyle Overbay to win a game over reigning Cy Young Award winner R.A. Dickey on Sunday afternoon. Imagine if I had told you that like, 13 months ago. You would have thought I was crazy. I would have thought I was crazy. Yet, here we are.
Boesch's solo homer came in the second inning, the first time the Yankees had scored first in their last eight games. That dates back to the last series against the Blue Jays in Toronto. It was a cheap Yankee Stadium homer off the end of the bat, but Boesch hit it just well enough to clear the fence. The Yankees didn't hit much of anything with authority for the first six innings really, Dickey had them way off balance.
Five innings after the Boesch homer, the Yankees mounted their latest comeback rally, this one a simple two-run homer. Travis Hafner led off the seventh with a single to center and after two quick fly ball outs, Lyle Overbay turned on a hanging knuckleball in a 1-1 count and hit it right to David Robertson in the bullpen. I didn't think he got enough of it off the bat, yet the ball cleared the fence and suddenly the one-run deficit was a one-run lead. These come from behind wins sure are fun, even if they are a bit nerve-wracking.
InePHicient Phil
Two runs in six innings is a pretty good outing for most pitchers, but I can't help but feel like Sunday's start could have been so much better for Phil Hughes. He came out of gate throwing hard and missing bats — eight whiffs in his first three innings — but a weak-hit two-out rally in the fourth put the Blue Jays on the board. The first hit was a infield single that hugged the third base foul line, the second hit a bloop to shallow left, the third a ground ball just beyond Robinson Cano's reach at second. Three seeing-eye hits with two outs. Yuck.
The second run was well-earned in the sense that it involved some hard-hit balls. The sixth inning rally started with a Jose Bautista leadoff double into the left field corner and ended with a two-out Maicer Izturis double into the right field corner. In between were two strikeouts, a stolen base, and an intentional walk to Adam Lind (!). The Yankees pitch to Lind like he's Barry Bonds or something. Anyway, Hughes has to get Izturis in that spot and he didn't. He's lucky it wasn't the #obligatoryhomer.
Speaking of #obligatoryhomers, this is two straight starts for Phil without one now. Last homer he surrendered was 15 innings ago, when Martin Prado took him deep. He's actually had three homerless starts out of five total this year. Hughes only had one stretch of two consecutive homer-free starts last year, and that was a stretch of three straight from late-June into the All-Star break. He's going to give up plenty of dingers, they're coming at some point, but he's been able to avoid them for two starts now. Hooray for that.
Hughes struck out nine in his six innings of work, and he was again aggressive on the mound: 76 strikes out of 111 total pitches (69%) and first pitch strikes to 16 of 26 batters faced. Not quick as ridiculous as last time out, but still pretty good. This start feels like it could have been better, but that three straight strong outings for Philbert after two dreadful starts to begin the year. I'll take it.
Leftovers
The Yankees only had four hits on the afternoon, two by Overbay (single and homer) and one apiece from Boesch (homer) and Hafner (single). That's it. They did draw three walks (Cano, Ichiro Suzuki, Eduardo Nunez), but Dickey kept them off balance almost all afternoon. There was an awful lot of weak contact before that seventh inning.
The bullpen was stellar, as the late-game trio of Boone Logan, Robertson, and Mariano Rivera slammed the door over the final three innings. Logan allowed a soft line drive single and that was it, no other base runners. The three combined for four strikeouts. The relief corps has really settled down after a shaky start to the season.
This was the team's first four-game sweep of the Blue Jays at home since September 1995, basically a baseball lifetime ago. In the span of six days, the Yankees have managed to beat both reigning Cy Young Award winners — remember they beat David Price in the last series against the Rays.
Box Score, WPA Graph & Standings
That's a fun graph. MLB.com has the box score and video highlights, FanGraphs some additional stats, and ESPN the updated standings.

Source: FanGraphs
Up Next
The Houston Astros, otherwise known as the worst team in the AL and arguably the worst in all of baseball, are coming to the Bronx for a three-game series. It's tough to expect a sweep against any big league team, but it goes without saying the Yankees need to take advantage and pile up some wins against Houston. Andy Pettitte and right-hander Lucas Harrell will be your Monday night pitching matchup. Check out RAB Tickets if you want to attend the game.
Triple-A Scranton's doubleheader was rained out. They've had no luck with the weather this year. They're going to play doubleheaders on Monday and Tuesday to make these games up.
Double-A Trenton (9-5 loss to Portland)
CF Ramon Flores: 0-2, 3 BB, 1 K — five walks in his last three games
DH Tyler Austin: 1-3, 2 R, 1 BB, 1 K – 13 walks in his last ten games
C Kyle Higashioka: 2-4, 1 2B, 3 RBI, 1 K — too bad he'll never get a chance to play everyday in this organization
LHP Francisco Rondon: 5 IP, 7 H, 6 R, 6 ER, 4 BB, 3 K, 1 WP, 6/4 GB/FB – 54 of 98 pitches were strikes (55%)
RHP Danny Burawa: 2 IP, 1 H, 0 R, 0 ER, 1 BB, 2 K, 2/0 GB/FB — half of his 26 pitches were strikes
Here is your open thread for this beautiful evening. The weather has been really awesome this weekend, probably the first true "baseball weather" weekend of the year. The ESPN Sunday night game is a good one, the Braves at the Tigers (Minor vs. Fister). There's also some NBA playoff action going on as well. Talk about any of those games and more right here. Go nuts.