The Yankees have outdone themselves again. Another new Worst Loss of the Season. Why couldn't it rain Friday like the forecast said it would? The final score was 9-6 Red Sox in the series opener. The Yankees are now five games back in the AL East.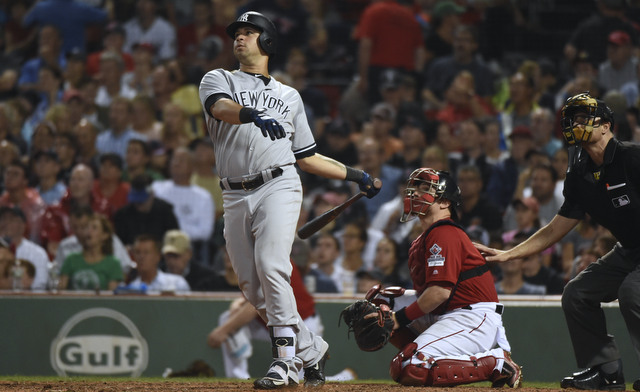 The Top of the Seventh
For all intents and purposes, this game boils down to the one inning. The seventh. The entire inning took one hour and five minutes. For one inning! Good grief. The Yankees went into the seventh inning trailing 3-2. The Red Sox got their three runs from a Rafael Devers two-run homer and a Christian Vazquez solo homer. Todd Frazier got the Yankees on the board with a two-run shot.
Drew Pomeranz had to leave the game in the fourth inning with back spams, meaning the BoSox were already four innings deep into their bullpen when the seventh inning started. An awful lot happened in the top of the seventh, so let's annotate the play-by-play.

(1) First pitch of the inning: over the Green Monster and onto Lansdowne Street. Over the wall in the gap too, not pulled down the line. Gary Sanchez is such a damn stud. He's underrated, somehow. Perhaps the Passed Ball Vilification Tour made everyone forget how good this guy is. He's a star. Star. The solo shot tied the game.
(2) I'm sure this is confirmation bias, but it seems like Frazier really locks it in and has his best at-bats in big spots. He pop-ups and strikes out a lot, though when there's men on base, he really battles and puts together quality at-bats. Frazier took several closes pitches during his seventh inning walk to load the bases.
(3) Coming into Friday's game, Ronald Torreyes had swung at the first pitch in 46.0% of his plate appearances this season. That's swings regardless of outcome. Hit, foul ball, swing and miss, whatever. The MLB average is 28.7%. Why anyone throws him a first pitch fastball in the zone, I'll never understand. Heath Hembree did exactly that in that seventh inning and Torreyes banged it off the Green Monster for a go-ahead two-run single.
(4) Eight of the previous nine Yankees to bat had reached base prior to Austin Romine's strikeout, which was a pretty terrible at-bat in which he chased a pitch out of the zone for strike three. The Yankees really need a new backup catcher next season. I have no idea what Romine brings to the table, at least in terms of quantifiable positive impact on a baseball game.
(6) I skipped a (5) in the play-by-play image and I don't feel like going back and changing it, so we're skipping from (4) to (6) here. Anyway, tough night for Aaron Hicks, who got took a pitch to the foot from both sides of the plate. At least they were breaking balls? Still, that can't feel good. The second hit-by-pitch drove in an insurance run to give the Yankees a 6-3 lead.
(7) In a game like this, there is not one at-bat that lost the Yankees the game, but perhaps the most damaging was Aaron Judge striking out with the bases loaded in the seventh inning. A fly ball scores a run there. Judge did work a good at-bat, he saw seven pitches and spit on some nasty sliders down, but he swung through a fastball on the outside corner for strike three. I mean, a three-run lead should be enough. You can never have enough runs in Fenway Park though. No. 3 hitter at the plate with the bases loaded and no outs? Gotta get a run in there. Judge didn't.
(8) In his second at-bat of the seventh inning, Sanchez ripped a line drive at Hanley Ramirez for the final out of the inning. Off the bat, I thought it was into right field for a single. The Red Sox had Hanley positioned well though. Somehow Sanchez and Judge went a combined 0-for-5 with runners in scoring position and left 14 (!) men on base Friday night. Good gravy. Anyway, the Yankees went into that inning down 3-2, and they left up 6-3.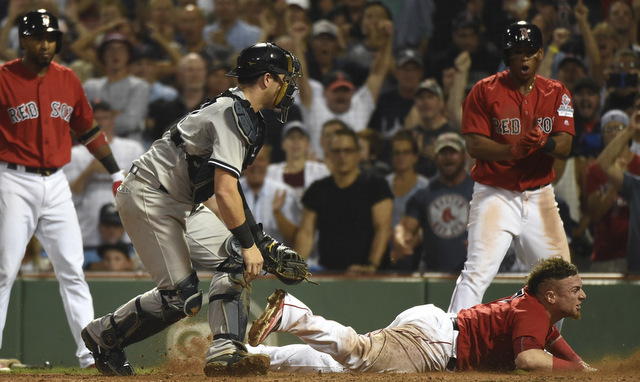 The Bottom of the Seventh
Probably time to stop bringing Tommy Kahnle into the game in the middle of an inning, huh? You know what the most annoying part is? He keeps getting beat on his third best pitch. It happened last week and it happened again Friday night. Last Sunday Kahnle allowed the go-ahead single to Andrew Benintendi on his fourth consecutive changeup. Geez.
The Red Sox loaded the bases with one out in that seventh inning on a single (Vazquez), a walk (Jackie Bradley Jr.), and an infield single (Eduardo Nunez). Chad Green allowed the hit to Vazquez and the walk to Nunez. Kahnle allowed the infield single. I mean, what can you do? Not walk the No. 9 hitter for starters, but the infield single is just dumb luck, really. Mookie Betts got a run in with a sac fly, which cut the lead to 6-4, but also gave the Yankees the second out.
It went downhill from there. Against Benintendi, the guy who beat him last week, Kahnle went fastball (called strike), changeup (ball), changeup (single). Changeup! Why? Benintendi pulled the single into right field to score another run and cut New York's lead to 6-5. Kahnle then walked Hanley to reload the bases, which brought pinch-hitter Mitch Moreland to the plate. Changeup (swinging strike), changeup (swinging strike), changeup (single). Sure, why not. Moreland singled up the middle to score two runs to turn the 6-5 lead into a 7-6 deficit.
A few things. One, why in the world is Kahnle throwing so many changeups? The guy throws 100 with a nasty slider, and he keeps giving up back-breaking hits on his changeup. He's throwing it back-to-back and back-to-back-to-back and it speeds up the hitter's bat. A 98 mph fastball to Moreland after the two changeups would've look like a 108 mph fastball. Instead, another changeup, two runs scored. Sigh.
And two, where in the world was David Robertson? He didn't throw as much as a warm-up pitch in that seventh inning. I thought Robertson should've been in the game to face Ramirez. He definitely should've been in the game to face Moreland. The infield single is whatever. A loud fly ball to center, a run-scoring single, and a walk is not whatever. Should be alarm bells going off after that. This series is basically the division race. Maybe a little urgency is in order?
Asleep at the Wheel
Aroldis Chapman against the Red Sox this year: 6.1 IP, 7 H, 8 R, 7 ER, 10 BB, 7 K. Impressive, really. Chapman was brought in to pitch the bottom of the eighth with the Yankees down a run and he coughed up two insurance runs. He's now allowed a run in four straight outings — only the second time in his career he's done that — and two runs in three straight outings. Chapman has no business pitching in a close game right now. None whatsoever.
During that eighth inning rally Chapman a) didn't pay any attention to the runners and allowed a double steal, and b) didn't bother to back up the plate on Bradley's two-run single. Girardi went out to the mound and appeared to scold Chapman after that. Maybe someone will scold Girardi for letting Romine bat against Craig Kimbrel leading off the ninth inning? What the hell was that? I know the chances of coming back down three runs against Kimbrel are tiny, but you've got to at least pretend to give a crap. Goodness.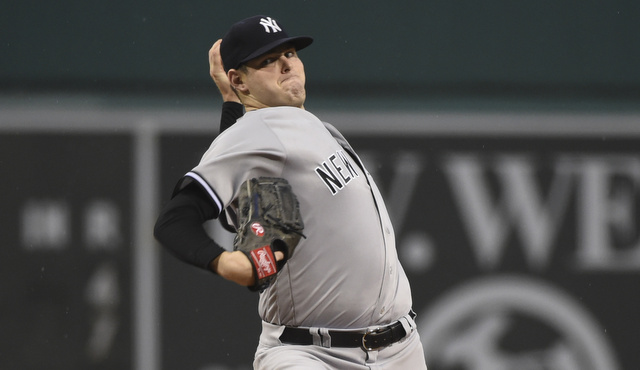 Leftovers
Not the best outing for Jordan Montgomery, who seems to be having his workload limited within starts right now. He's thrown five innings (65 pitches), 5.1 innings (84 pitches), and five innings (77 pitches) in his last three starts. Hmmm. Montgomery allowed three runs on the Devers and Vazquez homers in his five innings Friday. Bit of a grind.
Rare bad outing for Green, who walked two and allowed a clean single in 1.1 innings. He was charged with two runs after Kahnle barfed all over everything. The overall bullpen line: 3 IP, 6 H, 6 R, 6 ER, 4 BB, 2 K. Green, Kahnle, and Chapman threw 78 pitches to get nine outs. Girardi had Caleb Smith warming in the seventh as Kahnle faced Hanley and Moreland. Caleb Smith! I do not understand.
The Yankees went 1-for-11 with runners in scoring position overall. The Torreyes two-run single was the one hit. Sanchez went 0-for-3 and Judge went 0-for-2 in those spots. In addition to his seventh inning strikeout against Reed, Judge also grounded out against Joe Kelly to end the sixth inning with the bases loaded. At the end of the day, the bullpen couldn't protect a three-run lead. But Judge had two chances to do some serious damage and didn't. Rough.
Brett Gardner (three hits and a walk), Chase Headley (two hits and two walks), and Frazier (two hits and two walks) each reached base four times. Hicks (two hit-by-pitches) and Judge (hit and walk) reached base twice. Every starter in the lineup reached base at least once. The Yankees had plenty of chances. They had one 1-2-3 inning offensively: the ninth against Kimbrel.
Box Score, WPA Graph & Standings
ESPN has the box score and updated standings, and MLB.com has the video highlights. We have a Bullpen Workload page. Here's the loss probability graph:

Source: FanGraphs
Up Next
Same two teams Saturday night, in the second game of this three-game series. CC Sabathia is coming off the disabled list to make that start. Chris Sale will be on the mound for the Red Sox. Trap game?