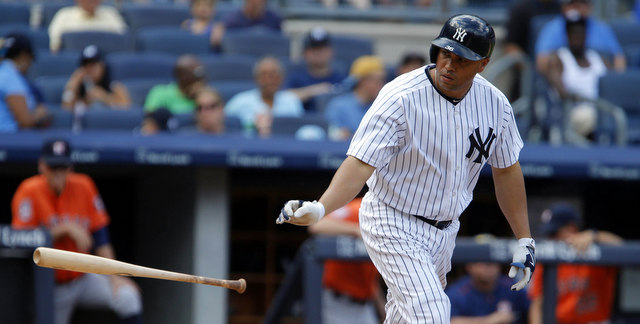 The Yankees lost five of the final seven games on their just completed ten-game homestand, and tomorrow they'll open a three-game series against the lowly Braves. Atlanta is the worst offensive team in baseball (3.65 runs per game) and the Yankees haven't hit for close to a month now, so maybe this will be the first three-game series in history in which the two teams combined for three runs total. (I assume that's never happened before.) Anyway, I have thoughts.
1. Explaining a team-wide offensive slump like the one the Yankees are in right now is damn near impossible. There are a million different factors in play and every player is an individual with their own unique problems, but I can tell you what looks like has happened: this looks like an older team hitting a wall in the second half. Carlos Beltran is the only real exception. Brett Gardner, Alex Rodriguez, Brian McCann, Chase Headley … pretty much everyone looks out of gas. Who knows if fatigue is the problem. I'm sure it's at least part of the problem. Right now the Yankees are giving off the appearance of a team running on fumes. Add in some injuries (Mark Teixeira's shin, McCann's knee, now Jacoby Ellsbury's hip) and some typically below average hitters (Stephen Drew, Didi Gregorius), and you have a recipe for a stumbling offense. The Yankees look old right now, but, then again, so does every team when they're struggling.
2. Thanks to that bone bruise in his right shin, Teixeira has played a total of six innings over the last ten days. He played the first few innings of the blowout loss Tuesday night, and was standing on deck when Beltran hit the walk-off sac fly Monday, but that's it. Teixeira and the Yankees say he's getting better, and I'm sure he is, but this was him running out a ground ball Tuesday night: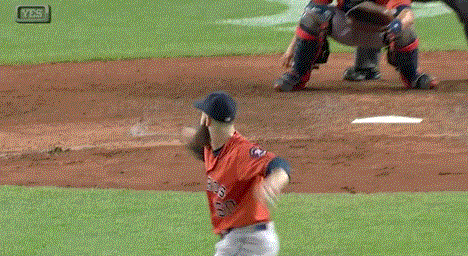 Yeah, he's not moving so well. Teixeira's not speedy anyway, but geez, that is extra slow. So he's barely played over the last ten days and the Yankees have been playing shorthanded the entire time because they didn't want to place him on the DL. This isn't the first time the Yankees (or any team, for that matter) have done this — we've seen more than a few day-to-day injuries turn into nine or ten days on the shelf — but that doesn't make it any easier to swallow. The Yankees have played four one-run games since Teixeira has been banged up and have been short a pinch-hitter option for the late-innings because he's not on the DL. Maybe it would have made no difference, pinch-hitting is hard after all, but man, playing with a 24-man roster for more than a week in the middle of an ultra-tight division race sure isn't ideal. (The Yankees can't even backdate the DL stint because he played Tuesday. Blah.)
3. Thanks to Luis Severino and various relievers, the Yankees went into yesterday's game with an average pitcher age of 27.7 years this season, their lowest since 1971 (27.3 years). That average age is weighted by playing time, by the way. So the 24-year-old who throws one inning doesn't count as much as the 35-year-old who throws 120 innings. The Yankees have the seventh youngest pitching staff in baseball this year — the Rays are the youngest (26.8 years) and the Giants are by far the oldest (31.7 years, next highest is the Royals at 30.3 years) — after being the fifth oldest last year (29.3 years) and the oldest the year before (31.8 years). The position players are still a little long in the tooth — oldest in MLB at 31.5 years, which ties back into the whole "looking old" thing in Point 1 — but the pitching staff is much younger, with guys like Severino, Nathan Eovaldi, Masahiro Tanaka, and Michael Pineda all no older than 26. That's exciting. Who knows if they'll stay healthy or remain effective long-term, but man, it's nice to see some youth on the staff. They've gotten significantly younger on the mound in a very short period of time.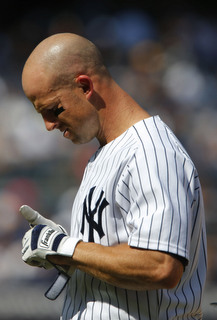 4. We've reached the time of year when I can't help myself but to start thinking ahead to the offseason. It's only natural, even with more than a month left in the regular season. The Yankees have zero expensive players coming off the books this year — Chris Capuano and Drew at $5M a pop, that's about it — and they're locked into every one of their position players aside from Drew. Yeah, they could move Gregorius and get a new shortstop, but that seems both unlikely and unnecessary. Their only tradeable position players are Gregorius, Gardner, and Headley — the rest are owed big bucks and probably have more value to the Yankees on the field than anything they could get in a trade — and the only one of those three the team could even attempt to replace from within is Gardner. Aaron Judge and Slade Heathcott are awesome, but it's hard to see how the Yankees could go from Gardner to Judge or Slade (or both in a platoon?) and not take a huge production hit. Point is, barring a surprise, the offense is what it is. There's no flexibility to improve without a shocker of a trade. The Yankees have to find a new second baseman and that's about it this winter. The rest of the position player crop is set.
5. Okay, so that said, here's a remote scenario I could see playing out: Gardner gets traded (for a pitcher? a second baseman?) and the Yankees sign Jason Heyward. I don't think Hal Steinbrenner & Co. will offer huge bucks to a free agent approaching or over 30 — yes, that includes the oh so perfect David Price — but I do think they'd bid big on a guy like Heyward, who is still so young. Heyward just turned 26 earlier this month and after a slow start to the season, he went into last night's game hitting .289/.348/.439 (117 wRC+) with eleven homers and 20 steals. That's pretty good. He's also an elite right field defender and nowadays the Yankees are prioritizing defense. I'd say the chances of the trade Gardner/sign Heyward scenario playing out are very small, but the Yankees did try to trade for Heyward this past offseason, and I think he's the one free agent they'd be willing to pay huge dollars because he's so young. Young, a lefty hitter, works the count, plays great defense … Heyward's everything the Yankees want in a player these days.