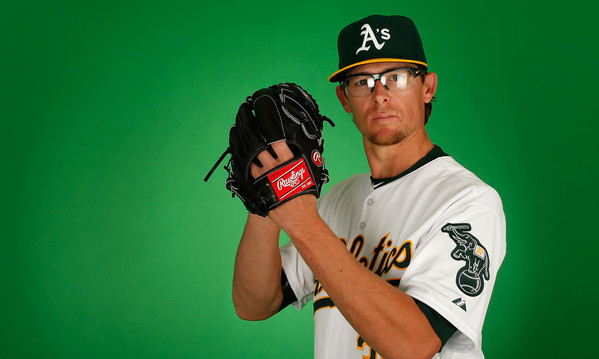 For the first time in the Billy Beane era, the Athletics are a truly awful team. They come into today with baseball's worst record at 14-28 — they've never lost more than 88 under games under Beane and only six times have they lost more than 80 games since the took over as GM in 1998 — thanks in part to a dreadful 2-13 record in one-run games. Their bullpen has blown many leads so far this year and it's sabotaged their season.
Depending on who you ask, Beane and the A's may or may not be willing to trading away players soon. Joel Sherman says it could happen while Ken Rosenthal says not so fast. Given Beane's history of being ultra-aggressive, my guess is he would start trading away players today if someone makes a good offer. The real question is whether other teams are willing to act without first giving their internal options a try.
Brian Cashman and Beane are reportedly close friends, but they don't get together for trades very often. Just three in fact, with one being last summer's Jeff Francis for cash swap. That doesn't mean they're unwilling to make trades with each other, of course. The A's have some useful players they figure to market should they continue to fall out of the race, and a few of them are impending free agents who could help the Yankees down the stretch. Let's look.
RHP Tyler Clippard
It's kinda weird to think about the Yankees trading for a reliever, but Clippard is no ordinary reliever, he's a workhorse late-innings guy any team would love to add to their staff. The 30-year-old righty has a 2.50 ERA (4.26 FIP) in 18 innings this season with some major decline in his underlying performance. Check it out:
| | K% | BB% | GB% | IFFB% | Soft% | 1st Pitch Strike% | FB velo |
| --- | --- | --- | --- | --- | --- | --- | --- |
| 2012-14 | 27.8% | 8.8% | 31.4% | 17.7% | 20.5% | 61.9% | 92.2 |
| 2015 | 20.3% | 10.8% | 19.6% | 12.1% | 13.7% | 58.1% | 91.2 |
Clippard has always been very unique. In addition to striking batters out he has been an extreme pop-up pitcher, getting lots of soft contact in the air that results in easy outs. That 17.7% infield fly ball rate was easily the highest in MLB from 2012-14. (Kelvin Herrera was second at 14.9%). Clippard's .228 BABIP in over 200 innings from 2012-14 is no fluke. It's a direct result of all those pop-ups.
For whatever reason, Clippard is getting fewer pop-ups this season, and the combination of an ultra-low ground ball rate and lower than usual pop-up and soft contact rates indicate he's giving up more scary fly balls. He's also behind in the count more often based on his first pitch strike percentage. Between that and the mile an hour that's gone missing from his fastball, it somewhat explains why his peripherals took a step back. Clippard's had to come in the zone in hitter's counts more often.
The question is whether this is a blip or a permanent thing. Clippard's thrown a ton of high-pressure innings over the years — he leads all relievers in innings (411.1) and ranks 20th in leverage index (1.50) since 2010, so he's pitched in a lot of stressful situations. The workload could finally be catching up to him now. Relievers are weird like that. They just start to go south without warning.
Clippard is owed $8.3M this year, so he's not cheap, and he will become a free agent after the season. Beane could say he is willing to make Clippard the qualifying offer and thus wants something worth more than a supplemental first round pick in return, which is believable. Even if this diminished state is not a fluke, Clippard could still help the Yankees' bullpen, which lacks a third option behind Andrew Miller and Dellin Betances.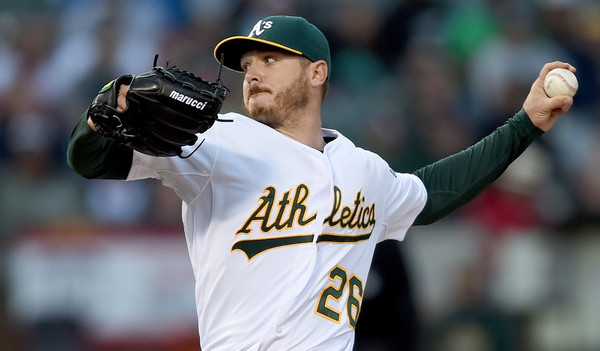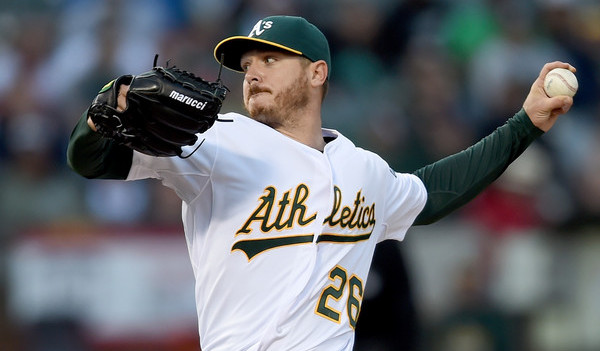 LHP Scott Kazmir
It really feels like a matter of when Kazmir will get traded, not if. He's another impending free agent — he's owed $11M in 2015 and seems like a great qualifying offer candidate to me — and Kazmir should have big value now that he's shown his success is no fluke following his improbable comeback. Remember, he was out of baseball entirely in 2012 due to arm problems.
Kazmir, 31, has a 3.08 ERA (3.75 FIP) in 49.2 innings this season while his peripheral stats are sorta all over the place. Some are trending in the right direction, some aren't. Here's the important stuff:
| | K% | BB% | GB% | Soft% | Hard% | FB velo | Whiff% |
| --- | --- | --- | --- | --- | --- | --- | --- |
| 2013 | 24.1% | 7.0% | 40.9% | 16.5% | 32.8% | 92.3 | 10.2% |
| 2014 | 21.1% | 6.4% | 43.8% | 15.6% | 25.2% | 90.9 | 9.4% |
| 2015 | 23.7% | 9.2% | 45.5% | 14.6% | 23.4% | 91.6 | 11.3% |
The strikeout and swing-and-miss rates have held fairly steady yet Kazmir's ground ball, soft contact, and hard contact rates keep getting better. Obviously it's still early and this could (and probably will) even out as the season progresses, but teams won't get a chance to see that before making a trade. That's a risky thing about midseason trades — some percentage of the decision will be based on sample size performance.
Kazmir doesn't have the wipeout slider he once did, injuries took that away, but he's a more complete pitcher now, using two-seamers and changeups to keep hitters off balance rather than overpower them. The Scott Kazmir we watched shove all those years with the Devil Rays is long gone. He's a much different pitcher now yet just as successful. His injury history is worrisome but the whole impending free agency thing removes long-term risk.
I get the sense Kazmir is going to be an extremely hot commodity at the trade deadline. He's effective, doesn't come with a big contract like Cole Hamels, and probably won't require as big a prospect package as Johnny Cueto. Surely some of his success is O.co Coliseum aided — that's a great place to pitch, fly balls go there to die — but not all of it. Kazmir's a quality pitcher who would give the Yankees a big boost the same way he would most other teams.
UTIL Ben Zobrist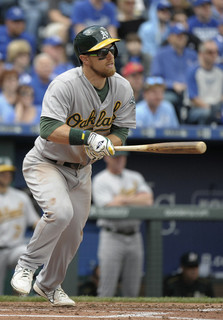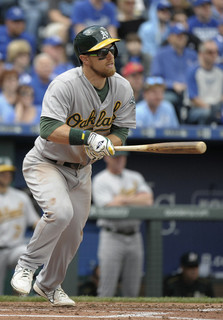 Zobrist was a really good player who was never quite as good as WAR made it seem — his ability to play just about every position, while valuable, screwed up the defensive metrics. Between his offense and his admittedly above-average defense, I think he was more of a 3-4 WAR player than a 5-6 WAR player like the numbers say, but that's just me.
Anyway, Zobrist turns 34 next week and his age is starting to show up in his offense, particularly his power. He went from 40 homers and a .202 ISO from 2011-12 to 22 homers and a .125 ISO from 2013-14. Poof. Power's gone just like that. Luckily, Zobrist is still a high-contact hitter who draws walks — about as many as he strikes out, in fact — so he still mustered a .273 AVG and a .354 OBP from 2013-14.
So far this year Zobrist is hitting .240/.304/.400 (93 wRC+) with the Athletics, but that's only in 56 plate appearances. He jammed his knee sliding into a base in late-April and had to have it scoped. He's expected back in a week or two. I imagine Beane and the A's will showcase Zobrist for a few weeks to prove he's healthy before moving him in a trade, where he figures to be in demand given his on-base ability, switch-hitter-ness, and versatility.
Unless they unexpectedly give up on Didi Gregorius, the only position where the Yankees could make an upgrade is second base, the position Zobrist has played more than any other in his MLB career. Even if he's not as good as WAR says, Zobrist would be a huge upgrade on Stephen Drew at the plate and maybe even an upgrade in the field, but the first part is the most important. That's even factoring in his disappearing power. The ability to hit for average and draw walks would be welcome.
* * *
The Yankees seem to prefer rentals for in-season trades, so the A's are a natural trade partner. It's very tough to get an idea of what it would cost to acquire Clippard, Kazmir, or Zobrist because Beane is so unpredictable though. This past offseason he went quantity over quality in the Josh Donaldson and Jeff Samardzija trades, targeting specific players to fill specific needs. Beane did the same when he traded Dan Haren and Gio Gonzalez as well. Every once in a while he'll go for the big prospect (Trevor Cahill for Jarrod Parker) but not often.
Out of these three players, I'd say the Yankees would benefit most from Zobrist, then Kazmir, then Clippard. Clippard was one of the worst trades of the Cashman era but I don't think acquiring him now makes it any better. Bullpen help is toward the bottom of the shopping list give the team's internal options. Zobrist would be a clear upgrade at second base and Kazmir would help the rotation. I think the Yankees will wait to see how Masahiro Tanaka and Ivan Nova return from injuries before pulling the trigger on a trade for a starter though.