Only three questions this week but the answers are kinda long. Remember to use the Submit A Tip box in the sidebar to send us anything throughout the week.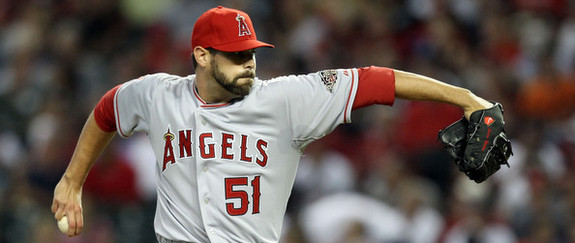 Travis asks: In the wake of the Ryan Madson signing, the Angels have said that Jordan Walden is available. Is he worth a look? What would it take to get him? I know he is younger than Andrew Bailey, but would a package like the one Boston sent to Oakland be enough? Do we have that?
I don't think Walden would command the kind of package the Red Sox gave up for Bailey. His track record is much shorter and he's an inferior pitcher, at least to the healthy version of Bailey. The 25-year-old Walden owns a 3.06 ERA (2.80 FIP) with 10.83 K/9 (28.2 K%) and 4.00 BB/9 (10.4 BB%) in 114.2 career innings, though he was a bit worse (3.46 ERA and 3.02 FIP) this year while spending almost six weeks on the DL with a biceps strain.
Walden is a classic fastball-slider reliever and he throws very hard, averaging 97.3 mph with the heat according to PitchFX. As you probably guessed with the walk rate, command is not his strong suit. He struggles to throw strikes and figures to continue struggling to throw strikes because he does this (.GIF via Lookout Landing) …
He hops in the middle of his delivery and is literally airborne for a fraction of a second. I'm no pitching expert, but there's no way jumping in the middle of a delivery like helps you throw the ball to the desired location. Luckily for Walden, a reliever can survive with less than stellar command even in important late-inning roles. Just ask David Robertson.
Anyway, yeah I do think Walden is worth a phone call. He's still very young and remains under team control for another four years, plus he has the swing-and-miss stuff I like to see in relievers. Saves do jack the price up and Walden has 34 of them, but he did lose his closer's job this year (due in part to the injury). We don't have many good trade comparables, but I do think giving up two non-top prospects would be fair. The Angels want pitching and left-handed bullpen help, so maybe something like Brett Marshall and Boone Logan? It might be a slight overpay but I'd actually be pretty cool with it. Give up one year of a lefty specialist and a pitching prospect who struggled to miss bats in Double-A for four-years of a high-end right-handed reliever (who has already gotten Tommy John surgery out of the way)? Yeah that works for me. Maybe the Angels would throw in Kole Calhoun as well.
Mike asks: If the Yanks get under the luxury tax limit of $189M for the entire 2014 season and this savings is a product of 'X' number of years that they have been above the luxury tax number, should we as Yankee fans come to expect a drastic frugal streak every 'X' years?
Yes and no. By getting under the $189M luxury tax threshold in 2014, the Yankees would reset their tax rate (currently the maximum 40% for every dollar over the threshold) to zero. Should they then go nuts and exceed the threshold in the following years, they would be taxed at 17.5% in 2015 and 30% in 2016. Exceeding the threshold in four consecutive seasons brings a team to the (new) maximum 50% penalty.
However, the current Collective Bargaining Agreement expires after 2016. The luxury tax could theoretically be eliminated in the next agreement, or at least be modified somewhat. That said, more and more teams are approaching the luxury tax threshold these days — the Dodgers are going to blow past it next year — and the penalties figure to get stiffer, not more lenient. So yeah, it's possible the Yankees will have a "X years over, one year under" approach with the luxury tax going forward.
Mark asks: If given the chance to vote, what would your 2013 Hall of Fame ballot look like?
The ballot was released earlier this week and voters are allowed to vote for up to ten players in a given year. I have no idea why they cap it like that, if there are more than ten deserving players on the ballot why shouldn't you be able to vote for all of them?
Anyway, here are my eight no-doubters: Jeff Bagwell, Craig Biggio, Barry Bonds, Roger Clemens, Mark McGwire, Mike Piazza, Tim Raines, and Sammy Sosa. I don't think I need to explain much with those guys, they're all historically great players who belong in any institution claiming to memorialize the game. PEDs totally happened and are part of history, just like all those years African Americans weren't allowed in the big leagues or the period of time when pitchers didn't actually try to get batters out. Did you know that? Way, way back in the day the pitcher was supposed to give the batter something to hit and the game was played between the batter and the defense. The pitcher was just there to facilitate things.
Here are the six guys I'm on the fence about: Kenny Lofton, Edgar Martinez, Rafael Palmeiro, Curt Schilling, Alan Trammell, and Larry Walker. Palmeiro obviously had the magical counting stats (3,000+ hits and 500+ homers) but he never had an insane peak or was considered the absolute best player at his position. I look for both peak and longevity. Oh, and he didn't contribute anything with the glove either. Trammell's case is built largely on his defensive value and I'm an offense-first guy, so that's why he's only on the fence. Martinez is the greatest DH in baseball history but I'm still undecided given the generally underwhelming power output (309 career homers) from a guy whose only job was to hit. He certainly had the on-base skills, but I feel like a Hall of Fame DH should get on-base and hit for power. Maybe my standards are too high. Walker and Lofton were great players who fall just short of all-time great for me. Schilling is the same way.