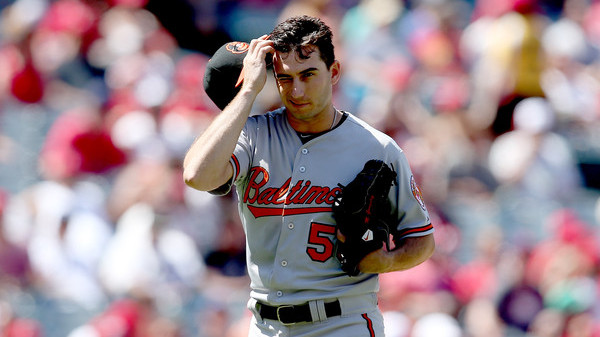 According to Eduardo Encina, the Yankees pursued right-hander Miguel Gonzalez before he signed a minor league deal with the White Sox last week. The Orioles released Gonzalez at the end of Spring Training and saved about $4M of his $5.1M salary for the season. They tried to bring him back on a minor league deal, but no luck.
The Yankees, like every other team in baseball, are in perpetual pursuit of rotation depth. Ivan Nova is currently the sixth starter and I guess Luis Cessa is the seventh starter in the wake of Bryan Mitchell's toe injury. The Triple-A Scranton rotation is Chad Green, Kyle Haynes, Anthony Swarzak, Tyler Olson, and a Nick Rumbelow/Tyler Webb piggyback, so says Shane Hennigan. Uh, yikes.
Gonzalez, 31, has a reputation for being a Yankees killer, but that was based on 2012 and nothing else. He has a career 3.79 ERA in 80.2 innings against the Yankees, postseason included, but it was a 2.18 ERA in 20.2 innings in 2012 and a 4.35 ERA in 60 innings thereafter. Besides, signing a guy so you don't have to face him anymore never made much sense to me.
Jeff Sullivan wrote a really great post looking at why the Orioles may have released Gonzalez despite their rotation issues, and from the looks of things, his stuff hasn't come back following last year's elbow and shoulder issues. He was never a huge stuff guy anyway, so his margin of error was small to start with. Gonzalez probably isn't a big league caliber pitcher if his stuff doesn't bounce back following the injuries.
Of course, there's no such thing as a bad minor league deal, and bringing Gonzalez aboard as Triple-A fodder would have been perfectly reasonable. The White Sox probably offer a great path to big league playing time at this point though — or at least Gonzalez thinks they do — so to the ChiSox he went. Chicago is pretty good with reclamation project arms.
If the Yankees do continue to look for rotation depth, free agent options include Tim Lincecum, Kyle Lohse, Roberto Hernandez, and Chad Billingsley. Not much to see there. Generally speaking, when guys still don't have a job even after the season starts, there's usually a pretty good reason. The Yankees figure to stick with what they have in-house.