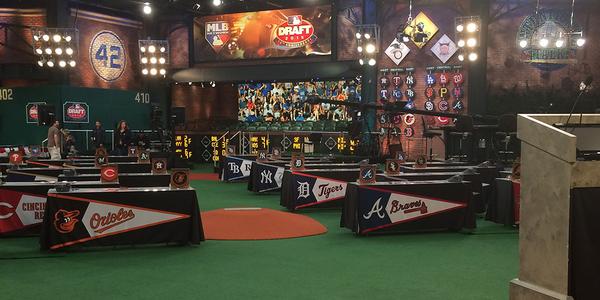 The 2015 amateur draft will begin in about five hours now, so, to hold you over, here are a bunch of last minute draft links, including the final mock drafts. Common theme: no one has any idea who the Yankees will pick.
Baseball America's Mock Draft v5.1
John Manuel at Baseball America posted his final mock draft this morning and he has the Diamondbacks taking Vanderbilt SS Dansby Swanson with the first overall pick. Manuel has the Yankees selecting UCLA RHP James Kaprielian and Cal Poly Pomona RHP Cody Ponce with their top two picks, 16th and 30th overall, respectively. Here are my profiles on Kaprielian and Ponce. Baseball America has been beating the "the Yankees will take pitching" drum all spring, and those two guys have been mentioned as targets for a while now.
Keith Law's Mock Draft v4.0
Keith Law (subs. req'd) also has the Diamondbacks taking Swanson with the first overall pick in his latest mock draft. Swanson to Arizona is the consensus now. Meanwhile, Law has the Yankees selecting Georgia HS SS Cornelius Randolph and Florida State OF D.J. Stewart with those 16th and 30th overall picks, respectively. Here are my profiles on Randolph and Stewart. The Yankees drafted Stewart out of high school in the 28th round of the 2012 draft but obviously did not sign him. For what it's worth, Law hears the Yankees are connected to a slew of bats, including "several of whom … seem unlikely to get (to the 16th pick)."
MLB.com's Mock Draft v5.0
Both Jim Callis and Jonathan Mayo posted their final mock drafts this morning as well (they're combined into one article), and yes, they both have the D'Backs taking Swanson. As for the Yankees, Callis sees them taking Kaprielian and Michigan HS OF Nick Plummer with their top two picks while Mayo has them selecting New York HS OF Garrett Whitley and California HS C Chris Betts. Here are my profiles for Plummer, Whitley, and Betts. The Yankees have been connected to all of those guys in recent weeks. Callis and Mayo also say the Yankees could opt for Randolph, Tennessee HS RHP Donny Everett, and Kentucky RHP Kyle Cody. Here are my Everett and Cody profiles.
Bickford Tests Positive For Marijuana
During a pre-draft drug screening, College of Southern Nevada RHP Phil Bickford tested positive for marijuana, reports Teddy Cahill. MLB conducts a pre-draft medical program for the top 200 prospects according to the MLB Scouting Bureau — if a player doesn't participate, he is ineligible for the draft — and part of that is random drug testing. MLB players are not tested for marijuana but non-40-man roster players are. Bickford is a projected first round pick — here's my profile, he went tenth overall in 2013 but did not sign — but I don't think the positive test will hurt his draft stock. Rockies RHP Jon Gray tested positive for banned stimulant before the 2013 draft and he still went third overall. Teams won't be scared away by a 19-year-old smoking a little weed when he strikes out 166 in 86.2 innings like Bickford did this spring.