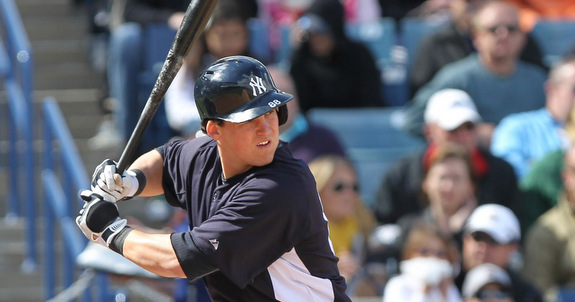 It's not just the big leaguers who are getting hurt these days, the minor league prospects are getting in on the action as well. Here are some updates courtesy of Chad Jennings and Josh Norris…
IF David Adams took at-bats against Phil Hughes during yesterday's simulated game and "should" be playing in games later this week according to VP of Baseball Ops Mark Newman. He missed big league camp due to a back issue that required an epidural.
OF Tyler Austin was hit by a pitch in the hand recently, but thankfully x-rays were negative. It's not anything serious. Austin had his right wrist broken by a pitch back in 2010.
RHP Ty Hensley is nursing a pulled abdominal muscle and will miss a few weeks. It's nothing serious but it will likely delay the start of his season. Hensley was the team's first round pick last year and figures to open 2013 with Low-A Charleston.
OF Ravel Santana is not playing right now due to stiffness in his right ankle. That's the same ankle that was basically destroyed when he caught a spike sliding into second base two seasons ago. No word on when he might return to action.
IF Rob Lyerly has decided to retire and finish his degree. He's had two shoulder surgeries and just isn't up for the grind anymore. Lyerly hit .292/.336/.416 with 17 homers in 288 minor league games after being the team's sixth round pick in 2009. He topped out at Double-A.