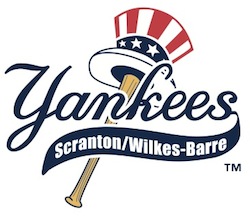 The Yankees will be in Scranton through at least 2014, the club announced yesterday. The big league organization has opted to extend its player development agreement with its AAA franchise to cover the next four seasons. Additionally, SWB Yankees LLC, the joint venture between the Yankees and Mandalay Bay that manages the team, has also re-upped its agreement for the same length of time.
"We remain committed to having our Triple-A franchise in Scranton/Wilkes-Barre," Yanks' COO Lonn Trost said. "The market offers us an excellent combination of business opportunities as well as player development and baseball operations efficiencies. We are delighted to be extending our relationships in Scranton/Wilkes-Barre."
Scranton has been home to the Yanks' Triple-A affiliate since 2007, when the team left Columbus after a 28 year relationship. The team made the move to bring its highest level minor league affiliate closer to New York, and it doesn't get any closer than Scranton. The PDC extension is good news yet unsurprising because it really is a match made in Triple-A heaven. With a strong fan base, geographically favorable and good business opportunities, it just makes sense for both sides.
Despite this convenience, a PDC renewal was no sure thing last year. As the Yanks adjusted to life in Scranton, the club found that the ballpark needed $13 million in upgrades due to a bad drainage system, and Scranton was not too keen on building a new stadium for the team. Still, the Yanks are committed to working through these problems.
"We look forward to continuing to work with county leadership and members of the Multi-Purpose Stadium Authority of Lackawanna County to develop a plan to significantly improve the current stadium or replace it with a new one," Trost said.
With this news, Kei Igawa too stands to benefit as he'll have a few more years to build on his career franchise-record win total.
Additional reporting by Benjamin Kabak